Micro Chef Grill Reviews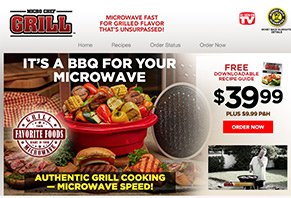 Micro Chef Grill uses dual heating elements to provide flavorful grilled food in your microwave that cooks up to 10 times faster than traditional grilling.
About Micro Chef Grill
Oh boy! If you just found out about Micro Chef Grill, a device that "turns your microwave into a grilling powerhouse," you might be itching to hand over your credit card information.
After all, a way to get true grilling flavor—and even grill marks—directly from your microwave, and up to 10X faster than conventional grilling? What's to think about?
As it turns out, there's a lot to consider about Micro Chef Grill, which we'll cover here. To really dig in, let's first find out exactly how it works.
How the Micro Chef Grill Works
Micro Chef Grill basically looks like a large oven pot, with one non-stick, ceramic grill plate attached to the lid and another attached to the base.
When these grill plates are exposed to microwaves, they capture them "in its ceramic core and convert them into conduction and infrared waves, reversing the microwave's inside-out cooking process." As a result, they claim it's "like your food's cooking with direct heat from the outside-in."
These plates heat up to 500 degrees, which mean that you can not only sear meat (complete with grill marks!), but that you can also toast bread and even cook Panini sandwiches. Micro Chef Grill claims to be your solution for breakfast, lunch, dinner, and desserts!
Everything works over 4 steps:
Place your ingredients into the Micro Chef Grill.
Put the lid in place.
Set your microwave's proper cooking time.
Remove your food and serve.
And when you're done, Micro Chef Grill makes cleanup a breeze since it's dishwasher safe.
Sure, this all sounds great, but is there anything especially unique about Micro Chef Grill?
How Common Are Microwave Grills Like Micro Chef Grill?
In one word? Very. Many of these options even feature nearly identical designs (and colors) as the Micro Chef Grill, which you can see by searching online for "microwave grill" or "microwave grill pan." Specifically, Micro Chef Grill seems to be designed like the original MicroHearth cookware.
You'll even find many of these same options available from national retail chains like Walmart, Bed Bath & Beyond, and more, which might help you save money in S&H fees (we'll talk more about this shortly).
Regardless of the brand, how do these microwave grill pans work?
The Science Behind Grill Pans Like Micro Chef Grill
Although the Micro Chef Grill commercial might have made the process seem complex, it's anything but.
Instead of heating your food directly from the inside-out (as a microwave normally would), Micro Chef's plates heat up and then transfer their heat to your food, which is cooked from the outside-in. Thus, the theory is that this will provide you with an authentic grilling experience, but using your microwave.
Sure, it might seem logical, but how does this play out in the real world? What are customers saying?
Customer Feedback for Micro Chef Grill
Micro Chef Grill was brand new at the time of our research and didn't have any online customer reviews.
However, the nearly identical MicroHearth version had an average rating of 4.7 stars on Amazon, based on 30 customer reviews (as of 10/14/15). There, common compliments revolved around ease of use and great-tasting results.
Despite its mostly positive reputation, numerous customers mentioned that it will take some trial and error to get used to, based primarily on your microwave's wattage.
From a company perspective, the Micro Chef Grill is brought to you by Tristar Products, who also makes other popular kitchen devices like AirWave Fryer, Fusion Juicer, Power Pressure Cooker XL, and more.
With hundreds of reviews, HighYa readers have given them an average rating of 2.5 stars, with common complaints citing failure to work as advertised, poor quality, and difficult customer service experiences. Will you experience the same?
Again, since Micro Chef Grill is such a new product it's difficult to say, although we'd definitely recommend keeping all of this in mind.
When it comes to overall value, it's impossible to gauge without knowing the price. So, let's talk about this next.
Micro Chef Grill Pricing
One Micro Chef Grill (1.5 QT/1.4 L food capacity) will cost you $39.99 plus $9.99 S&H. For this price, your order will include a grill press, extender ring, Quick Start guide, and Micro Chef recipe book.
All Micro Chef Grills come with a 90-day refund policy, less S&H charges.
Important note: All Tristar products also come with an automatic arbitration agreement, waiving many of your legal rights if you experience damages. This includes a trial by jury or joining a class action lawsuit.
In order to request a refund, you'll need to call Tristar's customer service line at 973-287-5164.
There's nothing like down-home cooking, so let's bring it home and discuss the bottom line about Micro Chef Grill.
Is the Micro Chef Grill the Same as Traditional Grilling?
You know the mouth-watering taste that only grilled food has? A large part of this is caused by something known as the Maillard reaction (also known as a browning reaction).
This, in turn, is caused by "the denatured proteins on the surface of the meat recombin[ing] with the sugars present." In layman's terms, it creates a thin, tasty crust on the outside.
Surprisingly, since this reaction occurs between 300 and 500 degrees (the Micro Chef Grill claims to reach up to 500 degrees), and because it only occurs when cooking meat from the outside in, Micro Chef might be able to give your food a similar reaction.
Keep in mind though that the final flavor depends on the spices you use, which might need to be tweaked when learning to cook with Micro Chef Grill. Also, the flavor profile can be changed quite a bit by other factors, such as the cut of meat, the combustible material (e.g. charcoal, mesquite, hickory, etc.) used to cook it, and more.
Ultimately, considering the very high online reputation for products that are essentially similar, as well as the 90-day refund policy (a big standout within the ASOTV industry), Micro Chef Grill might be worth giving a try.
Just keep in mind you'll likely lose around $15 in non-refundable S&H, so it might be wise to check local options first!
1 out 1 people found this review helpful

Does not work properly, as per TV ad

By Yorkie S.

,

London, United Kingdom

,

Oct 14, 2019
Verified Reviewer

Thought I would try the simplest recipe from the very limited recipe book. A cheese panini. Followed the instructions carefully, after 3 minutes, opened the grill to find two pieces of toast and, because of the weight of the top grill, the cheese had melted and left the sandwich and was swimming around the base of the grill. This grill has not been thought through. Going to send it back!

Bottom Line: No, I would not recommend this to a friend

---

6 out 6 people found this review helpful

Cleaning

I received it as a gift. I don't see where this saves time. I cooked sausage in it and it turned out well. I can't get the lid clean. The bottom cleans up well. To use this grill, I have to take the rack out of my oven, and this is an inconvenience. I would not recommend this grill.

Bottom Line: No, I would not recommend this to a friend

---

Advertisement

---

11 out 12 people found this review helpful

Not convinced.

By Brian Boswell

,

Northampton, United Kingdom

,

Jan 25, 2018
Verified Reviewer

After all the hype, I'm definitely not convinced. After seeing all the great results on television, I was totally disappointed. The so-called recipe guide doesn't tell me how to do roast potatoes as shown in the television advertising. I will try it again, but I'm already considering sending it back.

Bottom Line: No, I would not recommend this to a friend

---

14 out 16 people found this review helpful

Completely useless

By Shaheen Anwar

,

Cheshire, United Kingdom

,

Dec 7, 2017
Verified Reviewer

On the first use, there was a slight smell of melting plastic. There was nothing to see so I thought it was just the way it heated. The second time, within 2 minutes there was a very strong smell of burning, and when I opened the microwave, the top had melted.

Not fit for purpose. Do not buy. A waste of money.

Bottom Line: No, I would not recommend this to a friend

---

Advertisement

---

7 out 11 people found this review helpful

Wow. Best steak EVER!

By Katie Harris

,

North Carolina

,

Nov 20, 2017
Verified Reviewer

My initial attempt at using my Copper Chef Microwave Grill was an enormous success. I chose a 3/4 inch steak. I'm not a good steak chef! I followed the instructions given, with one exception. I mistakenly microwaved the steak for 4 minutes instead of the 3 minute suggested. I like my steak medium. This one turned out well done. Surprise! It was tender and juicier than any restaurant steak I have ever eaten (I have eaten quite a few).

Without question, it was the best steak I have ever eaten anywhere, even though well done. It could not have been better in my opinion. I am giving these grills to family for Christmas.

Bottom Line: Yes, I would recommend this to a friend

---

18 out 19 people found this review helpful

Dangerous

By Sandra

,

London, England

,

Oct 11, 2017
Verified Reviewer

It is supposed to replace a GRILL? What rubbish. I cooked six sausages and got a terrible smell of burning plastic, I think that's toxic. Fat had gotten into the sealed part of the lid, and it melted. Dangerous! DO NOT waste your money! By the way, I purchased it in Robert Dyas, so it has to be a genuine one.

Bottom Line: No, I would not recommend this to a friend

---

6 out 7 people found this review helpful

Pasta rice recipes

By Lynda Tolliday

,

Bristol, United Kingdom

,

Oct 9, 2017
Verified Reviewer

You would have thought pasta and rice recipes would have been in the free book. I cannot find any anywhere so am a bit disappointed with this. Not sure about it yet. Can anyone tell me where to find them?

Bottom Line: Yes, I would recommend this to a friend

---

11 out 15 people found this review helpful

Micro Chef Grill

La Grange, KY

,

Aug 27, 2017
Verified Reviewer

I am a widow and find it very difficult to cook for one. I am happy to tell you I like this product. I have had no problem with food dryness. I have cooked meat, chicken, steak and pork chop and nothing has been dry, all turned out tender and cooked to perfection.

If we have to use a microwave, I guess this is one way to cook fast and easy. I just wish it had a real grill flavor, but I know that is out of the question.

Bottom Line: Yes, I would recommend this to a friend

---

26 out 29 people found this review helpful

A complete waste of time and money

It's quicker to grill your food. It has to be preheated and is in the microwave ages. The food always turns into a soggy mess and not edible. We bought one from Amazon after seeing it on TV. After several attempts and wasted food, we sent it back. It is the worst thing I've ever bought, and to give it one star out of ten would be too much.

Bottom Line: No, I would not recommend this to a friend

---

20 out 24 people found this review helpful

Pure rip off

I tried to order this Micro Chef Grill using a credit card, PayPal, and two different debit cards. It wouldn't let me use either. When I called the phone order line, they wanted to place my order for 3 (THREE) payments of $19.99. Same when I called Customer Service. No one could help me get the price offered and even stated in this review.

It is just a way to get more money out of people. I should call the state's attorney general and report them.

Bottom Line: No, I would not recommend this to a friend

---

17 out 27 people found this review helpful

Needs help on rice dish

By Jerry

,

Dayton, Nevada

,

Mar 18, 2017
Verified Reviewer

It is a great product but has no recipes for the rice. Please in a regular measuring cup, how much rice and water, plus the time? I need help.

Bottom Line: No, I would not recommend this to a friend

---