Micro Mechanic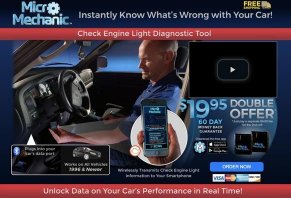 Micro Mechanic is an OBD-II device that attaches discreetly underneath your dashboard and allows you to identify, diagnose, and clear check engine lights.
Micro Mechanic Review: Important Things to Consider Before You Buy
After plugging Micro Mechanic into your car's data port, the device promises to wirelessly relay real-time information to your smartphone via Bluetooth, which can help you instantly identify what's wrong when any diagnostic light appears.
According to the website, all you have to do is:
Download the app (it's also compatible with other apps like OBD Auto Doctor, Mini OBDII, Carista, DashCommand, TrackAddict, and Torque, to name just a few), which works with iPhone and Android devices
Plug the pocket-sized Micro Mechanic device into your car's data port (year model 1996 and newer) until secure
Open the app and follow the prompts
Not only will it tell you what's wrong in seconds, but whether there's a minor or major issue, the app will also show you about how much it will cost to repair so you can quickly determine the best course of action. It will even send you automatic maintenance reminders to help ensure you never miss an oil change or another critical item.
All of this certainly sounds great, but how can you decide if Micro Mechanic is the right OBD-II scanner for you? That's the central question we'll help you answer in this review.
How Does Micro Mechanic Work?
Let's split this topic into two parts:
OBD-II Functionality
Originally developed by the Society of Automotive Engineers (SAE) to meet California Air Resources Board (CARB) regulations, OBD-II ports provide access to a vehicle's diagnostic data.
Although these ports have been standard in all vehicles sold in the U.S. since 1996, the technology used to read and decipher the codes they generate was initially too expensive for most consumers. However, over the past decade or so, it's reached a point where they're widely available at just about any retailer with an automotive section.
From a high-level perspective, Lifewire's Jeremy Laukkonen explains "basic code readers can only read and clear codes, while advanced scan tools can also view live and recorded data, provide extensive knowledge bases, provide access to bi-directional controls and tests, and other advanced functionality."
Now, let's zoom in and find out if Micro Mechanic is a basic or advanced device.
The Micro Mechanic App
Although you'll have to pay for the Micro Mechanic device itself (more next), the companion iOS and Android app are free. After downloading to the appropriate app, the website indicates you'll gain access to features like:
Scan, Diagnose, & Reset Check Engine Light – With the press of a button, you'll find out why your check engine light is on, including the code and the associated issue. Then, you can reset the light once everything's been resolved.

Repair Cost Estimates – Displays the national average for any repairs identified during scanning.

Issue Urgency – Should you drive your car? How urgently should you have your vehicle inspected? The website advertises Micro Mechanic will let you know.

Maintenance Schedule – Based on mileage, the device will recommend specific maintenance services.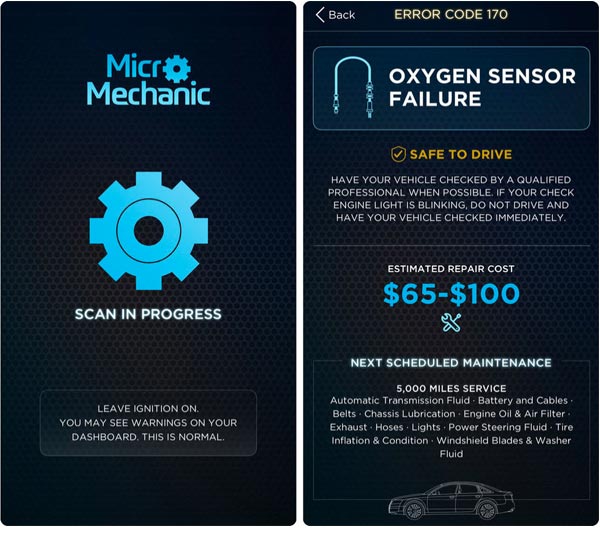 In these screenshots, we can see that the basic Micro Mechanic app works in a few quick steps to scan your OBD-II port, identify issues associated with your check engine light, let you know how much the problem might cost to repair, and whether or not it's safe to drive. Credit: Apple Corporation
How Much Does Micro Mechanic Cost?
One Micro Mechanic device is priced at $19.95, plus free shipping and a $1 web service fee. During checkout, you'll have the opportunity to purchase a second device for an additional $9.95 fee.
All orders come with a 60-day money back guarantee, less S&H, which you can request by calling OnTel Products customer support at 800-245-1754.
What Can We Learn from Micro Mechanic Customer Reviews?
Between iTunes and Google Play, we encountered nearly 20 combined user reviews for the Micro Mechanic app at the time of our research, who gave it an average rating of about four stars.
There, common compliments cited ease of use, while frequent complaints related to less-than-stellar functionality. Specifically, that it's scanning abilities were limited only to check engine lights.
Micro Mechanic vs. Other Basic OBD-II Devices
As we discussed earlier, the trickle down in technology over the years has made basic OBD-II scanning devices extraordinarily popular, not to mention inexpensive. In addition to local retailers, we encountered thousands of relevant results browsing online marketplaces like Amazon, Walmart, and Google Shopping (to name just a few). In many instances, they were priced under $10.
Like Micro Mechanic, most also featured app connectivity, the ability to scan, diagnose, and reset check engine lights, urgency determination, maintenance reminders, and repair estimates for any issues identified.
There were even other standalone apps compatible with a variety of other OBD-II devices, including Torque ($4.95; Android only), OBD Car Doctor (Free; iOS only), and Carista (Free; iOS and Android).
Choosing the Right Option
Considering their similarities and ultra-competitive price points, how can you decide which step to take next? Like most other products and services, you'll want to start by determining which features are most important to you.
For example, are you OK with basic functionality, such as reading and clearing check engine lights? Or, do you need something more robust, with access to additional data like:
Navigation, ABS, and airbags
Power locks, windows, lights, and instrument display. You can even change the behavior of these aspects in some instances.
GPS mileage tracking
Fuel, acceleration, and braking details
Horsepower and emissions
With most technology, it's often the case that the more features you need, the higher price you'll pay. However, we encountered many OBD-II devices with advanced features priced relatively in line with Micro Mechanic.
From there, you'll want to make sure that any company you do business with comes with a mostly positive online customer reputation, and stands behind their products with at least 30-day refund policies.
Our Bottom Line on Micro Mechanic
Micro Mechanic seems to offer many core features that could provide meaningful value, including wireless Bluetooth functionality, app connectivity, the ability to diagnose, translate, and clear codes related to check engine lights; and mileage-based maintenance reminders.
And as a company, NJ-based OnTel Products Corporation held a B rating with the Better Business Bureau, based on more than 30 customer reviews and nearly 370 closed complaints, as of 6/26/18. While many of these related to product quality and service concerns, a company representative responded in each instance with a solution.
They also stand behind Micro Mechanic with a 60-day refund policy, although you'll have to pay to ship it back to the manufacturer (you'll lose any fees associated with the BOGO offer as well) if you give it a try and end up dissatisfied.
Just keep in mind that even though they draw very little power, we encountered dozens of online customers reporting that their battery died after leaving third-party OBD-II devices in place and parking their car for several days. So if you travel frequently, it might be a good idea to remove Micro Mechanic in advance.
» Related: Avoid Mechanic Rip-Offs With These 7 Expert Tips
If it sounds too good to be true, it probably is

By Jacob D.

,

Nevada

,

Mar 2, 2020
Verified Reviewer

Same as these other guys, I have tried this thing in 3 different vehicles, a 2004 Chrysler Sebring, a 2002 Ford F150, and a 2006 Mercedes-Benz, all have check engine light on and this stupid thing says no problems, ok to drive, with every one of them. What a piece of crap.

Bottom Line: No, I would not recommend this to a friend

---

Not good

By Robert F.

,

Massachusetts

,

Feb 26, 2020
Verified Reviewer

My engine light is on and when I scan it says no problems, drive safe, and yes, my vehicle is a waste of money and time, not happy at all. I wish it worked because I do have a problem with my engine, that's why I bought it to begin with, but no now I have to find a place that has a REAL one, or I should say a WORKING one. Thanks for the wasted product. Note too self, don't buy another one.

Bottom Line: No, I would not recommend this to a friend

---

Advertisement

---

Doesn't work with Nissan El Grand 2003

By David R.

,

Sydney, Australia

,

Dec 10, 2019
Verified Reviewer

Hi,

Tried with many apps but the best I got out of it once was, "NO Problems Safe to Drive". There is a problem, that's why I wanted it!

It was quite hard to attach to Bluetooth but when it did pair it just could not get the data.

I put it in a 2016 Hyundai i30 and it did work and gave me figures.

How can I get the same result on the Nissan?

Bottom Line: No, I would not recommend this to a friend

---

Works great with careful study of directions

By Mike P.

,

Cartersville, GA

,

Oct 7, 2019
Verified Reviewer

I had read all the bad reviews. I followed the advice of several reviewers and downloaded the ELM OBD2 app instead of the Micro Mechanic app. I must admit the startup and use of the features runs a little counterintuitive. Especially if you are familiar with using a traditional corded type scanner. After several uses on several different vehicles, I must say I am impressed. Most importantly, one of the vehicles has a known bad PCM/ ECU. This has been verified by a dealership after my previous private label scanner suddenly began failing to communicate with the cars OBD2. I suspected the failure to communicate with my $200.00 scanner might have been because of a failing OBD system.

Without telling the dealership what my theory was, they got the code for bad PCM by using their multi-thousand dollar scan tool. Well, guess what? I wasn't expecting much of a result but WOW! The Micro Mechanic was able to communicate with the failing OBD2 system and gave the exact same code as the dealer. I find it far superior to my previous scan tool. Again - I must admit there is a learning curve to learning how to use it.

Bottom Line: Yes, I would recommend this to a friend

---

Advertisement

---

Worthless

By Tina G.

,

Missouri

,

Sep 21, 2019
Verified Reviewer

My check engine light is on. My powertrain failure light was on too. My transmission sensor is bad. It's going to be at least a $350 fix but it shows there is nothing wrong at all!

Bottom Line: No, I would not recommend this to a friend

---

Connection issue

By Raymond G.

,

Iuka, MS

,

Sep 16, 2019
Verified Reviewer

It works well enough, when it does finally connect to my wife's car tells me the code and lets me clear it, but it will not connect to my truck under any circumstance, and I know it is supposed to work on vehicles 96 or newer. So I am disappointed in it in that aspect, so now it looks like my wife has her own personal scanner since it only connects to her car.

Bottom Line: No, I would not recommend this to a friend

---

Not worth the money.

By Roger C.

,

Michigan

,

Sep 6, 2019
Verified Reviewer

I connected this to my car with 3 codes in it and this device said no problems found, safe to drive. DON'T BUY THIS! Also, my car is in limp home mode and can not be driven. I bought it through a 3rd party and can't even get a refund. Buyer beware...

Bottom Line: No, I would not recommend this to a friend

---

Good for the price.

By Van A.

,

Arkansas

,

Aug 14, 2019
Verified Reviewer

Micro Mechanic is easy to use with any smartphone. It uses Bluetooth to connect. There are free apps that work better than the one they sell. Sometimes codes are misleading with OBD-II so research the code on the internet before you just start throwing money at your car. In my experience I have found a high percentage of codes are caused by cracked vacuum hoses. I highly recomend a device like this.

Bottom Line: Yes, I would recommend this to a friend

---

Micro Mechanic rating

By Michael A.

,

Baltimore, MD

,

Aug 8, 2019
Verified Reviewer

False advertising! Out of the box, all this scan tool will do is tell you whether your check engine light problem is making the vehicle unsafe to drive or OK to drive! It will not tell you what the code is, or give you the ability to reset the light. To do this, YOU MUST SPEND MORE MONEY TO PURCHASE THE PRO VERSION. Basically, you can't do anything the device says it can do on the box, unless you purchase a code on the internet to unlock it! I felt lied to and ripped off one more!

Bottom Line: No, I would not recommend this to a friend

---

Zero results on known troubles

By G S.

,

Denver, CO

,

Mar 22, 2019
Verified Reviewer

I tested on two vehicles that are known to have issues that were verified by O'Reilly Auto Parts using their OBD-II system. Both vehicles showed zero results and we tried using multiple compatible apps. Returned to O'Reilly and got the correct (expected) results a second time. This device is no good. Simply does not work at all. The apps may be fine, but the device is not reporting.

Bottom Line: No, I would not recommend this to a friend

---

Just got one, left it in the car and the engine stalled, so I took it out and it runs fine!

By John V.

,

Kalamazoo, MI

,

Mar 20, 2019
Verified Reviewer

I tried and it said all systems were fine and I have a brake warning light on for pad wear! In any case, I will try it on my other car, which has an EVAP code pending! The additional code purchase makes me leary, but we will see, so far not impressed!

Bottom Line: No, I would not recommend this to a friend

---