Mighty Blaster Reviews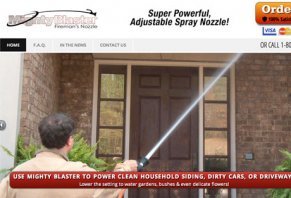 Mighty Blaster is an "As Seen on TV" pressure-controlled spray nozzle that's claimed to attach to your garden hose, provide 50% more power using 40% less water.
About Mighty Blaster
Washing your car or watering your tall trees is now (allegedly) a blast, according to the manufacturer of Mighty Blaster, a powerful "As Seen in TV" adjustable spray nozzle.
In fact, the company behind Mighty Blaster calls it a "fireman's nozzle" because—with a quick twist—it can be changed from a fine mist to a powerful stream that sprays up to 30 feet. On top of this, Mighty Blaster is claimed to use 40% less water and provide 50% more power than a standard hose.
In this review, we will examine the company's claims to help you make an informed decision.
How Mighty Blaster Works
Mighty Blaster looks like a heavy-duty spray nozzle with a large black easy-grip handle. They boast is was designed using the same pressure-control technology found in professional grade nozzles that cost thousands. They also claim it is made of aircraft-grade aluminum and high-grade stainless steel that's built to last.
To use Mighty Blaster, the manufacturer claims you'll first need to attach it to any garden hose, and its lightweight, portable, and specially-designed comfort grip will help reduce arm fatigue. Once it's attached, you'll need to twist the nozzle to select the desired strength.
According to the company, you can use Mighty Blaster on the highest strength to clean household siding, dirty vehicles, or driveways, as well as to blast away mildew on brick, mortar, or tile, keep patio furniture looking new and clean second or third-story windows with ease. They say the Mighty Blaster also cleans cars like a pro, washing away grime for a "showroom shine."
On lower settings, you can also use Mighty Blaster to water the garden, soak bushes or trees, or mist delicate flowers. And when you're finished, you just need to twist Mighty Blaster closed and the water will completely stop flowing, without leaks.
Similar Options to Mighty Blaster
Deep down, you probably already know this, but in our experience, "As Seen on TV" companies tend to make their products seem almost revolutionary when they're often just a new twist on standard products, and Mighty Blaster appears to be no different.
However, the reality is that these types of nozzles are widely available online as well as at hardware stores and home improvement retailers near you. To see for yourself, type the phrase "high powered hose nozzle" or "pressure control hose nozzle" into your favorite search engine.
On top of this, many of these options are less expensive than Mighty Blaster, especially considering its high, non-refundable S&H charges, which we'll talk more about in a moment.
Customer Feedback for Mighty Blaster
Since writing our original Mighty Blaster review, 36 HighYa readers have provided their feedback on the product (as of 6/3/15) and have given it an average rating of 1.5 stars. Here, common complaints appear to reference poor quality, failure to work as advertised, and high S&H charges (more about this in the Pricing section).
Mighty Blaster Fireman's Nozzle is brought to you by Telebrands, the ubiquitous sponsors of late-night TV fare for 30 years. Telebrands had a D- rating with the Better Business Bureau at the time of our research and a whopping 1,241 complaints. In fact, because of the volume of consumer complaints, the BBB revoked Telebrands's accreditation in 2014.
Might Blaster Pricing, Shipping, and Returns
Mighty Blaster Fireman's Nozzle is priced at $9.99 plus $6.99 shipping/handling for a total of $15.98. At the time of purchase, you can add another Fireman's Nozzle for $6.99 S&H, bringing the total to $22.97.
All Telebrands products come with the same 30-day money-back guarantee, minus S&H charges. The catch is that you have to include, in writing, a "detailed explanation" why you did not like the product, or they could potentially refuse the return.
Our Bottom Line: Can Mighty Blaster Provide More Power with Less Water?
Based on the dozens of negative Mighty Blaster customer reviews we've gathered here at HighYa, as well as the manufacturer's reputation for poor quality products that don't work as advertised, we might recommend saving your money and exploring additional local options for pressure-controlled spray nozzles.
1 out 1 people found this review helpful

Good but cheap

I have bought three Mighty Blasters. Each one would throw a stream at 50 feet and I had good power to wash the bulk mud out from under my fender well on my pickup. I really enjoyed that part of the sprayer. The problem I had with all three is that the plastic piece inside broke when I turned the nozzle off. If they fix the plastic piece to be more durable, I would highly recommend this sprayer.

Bottom Line: No, I would not recommend this to a friend

---

2 out 2 people found this review helpful

Not impressed

By Jean

,

Cape May, NJ

,

Jun 8, 2017
Verified Reviewer

Not as good as the one I had from a local store. Not even close. I would not recommend this product. I even had to wait six weeks. It is not as powerful as seen on TV. Just an ordinary hose nozzle as far as I'm concerned. I could have bought one at a hardware store and not have to wait all that time. Very disappointed.

Bottom Line: No, I would not recommend this to a friend

---

Advertisement

---

3 out 3 people found this review helpful

Rubbish

By Paul Kelly

,

Clare

,

May 24, 2017
Verified Reviewer

This so-called Mighty Blaster will not fit any standard garden hose. It comes with a flimsy connector which will pop off as soon as you turn on the water supply to the hose. The connection shown in the video to advertise this product is NOT the one that comes with it. Buyer BEWARE.

Bottom Line: No, I would not recommend this to a friend

---

14 out 15 people found this review helpful

Mighty Blaster is junk

By Alan

,

Whitehall Township, PA

,

May 15, 2016
Verified Reviewer

I picked up my Mighty Blaster at Walmart and the first time I used it the head snapped off. This such junk. I say don't buy it!

Bottom Line: No, I would not recommend this to a friend

---

Advertisement

---

16 out 17 people found this review helpful

Poor device, bad engineering.

By Bob Fouse

,

Bend, Oregon

,

Jan 27, 2016
Verified Reviewer

My son gave me this product as a stocking stuffer. I had never heard of it and it looked pretty good. Yesterday January 2016 I got it out and set up to wash my cars. I hooked it to my hose and it was leaking a bit, so I opened it up to wet down my truck. After the wet down I turned it off and hung it by it's handle on my wash bucket. I started washing my truck. I needed to stop and wash off some of the mud and soap. I took hold of the handle and noticed it was leaking a little bit. I opened her up and was washing down the soap and water when the entire nozzle blew out of the end. When I picked up the pieces later I saw how poorly constructed the unit is. Another lesson in the truth in beauty is only skin deep. What a piece of junk.

Bottom Line: No, I would not recommend this to a friend

---

14 out 15 people found this review helpful

What a waste.

By Renee

,

Wilson, NC

,

Oct 23, 2015

This product is so bogus. I have another sprayer that has more power than this supposed "Mighty Blaster". This thing couldn't even spray a leaf off my patio. Do not buy this product!

Bottom Line: No, I would not recommend this to a friend

---

10 out 11 people found this review helpful

Worthless

By Colleen Kearney

,

Valley Falls, Kansas

,

Sep 15, 2015

The second time I used it there was only a trickle of water and it was not enough to water my plants . Save your money because it does not work.

Bottom Line: No, I would not recommend this to a friend

---

11 out 12 people found this review helpful

Pitiful

By Barry

,

Chicago, IL

,

Sep 7, 2015

What a waste of money. It's good for plants but that's about it. My pee stream is stronger.

Bottom Line: No, I would not recommend this to a friend

---

9 out 9 people found this review helpful

Not as advertised

By Linda Sawin

,

Eldora, Iowa

,

Sep 6, 2015
Verified Reviewer

Unless you have super water pressure, this isn't any better than any other nozzle I have used. Also, tough I don't think so the inner connector is made of something breakable because mine broke right in two. I wouldn't recommend to anyone nor do I want a replacement. Give me my money back.

Bottom Line: No, I would not recommend this to a friend

---

6 out 6 people found this review helpful

Not worth the money

By Synthia Wittmann

,

Orlando, FL

,

Aug 31, 2015

Lousy product. In no way does it perform as advertised. Buy a regular nozzle and save your money.

Bottom Line: No, I would not recommend this to a friend

---

4 out 4 people found this review helpful

Not worth the money

Just purchased this item, I'm here to tell you it's not worth the money. There is no blast at all, you can get better results from a regular sprayer. Very disappointed in all the hype they lead you to believe. I'm returning it with no doubt.

Bottom Line: No, I would not recommend this to a friend

---