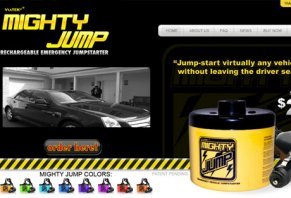 Mighty Jump is a rechargeable battery recharger that allows you to start a vehicle with a drained battery from the driver's seat by way of the power outlet.
About Mighty Jump Pro
Mighty Jump Pro is a small device that allows you to charge the drained battery of most vehicles from the driver's seat by plugging it into the power outlet or cigarette lighter and turning it on.
A Viatek product, the company claims that Mighty Jump Pro makes charging your battery safer, as you don't need to use jumper cables or wait for another vehicle to jumpstart you.
How Mighty Jump Pro Works
Although it doesn't specifically say what's inside of it, the Mighty Jump works by plugging the device into the car's power adaptor or cigarette lighter (it comes with a cigarette lighter adaptor). You then flip a switch on the Mighty Jump and it sends a pulse of electricity instantly and safely to your vehicle's battery without damaging your vehicle. After waiting for about 15 minutes, you engage your ignition and your car should start. Then you simply flip the switch back to let the Mighty Jump charge back up again. It only takes 10 minutes to charge the Mighty Jump enough to start an engine. The promotional video on the product website states that you can use it over and over again for five years.
For use in vehicles with a 12 volt electrical system, the Mighty Jump has a 30 volt output capacity and can recharge the batteries on compact cars, SUVs, luxury cars, minivans, trucks and boats.
The Mighty Jump Pro has mixed reviews online, but they are mostly negative. The negative ones mostly just say that the device doesn't work, but a few of the reviews are apparently from people knowledgeable about vehicle electrical systems who say it is virtually impossible for the device to work based on its specifications. Many of the positive reviews say that people who wrote the negative reviews just weren't following the directions properly.
See Also: Beware: Not Following These 6 Tips Could Cost You Money on Your Next "As Seen on TV" Purchase
Regardless of whether people were following the directions properly or not, the Mighty Jump doesn't work quite as quickly as is claimed in the promotional video. The video makes it seem like you can start your vehicle instantly when you actually have to wait about 15 minutes for the Mighty Jump to work. It's also, technically, a battery and not an actual jump starter, so the name is also misleading.
Mighty Jump Pricing, Shipping & Return Policies
The Mighty Jump can be yours for $24.95, plus an undisclosed amount of shipping and handling (calculated at checkout). The Mighty Jump PRO costs $34.99 while the Mighty Jump PRO Colors series retails for $27.99. (Nine colors available.) There is also the Mighty Jump Avenger with 5 LED Easy Read Adapter for $24.99.
The PRO series is more powerful than the regular Mighty Jump, while the Avenger is just a basic Mighty Jump, but the adaptor has five LED lights that show you which way the electrical current is flowing.
If you order the Mighty Jump through the product website, you can get two for $24.95, plus your shipping and handling. It is not clear if that offer is for the PRO and Avenger series, too.
Neither the website nor the promotional video talks about how to return the product, but you can call 1-888-784-2835 if you have questions.
Bottom Line
Probably the most damning claim against this product is that some of the reviews claim that inside it basically just consists of some AA batteries. Whether that is true or not is unclear, but it would explain the Mighty Jump's compact size.
The claims behind this product seem rather dubious and consumer reviews tend to back that up. The name is misleading and the video is misleading. If you are willing to pay the money for a battery charger that may or may not work, you might find this product worth the risk. But it is important to know that this product is not a vehicle jump starter and cannot do the same thing as a vehicle-to-vehicle jump start or a much more expensive vehicle jump starting kit, which will require you to use jumper cables.
The fact that there is no mention of any kind of return policy should also raise some red flags.
1 out 1 people found this review helpful

Total scam

By

Ellwood H.

,

Casa Grande, AZ

,

Feb 26, 2019
Verified Reviewer

I bought two of these, one for my wife and one for me. Neither would work. My wife has a Ford Focus and I have a Chevy Trailblazer. I drained the batteries down to about 8V, followed directions on the Mighty Jump and got absolutely no increase in voltage at the low batteries. I had to use my regular car charger to get the batteries back to full charge.

Save your money. At least the company I bought them from gave me credit for any other purchases without returning the units. BE SURE you have a warranty/guarantee if you do buy as you will probably need it.

Bottom Line: No, I would not recommend this to a friend

---

4 out 5 people found this review helpful

A total waste of money

By

Zeb C.

,

Fayetteville, NC

,

Nov 26, 2018
Verified Reviewer

I purchased a two-package combo through HSN several years ago and gave one to my neighbor. This item is "snake oil" and does NOT work. My neighbor and I used this useless item on several occasions according to the instructions with absolutely NO results. A total waste of money from a racket company.

Bottom Line: No, I would not recommend this to a friend

---

Advertisement

---

3 out 3 people found this review helpful

Waste of money!

By

Debbie J.

,

Texas

,

Nov 16, 2018
Verified Reviewer

I followed the directions exactly, my Mighty Jump Pro was fully charged, and my vehicle's battery was not completely dead, but this device did not charge my battery. My vehicle and battery are fine...a door was not completely closed, and the lights drained my battery. I bought six of these things and out of the two that we have used on a vehicle, both failed to do what they were supposed to do.

Bottom Line: No, I would not recommend this to a friend

---

1 out 3 people found this review helpful

It worked amazingly.

By

Sandi N.

,

California

,

Jun 28, 2018
Verified Reviewer

My God-daughter and I were stranded one evening. I called my cousin for help and if she could pick up a portable jump charger and my Mighty Jump to try out at my house. When she arrived, I read the directions and thought, who has 15 minutes to wait after waiting already. So I decided to connect the portable jump charger and turned the key. Nothing. I rechecked and notice no voltage on voltmeter of the portable jump charger. I guess I do have 15 minutes to wait after all. Plan B into action and waited, 5 minutes, then 10 minutes, I decided to check how much voltage was going through rehooked up portable jump charger and 10 volts were showing and kept going up. Amazingly it reached peak at about 12.7 after the said 15 minutes. Viola, car started up right away. A few days later. My husband called me the same car. Didn't start. I told him his portable jump charger was in the car. Let me tell you, Mighty Jump not only helped me, it charged his portable jump charger at the same time, and he used that a few days after!

Best friend for emergencies. I make sure Mighty Jump travels with me!

Bottom Line: Yes, I would recommend this to a friend

---

Advertisement

---

6 out 6 people found this review helpful

Don't buy

By

Joy H.

,

Maryland

,

Jun 1, 2018
Verified Reviewer

DO NOT buy this product. I read the directions, and this still did not charge my car or truck. I tried calling the number on the bottom of the Mighty Jump Pro, and after being on hold for 10 minutes, a message came on and said leave a message and then said sorry there is a problem the mailbox is full. I am a woman and bought this.

HSN should check their products more thoroughly before putting on air. A waste of my money and no support system. I will not be buying any more products from HSN.

Bottom Line: No, I would not recommend this to a friend

---

15 out 17 people found this review helpful

Mighty Jump is a JOKE!

By

Marieanne

,

Tallahassee, Florida

,

Dec 9, 2015
Verified Reviewer

Got off the plane at midnight last night to find my vehicle dead. I plugged my fully charged Mighty Jump into the cigarette lighter and waited 15 minutes. I am very disappointed to write that this gadget is simply a failure. The claim on the shopping channel insisted that this product would be good for anyone (like me, a woman in a dark parking lot at the airport with a dead battery). I will keep it for charging my cell phone but if you think this will work on a car battery - forget it! I finally got a real jump the traditional way.

Bottom Line: No, I would not recommend this to a friend

---

9 out 12 people found this review helpful

Worked like a charm

By

Bob

,

Baltimore, MD

,

Jul 25, 2015

This has been sitting in my garage for three years without being touched. Today, a woman's car broke down on my street and I remembered that I had the Mighty Jump. Curious to see if it would work, I plugged it in and let it sit for 5 minutes. All of a sudden the relays in the car started flickering and I turned the keys. Started right up. Her battery did have corroded connections which led to the drain to begin with (I had to jiggle the terminal to get it going).

A good product if the problem lies with the battery. Like other reviewers have stated, you need to understand what's happening with your car before using it. If something other than your functioning battery is a problem, obviously this will not work. That's also not a reason to condemn it as a good product. It did what it says.

Bottom Line: Yes, I would recommend this to a friend

---

11 out 12 people found this review helpful

It has to be a CAPACITOR

It can only charge as high as your electrical system voltage goes. They should have put in a cheap PWM/DC Converter circuit to boost voltage to 30V so it would work EVERY TIME.

A 30V capacitor of sufficient FARAD rating can turn over a car with a weak or dead battery every time, and start it if the ignition system is working OK. I have built simple DC converters (boosters) but I'd not use one on it without a voltmeter to check the voltage. DO NOT OVERCHARGE a Capacitor, it will short out internally and become useless or even leak, or possibly Explode.

This COULD WORK if properly charged. I have the standard Mighty Jump, and will find out. I will update the review later.

Bottom Line: No, I would not recommend this to a friend

---

8 out 10 people found this review helpful

Problem with Mighty Jump

By

John McCann

,

Fort Wayne, IN

,

Jul 15, 2015

When I received my Mighty Jump it was charged to 18V. The first time I used it, the Mighty Jump worked great. However, when I recharged it, it would not charge over 16V. It has never started my car after the first time. What a bummer. I should have saved my money. I give my neighbor $5.00 to $10.00 for a jump that works every time. Of course, he would do it for free.

Bottom Line: No, I would not recommend this to a friend

---

27 out 30 people found this review helpful

Works Under One Condition

By

World Car Auto

,

East York, Ontario, Canada

,

Jul 7, 2015

This so called Mighty Jump Pro does not work. The current it provides cannot be more then 10 Amps. Since the fuse box of all cars range 10-15 Amps. A car battery has approximately 500 Amps and 700 Cold Cranking Amps, so when it comes to OHMS LAW sure it provides almost double the amount of 12 volts, but with no Amps even 100 volts won't do squat. I seen the advert on the shopping channel, and they should be locking these people up for misguiding them, with a sense of false security. In order for this to work, your battery needs to be fairly new, and you forgot your lights on for 20 min. If longer, your car will not start. If your alternator, or battery is bad you will not start your car.

Bottom Line: No, I would not recommend this to a friend

---