Mighty Putty Purple Reviews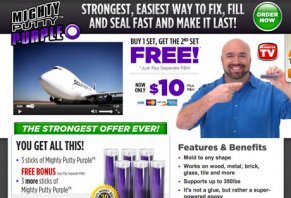 Mighty Putty Purple is an "As Seen on TV" epoxy putty that activates when kneaded together, and is claimed to bond, fill, and rebuild almost any surface.
About Mighty Putty Purple
Mighty Putty Purple is a moldable, shapeable epoxy putty that's claimed to bond, fix, fill, rebuild, and seal anything fast—including wood, metal, brick, glass, tile, and more—and make it last. In fact, Mighty Putty Purple is claimed to support up to 350 pounds and to even work underwater.
According to the manufacturer, Mighty Putty Purple works over 3 steps:
Cut the stick to the desired length (like dough).
Knead the section together to activate.
Apply to any surface and allow to dry.
When it comes down to it though, can you reasonably expect Mighty Putty Purple to work as advertised and to provide good value for your money? Consider the following:
What's the Difference Between Mighty Putty Purple and the Original?
There wasn't any online information providing a clear distinction between Mighty Putty Purple and the original formula at the time of our research.
However, according to a Today Show segment featured on the Mighty Putty Purple website, Bill McAlister, the manufacturer's CEO, is quoted as saying that this new formulation is "much better and stronger." (Editor's note: The Today Show's segment is no longer available online.)
Outside of this, no additional details are provided.
Other Epoxy Putty Options
Next, it's important to remember that although Mighty Putty Purple comes off as being some kind of revolutionary product, the fact of the matter is that dozens of epoxy putty options are available online. In fact, epoxy putty is so commonplace that you'll almost certainly find a wide variety of options at your local hardware or home improvement store.
On top of this, many of these options are less expensive that Mighty Putty Purple, given the product's high, non-refundable S&H charges (we'll talk more about this in the Pricing section below).
Mind the Arbitration
Finally, keep in mind that by placing an order for Mighty Putty Purple, you'll be bound to an arbitration agreement. This means that if you experience damages and want to submit to a trial by jury or become part of a class action lawsuit, your legal rights could be severely limited.
No Customer Reviews for Mighty Putty Purple
Although there weren't any online customer reviews available for Mighty Putty Purple at the time of our research, there were over 200 Amazon reader reviews for the original Mighty Putty (which, as we mentioned above, appears to be very similar), who rated the product an average of 3.7 stars. Some consumers claimed to have been very pleased with its performance, although the most common complaint appeared to revolve around failure to work as advertised.
One Amazon reviewer, who claimed that they were originally disappointed with Mighty Putty's performance, stated that after some trial and error, they learned that the surface must be roughened in order to allow it to adhere. Otherwise, it won't work at all.
From a company perspective, Mighty Putty Purple is manufactured by Top Dog Direct (a division of Plymouth Direct), who held an F rating with the Better Business Bureau, based on 143 closed complaints (as of 6/8/15). Unfortunately, no complaint details were available.
Mighty Putty Purple Pricing and Refund Policy
Editor's note: At the time of our last update of this page on 6/18/19, it appears that the ASOTV offer is no longer active.
Two sets of Mighty Putty Purple are priced at $10 plus $15.90 S&H. For this price, you'll receive a total of 4 sticks of Mighty Putty Purple, in addition to 2 Mighty Putty Purple "Single Shots."
Mighty Putty Purple comes with a 30-day refund policy, less S&H charges. This means that you'll ultimately lose close to twice as much in S&H fees as you'll receive as a refund.
With this in mind, if you'd like to request a refund, you'll need to contact customer service at 800-340-3418.
Our Botton Line: Will Mighty Putty Purple Work As Well As It Claims?
Considering the lack of online customer reviews related to Mighty Putty Purple, as well as the fact that it comes with ultra-high, non-refundable S&H charges, we might recommend exploring local epoxy putty options before placing your Mighty Putty Purple order.