Mighty Sight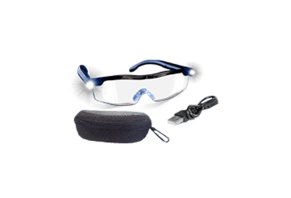 If you're looking for a glasses that combine lighting and magnification, Mighty Sight could have the answer. Their glasses combine a pair of powerful LED lights and lenses with 160% magnification. Our research finds they may work for you but other options are cheaper.
About Mighty Sight
Mighty Sight is a pair of magnifying, LED-powered glasses intended to help you read smaller print and provide better lighting than what your eyes would normally provide.
When you need to see up close, do you squint and strain? And, without enough light, it's more of a pain. Then you need mighty sight, the new led lighted magnifying eyewear that makes detailed tasks easy to see, ultra-bright and hands-free.
"I could never read the tiny print on my vitamins but now, with Mighty Sight, it's as clear as a bell," one woman says in a promo video on the product's website.
In this review, we'll help you figure out if these glasses are the right fit, so to speak, for what you need. We'll talk about how they work, what they cost and how they compare to similar pairs of glasses.
How Mighty Sight Glasses Work
According to the Mighty Sight website, the glasses have the following characteristics:
160% magnification
Built-in LED lights
Uses CR2023 batteries
Comes with charging cord and carrying case
The LED lights are located in the outside top corner of each side of you're the magnification lens through which you view what you're doing.
The way the lights are configured results in focused illumination that comes in handy if you, as the product's promo video points out, want to read a book in bed while the person next to you tries to sleep.
Rather than have to squint through your glassed in low-light situations or try and hold a flashlight while trying to get a task done, you have the best of both worlds in a pair of glasses that free your hands to do whatever you need them to do.
Other perks to owning the classes, the site claims, are that you can wear them over your prescription glasses or sunglasses and the frames are one-size-fits-all.
What's tough about these glasses is that it's hard to know how they'll fit your face and whether or not the magnification level fits your needs.
We have a suggestion here. Head to your local Target or Walmart and try on their one-size-fits-all reading glasses. How is the fit? While it won't mimic how Mighty Sight will fit it does give you an idea of what you can expect from a universal fit.
Also, use this trip to try on some 1.6x magnification glasses to see how they help or hinder your eyesight.
Pro tip: 160-percent magnification is equivalent to 1.6x magnification.
Mighty Sight Pricing and Return Policy
One pair of Mighty Sight Glasses costs $19.99 + $6.99 in S&H. You can get a second pair for an additional $6.99 fee added to your order.
for an additional $10 per pair, you can upgrade your order to Deluce, which comes with Anti-Scratch Coating, brighter LEDs by 20% and extended warranty.
Once you receive your glasses, you have 60 days to claim a return if you aren't happy with your glasses.
To get your return started, you'll need to call Mighty Sight's customer service center at 855-602-7825. The phone rep needs to give you a return authorization number in order for you to send your glasses back.
According to the fine print, you'll need to include the following information with your return:
Return authorization number
Name
Address
Daytime telephone number
Email address
The company will not accept your return unless you get the authorization number. Also, you are responsible for the cost of sending your glasses back to the company.
Comparing Mighty Sight to Other Glasses
We went to Amazon to discover which other LED reading glasses were available and found that the competition on that site was pretty slim.
We found two main types of glasses: DiiZii LED reading glasses and AV SUPPLY Ultra Bright LED Readers.
The DiiZii glasses were $8.99 at the time of writing. Thirty-two reviewers gave them an average of 3.8 stars. When purchasing them, you have the ability to choose the magnification power: +1.0, +1.5, +2.0, +2.5, +3.0, +3.5 or +4.0.
The AV SUPPLY glasses were $12.23 and came with the same magnification options as the DiiZii glasses. Reviewers gave left 46 reviews at the time of writing for an average rating of 3.6 stars.
The main advantage we see from competing glasses is that, unlike Mighty Sight, they offer you eight different magnification levels and are far cheaper.
The Final Word: Things to Consider About Mighty Sight Glasses
After completing our research on this product, we believe there are certain things you need to think about before buying them.
These glasses offer but one magnification level while others we found on Amazon offered eight different magnification levels.
This tells us that Mighty Sight glasses will last as long as your current eyesight level is. If your eyes are getting progressively worse, then there will come a point where the magnification on these glasses won't work.
If you were to buy glasses on Amazon, you could pay as little as $8.99 for your first pair. When your eyesight calls for stronger magnification, you'll spend $8.99 again, in theory.
Because the price of the DiiZii glasses is so cheap, you could buy four different levels of magnification for the price of one pair of Mighty Sight.
What we like about Mighty Sight, though, is that the LED lights on them seem bigger and may emit more light than what you'll get with the other two brands we listed earlier.
In our opinion, the best way to know if these glasses are a good choice is to first go to a store with reading glasses and find out how good 1.6x magnification is.
If that magnification checks out, your eyes should be happy with Mighty Sight. Compare them to other glasses on Amazon and consider factors like color and style.
If everything checks out, we see Mighty Sight offering the best value on two pairs of glasses – one for the bedroom and one for the living room, for example. But, just remember, both glasses are going to be 1.6x magnification.
Mighty Sight glasses

By Leslie P.

,

Maryland

,

Jan 14, 2020
Verified Reviewer

Please DON'T spend your money. Mighty Sight does not credit back the Shipping and Handling fees and you have to send them back and pay the shipping. These glasses DO NOT fit over prescription glasses and therefore just are at the very end of the nose. Customer Service was polite and credited me back $15.00 and I didn't have to return the glasses, but I'm basically out $20.00 and have glasses that are not usable. I hope I can find someone that they can benefit or otherwise they are a very light "paperweight".

Bottom Line: No, I would not recommend this to a friend

---

RIP OFF

By Bonnie G.

,

Pennsylvania

,

Jan 2, 2020
Verified Reviewer

I just bought one online, with the second added. They switch you to the deluxe. I have not received them as I ordered today, but $56 for two pieces of plastic with lights is too much. Don't get caught.

Bottom Line: No, I would not recommend this to a friend

---

GARBAGE!

By Colleen R.

,

Florida

,

Jan 2, 2020
Verified Reviewer

DON'T BUY THESE! The lights on the first pair stopped working within a month. They sent a replacement pair that wouldn't charge. I have asked for a full refund...we'll see.

Bottom Line: No, I would not recommend this to a friend

---

Lights don't work

By Don R.

,

Rancho Cucamonga, CA

,

Dec 26, 2019
Verified Reviewer

When arms are open on someone's head, the lights shut off. Lights only work when arms are closed. These were receiving two months ago. There is no way of fixing this problem. Expensive pair of magnifying glasses.

Bottom Line: No, I would not recommend this to a friend

---

Advertisement

---

Rip off!

By Mark N.

,

Sacramento, CA

,

Dec 16, 2019
Verified Reviewer

I ordered the Mighty Sight glasses online. I even added a second pair. It does not give you options like deluxe pair without telling you that it costs more. In total, I should have been charged about $33.00 but when I received their email I was charged $55.00. At no point in the ordering process was I asked if I agreed to this charge. Bottom line - I called their number and after waiting over 20 minutes on the phone, I was told to call customer service.

I called customer service and was told they could do nothing about it because the order had not been processed.

RIP OFF!

Bottom Line: No, I would not recommend this to a friend

---

Very deceptive.

By Dale G.

,

Ohio

,

Dec 6, 2019
Verified Reviewer

They claim 1.60 x magnification. Actually it is more like 14% magnification. Something 1.75 inches appears 2 inches. Virtually worthless. Do not be fooled by claims of 160%, go to Amazon and look for alternatives and read the reviews.

Bottom Line: No, I would not recommend this to a friend

---

Broken

By Lucille L.

,

Alabama

,

Nov 28, 2019
Verified Reviewer

Loved the glasses. I even showed them to my retina specialist. I have advanced AMD and they were a great help with the light. They were over $60.00 for the two pair after the upgrades, but felt they were worth it because the light helped so much. I have had them just over a month and both pairs are now useless. Both pairs broke where the earpiece meets the glasses. I am very disappointed.

Bottom Line: No, I would not recommend this to a friend

---

After a couple of months

By Keith S.

,

Hawaii

,

Nov 23, 2019
Verified Reviewer

On the phone I was ordering and gave credit card info. Then was told an extra $30.00 fee shipping to Hawaii. I told them no way and to cancel my order.

I was surprised when I got an email saying payment went through with the very high shipping charges they tacked the $30 on to the other high charges.

I called and customer service said it was VERY clear that I wanted to cancel the order because of the shipping to Hawaii. She said they were already shipped and that I could keep them even though they would reverse the charge, which they did. So I ended up with the glasses at no charge.

I have been using them over my reading glasses which have thin wire arms no problem. The arms on the readers are thick so I can see problems others have had if they have thick arms on their readers.

It helps with reading the fine print on the phone. The battery life is not that long, so far batteries continue to charge up fine on my laptop.

Bottom Line: No, I would not recommend this to a friend

---

Unethical advertising, sales

By John T.

,

Tucson, AZ

,

Nov 15, 2019
Verified Reviewer

I ordered the 2-for-1 sale on these glasses an upgraded the glasses to the "deluxe" edition with brighter LED and a scratch-free surface coating. I was sent the "standard" product packaged as a deluxe model. I know this because the standard product is available locally and I checked it out before ordering the Mighty Sight online. I asked for a return because of deceptive advertising and was told that they would deduct postage, processing and web fees from the total after I pay for returning the glasses. I send another email telling them this was unacceptable and filed a complaint with my credit card company, who is withholding payment following their investigation. This company is unethical and not to be trusted.

Bottom Line: No, I would not recommend this to a friend

---

You charged and did not say anything about needing HSB charging plug and I don't have one, now what?

By Melanie H.

,

760 rebecca ct.

,

Nov 13, 2019
Verified Reviewer

Who knows, now I can't charge it. In the ad you never said you need anything else to be able to use it? What the heck is a UBS charger? That is false advertising, now what am I supposed to do?

Bottom Line: No, I would not recommend this to a friend

---

Glasses good, company VERY deceptive

By AJ T.

,

Chattanooga, TN

,

Nov 12, 2019
Verified Reviewer

The 2 for 1 offer on TV is total BS. After they upcharge you for shipping on EACH it is right back to $40. But you don't find that out until you hit "buy now" as they deceptively do not total it. Go to Walmart and buy 2 so the vendor doesn't get to sell your info. One of the most bush league things I've seen.

Bottom Line: No, I would not recommend this to a friend

---