MileIQ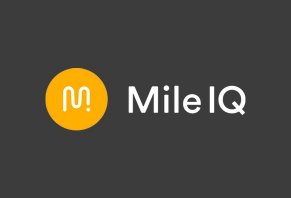 Summary
MileIQ is a popular app that freelancers and the self-employed use to keep track of the miles they travel during work-related trips.
MileIQ Review: A Detailed Look at Features, Pricing, and More
MileIQ is a mileage tracking app you can use to log miles you drive for business, then produce workplace- and IRS-compliant documents for reimbursement or deductions.
The app provides a valuable service if you have to track miles for your job or you want to deduct business-related trips from your tax liability.
Before apps like this, you had to write down your miles on paper or enter them into a spreadsheet on your phone. The process was painstaking. With MileIQ, the app does all the work.
Our review will help you understand why this app may or may not be the perfect fit for your needs.
Pros:
Cons:

Full features available in the free version
Easy swipe classification of trips
Integration with TurboTax

Can't generate IRS mileage reports from the app
Can drain Android batteries quickly
How MileIQ Works
Once you download the app on your phone and set up your account, MileIQ automatically starts logging the trips that you take in your car.
So, whether you drive 30 miles for a sales call or to go to a concert, MileIQ logs it.
The app allows you to categorize your trips one of two ways: bustiness or personal. You swipe left for personal and right for business.
The app includes the ability to name certain routes you take so it's easier to classify them.
This simple way to track miles and classify trips is a welcomed solution for you if you need to track them.
For two years I was a reporter at a newspaper that paid a certain amount of money for every mile we drove. In order to get paid for these miles, we had to write out our trips on a printed-out spreadsheet.
Sometimes I forgot to bring the spreadsheet with me, so I had to scribble down mileage numbers in my notepad and then remember to enter them when I returned to the office.
I never lost out on mileage but it was kind of annoying to have to carry a spreadsheet around with me to make sure I got the numbers exactly right.
This is where an app like MileIQ becomes crucial. You don't even have to think about logging miles because the app is in the background tracking every trip you take.
At the end of the year, MileIQ generates an IRS-compliant form that details the miles you drove for work and the resulting deductions you're eligible for.
There are a few things to keep in mind, though.
First, MileIQ will only work for you if you're itemizing deductions. At tax time, you have the option of taking a standard deduction that the IRS gives you or choosing to itemize them.
The standard deduction saves time because itemized deductions require you to work through multiple calculations, including how many miles you drove for business.
Most people itemize their deductions when what they get to deduct with their own list is more than what you'd get to deduct with the government's standard deduction.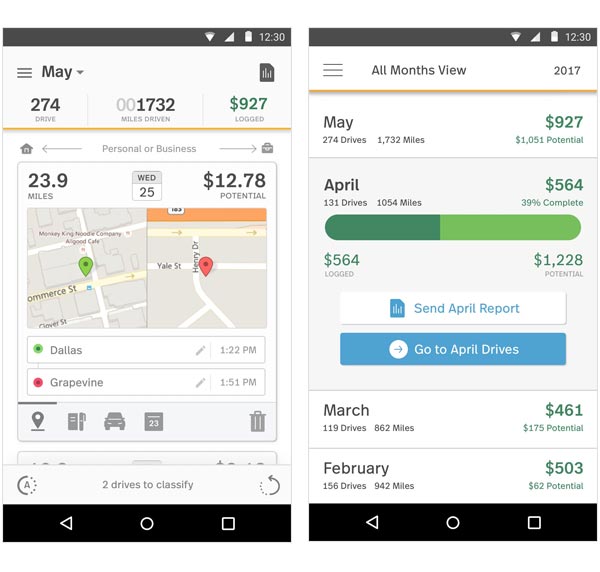 Second, if you're itemizing your deductions, the only way you can get the mileage deduction is if what you're going to deduct is at least 2% of your adjusted gross income (AGI). To figure that out, multiply the number of miles you drive each year for work by $0.575, which is the per-mile deduction amount.
If your AGI is $40,000, for example, then you need to be able to deduct at least $800 in mileage.
Additional Features
MileIQ's capabilities extend beyond its mileage tracking. Other benefits you get with the app include:
Browser access
Syncs to TurboTax
IRS-compliant mileage reports
Designate work hours
Bulk drive classification
Live chat support
You'll find that designating work hours and bulk classification will be the most helpful on a daily basis.
If you set work hours, then MileIQ will automatically classify as "business" the trips you take during work hours.
Second, the bulk drive classification means you can select multiple drives and classify them all at once. Otherwise, you'd have to classify them one by one.
MileIQ's main drawback is that you can't generate reports from the app. You have to go into the web platform to do it.
Pricing and Plans
Basic: $0
The Basic plan is free and will track your first 40 trips every month without charge. Remember, all trips count toward your 40-trip limit, not just trips you drive for business.
Also, keep in mind that a trip is one leg of a drive. So, if you have to make a few sales calls and you go to three different locations, you'll have three separate trips.
Aside from that, the Basic package comes with all the features the app provides. MileIQ does not cut back the functionality if you choose the free option.
Premium: $5.99/mo or $59.99/yr
If you think that you'll need to use more than 40 trips, then you'll have to upgrade to Premium.
Premium plan's advantage over Basic is that you get unlimited trip tracking. All other features and functions are the same.
MileIQ vs. Everlance, TripLog, and SherpaShare
| | MileIQ | Everlance | TripLog | SherpaShare |
| --- | --- | --- | --- | --- |
| Free version | Yes (40 trips/mo) | Yes (30 trips/mo) | Yes | No (two-week free trial) |
| Paid version cost | $5.99/mo or $59.99/yr | $8/mo or $60/yr | $4/mo–$6/mo | $5.99/mo–$10/mo or $59.99/yr–$120/yr |
| Manual tracking | No | Yes | Yes | Yes |
| Expense tracking | Yes | Yes | Yes | Yes |
| Phone support | Yes | Yes | No | No |
| Swipe-based trip classification | Yes | Yes | No | Yes |
| iTunes average rating | 4.6 | 4.9 | 4.7 | 4.5 |
| Google Play average rating | 4.4 | 4.2 | 4.7 | 4.4 |
MileIQ provides the most free trips per month for those who want complete IRS-compliant documents.
TripLog's free version gives you unlimited trips, it provides limited IRS reporting and doesn't use automatic tracking as MileIQ does.
MileIQ's free version has a weakness, though; you can't manually track trips like you can with Everlance, so your personal trips will count toward the 40-journey total.
MileIQ and Everlance are missing the ability to add other business deductions to your reports, something that TripLog offers. This helps because it incorporates all the expenses of a business trip into your app instead of just the miles.
Everlance, MileIQ, and Sherpashare give you the ability to upload all your business receipts to keep track of what and where you spent your money during work trips.
» For Further Reading: The Best Mileage Tracking Apps
Analysis of Customer Reviews
The app received excellent marks from more than 54,000 reviews written in the Google Play store and more than 23,000 iOS reviews.
The majority of reviews gave the app four or five stars, which indicates there's a very good chance you'll have a positive experience using this app.
Beyond the overall scores, our analysis revealed specific trends in MileIQ's positive and negative customer reviews. These trends will help you see where MileIQ's user-based strengths and weaknesses are:
Common Compliments:
Easy to Use: Many users said the app makes their mile tracking easy. The automatic trip detection won a lot of praise from reviewers for its effectiveness.

Popular with Variety of Business Owners: Tax preparers, realtors, and drivers said that MileIQ is an asset to their business, as it tracks trip effortlessly and integrates with their accounting software.
Common Negative Trends:
No Tax Access When You Stop Paying: We saw consumers complain that they could not access mileage information once they stopped paying for the app. So, if you choose to end your subscription in the middle of the year, make sure you print out a mileage report before you cancel.

Drains Your Phone Battery: Multiple people said the fact the app runs in the background at all times ends up costing you battery life.

Inaccurate Tracking: You may experience some mileage inaccuracies. For example, customers complained that the app wouldn't log all the miles they drove. In other instances, the app only tracked between 30% and 40% of drives.
The Bottom Line
MileIQ is an excellent mileage tracking app because you get the full suite of features and benefits it offers whether you use the free version or paid subscription.
The app provides everything you need to track your miles effectively so that, when tax season arrives, you can print out a compliant mileage report.
Who It's Good For:
You File Your Taxes with TurboTax: When you file taxes with TurboTax, you can seamlessly import your mileage data from MileIQ. The advantage here is that your trip-by-trip report gives your mileage deduction full credibility and can help avoid an audit.

You Take Less Than 40 Work Trips a Month: If this is you, then you get the full benefits of the MileIQ app while paying nothing. This is the only app on the market that gives you full use in their free package.
Who It's Not Good For:
Rideshare Drivers: The app lacks specialized support for rideshare drivers and provides no "quickest route" trip planning that could save rideshare and delivery drivers valuable time.
Customer Reviews
Posted on Jul 4, 2020
No 24-hour clock on reports
This product is very US centric. When creating reports on the web-based version there is no way to show the times in 24-hour clock format. As most of the world uses 24-hour clock format this is a major failing.
Each time I log the issue, I am told that the time setting comes from the operating system. This is true for iOS on the phone, but not for the web version from where I create my reports.
Seeing times written as 02:49 PM does my head in.
Length of Use: 1–2 years
Bottom Line: Yes, I would recommend this to a friend
Pros and Cons
Ensures I bill correctly for client site visits
No 24-hour clock format in reports
Our Promise to You
In order to safeguard you and ensure helpfulness and relevance, our compliance team manually assess every customer review before it goes live.
We have a zero-tolerance policy for fake reviews, and companies cannot control or alter any reviews at any time.