MindInsole Reviews
Claimed This company has claimed this profile, is getting alerted on any new customer reviews entering this page, and may engage in dialogue with its customers to address their matters.

Companies cannot pay money or provide goods in order to remove or alter customer reviews.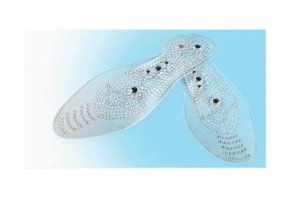 Together, Mindinsole's one-size-fits-all design, ability to improve airflow, 400+ acupoint nodes, and built-in magnets claim to help you experience meaningful relief.
About MindInsole
MindInsole is a scientifically designed insole that promises to use more than 400 massage points on each foot, including strategically placed magnets, to help cool and soothe, boost endurance, and relieve overall body pain.
Whether for women or men, the website advertises the insole fits all sizes, can be worn with any shoe (and even transferred between shoes), and features an airflow design and moisture-wicking technology to help keep feet cool and dry, regardless of the activity.
Combined, we're told these insoles will deliver not just relief from sore feet, but also from back pain, while lowering stress, boosting endurance, strengthening muscles, naturally flushing toxins, and improving blood circulation.
But after you've handed over your hard-earned money, will you find that MindInsole delivers "total body wellness with every step," and experience "energy-filled feet," as advertised on the website?
Give us a few minutes of your time, and we'll help you come to an information-based decision.
How Does MindInsole Work?
The Basics
MindInsole is designed to fit any shoe (men's sizes 6 – 12; women's sizes 7 – 12), since they feature an easy-to-cut material and come with a trimmable pre-marked guideline. You can even transfer the insole between shoes, although the manufacturer emphasizes this won't provide a precision fit in every instance.
As soon as you put them on, the website indicates MindInsole will start working right away, as the "acupressure massage works to bring harmony and balance to your whole body."
When the time comes, you can clean your insoles in lukewarm water using mild dish soap and allow them to air dry before reinserting into your shoes.
MindInsole's Acupoints
The company advertises they've partnered the "long-standing tradition of ancient medicines with scientifically proven innovative technologies." What does this mean, exactly?
On each foot, MindInsole features more than 400 raised nodules of different sizes, which they refer to as 'acupoints':
12 large acupoints for your foot's arch
120 medium acupoints for general massage and soothing
270 micro acupoints for increasing circulation
There are also five magnets in each insole that are said to produce natural, gentle magnetic fields while delivering a cooling effect. The upper magnet is also said to be directed toward the chakra of personal power, the core arch magnet toward the chakra of body functions, and the lower sole magnet toward the chakra of body energy.
Typically, the term 'acupoints' has been used to reference "specifically chosen sites of acupuncture manipulation, and also the basis for studying the mechanism of acupuncture." However, it's also frequently used when discussing acupressure, a similar form of traditional Chinese medicine (TCM) that aims to stimulate the body's own energy fields using pressure points, instead of needles under the skin.
In most instances, the pressure is manually applied using the hands, although in recent years a number of products have emerged—everything from mats and shoes to electronic devices and insoles like MindInsole—that promise to deliver many of the same benefits, but without involving another person.
And while they don't list any citations on their website, the company indicates their insoles are the result of "several scientific studies and personal trials" related to reducing stress, increasing energy and fitness, and balancing the body and mind. Note: We contacted support, who wasn't able to provide additional insight.
How Much Does MindInsole Cost & Where Can You Buy?
MindInsoles are available in men's shoe sizes 6 to 12 and ladies sizes 7 to 12, priced as follows:
1 Pair: $38.99
2 Pairs: $71.99 ($36 per pair)
3 Pairs: $89.99 ($30 per pair)
4 Pairs: $107.99 ($27 per pair)
5 Pairs: $128.99 ($25.80 per pair)
Note: We also found MindInsoles sold on the third-party site AllTrendyGifts for $16.95 per pair at the time of our research.
All direct orders come with a 100% satisfaction guarantee, although this only relates to exchanges or store credits. Per the site's terms: "All products are sold "as is" and all sales are final. You assume the responsibility for your purchase and no refunds will be issued."
Furthermore, to qualify for an exchange or store credit, the terms go on to explain that each "item must be unused and in the same condition that you received it. It must also be in the original packaging."
Outside of this, Swell EComm Enterprises, LLC offers a limited lifetime warranty against manufacturing defects on all MindInsole purchases, although this only applies to "original, unaltered and unmodified items."
To request an exchange or file a warranty claim, you'll need to reach out to 609-256-4523 or support@mindinsole.com.
Are There Other Acupoint Shoe Inserts Like MindInsole?
Searching online for different variations of terms like 'acupoint acupressure insole magnet' returned hundreds of different options priced between $5 and $25, many of which also promised to deliver the same core benefits as MindInsole, including a soft, cushioned material, built-in magnets and acupoint nodes or ridges, unisex designs, trimmability, and the option to move them between different pairs of shoes.
Looking at online marketplaces like Google Shopping and Amazon, here were some of the more popular results:
| | | |
| --- | --- | --- |
| Brand | Price | Special Features |
| MindInsole | $38.99 | More than 400 acupressure points in 3 different sizes, |
| Samwoo Anti-Odor Acupressure Copper Magnetic Massage Shoe Insoles | $7 | Features copper nodes that can help reduce bacteria-related odor |
| Tropical Shiatsu Acupressure Insoles | $10 | Wide design with extra arch support |
| AME Magnetic Full Insoles | $10 | Includes eight 800 gauss magnets with North (negative) polarity per insole |
| Enshey Magnetic Stone Deodorizing Therapy Shoe Insoles | $10 | Features unique raised ridges instead of individual nodules |
Given their similar claims but vastly different designs and price points, what's the first step in deciding which insole is right for you?
It almost goes without saying, but if you're frequently experiencing pain or discomfort in your feet (or elsewhere in your body, which originates from your feet), this is a medical issue. As such, your best bet for obtaining a scientifically sound diagnosis and related treatment is by speaking with your doctor.
If they recommend searching for a generic aftermarket insole, Dick's Sporting Goods emphasizes that you'll want to figure out your arch and gait types, as well as any "foot issues you may suffer from, such as plantar fasciitis, bunions, heel spurs or other common foot problems." Together, these can greatly influence the 'right' choice for you.
Next, it's important to note that insoles like MindInsole are considered 'comfort' models, and are intended to provide general relief.
However, if you're on your feet for long periods of time or frequently engage in physical activity, a molded insole or custom orthotic—both of which are more expensive—could deliver meaningfully more bang for your buck.
Outside of function and price, finding the right option might take some trial and error, since everyone's feet, needs, and preferences are unique.
Once you've narrowed down your options with your doctor's help, though, make sure to hop online and find out what customers have experienced, which could go a long way toward indicating what you can expect.
Pulling everything we've discussed together, where are you left when it comes to MindInsole?
Is MindInsole the Right Option for You?
The pliable material MindInsoles are made from could help deliver cushioning, while the different sized raised nodes and magnets might provide some measure of 'massaging' action.
There is a lack of clinical support for their claims that the placement of these nodes will deliver similar benefits as manually applied acupressure. Or, that its magnets can provide any real-world benefits or impact any of the body's 'chakras.'
Together with its meaningfully higher price than similar competitors, as well as the fact that no refunds are available, we'd strongly recommend speaking with your primary care physician and gaining their informed feedback before handing over your money.
Do not buy.

By Claire W.

,

United Kingdom

,

Oct 8, 2019
Verified Reviewer

I ordered on the 16th of August. Sent two emails on the 17th to cancel as I had read that the company is being investigated for how bad it is. They ignored my emails and sent the insoles out on the 23rd. I emailed again and no response until the 5th of September. Then I was referred to a different email to the two I had been sending to but still no return address. Then another email on the 18th stating their return policy but still no address to send to. Finally just a couple of days ago I have been given an address to send back to with a return policy stating I won't be reimbursed for postage as the product had been sent out, but from what I'm reading here I'm unlikely to get a refund even after the insoles are sent back. Not happy at all with this service. I recommend avoiding these insoles and this company at all costs.

Bottom Line: No, I would not recommend this to a friend

Oct 8, 2019

Hi Claire. We have read your feedback and we are wondering if you are referring to a new order. We tried to search for your order using your name and found one which was placed in October 2018. A full refund has been processed days after you made the purchase and everything happened a year ago. Please enlighten us. Thank you!

---

SCAM

By Darla W.

,

California

,

Jul 15, 2019
Verified Reviewer

Do not purchase these insoles if you are not 100% sure you are going to use them. I bought them thinking that possibly they could help with some corrective surgery I had on my foot. I never opened the product and have been trying to return the product for the past eight months. Horrible customer service representatives, terrible response time through email attempts (7 months it took to respond to my emails), and finally bogus return address...need I say more. Spend the money but know that you will never be able to return these insoles. If you want mine I'll send them to you for free with just the cost of shipping.

Bottom Line: No, I would not recommend this to a friend

Jul 16, 2019

Hi Darla. We hear your feedback and please know that we take them to heart. We looked into and it shows that a refund has already been processed. We'd like to solicit extra patience while this is being taken care of.

---

Advertisement

---

Disappointed

By June B.

,

Arbroath, Angus, Scotland

,

Jul 10, 2019
Verified Reviewer

The online publicity for MindInsole was convincing. Despite living simply on a small pension and managing my complex health issues at my own expense, I decided to risk buying two pairs. If they were good I could pass them on, if not, return them.

I confess I wore them initially longer than recommended - put them in my shoes, went out and forgot about them. After that, I became more careful but the sole of my left foot became very tender and I had pains in my legs which made me wary of continuing to use them.

Reading so many poor reviews doesn't give me confidence in this product. Maybe I will try again to see if it works.

Bottom Line: No, I would not recommend this to a friend

Jul 11, 2019

Hi June. Please know that we are taking your feedback to heart. We're here to help you maximize the benefits of the insoles. It is recommended to wear them for 10-15 minutes to start per day, and slowly increase the time you wear them every day so your feet can get used to the acupressure. For sensitive feet, wear socks. For very sensitive feet try thicker socks to start, then use thinner socks on day 2.

Hope this helps!

---

Grossly overcharged

By Margaret B.

,

Christchurch, New Zealand

,

May 3, 2019
Verified Reviewer

I ordered for my husband and quickly noticed I had been charged $180 instead of $ 80.

There are no contact numbers and no way query this overcharge once goods have been received. BIG waste of money. SCAM.

Bottom Line: No, I would not recommend this to a friend

May 6, 2019

Hi Margaret. We are sorry to hear about this feedback. We are here to offer our assistance and at the same time clarify some things. First, this is a legit entity, we are not in the business of scamming people. Second, we encourage you to send us an email at social@mindinsole.com with the order number or email address used when you purchased so we can further check on the charges. We look forward to hearing back from you and straightening things out soon.

---

Advertisement

---

It hurts

By Tina J.

,

Kingsville, Ontario, Canada

,

May 3, 2019
Verified Reviewer

I just got my pair in the mail a couple of days ago and I was so excited to get them. I cut them to my size, put them in my shoes and I was off to work. I thought my feet were going to feel great but I was wrong - they hurt my feet. I still stuck it out and wore them for the day and my feet felt great when I took my shoes off. The next day I tried them again and it hurt too much. I finally just had to pull them out. So sad for me, it was a waste of $40 but I might keep trying them. For me, I didn't feel they worked like it says it does.

Bottom Line: No, I would not recommend this to a friend

May 5, 2019

Hi Tina. We are sorry to hear about this feedback. We are here to offer our assistance. To set proper expectations, you may feel discomfort upon initial use up to the first few days since the feet is still getting used to the massage points. It is recommended to wear them for 10-15 minutes to start per day, and slowly increase the time you wear them every day so your feet can get used to the acupressure. For sensitive feet, wear socks. For very sensitive feet try thicker socks to start, then use thinner socks on day 2.

When you cut them, hold them over the insole of your shoe you'd like to wear them in and cut to the exact same size as your current insole. That will ensure they stay in place and are comfortable to wear.

We hope this helps!

---

A RIP-OFF

By Duncan M.

,

El Dorado Hills, CA

,

Apr 18, 2019
Verified Reviewer

This product is a total ripoff. No instructions come with it. The edges are difficult to cut and the angle does not fit most shoes. They are painful to walk on. I gave it a try anyway for a week and could see no benefit. There is no information on the package nor insert to tell you how to collect on "guarantee." I could not find the product listed on the distributor's website. Don't waste your money.

Bottom Line: No, I would not recommend this to a friend

Apr 18, 2019

Hi Duncan. We are sorry to hear about this feedback. It is normal to feel discomfort upon initial use up to the first few days since the feet is still getting used to the massage points. We recommend to wear them for 10-15 minutes to start per day, and slowly increase the time you wear them every day so your feet can get used to the acupressure. For sensitive feet, wear socks. For very sensitive feet try thicker socks to start, then use thinner socks on day 2.

When you cut them, hold them over the insole of your shoe you'd like to wear them in and cut to the exact same size as your current insole. That will ensure they stay in place and are comfortable to wear.

Hope this helps!

---

Rip off

By Birdie C.

,

Jamestown, NY

,

Apr 11, 2019
Verified Reviewer

Ordered first of October, received a week later. Not happy, returned on 10/11/18. Have receipt and tracking number. They received on 10/27/18. Talked to them twice, not received, but post office shows they did on 10/27/2018. On 2/5/2019 talked again, still nothing. I think we all should get in touch with the Attorney General and stop the fraud. Bring a lawsuit and all make money.

Bottom Line: No, I would not recommend this to a friend

Apr 14, 2019

Hello Birdie. We are sorry to hear about this feedback. We'd like to assure you that the customer service team is here to assist. Please note that an email has been sent to you regarding the returned item which was vital to complete the refund process. We hope to settle everything as soon as possible. Thanks!

---

These insoles work!

By Renee F.

,

Wisconsin

,

Apr 9, 2019
Verified Reviewer

I have been wearing these insoles for several months and have noticed a huge improvement in weight loss, circulation, and help in releasing toxins. I wear the insoles during my workout and I feel like I get a double workout. I am one that never sweats while working out but with wearing the insoles, I do work up a sweat. Don't listen to the naysayers who can't stand the pain. They must be wimps. They are not painful! It just takes some getting used to. Give them a try. It's ancient medicine!

Bottom Line: Yes, I would recommend this to a friend

Apr 10, 2019

Hi Renee! We are so happy to hear about the benefits of the insoles to you. Thank you for taking the time to share this wonderful feedback with us!

---

Don't buy this product!

By Darla M.

,

Virginia

,

Mar 28, 2019
Verified Reviewer

These shoe inserts are worthless. Not only did they take over a month to arrive but, they are very uncomfortable, and they are not magnetized which was the way they were advertised. Because I had to cut them to fit my shoe to see if they worked, I'm not able to return them.

Worst product ever and ship time was totally unacceptable. I did not want to give this even 1 star but the review couldn't be completed without it.

Bottom Line: No, I would not recommend this to a friend

Mar 31, 2019

Hi Darla. We are sorry to hear about this feedback. Each of the pair of insoles has magnets on them which are used for acupressure. Try wearing them for 10-15 minutes to start per day, and slowly increase the time you wear them every day so your feet can get used to the acupressure. For sensitive feet, wear socks. For very sensitive feet try thicker socks to start, then use thinner socks on day 2.

When you cut them, hold them over the insole of your shoe you'd like to wear them in and cut to the exact same size as your current insole. That will ensure they stay in place and are comfortable to wear.

Hope to have informed you sufficiently.

---

No refund

By Henry B.

,

Maryland

,

Mar 22, 2019
Verified Reviewer

I received my order in October 2018 and returned it in November 2018. It was delivered to their address at 2 PM on November 8, 2018 by USPS. As of this date (3/18/2019), I have NOT received a refund. I since have been getting offers for other products from this company but I will never order any from this company again.

Bottom Line: No, I would not recommend this to a friend

Mar 24, 2019

Hello Henry. We are sorry to hear about this feedback. We are taking them seriously as it will help improve our overall customer service. We have escalated your concern and will send you an email to the email address you used when you ordered. We hope to straighten things out as soon as possible. Thank you.

---

Very frustrated consumer

By Pamela S.

,

Louisiana

,

Mar 20, 2019
Verified Reviewer

Do not buy this product. The customer service is terrible. Email sent within three weeks of receiving the product went unanswered.

Several more contacts were made with no answer back. Was unable to reach by phone after several attempts. When finally able to reach via phone was told it has been too long and they can't refund the product because I filed a dispute through PayPal when I didn't get a response. It is not 100% guaranteed. Think long and hard before spending your money on this product.

Bottom Line: No, I would not recommend this to a friend

Mar 24, 2019

Hello Pamela. We are sorry to hear about this feedback. Please know that we are taking them seriously as it will help improve our overall customer service. To make sure that all your concerns are covered and straightened out we have sent you an email to the email address you have used when you purchased. Thank you.

---