MindInsole Reviews
Claimed This company has claimed this profile, is getting alerted on any new customer reviews entering this page, and may engage in dialogue with its customers to address their matters.

Companies cannot pay money or provide goods in order to remove or alter customer reviews.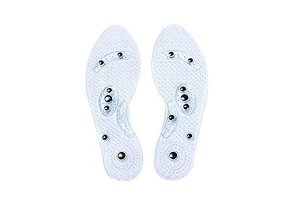 Mindinsole is an insole that allegedly helps alleviate foot pain and stress. Learn how customers are reviewing this product so far.
---
Do not buy.

By Claire W.

,

United Kingdom

,

Oct 8, 2019
Verified Reviewer

Overall Experience:

I ordered on the 16th of August. Sent two emails on the 17th to cancel as I had read that the company is being investigated for how bad it is. They ignored my emails and sent the insoles out on the 23rd. I emailed again and no response until the 5th of September. Then I was referred to a different email to the two I had been sending to but still no return address. Then another email on the 18th stating their return policy but still no address to send to. Finally just a couple of days ago I have been given an address to send back to with a return policy stating I won't be reimbursed for postage as the product had been sent out, but from what I'm reading here I'm unlikely to get a refund even after the insoles are sent back. Not happy at all with this service. I recommend avoiding these insoles and this company at all costs.

Bottom Line: No, I would not recommend this to a friend

Oct 8, 2019

Hi Claire. We have read your feedback and we are wondering if you are referring to a new order. We tried to search for your order using your name and found one which was placed in October 2018. A full refund has been processed days after you made the purchase and everything happened a year ago. Please enlighten us. Thank you!

---

SCAM

By Darla W.

,

California

,

Jul 15, 2019
Verified Reviewer

Overall Experience:

Do not purchase these insoles if you are not 100% sure you are going to use them. I bought them thinking that possibly they could help with some corrective surgery I had on my foot. I never opened the product and have been trying to return the product for the past eight months. Horrible customer service representatives, terrible response time through email attempts (7 months it took to respond to my emails), and finally bogus return address...need I say more. Spend the money but know that you will never be able to return these insoles. If you want mine I'll send them to you for free with just the cost of shipping.

Bottom Line: No, I would not recommend this to a friend

Jul 16, 2019

Hi Darla. We hear your feedback and please know that we take them to heart. We looked into and it shows that a refund has already been processed. We'd like to solicit extra patience while this is being taken care of.

---

Advertisement

---

Disappointed

By June B.

,

Arbroath, Angus, Scotland

,

Jul 10, 2019
Verified Reviewer

Overall Experience:

The online publicity for MindInsole was convincing. Despite living simply on a small pension and managing my complex health issues at my own expense, I decided to risk buying two pairs. If they were good I could pass them on, if not, return them.

I confess I wore them initially longer than recommended - put them in my shoes, went out and forgot about them. After that, I became more careful but the sole of my left foot became very tender and I had pains in my legs which made me wary of continuing to use them.

Reading so many poor reviews doesn't give me confidence in this product. Maybe I will try again to see if it works.

Bottom Line: No, I would not recommend this to a friend

Jul 11, 2019

Hi June. Please know that we are taking your feedback to heart. We're here to help you maximize the benefits of the insoles. It is recommended to wear them for 10-15 minutes to start per day, and slowly increase the time you wear them every day so your feet can get used to the acupressure. For sensitive feet, wear socks. For very sensitive feet try thicker socks to start, then use thinner socks on day 2.

Hope this helps!

---

Grossly overcharged

By Margaret B.

,

Christchurch, New Zealand

,

May 3, 2019
Verified Reviewer

Overall Experience:

I ordered for my husband and quickly noticed I had been charged $180 instead of $ 80.

There are no contact numbers and no way query this overcharge once goods have been received. BIG waste of money. SCAM.

Bottom Line: No, I would not recommend this to a friend

May 6, 2019

Hi Margaret. We are sorry to hear about this feedback. We are here to offer our assistance and at the same time clarify some things. First, this is a legit entity, we are not in the business of scamming people. Second, we encourage you to send us an email at social@mindinsole.com with the order number or email address used when you purchased so we can further check on the charges. We look forward to hearing back from you and straightening things out soon.

---

It hurts

By Tina J.

,

Kingsville, Ontario, Canada

,

May 3, 2019
Verified Reviewer

Overall Experience:

I just got my pair in the mail a couple of days ago and I was so excited to get them. I cut them to my size, put them in my shoes and I was off to work. I thought my feet were going to feel great but I was wrong - they hurt my feet. I still stuck it out and wore them for the day and my feet felt great when I took my shoes off. The next day I tried them again and it hurt too much. I finally just had to pull them out. So sad for me, it was a waste of $40 but I might keep trying them. For me, I didn't feel they worked like it says it does.

Bottom Line: No, I would not recommend this to a friend

May 5, 2019

Hi Tina. We are sorry to hear about this feedback. We are here to offer our assistance. To set proper expectations, you may feel discomfort upon initial use up to the first few days since the feet is still getting used to the massage points. It is recommended to wear them for 10-15 minutes to start per day, and slowly increase the time you wear them every day so your feet can get used to the acupressure. For sensitive feet, wear socks. For very sensitive feet try thicker socks to start, then use thinner socks on day 2.

When you cut them, hold them over the insole of your shoe you'd like to wear them in and cut to the exact same size as your current insole. That will ensure they stay in place and are comfortable to wear.

We hope this helps!

---

A RIP-OFF

By Duncan M.

,

El Dorado Hills, CA

,

Apr 18, 2019
Verified Reviewer

Overall Experience:

This product is a total ripoff. No instructions come with it. The edges are difficult to cut and the angle does not fit most shoes. They are painful to walk on. I gave it a try anyway for a week and could see no benefit. There is no information on the package nor insert to tell you how to collect on "guarantee." I could not find the product listed on the distributor's website. Don't waste your money.

Bottom Line: No, I would not recommend this to a friend

Apr 18, 2019

Hi Duncan. We are sorry to hear about this feedback. It is normal to feel discomfort upon initial use up to the first few days since the feet is still getting used to the massage points. We recommend to wear them for 10-15 minutes to start per day, and slowly increase the time you wear them every day so your feet can get used to the acupressure. For sensitive feet, wear socks. For very sensitive feet try thicker socks to start, then use thinner socks on day 2.

When you cut them, hold them over the insole of your shoe you'd like to wear them in and cut to the exact same size as your current insole. That will ensure they stay in place and are comfortable to wear.

Hope this helps!

---

Rip off

By Birdie C.

,

Jamestown, NY

,

Apr 11, 2019
Verified Reviewer

Overall Experience:

Ordered first of October, received a week later. Not happy, returned on 10/11/18. Have receipt and tracking number. They received on 10/27/18. Talked to them twice, not received, but post office shows they did on 10/27/2018. On 2/5/2019 talked again, still nothing. I think we all should get in touch with the Attorney General and stop the fraud. Bring a lawsuit and all make money.

Bottom Line: No, I would not recommend this to a friend

Apr 14, 2019

Hello Birdie. We are sorry to hear about this feedback. We'd like to assure you that the customer service team is here to assist. Please note that an email has been sent to you regarding the returned item which was vital to complete the refund process. We hope to settle everything as soon as possible. Thanks!

---

Advertisement

---

These insoles work!

By Renee F.

,

Wisconsin

,

Apr 9, 2019
Verified Reviewer

Overall Experience:

I have been wearing these insoles for several months and have noticed a huge improvement in weight loss, circulation, and help in releasing toxins. I wear the insoles during my workout and I feel like I get a double workout. I am one that never sweats while working out but with wearing the insoles, I do work up a sweat. Don't listen to the naysayers who can't stand the pain. They must be wimps. They are not painful! It just takes some getting used to. Give them a try. It's ancient medicine!

Bottom Line: Yes, I would recommend this to a friend

Apr 10, 2019

Hi Renee! We are so happy to hear about the benefits of the insoles to you. Thank you for taking the time to share this wonderful feedback with us!

---

Don't buy this product!

By Darla M.

,

Virginia

,

Mar 28, 2019
Verified Reviewer

Overall Experience:

These shoe inserts are worthless. Not only did they take over a month to arrive but, they are very uncomfortable, and they are not magnetized which was the way they were advertised. Because I had to cut them to fit my shoe to see if they worked, I'm not able to return them.

Worst product ever and ship time was totally unacceptable. I did not want to give this even 1 star but the review couldn't be completed without it.

Bottom Line: No, I would not recommend this to a friend

Mar 31, 2019

Hi Darla. We are sorry to hear about this feedback. Each of the pair of insoles has magnets on them which are used for acupressure. Try wearing them for 10-15 minutes to start per day, and slowly increase the time you wear them every day so your feet can get used to the acupressure. For sensitive feet, wear socks. For very sensitive feet try thicker socks to start, then use thinner socks on day 2.

When you cut them, hold them over the insole of your shoe you'd like to wear them in and cut to the exact same size as your current insole. That will ensure they stay in place and are comfortable to wear.

Hope to have informed you sufficiently.

---

No refund

By Henry B.

,

Maryland

,

Mar 22, 2019
Verified Reviewer

Overall Experience:

I received my order in October 2018 and returned it in November 2018. It was delivered to their address at 2 PM on November 8, 2018 by USPS. As of this date (3/18/2019), I have NOT received a refund. I since have been getting offers for other products from this company but I will never order any from this company again.

Bottom Line: No, I would not recommend this to a friend

Mar 24, 2019

Hello Henry. We are sorry to hear about this feedback. We are taking them seriously as it will help improve our overall customer service. We have escalated your concern and will send you an email to the email address you used when you ordered. We hope to straighten things out as soon as possible. Thank you.

---

Very frustrated consumer

By Pamela S.

,

Louisiana

,

Mar 20, 2019
Verified Reviewer

Overall Experience:

Do not buy this product. The customer service is terrible. Email sent within three weeks of receiving the product went unanswered.

Several more contacts were made with no answer back. Was unable to reach by phone after several attempts. When finally able to reach via phone was told it has been too long and they can't refund the product because I filed a dispute through PayPal when I didn't get a response. It is not 100% guaranteed. Think long and hard before spending your money on this product.

Bottom Line: No, I would not recommend this to a friend

Mar 24, 2019

Hello Pamela. We are sorry to hear about this feedback. Please know that we are taking them seriously as it will help improve our overall customer service. To make sure that all your concerns are covered and straightened out we have sent you an email to the email address you have used when you purchased. Thank you.

---

AWFUL

By Ruth S.

,

Fresno, CA

,

Mar 18, 2019
Verified Reviewer

Overall Experience:

These inserts were sooo uncomfortable. I understand why it said they help take away other pain. The insert cause so much pain it lessens other pains. They are very expensive and include no invoice in the package.

Bottom Line: No, I would not recommend this to a friend

Mar 18, 2019

Hi Ruth. We are sorry to hear about this. It is our commitment to provide meaningful relief to our customers. We recommend you to wear them for 10-15 minutes to start per day, and slowly increase the time you wear them every day so your feet can get used to the acupressure. For sensitive feet, wear socks. For very sensitive feet try thicker socks to start, then use thinner socks on day 2. When you cut them, hold them over the insole of your shoe you'd like to wear them in and cut to the exact same size as your current insole. That will ensure they stay in place and are comfortable to wear.

Hope this helps! If you have further questions, feel free to visit our Facebook page or call +1 609 256 4523 or +1 888 296 2217.

---

Advertisement

---

Unable to track order status

By Carolyn L.

,

Florida

,

Mar 17, 2019
Verified Reviewer

Overall Experience:

I placed an order online on January 21, 2019 at the MindInsoles website for a pair of magnet soles to have them shipped internationally to Hong Kong. I received an order confirmation email on the same day but there was no confirmation number but something called the CartID. It is now in March and we still have not received the products.

I wrote two emails to the customer service e-address that was provided in the email to track the order status and did not received any reply from them. I finally called them on the phone and spoke to someone. The staff said she can't assist me even though she could see my order record in their system because I placed the order with another department. The staff told me to write down the phone number to this different department so that I can speak to them, but after we hung up, I realized it was the same number I dialed at the beginning. I felt cheated and that the customer service department is not really helping me but just wasting my time. Now I don't have a tracking number, I can't get any help from MindInsoles, and I don't know who to turn to. Can someone assist?

Bottom Line: No, I would not recommend this to a friend

Mar 17, 2019

Hi Carolyn. We are sorry to hear about this experience. We're here to assist you. We are unable to find the order using your name. Do you mind sending us an email with the order number or email address used when you purchased so we can further check on it? Please use the email socialmedia@mindinsole.com. You may also call 609-256-4523 or 888-296-2217. We look forward to hearing from you.

---

I don't recommend

By Sue V.

,

Auburn, MI

,

Mar 16, 2019
Verified Reviewer

Overall Experience:

If it is necessary to cut the insole to fit, the product cannot be returned.

Because the product would not be refundable, I did not cut the sole and returned it with the 30 days.

48 days after returning the insoles, I received an email asking for a copy of the delivery receipt proving I had made the return within the 30-day time limit.

I supplied the requested document 5 days later. It has now been almost 30 days. No refund.

It has now been 73 days since the insoles were returned.

Bottom Line: No, I would not recommend this to a friend

Mar 17, 2019

Hi Sue. We are sorry to hear about this feedback. We have already followed this up with out Returns department and we look forward to being able to rectify the issue as soon as possible. Please respond to the email that was sent to or you may also call 609-256-4523 or 888-296-2217 for further assistance.

---

Wonderful relief

By Glennis S.

,

Hawke's Bay, New Zealand

,

Mar 16, 2019
Verified Reviewer

Overall Experience:

I received my insoles and followed the instruction re fitting and wearing them. The first day my feet were tingling and although a little uncomfortable, persevered until was wearing them all day on the third day. Now I wear them all the time, swapping them between my shoes as and when needed. I encourage those experiencing discomfort to check the heel magnet is center of the heel and that the insole is fitting your shoe properly.

I have arthritis in my feet, and a back condition, both now under control and manageable thanks to these excellent insoles.

Thoroughly recommend them.

Bottom Line: Yes, I would recommend this to a friend

May 16, 2019

Hi Glennis! We are so happy to hear that the Mindinsoles have helped relieve your pain. Thank you so much for taking the time to share this wonderful feedback!

---

Non-arrival

By Shelley A.

,

Cape Town, South Africa

,

Mar 8, 2019
Verified Reviewer

Overall Experience:

I ordered MindInsole inserts FIVE months ago and have still not received them. I have had nil reply to my many emails. As a disgruntled, disappointed, angry customer, I deserve my money back. This is totally unacceptable.

Bottom Line: No, I would not recommend this to a friend

Mar 10, 2019

Hello Shelley. We are sorry to hear that you did not receive your order. To make sure that all your concerns are addressed and straightened out, we have sent you an email to the email address you have used when you ordered. We'd also like to take this chance to apologize for the inconvenience that this has caused you. We look forward to hearing back from you.

---

Reflexology insole

By Ronnie L.

,

Seguin, TX

,

Mar 1, 2019
Verified Reviewer

Overall Experience:

I bought two pairs with good intentions, but after two weeks of wearing, just couldn't stand the pain. I bought two pairs, one for self and the other for hubby. I have one pair unopened...want to return the set and get a refund but don't know where. I just bought a pair of Dr, Scholls inserts and felt very comfortable in my shoes. I just don't feel people haven't given bad reviews, maybe they aren't honest with themselves or hurt a company's feelings. I don't have money to throw away on products that do more harm than good.

Bottom Line: No, I would not recommend this to a friend

Mar 3, 2019

Hi Ronnie. We regret to know that the insoles did not work for you. It is normal to feel discomfort upon initial use up to the first few days since the feet is still getting used to the massage points and the sensation. It is recommended to wear them for 10-15 minutes to start per day, and slowly increase the time you wear them every day so your feet can get used to the acupressure. For sensitive feet, wear socks. For very sensitive feet try thicker socks to start, then use thinner socks on day 2. If you want to return unused/uncut insoles for a refund, you may return it to us within 30 days from the time of delivery. Kindly send us an email at socialmedia@mindinsole.com with the order details. We look forward to hearing from you.

---

Advertisement

---

Don't purchase

By Sil Y.

,

Colonie, NY

,

Feb 26, 2019
Verified Reviewer

Overall Experience:

I have issues with my feet and legs so I thought these insoles sounded like a good idea. I classify it as something that "sounded like a good idea at the TIME." These are really not good, hurt my feet, and did absolutely nothing to help my issues. I have tried wearing them several times in hopes I would get used to them, but they are very uncomfortable. I would not recommend them. I believe this is a product that is one of those "gimmicks" that once they get your money, they don't care if you like them or not.

Bottom Line: No, I would not recommend this to a friend

Feb 27, 2019

Hi Sil. We are sorry to hear about this feedback. It is normal to feel discomfort upon initial use up to the first few days since the feet is still getting used to the massage points and the sensation. We recommend you to wear them for 10-15 minutes to start per day, and slowly increase the time you wear them every day so your feet can get used to the acupressure. For sensitive feet, wear socks. For very sensitive feet try thicker socks to start, then use thinner socks on day 2.

We'd also like to assure you that the Customer Service team is here to assist should you have any further concerns regarding the proper usage of the insoles. Thank you!

---

Bad experience, hurt feet

By Carol T.

,

Las Vegas, NV

,

Feb 22, 2019
Verified Reviewer

Overall Experience:

I ordered some insoles on MindInsole for Xmas and somehow the order didn't go thru PayPal correctly on their website and I ended up with two orders instead of one. I gave a pair as a Xmas gift, which left me with four singles. With all the business of Xmas, it was a while before I tried one of them and it hurt my foot. I looked at their return policy for the remaining three and it said after 30 days they couldn't be returned, but the exchange policy said they could be exchanged for store credit.

I called the customer service number and they knew nothing about store credit and suggested that I give them to friends. I wouldn't give something I don't like to friends. Besides not being able to send them back, I noticed online that they sold for much less on other sites. And the person I gave a pair to said they were uncomfortable, like walking on hard plastic.

Bottom Line: No, I would not recommend this to a friend

Feb 24, 2019

HI Carol. We are sorry to hear about this feedback. It is normal to feel discomfort upon initial use since the feet is still getting used to the massage points and the sensation. It is recommended to wear them for 10-15 minutes to start per day, and slowly increase the time you wear them every day so your feet can get used to the acupressure. For sensitive feet, wear socks. For very sensitive feet try thicker socks to start, then use thinner socks on day 2.

Regarding the cheaper products that you have seen online, we are currently working closely with retailers to remove sellers that are counterfeiting our products. We appreciate that everybody has a budget in mind when choosing a product, but we urge you to carefully consider buying counterfeit products. Choosing an inferior product may not provide the outcome you desire and at worse, may cause harm.

We hope to have informed you sufficiently.

---

Worst customer service ever

By Thomas H.

,

Philadelphia, PA

,

Feb 21, 2019
Verified Reviewer

Overall Experience:

I have never dealt with a company that has such poor customer service as this company. They go out of their way to screw their customers. They do not answer their telephone, no matter when you call, and they take weeks to answer an email.

I tried ordering insoles through their website but the website froze up in mid-order, so I didn't think the order went through. I tried again with the same result. I never received any confirmation for an order. However, I soon received two emails from PayPal showing two payments of $38.99 to this company.

I tried calling the company to explain what happened and to cancel one order, but no one answered the phone. I then sent an email explaining the problem and to cancel one of the orders. After waiting for two weeks for a response, I tried calling again to no avail. I sent another email to cancel both orders. After waiting two more weeks, someone responded to my email saying they couldn't find my order and requested more information. I provided the requested information and again canceled the orders.

A week later I got another email from someone else in their company asking for the same information as before. I provided the information and repeated the order cancellation. After at least three attempts to cancel the orders, they shipped them anyway. The day I received the insoles, I got an email from them saying the insoles shipped and it was too late to cancel the orders. I sent an email back requesting a prepaid return shipping label to return the insoles that never should have been shipped. After three weeks I received a response siting their return policy and they refused to acknowledge their mistake and pay for return shipping. I tried appealing to a manager, but they make it so difficult to contact anyone, they just ignored my request.

I did finally get an email from them with instructions for returning the insoles, but by this time it was well past their 30 day return time period. It cost me over $11 to return two sets of insoles to their California location. After two weeks after they received the returned package, I emailed them to find out about my refund. It took another few weeks to hear back from them. They acknowledged receiving the package but they wanted me to send them proof of delivery to make sure they got the package within their 30 return window. I tried calling them and waited in their answering queue for over an hour before I gave up. I sent another email to provide my opinion of their customer service and their return policy and asked that their CEO get back to me. After another week or so, I received an email saying they escalated my request and agreed to refund my money. I eventually received a credit on my credit card for the two sets of insoles.

This nightmare began on October 9, 2018, and ended on February 1, 2019. Take my advice and DO NOT DO business with this company!

Bottom Line: No, I would not recommend this to a friend

Feb 21, 2019

Hi Thomas. We are sorry to hear about this feedback. Please know that we are taking them to heart as they will help us improve our overall services. This may be too late but we'd like to sincerely apologize for all the inconvenience you have been through. We are doing our best to make sure this does not happen again.

---

Scam company

By Vickie R.

,

Waco, TX

,

Feb 20, 2019
Verified Reviewer

Overall Experience:

My husband ordered these thinking they were something else. When they arrived, I saw what they were and immediately put them back in the same package they came in and got the info to send back. They received the package and gave me only part of my refund. They said a pair of the items were cut to fit and used. This was a blatant lie and was a way for them to keep my money. Scam of a company!

Bottom Line: No, I would not recommend this to a friend

Feb 21, 2019

Hi Vickie. We are sorry to hear about this feedback. The Returns Department is checking all returned items to see if they are eligible for a refund. We are transparent when it comes to the return policy as it is outlined both in the website and in the terms of service a customer agrees upon prior to checkout. We'd like to assure you that this is a legit entity and we have been in the business for years as we work hard to provide meaningful relief to our customers. Thank you.

---

Could not wear insoles

By Kenneth H.

,

Bossier City, LA

,

Feb 20, 2019
Verified Reviewer

Overall Experience:

I ordered these insoles hoping for the best. When I put them in my shoes, I found the pain so bad I had to remove them. I contacted MindInsole and followed their instructions but still couldn't wear them. Keep in mind once you cut to fit your shoes you will not receive a refund! So much for their warranty. Beware of there terms! I give them an F rating because they won't back up their product.

Bottom Line: No, I would not recommend this to a friend

Feb 21, 2019

Hi Kenneth. We are sorry to hear about this feedback. It is normal to feel discomfort upon initial use up to the first few days since the feet are still getting used to the massage points and the sensation. It is recommended to wear them for 10-15 minutes to start per day, and slowly increase the time you wear them every day so your feet can get used to the acupressure. For sensitive feet, wear socks. For very sensitive feet try thicker socks to start, then use thinner socks on day 2. Moreover, the warranty is used to get a free replacement if you have received defective items. Our return policy is transparent in our website as well as in the terms of service agreed upon by customers prior to checking out. We hope to inform you sufficiently. Thank you!

---

Advertisement

---

Did not work for me

By Christine V.

,

Connecticut

,

Feb 16, 2019
Verified Reviewer

Overall Experience:

Unfortunately, these insoles did not work for me. The pegs were too hard on my feet. It felt exactly like that, walking on pegs. And yes I wore socks, which was a comment from the company. I am a nurse and always on my feet. These just did not work for me. I have returned them and now it's in the process of trying to get a refund. I have sent several emails and no one is responding to them. Save your money. They are quick to take your money and it is a fight to get it back.

Bottom Line: No, I would not recommend this to a friend

Feb 21, 2019

Hi Christine. We are sorry to hear about this feedback. We have coordinated with the Email team to make sure that your previous emails will be taken care of. We hope that all your concerns will be straightened out soon. Thank you.

---

Fraudulent company that won't honor their return policy

By Neil F.

,

Texas

,

Feb 15, 2019
Verified Reviewer

Overall Experience:

I purchased the 3-pack of insoles based upon reviews on your website and others. The items are extremely painful and no anywhere near as described. It is like walking with stones in your shoes, not a relaxing massage as described. They stated a 100% satisfaction guarantee.

I have returned the 2 unopened pairs in their original packaging from Mindinsole and they have received them via proof from the USPS. I have asked to be refunded $71.99 which is the exact price of 2 pairs of insoles on their website today. The returned items were never opened so they can resale these and no economic loss to them. They have refused and only want to offer half of my payment on a "100% money back guarantee." Not sure how they think that is a 100% money back guarantee?

I have 12 emails over the last several months sent to every department on their website and no one will answer the emails.

I have tried to call 7 different times at various times of the day and different days. Their phone lines are a computer voice that brings you through a gauntlet of prompts and then states there are "zero agents available to assist." I have tried every version of the prompts, even new sales to get someone on the phone and they all end with No agents available.

In November, I even mailed a formal letter through the USPS to their corporate offices in Wilmington, DE as well to try and resolve and still no response. I think I have gone above and beyond to try and work with the vendor to resolve the issue to no avail and am going back to you as the processor as the final resolve since they refuse to acknowledge and forms of communication.

I am now having to file a legal action against them to compel them to honor the covenants of the contract. I even have an attorney that is eager for me to get additional plaintiffs who have had the same issues as he said he will then take the case on contingency.

Next week I am filing complaints with the USPS for mail fraud and the BBB for fraudulent practices as well as claims with PayPal and my bank.

I have a social media guru who is also completing a campaign to launch next week to post all the correspondence, copies of the extensive calls to resolve with the call logs and the letters mailed through the USPS that they refused to answer and then claim it's past the 30-day return policy.

Please drop them from your site until they address their deceptive practices and honor their contractual obligations to customers.

Bottom Line: No, I would not recommend this to a friend

Feb 21, 2019

Hi Neil. We are sorry to hear about this feedback. Regarding your first concern, it is normal to feel discomfort upon initial use up to the first few days since the feet are still getting used to the massage points and sensation. It is recommended to wear them for 10-15 minutes to start per day, and slowly increase the time you wear them every day so your feet can get used to the acupressure. For sensitive feet, wear socks. For very sensitive feet try thicker socks to start, then use thinner socks on day 2.

Secondly, our Email team has already responded to your message. We do honor our 30-Day Money Back Guarantee as long as the unaltered insoles are sent back to us within the allotted time frame. To set proper expectations, a fraction of the price will be deducted if you will return only 2 pairs out of a bundle of three's since it is sold on a promotional price.

We look forward to your response to our email so we can further discuss your concerns and make sure that all of them are covered and straightened out.

Thank you.

---

MindInsole insole

By Kerry N.

,

Kelowna, British Columbia, Canada

,

Feb 11, 2019
Verified Reviewer

Overall Experience:

Garbage, garbage, garbage. I waited months and numerous phone calls for my order to finally show up. I pulled the insole out of my shoe to get an accurate measurement for cutting the MindInsole insole to the correct size only to find out that the curvature of the insole is way too much. So, therefore, the pressure/reflexology point won't line up the correct points on your feet. And what good is that, ZERO. You will not get the relief that they state you are supposed to if the pressure/reflexology points don't match. I don't know who's foot curve they used, but the person has a foot almost in the shoe of a hook or pigeon-toed with a curve. Don't waste your hard earned money on this!

Bottom Line: No, I would not recommend this to a friend

Feb 11, 2019

Hello Kerry. We are sorry to hear about this feedback. The Mindinsole comes with a pre-marked table guideline so you can know what line is the right one according to your shoe size. We also encourage you to send us an email should you have any further concerns so we can make sure that they are all addressed and straightened out. We look forward to hearing back from you.

---

These are a total rip off!

By Robert S.

,

Ontario, Canada

,

Feb 10, 2019
Verified Reviewer

Overall Experience:

I bought these when I saw a Facebook ad. All over the ad says 100% guarantee, so I got a pair for $50+ CDN.

Cut them to fit shoes and the first day they caused intense pain in my feet.

So I started to read about returning them but if you have CUT THEM to fit shoes, they will NOT take them back! The guarantee is a bogus scam!

They don't answer phones, they have no address so you can't make a government/ministry consumer complaint.

Don't buy these - TOTAL SCAM.

Bottom Line: No, I would not recommend this to a friend

Feb 10, 2019

Hi Robert. We are sorry to hear about this feedback. It is normal to feel discomfort upon initial use since the feet is still getting used to the massage points. Try wearing them for 10-15 minutes to start per day, and slowly increase the time you wear them every day so your feet can get used to the acupressure. For sensitive feet, wear socks. For very sensitive feet try thicker socks to start, then use thinner socks on day 2. We are transparent when it comes to the Return Policy which is outlined in our website: https://www.mindinsole.com/shop/term.html

Thank you.

---

Refund not received

By Aine M.

,

Ireland

,

Feb 6, 2019
Verified Reviewer

Overall Experience:

I received the order and did not accept them from the post office as they were ordered by accident and they included a very unexpected €30 customs charge. The post office sent them back on January 8th and I am still waiting for my money back. I have sent three emails to the company and nobody bothered to reply to anyone. Disgraceful customer care and it's clear from the other reviews that I'm not the only one they're mistreating.

Stay away from this company! I would give 0 stars if that was an option!

Bottom Line: No, I would not recommend this to a friend

Feb 7, 2019

Hello Aine. We are sorry to hear that no one had made correspondence yet regarding the refund of what you paid for. We looked into it and we are glad to inform you that it has already been processed. Please check your inbox as we have sent you an email to the email address used when you purchased. Thank you for your patience.

---