MiniMax Reviews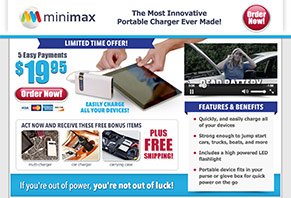 MiniMax is a small, portable power bank charger that can charge all your electronic devices, while also providing enough power to jumpstart your car in an emergency.
About MiniMax
Smaller than a cell phone, MiniMax is a portable device that provides quick power on the go and can easily charges all your devices.
Battery dead? MiniMax's lithium cobalt battery is even powerful enough to instantly jumpstart your car, truck, or boat! And unlike traditional jumper cables, MiniMax is safe for drivers of all ages, and even features a high-powered LED flashlight for seeing in the dark.
When you're finished using MiniMax, its small size means it easily stores in your purse or glovebox. Taken together, this is why the manufacturer calls it "the most innovative portable charger ever made."
Is MiniMax really anything special? Can you expect it to perform as well as the commercial makes it seem? Are there any other considerations you should know before buying it?
We've got answers to your most pressing questions about MiniMax. First, the competition.
Is MiniMax Portable Charger Really a Unique Product?
Unique? Not really. Part of a small (but expanding) group of products that can charge devices and jumpstart your car? Definitely.
Perhaps the best-known charging device/jump starter manufacturer is PowerAll, who makes devices very similar to MiniMax, as well as smaller versions and miscellaneous accessories. But there are also other popular brands, including Ivation, Jumpr, Matco Tools' VersaPower Micro, Cobra JumPack, and more.
Pro tip: To see how many options you have, try typing the phrase "portable device and car charger" or "portable power bank jump car" into your favorite search engine.
The point? MiniMax's manufacturer might want you to think this is something extraordinary, but it's really just a slightly redesigned version of already existing chargers, which is a common theme among "As Seen On TV" products (more about this in the final section).
Next up, we'll talk batteries.
MiniMax's Lithium Cobalt Battery
As with the product itself, MiniMax's manufacturer might want you to believe that their lithium cobalt battery is innovative. But the reality is that there are thousands of applications where these types of batteries are used (and have been for years), so it's fairly commonplace, although the technology is still developing.
In fact, as Battery University notes, "Most lithium-ion batteries for portable applications are cobalt-based." This is because they feature a high energy density, long run-time, and little power loss when not in use, which means they can provide hours of power for portable electronic devices.
However, lithium cobalt batteries do come with a couple big drawbacks. First, if lithium cobalt batteries are overloaded, they can actually become unsafe to use, since they contain pressurized, flammable material. Also, these types of batteries have a generally short lifespan of roughly 2-3 years.
Pros and cons aside, can the lithium cobalt battery in MiniMax really jumpstart your car?
Can MiniMax Actually Jump Start Your Car?
A jump starter's power is often measured in cranking amps (CA) or cold cranking amps (CCA), which basically just references the amount of power released from the device into your car's battery.
Most standalone jump starters (i.e. those that don't also charge electronic devices), range from about 250 CA to 1,000+, while most power bank devices feature 300-600 CA (MiniMax is on the lower end of this spectrum, at 200).
Now, whether or not this would be enough to jumpstart your car depends on several factors, although the two most important are:
The outside temperature (the lower the temperature, the more amps you'll need), and
The number of amps your battery requires in order to start.
Unless you're starting a heavy-duty vehicle in sub-freezing temperatures though, the 200 cranking amps provided by MiniMax should be adequate in most circumstances.
Pro tip: Remember how we talked about the relatively short lifespan on lithium cobalt batteries above? Well, you won't be able to continue jumping cars indefinitely, and you'll likely only get 15-20 jumps before the device's battery will no longer hold a charge.
Speaking of charge, how much does MiniMax cost?
MiniMax's Price & Refund Policy
MiniMax is priced at five monthly payments of $19.95 plus free shipping, bringing your total to $99.75.
In addition to your MiniMax, you'll also receive:
Multi-charger
Car charger
Carrying case w/jumper cables
All MiniMax portable chargers come with a 30-day refund policy, less S&H charges. In order to request one, you'll need to call Big Boss's customer service department at 877-206-6760.
Big Boss? Who is that?
Will You be Shocked by MiniMax's Portable Power Performance?
Here at HighYa, we sometimes feel that we sound like a broken record when reviewing As Seen on TV products. Why? Because they almost always come down to a question of value.
In other words, will MiniMax charge your portable devices and help jumpstart your car if necessary? Probably. Will it last for a long time and work as advertised? That remains to be seen.
But based on the manufacturer's mixed online reputation—not to mention the fact that you'll have to pay to ship it back to the company if you're not happy—and that nearly identical products can be purchased locally for about the same price, we'd have to question MiniMax's overall value.
Tip: Here's some great feedback we received from a HighYa reader! While MiniMax might help start your car, your vehicle's battery might not have enough power to continue operating the alternator—and consequently, the fuel pump—once MiniMax is removed. As a result, this could cause even more expensive repairs than just replacing your battery (they recommend doing so every 12 months).
Did you give MiniMax a try? We'd love to hear about your experience, so please consider leaving a review below!
Fantastic product

By Judy L.

,

Illinois

,

Jan 24, 2020
Verified Reviewer

My husband brought the MiniMax car charger about 6 years ago. It was in the trunk of my car as I never had to use it. I am now on my own and after an extended vacation, my car battery was totally dead. I brought the MiniMax in the house to charge it. I was surprised it still had three lights lit but I charged it anyway for about an hour. I took it out to the car, hooked it up, and the car started right away! As far as I'm concerned the product paid for itself that one day! Every woman alone should have one of these!

Bottom Line: Yes, I would recommend this to a friend

---

Does not start truck

By Lyle M.

,

Lake Mary, FL

,

Jan 2, 2020
Verified Reviewer

I have had the MiniMax charger 15929KS-DE6263 for a year. Went to put a charge to it and only could get 3 lights out of 4 to light up. I have an F150 truck with a dead battery and the MiniMax DID NOT start my truck. Could not get and light out of the MiniMax. It does ok to charge my iPad. So do not depend on this to start your vehicle.

Bottom Line: No, I would not recommend this to a friend

---

Advertisement

---

True everything

By Tonya M.

,

Martinsville, VA

,

Dec 17, 2019
Verified Reviewer

This product is true advertisement and a true, no fake or scam here. It cranked my son's girlfriend's Jeep with the second crank. My son wanted to know would I give it to him. I told him no, you gotta buy your own. I enjoy putting out great reviews. I mainly depend on people's reviews before I purchase. And charging phones, this MiniMax is awesome. Phone on 5%. It jumps on about 20%. It's handy and will be a great keeper to all that can keep it in top shape. Thank you MiniMax sellers. Great buy.

Bottom Line: Yes, I would recommend this to a friend

---

Great device

By Tracey M.

,

Vancouver, British Columbia, Canada

,

Nov 22, 2019
Verified Reviewer

I've used it 3 times. My neighbor's car was dead and it wouldn't start at all. I gave it to him to try and his car fired up, now he wants one. I had to use it on my Miata as well, with 0 issues. Zero complaints so far.

Bottom Line: Yes, I would recommend this to a friend

---

Advertisement

---

Really a remarkable investment truly!

By William M.

,

Pittsburgh, PA

,

Oct 17, 2019
Verified Reviewer

I don't know why they are only rated 2 to 3 stars. When in reality they should be rated at 4 stars or better because I have tested and used mine on numerous cars one after another just like the video shows!

Bottom Line: Yes, I would recommend this to a friend

---

Junk

By Tim M.

,

Medford, OR

,

Oct 9, 2019
Verified Reviewer

My first one worked once. Customer service was great and replaced, what I thought was a defective product. The new replacement, charged fully one time, I used it once, will not charge beyond two bars. This product is junk. Now selling for $29.00, and not worth even that. Stay away from this product, you have been warned!

Bottom Line: No, I would not recommend this to a friend

---

DANGEROUS - do not buy!

By Crystal G.

,

Texas

,

Jun 17, 2019
Verified Reviewer

We loved our MiniMax charger, UNTIL IT EXPLODED! We were using it as per instructions when the battery popped, sending pieces flying. Now I cannot find any working customer service contacts to report the incident to. May seem like a dream product, but I assure you it is a nightmare!

Bottom Line: No, I would not recommend this to a friend

---

Please don't buy this device.

I used the MiniMax three times and it worked perfectly. After not using it for an extended period of time, it wouldn't charge, much less hold a charge. I notice from the reviews that I am not the only one who experienced this problem. Don't buy this device. It only works well in the commercials. You will waste your money.

Bottom Line: No, I would not recommend this to a friend

---

BUYER BEWARE - dangerous product!

By Rachelle L.

,

Boston, MA

,

Dec 2, 2018
Verified Reviewer

I purchased this item for my grandfather for an Xmas gift thinking it would be nice and easy to use and a great way to keep him safe or get him and or his vehicle to a safe location if his battery should die. He used it 3 times and upon the 4th time, I was with him and we attached the cables, and as he pushed the button on the white box that was in his hands to charge up the car battery, the product exploded, the box shattered and the battery pack blew up like a balloon while hot in his hands. Then as it cooled, it went back to a normal size somewhat, but he suffered burns on his hands! We are so grateful he is ok as this story could have been alit worse, this product is no joke! It was intended to help keep him safe! This story really happened, so please take it into consideration if purchasing this product!

Bottom Line: No, I would not recommend this to a friend

---

Love the MiniMax!

By Sharon R.

,

British Columbia, Canada

,

Jun 29, 2018
Verified Reviewer

I've had my MiniMax for close to two years. My son had to use it once. He looked at it and didn't believe it would work. He loved it. It started the car with one turn.

Last year I bought him one for his birthday, he was one happy camper. But these new ones that are out are black and do more. The only thing is there was no manual.

I actually bought myself another one, the new bigger one, so now I have two. Since then I've helped a friend start his motorcycle and he loved it, and that night he was online checking them out.

They definitely do work.

Bottom Line: Yes, I would recommend this to a friend

---

Dishonest sales pitch for a dodgy product

By Tim R.

,

Gosnells, Western Australia

,

May 30, 2018
Verified Reviewer

I purchased three. One for my son and one for my daughter and one for myself.

I had never found a time when I needed to use it to start either of our cars. A friend found himself with a flat battery in his Merc to which I, of course, said "no problem" and gave him my fully charged MiniMax.

We connected it and nothing. I thought that the leads on my unit might be faulty and drove to my daughter's house to borrow hers, same thing - red and green lights flashing and no output.

I contacted the local agent who basically said "So sad, too bad, nevermind. Goodbye."

Bottom Line: No, I would not recommend this to a friend

---