Mint.com Reviews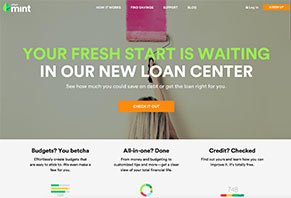 Mint.com is a free online and mobile app that provides you with an easy way to track your spending, create a budget and set financial goals for the future.
About Mint.com
It can be really difficult to keep track of your spending.
Think about it. Our tech-centered lives come with a bunch of small and big charges that accumulate at a pretty quick rate. Cell phone bills, app purchases, ebooks, data plans, internet, streaming services, gadgets, the Internet of Things.
Throw in all the usual expenses like food, clothing, eating out, entertainment, insurance, car payments and rent, and what you're left with is a mountainous pile of hundreds of transactions.
A little overwhelming, isn't it? Now think about your financial future. Do you have a plan set up to save money, invest or tuck a few bucks away for your retirement? A solid budget can help you meet those goals, but if you can't track your spending it's almost impossible to create an effective budget.
Mint.com claims to offer a free budgeting service that kills two financial birds with one simple stone. Their software tracks your spending and helps you set up a budget so you know where your money is going and how much you have at the end of the month. Their motto is "See all your finances in one place & create a budget."
A lot of tech-based solutions have their bugs and quirks, so we wanted to check out Mint to see if it's really as effective as they say it is. We signed up for a Mint account, did a test run of the product and then did some research about how it compares to another similar app and what people are saying about Mint.
In the next few minutes we're going to cover each of these topics, then conclude with an overall analysis.
How Does Mint.com Work?
The sign-up process is easy. Just enter your email and choose a password. Once you confirm your email, you can start your Mint account.
Setup is a matter of connecting any accounts you use to buy stuff. For me, that means my Bank of America checking account and my Visa credit card.
You can also connect your student loans, investment accounts and property accounts. All of this information is contained in the left sidebar of your account home page.
That's the spending and saving side of things. Let's move on to budgeting.
Setting Up Your Budget
Mint's budget tool is relatively easy to use. Your home page includes a "Budget" section that shows you if you've been under or over budget during the past few months.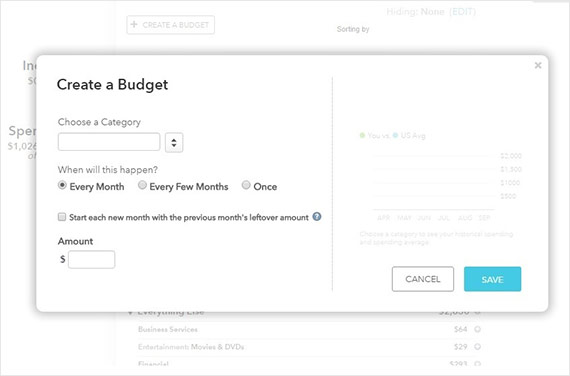 If you click on the Budget heading, it takes you to a budget page where you can add categories to your budget. There are 22 main categories and each of those categories has subcategories. Choose a category, set your spending limit for that category and indicate how often this category appears (monthly, every few months, once). Once you save it, that category shows up on your budget page. If you're under budget for the month, the bar graph representing your spending is green. If you're over, it's red.
How does Mint know if you are over or under budget? Remember, the accounts you use to pay for things are connected. Mint automatically tracks your spending and categorizes each purchase you make.
Nothing Falls Through the Cracks
Let's say you forgot to add a category to your budget. Well, below your bar graphs you have an "Everything Else" section where Mint lists spending categories you haven't included in your budget.
For instance, on my page there's a "Movies & DVD's" subcategory listed in Entertainment. If I want to add that subcategory to my budget, I click on a + button next to the amount I've spent and I go through the process of setting the budget just like I talked about a few minutes ago.

​
In our opinion, Mint's budgeting tool is a great option for consumers who have a hard time keeping track of their purchases and don't feel like spending a lot of time creating a budget. The set-up process is easy and pretty intuitive.
Also, we like how Mint includes the "Everything Else" category. It's hard to keep track of every purchase we make, so this section of their budget tool makes sure nothing falls through the cracks. And if you want to keep track of some of those sneaky purchases, the + buttons make it a breeze.
Other Tools on Mint
Aside from your account home page ("Overview") and your Budgeting page, Mint also has a Transactions page that lets you see all the transactions made by your connected accounts. Each one is categorized, and if the category is incorrect you click on it and change it.
Setting up Goals
You also get access to a Goals page with 10 different goals – save for college, pay off credit card debt and save for retirement are examples. I clicked on "Pay Off Credit Card Debt". Mint asked me how much my APRs are and my minimum payments. It then took me to a page to show me how long it would take me to pay off my cards based on the info I entered.
We like this tool, but it's definitely not unique to Mint. Plenty of websites (and even your credit card statements) offer the same calculations. The upside is that the goal is added to your overview page, so you can keep track of it along with your budget and spending.
Trends and Investments
Mint also has a Trends page with graphs that show how much you're spending in certain areas.
You also get access to an investments page that helps you sign up with five different brokerage firms. While this is a decent perk, the brokers listed require fees for their trades.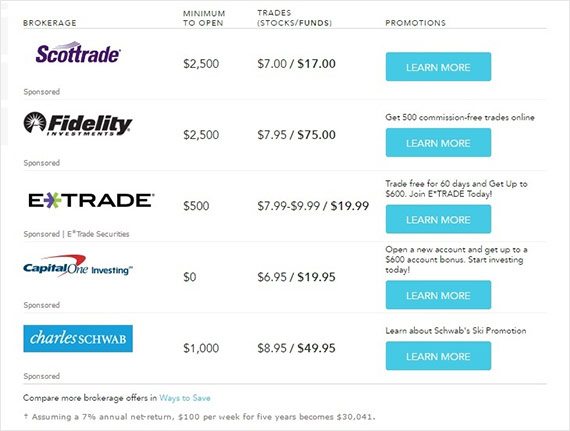 In our opinion, robo-advisors like Betterment, Acorns and WealthFront are better choices for the average consumer because they're free and charge lower fees than big-name brokers. If you want to buy and sell stocks at no fee, the app Robinhood offers no-fee trades.
What Others Say About Mint and It's Main Competitor
This app isn't the only one on the Internet. You Need A Budget (YNAB) is a popular competitor. Each site has their loyalists (this Reddit thread is a great example). You'll find experts who love YNAB and those who like Mint.
The main arguments for You Need a Budget are that the site doesn't require you to connect to a financial institution and it costs $50 per year. Another "benefit" of the site is that you have to enter your transactions yourself. Depending on who you ask, this could be seen as a benefit or a detriment.
Which budgeting tools works best for you is really up to your personal style. Mint has a cleaner user experience, but You Need a Budget forces you to enter your transactions, which makes you more conscious of your spending.
If you think you won't be disciplined enough to enter purchases and incoming money, we think Mint is a good option for you. But if you're looking to become more hands on with the money you spend and you don't want to give access to your bank accounts, YNAB is, in our opinion, a good choice.
A Quick Word About Security
As we mentioned a few seconds ago, you might prefer You Need a Budget because you're worried about putting your banking information at risk on Mint. The good news is, Mint, unlike Chase and Bank of America, hasn't had a security breach. At this point in its history, Mint seems to be a safe option for budgeting.
The Final Word
Mint.com is, in our opinion, a decent choice for consumers who want an easy-to-use budgeting tool. In about 20 minutes, you can have your bank accounts and credit cards connected and a budget up and running.
Compared to You Need a Budget, Mint is more automated. You don't have to enter transactions yourself because your purchases are automatically tracked. While connecting your accounts increases the possibility of a security risk, Mint has yet to endure data breaches that have plagued banking institutions.
We believe Mint is an excellent choice if you want a free tool to track your spending and create an effective budget. While some of the site's tools aren't unique, we think it's nice to have everything on one site. Why go to a banking site, budgeting site and sites with debt-payoff calculators when you can do it all from one account?
It's this simplicity and ease-of-use that makes us think you'll most likely be satisfied if you choose Mint.
READ NEXT: Why Making a Budget Can Be the Best Financial Decision You've Ever Made
Doesn't work with my bank

By Stacey Alan

,

New York, NY

,

May 31, 2017
Verified Reviewer

The app has a great look and feel to it. The concept is wonderful. But as soon as I downloaded it, I deleted it. Why? Because I can't connect to my bank (1st Financial Bank).

I guess my financial literacy will have to wait.

Bottom Line: No, I would not recommend this to a friend

---

Mint.com: Not as good as it could be

Mint.com was one of the original online personal finance tools, and it has a good design.

The issue is, it's very time consuming to set a budget than filter all your expenses by each budget. Even if you mark something one month, it doesn't remember what it was the next month (restaurant, entertainment, etc.).

Given technology today, some tools guess right before you ever mark it. You would think they'd find a way to remember your marking of a certain vendor.

That said, a free tool is a free tool so there isn't too much to complain about. And it does have great design. I just think other tools have passed them by at this point.

Bottom Line: No, I would not recommend this to a friend

---

Advertisement

---