Mint Mobile Reviews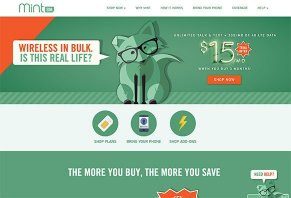 Whether you need a new phone or already have one, Mint Mobile sells prepaid wireless plans that could help you obtain cellular service at a rock-bottom cost.
About Mint Mobile
By selling bulk prepaid wireless plans completely online, Mint Mobile delivers unlimited nationwide 4G LTE talk, text, and data service at the lowest prices of any national carrier. In fact, they claim that the more you buy, the more you save.
And with the company's bring your own phone (BYOP) program, customers can obtain mobile service on their existing unlocked GSM phone, simply by switching out their SIM card.
Mint Mobile seems to offer a lot of convenience at competitive prices. But does this necessarily mean they're the right prepaid wireless carrier for you?
Getting Started with Mint Mobile
Overall, the process works across three steps:
Step 1: Verification
Before doing anything on the Mint website, you'll want to make sure a) they stock a SIM card that's compatible with your phone, and b) that they offer coverage in your area. This is as easy as clicking on the Bring Your Phone and Coverage links on the company's website (see below).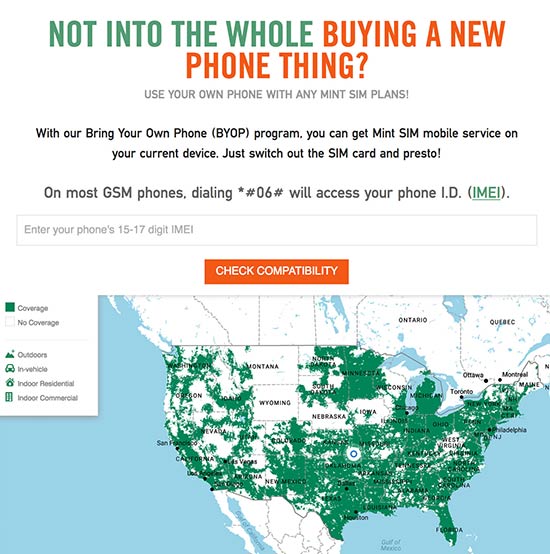 While Mint Mobile stocks a wide variety of cards and offers service across much of the U.S. (especially the Eastern half), you'll want to double check compatibility and coverage before proceeding.
Step 2: Activation
After receiving your card (Mint sends a standard, micro, and nano size in the same order) and signing up for a service plan (more next), you'll need to visit www.mintsim.com, click on the Activate link, and enter the 11-digit ACT code in the upper right-hand corner of your SIM card.
If you want to keep your existing number, click on the Port Existing Number link and enter your old account number and password from your previous company. This will tell them to release your phone number, which often takes just a few minutes. In some instances, though, Mint notes that it could take up to 24 hours.
Then, get out your manual to find out what size SIM your phone requires; standard, micro, or nano. You can also find out where your SIM slot is located.
If the slot is on the side, you can pop it open using the appropriate tool (with your phone turned off, of course) and replace it with the Mint Mobile, logo facing up.
In some models, you might need to remove the phone's back cover, find your SIM slot (which may also require removing the battery in some models), and insert your Mint Mobile into the designated slot. Again, with the logo facing up.
Finally, replace your back cover and turn your phone on.
Step 3: Configuration
The last step in the process is to configure your data and Access Point Names (APN) settings to make sure everything's working properly with your new Mint Mobile card.
For iPhones: Go to Settings à Cellular à Cellular Options à Cellular Data Network. Enter the appropriate settings shown in the pamphlet that came with your SIM card (also shown in the corresponding video on Mint's website).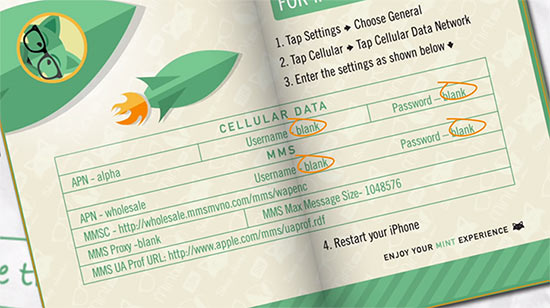 Each Mint Mobile card will include a pamphlet that provides key information necessary for proper configuration. Image credit: Mint Mobile
For Android Phones: Go to Settings à Cellular (or Mobile) Networks à Access Point Names (APN). Tap the + sign to create a new APN. Enter the appropriate settings shown in the pamphlet that came with your SIM card.
To wrap up, you'll press the menu icon, click the Save button, confirm the Mint Internet and MMS profile, and restart your device.
How Much Do Mint Mobile Cards Cost?
Each Mint SIM plan includes unlimited talk, text, and data delivered on a 4G LTE network. The data purchased is on a per-month basis, and the company will send you an SMS text each time it resets. However, data does not accrue or carry over from one month to the next.
The only differences are the length of service, the amount of data available each month, and how much you'll pay:
3-Month Plans
2GB: $45 total ($15/mo)
5GB: $60 total ($20/mo)
10GB: $75 ($25/mo)
6-Month Plans
2GB: $108 total ($18/mo)
5GB: $144 total ($24/mo)
10GB: $180 ($30/mo)
12-Month Plans
2GB: $180 total ($15/mo)
5GB: $240 total ($20/mo)
10GB: $300 ($25/mo)
According to Mint SIM's FAQ, international call rates can vary by country, although you can access additional details on their International Rates page.
All three-month plans come with a seven-day money back guarantee, less S&H, as long as the merchandise is in original condition, with the original box and software, and no pad printing. If any items are missing or damaged, the company will charge a $15 per-item fee.
What Are Mint Mobile Customers Saying In Their Reviews?
Most of the feedback on Mint Mobile was relatively positive.
For example, Android Central obtained detailed feedback from several of their members, who agreed Mint was easy to set up (basically plug-and-play) and provided good instructions, if needed. They noted "performance was good, not great," and that "it varied wildly depending on the time of day and the location."
Most users tended to think that these slowdowns occurred since Mint piggybacks off of T-Mobile, who could prioritize their retail subscribers.
In the end, all members agreed that it was a good deal, and "even with its sometimes-spotty LTE data speeds," that it could be effective if you're looking to watch media on the go for less money.
The Gadgeteer also liked Mint SIM's affordable plans, and noted that their service could work great if you "live, work, or travel in an area with T-Mobile coverage." And if you exceed your data allotment for the month, you're not cut off—instead, they liked that you'll only drop to 2G speeds.
Along these same lines, NY Magazine's Nick Swearingen found that Mint offers "a significant savings for service that isn't noticeably any worse (and in some cases better) than what I'd get by going to one of the four major carriers." However, he pointed out that if you're traveling to more unpopulated areas, you could be out of luck.
From a company perspective, Mint SIM is based out of Costa Mesa, CA and has been in business since 2012. They held a B rating with the Better Business Bureau, based on two negative reviews and 18 closed complaints, as of 11/8/17. These referenced everything from porting problems to coverage issues, and a company representative responded with resolutions in each instance.
Mint SIM vs. Other Prepaid Alternative Mobile Virtual Network Operators (MVNOs)
First, What's an MVNO?
In a different Android Central article, Daniel Bader explains that an MVNO is a third-party business that leases access to one of the Big Four's (Mobile, AT&T, Verizon, and Sprint) networks at a heavily discounted rate.
Then, the voice, messaging, and data provided by these networks is sold back to consumers at a slightly higher rate. This way, customers get much of the same quality and coverage provided by bigger networks but at a lower price, and the MVNO makes a profit.
"In other words," he writes, "alternative carriers are exactly that: meant to capture the customers remaining in the margins, or those looking to pay bottom dollar to avoid the often-superfluous frills that are, many times, built into the cost of the plans of the incumbents."
Are There Other SIM-Based MVNO Companies?
There are dozens of pre-paid wireless companies in the marketplace, although most work like calling cards—each minute of data used or text message sent 'spends' a certain amount of money. Then, once funds run out, they can be topped off again to repeat the process.
However, there are only a couple options that offer flat rate service like Mint SIM (although none feature the same SIM-based model). These include:
| Company | SMS/Data Pricing | Network | Things to Note |
| --- | --- | --- | --- |
| Mint SIM | $15-$25/mo, must pay upfront | T-Mobile | Works with a wide range of phones (including some iPhones), only MVNO with bulk pricing, no data rollover |
| Project Fi | $20-$120/mo, depending on data needs | Google | Limited phone selection, users are credited for unused data |
| Republic Wireless | $15-$45/mo, depending on data needs | Sprint | 4G LTE service, no international calling, compatible w/Google Wi-Fi |
How can you choose between these services (or another) and Mint SIM? Let's wrap up as we address this final topic.
Our Final Thoughts About Mint SIM
When choosing an MVNO, NerdWallet's Stephen Layton emphasizes that they could help you save a lot of money, but you should keep in mind that customers can receive lesser priority than the carrier's direct customers. As a result, this could cause data speed problems.
Also, in most instances, you can't change your plan after buying in bulk, so make sure that you're fully onboard before placing your order.
But in the end, if you're willing to pay upfront and don't need a family plan, the Android Central article above notes that Mint SIM's "call quality and messaging are more than adequate, so if you really need a cheap phone plan with the promise of internet in uncongested areas and off-peak times, this could be the answer for you."
If you're on the fence, though, we might recommend starting with the three-month plan, since it's the only option that comes with a seven-day satisfaction guarantee.
Final Dissertation from an honest man who was simply trying to get his money back from thieves

By Samuel P.

,

Syracuse, NY

,

Oct 23, 2019
Verified Reviewer

Reasons I absolutely DETEST Mint Mobile.

1. Their coverage map lies: I live 5 minutes from downtown Syracuse, NY. I inputed my exact address and was told that I would be getting great LTE coverage; both indoor and outdoor. The same goes for most places I travel - Canandaigua, Rochester, Buffalo, they all indicate good coverage. The problem? I get voicemails from calls I never received. My friends say they called numerous times and it kept going to voicemail, all the while my phone shows 5 bars of coverage. Texts I sent don't go through and vice versa. I've had better luck reaching my friends via smoke signal the past 2 months.

2. Their customer "service": My latest 3-month plan started on 8/23/19. I contacted them on 9/11/19 via chat about the spotty coverage. No response. I called on 9/17/19 to try to fix my coverage. Was told my phone was the problem, ran through a number of "fixes" they tried to do over the phone for 30 minutes and ended up giving up. I contacted Mint Mobile on 9/18/19 via their online chat, asking for a refund. Got an email response asking for some info. I sent it back to them the same day. Waited a week, no response. Called them on 9/25/19. They insisted my phone was still the issue and would not process a refund for me. Instead they sent me a replacement sim card, which didn't send till 9/27/19. Received and inserted the card on 10/1/19. Didn't help my coverage, emailed and requested a refund. Was given one on 10/2/19 in the amount of $26.65 (one month of coverage), although I had asked for a refund of $79.93, the total amount I had paid for their terrible service. Today my phone was dropped (WITHOUT NOTICE), even though I've paid for coverage up until 11/23/19, and was told it was dropped because of the previous refund I had received. But that wasn't the proper amount for a refund...And my initial refund request was on 9/18/19, 5 days before my second month of the plan started, so I should have at the very least gotten a refund for October as well since I put in my request before the second month. It's not my fault that their online chat doesn't work.. The customer service rep, Grace, said that I couldn't talk to her manager. I asked why. She said, well, I'll leave your number with him, you'll get a call back soon. That was an hour ago. And on a general note - most of their customer reps are rude and simply transfer you when they've reached the capacity of their expertise, which isn't much. EXPECT TO GET THE RUN AROUND HERE.

3. Their multi-month plans: They lock you in and good luck getting a refund once your coverage starts getting worse the further in your plan you get.

Believe it or not, this is the condensed version of my feud with Mint Mobile (or Mintsim...or Ulta Mobile...or whatever the heck they call themselves).

After hours spent talking with service reps, multiple reviews written on their service, and nearly 2 months of simply trying to get back my money and abandon ship on their service, I've finally given up, bit the bullet, and now the best thing I can do is prevent everyone else from switching to their "service".

Stay away folks, it's not worth the shiny prices they advertise.

Bottom Line: No, I would not recommend this to a friend

---

Really good. Some tidying up on practices though...

By Michael C.

,

Sacramento, CA

,

Apr 9, 2019
Verified Reviewer

We switched to Mint Mobile and have been customers for a month. One thing that I see happening is sometimes being delayed from getting data that I need on my GPS app for several seconds. But the delay is not as terrible as it used to be back in the day before LTE became the norm. However, I would say there is something wrong with their billing system as my husband bought more data. It's only supposed to be $20 for 3 gigs more data. It billed our credit card for $21 instead of $20. He received no warning about the extra dollar, which to me seems like poor transparency for a company that boasts about its liberating plans and transparent fees. I will be calling them to straighten this out.

Overall I would say the service is good and the data in general works well. It's not always the fastest. If you switch, be sure to set your YouTube, Hulu, Prime Video, and Netflix to lowest video quality and data usage settings and use WiFi whenever possible to conserve your data allotment. Stay disciplined about this and you should be good with Mint Mobile. Their customer service is improving as time goes on but remember you are not paying for the customer service you are paying for the bulk cellphone plan, which is saving you a ton of money.

Bottom Line: Yes, I would recommend this to a friend

---

Advertisement

---

Worst customer service!

I switched to Mint SIM to save money and got tons of headaches in return. First off, their coverage is minuscule, dropped calls, lost message, and their customer service rep never could do a thing to fix any issue you may have. Message sent and received sometimes read as "insufficient fun" instead, which is odd since I paid a year in advance. Furthermore, unlike other carriers, if you travel overseas, they won't store messages/voicemails upon return unless you pay for their pricey oversea plan, which is outrages.

I lost my SIM card overseas and it has been 3 weeks and still haven't received my SIM card and yet charged me for the replacement.

I called to cancel and close my account and they refuse to issue me the refund because it's a prepaid plan. Keep in mind, my plan renewed while I went overseas for 6 weeks and didn't use my number once as I used an overseas number. So it has been two months without using my phone service and $300 down plus $10 on SIM replacement that I never received. The worst! Save yourself and go elsewhere that has an actual store with viable customer support. It's a scam!

Bottom Line: No, I would not recommend this to a friend

---

Don't do it

By Lindsey H.

,

Newark, NJ

,

Feb 13, 2019
Verified Reviewer

I'm so embarrassed that I jumped on and persuaded my family to do so. Mint mobile's service is excruciating. It drops calls all the time, never on LTE, customer service is the most unhelpful ever. I hope the FCC gets them for lying about their data practices, lack of transparency in billing (you do not get a record of your data transactions) and the real service that kicks in after a trial. I am leaving. I don't care about the money. I would rather get taken by T-Mobile itself than do anything with Mint.

Bottom Line: No, I would not recommend this to a friend

---

Advertisement

---

Scam

By Nikolai L.

,

Utah

,

Jan 15, 2019
Verified Reviewer

I tried the trial plan since I'd been seeing all of these commercials and figured I'd save some money. The trial plan worked great, no issues there, but when I bought my three-month plan, my internet didn't work. Calls and texting were fine, and while the little corner CLAIMED it was 4G, I couldn't even get the Mint app to load, much less YouTube or my online files. Don't buy this. I wish I had read these reviews before I had paid. Now I'm $25 out and I have a stupid plan. I may not like monopolies, but at least T-Mobile delivered on what I paid for.

Bottom Line: No, I would not recommend this to a friend

---

Worst customer service

By Adi T.

,

Boston, MA

,

Dec 4, 2018
Verified Reviewer

I have been using Mint Mobile for 6 months. When there was time to renew the service, I tried to recharge using their website and app, but neither of them worked. I tried with different cards, but nothing worked. I called customer service and the rep couldn't help at all. The rep said she would escalate this to the tech team and I should hear from them soon. Two days and I have not heard from them. My service is suspended now and I can't use the phone. I am stuck with Mint because I don't want to lose my long-held no. Mint is not reliable at all, and I won't recommend it to anyone.

Bottom Line: No, I would not recommend this to a friend

---

False information on their site

By John H.

,

Stoughton, MA

,

Nov 16, 2018
Verified Reviewer

I went to the Mint mobile site and entered my IMEI# to make sure my phone was compatible. It stated it was and I would receive 2G, 3G, 4G. I ordered the 3-month plan. I set everything as stated on their site, but was having problems with text and data. I made a phone call to customer service and he apologized that the service stated my phone was not compatible, due to some kind of upgrading. So I have no phone, and even if I find another carrier that states I have a compatible phone, I guess you cannot believe the site, and you should call them directly. All this work for nothing.

Bottom Line: No, I would not recommend this to a friend

---

I didn't even get to try them before they showed their incompetence

By Jesse L.

,

Seattle, WA

,

Sep 25, 2018
Verified Reviewer

Their online form was telling me that the zip I was entering to port my old number with was invalid. It wasn't.

Then I called them and was told the port request went through, and I should call back tomorrow morning to verify. I called the next morning and was told to call the next morning yet again, and there was no update to my request.

I said screw it, I'll just get a new number, but upon trying to do that I get an error from their site, so now the SIM I purchased is useless until I hear from them.

But now my old service has expired so I can't call Mint without paying my old carrier for another month of service, just to have Mint cancel it and port the number. Screw that, they should have done their job in the 6-7 hour period they told me it would take. I requested a refund.

Also, I sent an email before I called them, and I only got a generic unhelpful response to that after 3 days.

Bottom Line: No, I would not recommend this to a friend

---

False advertising - not all devices supported on the network and customer service not trained

By Maite H.

,

New York

,

Sep 13, 2018
Verified Reviewer

I was very excited to join the Mint Mobile movement. Following a very intuitive interface, I managed to check the compatibility of my zip code (one in NYC) and phone (Huawei Mate 10 Lite) with the service: 100% compatible, no disclaimer added. I proceed to order my 3-month starter package, which arrived early, fantastic.

Unfortunately, I did not manage to make the SIM work. I followed all instructions and called customer support twice; the two people that took my call were very nice, but did not have answers and told me I must be doing something wrong. Desperately, I recharged 10USD to see if this could be of any help. Nothing.

I called customer service a third time and then, a very kind and detail oriented assistant (Evelyn) took time to review my case and informed me that the website had not been updated and that my Huawei phone was really not compatible with the Mint Network. In this sense, it was not my fault, and there was a reason I never managed to try the service. I was therefore entitled to a full refund (extra 10USD included), beyond the 7-day trial period - it was day 10 when I managed to speak with someone that could give me answers.

Evelyn directed me to the website to fill up a returns form, so I did and sent it along. I received a very nice, standardized answer within 2 business days:

"We are sorry to hear that you were not able to use our service as we expected, but kindly be informed that upon further review of your account, we find that we are unable to refund you, due to the fact you are outside of our refund policy."

I proceed to call customer service again and a very kind assistant (Adderly) reviewed my case and encouraged me to reply to the returns team email stating the particularities of this case; that is, that I was never able to try the service due to false advertising from the firm's side. He apologized again for the error on the website, and I encouraged the firm to solve it.

I replied to the email further explaining the situation. It is been 7 business days and I have not received a reply. I have called customer service again and another assistant told me that if the returns team is not emailing me back, it is because they do not mean to refund me the USD100 because technically, I am beyond the return policy window.

All this hassle for USD100 seems ridiculous. And it is, if we were not handling a false advertising case. Oh, by the way, I have checked the website and now they have added a disclaimer stating that your phone could, or could not, be compatible to the network. So watch out. In the meanwhile, I entered my phone specs and still get a 100% compatibility message (general disclaimer added).

I recommend Mint Mobile maybe if you have a standard phone (such as an iPhone), live in a well-covered area such as California and have spare time to enjoy talking to kind, friendly (yet poorly trained) customer services representatives.

Beyond this, I strongly feel this promising start-up needs to upgrade its game.

Bottom Line: No, I would not recommend this to a friend

---

Data usage is inaccurate

By Henry P.

,

California

,

Aug 17, 2018
Verified Reviewer

Stay away. Their data usage is inaccurate. Two days ago my usage on my phone app was at 1.8 Gigabyte and Mint Mobile showed 4.5 Gigabyte. I immediately turned off my cellular data usage on my phone and strictly used Wi-Fi. Today, two days later, I checked my data usage on my phone app and had the same 1.8 Gigabyte. While Mint Mobile is now showing that I have used 6.4 Gigabyte. How could I of used two Gigs of data with my data turned off? I definitely won't be renewing after this after three months. I'm running away not walking. As the old saying goes, if it's to good of a deal, it's not they are making up the money somewhere and it's my data.

Bottom Line: No, I would not recommend this to a friend

---

Buyer beware - bait and switch after trial period ends

By Allen B.

,

Belmont, NC

,

Jul 30, 2018
Verified Reviewer

Voice and data coverage is throttled and declines after you join. Worked perfectly at my home until I switched from the trial period to the pre-paid 6-month plan. Now I went from 3-4 full voice bars to 1/16th of one bar.

I called customer service and they offered to do a process for me to take my SIM card out and they send a signal to my phone to correct the issue. They could not give me details as to what this does or why it works. They stated it "always" works and I have to be on the phone with them on another phone while this process is completed. I COULD NOT power the cell phone off, remove the SIM and have them send the magic "signal" that restores my service to normal. They refused to perform this step for me.

I asked for my account number and PIN and will be switching back to a reputable carrier. I spoke to my local T-Mobile rep, and they explained what they are doing and why I have poor to no voice signal after moving from the trial period to the 6-month plan (remember NO REFUNDS). Do yourself a favor and go into your local T-Mobile store and they will give you all the info you need on Mint Mobile. You can them make an informed decision.

Bottom Line: No, I would not recommend this to a friend

---