Miracle Bamboo Pillow Reviews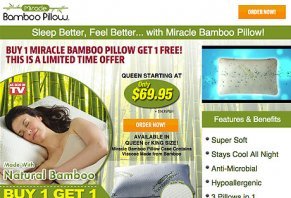 The Miracle Bamboo Pillow is a "luxury class" pillow made of viscose fabric derived from bamboo and shredded memory foam that keeps you comfortable all night.
About Miracle Bamboo Pillow
The "As Seen on TV" Miracle Bamboo Pillow claims to feature an outer shell made of viscose fabric derived from bamboo that's stronger than silk and softer than cotton, while naturally providing heat dissipation, and antimicrobial and hypoallergenic properties. The Miracle Bamboo Pillow also claims to combine 3 pillows into 1: a firm, supportive when folded in half, a medium support pillow when laid flat, or a soft pillow that can be used for reading or while watching TV when stood upright.
The Miracle Bamboo Pillow is filled with shredded memory foam, which is claimed to be soft and supportive at the same time, which can offer superior comfort and help you sleep better, feel better, and live better by conforming to your shape and keeping you comfortable all night long. In addition, whether you sleep on your back, side, or stomach, the Miracle Bamboo Pillow is claimed to adjust for custom support and to be "the most comfortable pillow you've ever used."
Although the Miracle Bamboo Pillow is claimed to be naturally resistant to odors, germs, and dust mites, when it comes time to clean, the company claims it is machine washable.
Miracle Bamboo Pillow Pricing & Refund Policy
The self-proclaimed "luxury class" Miracle Bamboo Pillow is priced as follows:
Queen: $69.95
King: $79.95
Regardless of which model you choose, you'll be charged $14.95 S&H, and you'll also receive a second pillow in the same model for free.
There was no refund policy on the Miracle Bamboo Pillow website at the time of our research, and the Terms & Conditions page was blank. Therefore, we contacted customer service and found that the Miracle Bamboo Pillow comes with a 30-day satisfaction guarantee, less S&H charges. In order to initiate the process, you'll need to contact customer service at (844) 270-8414.
Can the Miracle Bamboo Pillow Really Help You Sleep Better?
If you're looking for a good night's sleep, you've undoubtedly tried a variety of different pillows. But compared to other brands, can the Miracle Bamboo Pillow really help you sleep better, and is worth your hard-earned money? Maybe, but consider the following before placing your order:
"As Seen on TV" Product
Perhaps most importantly, the Miracle Bamboo Pillow is an "As Seen on TV" product, which often have lower customer satisfaction ratings than similar mainstream products, typically due to complaints of not performing as well as advertised, and for being of low quality.
We're certainly not saying this is the case with Miracle Bamboo Pillow, as there are currently no online customer reviews for the product (more about this next), but it's a key factor you should keep in mind.
What Do Other Consumers Have to Say About the Miracle Bamboo Pillow?
Although the Miracle Bamboo Pillow's URL was first registered in March 2014, there were no online customer reviews related to the product at the time of our research.
However, the Bamboo Pillow is manufactured by the Ontel Products Corporation based out of Fairfield, NJ, who holds a C rating with BBB, based on more than 280 closed complaints (as of 10/8/14). Most of these appear to reference poor customer service (difficulty locating orders, difficulty processing refunds, etc.), long shipping times (some customers claim to have never received their items at all), and inferior product quality.
Your Information Will be Shared
Finally, most ASOTV manufacturers will share your information with third-parties. According to the Miracle Bamboo Pillow Privacy Policy, your information may be "used by us to contact consumers for marketing purposes, [and] shared with other organizations to help them contact consumers by email and/or telephone for marketing purposes." This means that you can reasonably expect unwanted phone calls and/or emails soon after placing your order.
Bot​tom line
Considering Miracle Bamboo Pillow's ASOTV status, its relatively high price, and its lack of online customer reviews, you may want to explore other similar options online, some of which can be purchased at half the cost of the Miracle Bamboo Pillow. This way, you may also avoid a frustrating customer service experience if you're not satisfied.
READ NEXT: Top Pillow Picks For Each Position
Could not sleep on this pillow. Terrible.

By

Kavita S.

,

Illinois

,

Sep 19, 2018
Verified Reviewer

The worst pillow, and it's 1 am. I cannot sleep on this pillow. Very hard and not comfortable, but the salesperson said it was good at Bed Bath & Beyond. Never and never! I will stick to other brands. And this pillow will not help you sleep.

Bottom Line: No, I would not recommend this to a friend

---

Sad

By

Robyn D.

,

High Point, NC

,

Aug 1, 2018
Verified Reviewer

We got us two of these pillows. We thought they will be so good. At first, they were great, but after a week they went flat. I did everything to get them back the way they were when we got them, so I don't suggest anybody get them. We got them at Walmart this year.

Bottom Line: No, I would not recommend this to a friend

---

Advertisement

---

23 out 24 people found this review helpful

Updated review

Not too bad after 2 years

By

Rich

,

Beecher, IL

,

Dec 4, 2017
Verified Reviewer

Still boggles the mind how people buy from the infomercial instead of the big box chains. They have better return policies in case you don't like your pillow.

After 2 years, it takes a lot of fluffing in all different angles to get it just right, but the two that I bought are still comfortable. I've never washed the pillow, don't trust the claims that it'll stay the same as new. I bought pillowcases instead, so I can wash them from time to time. I bought everything with free shipping from Walmart for under $60 and have no regrets. My old pillows went flat well within the first year and had to stack them on top of each other just to equal one fluffy pillow that I have from Miracle Bamboo.

It has to be fluffed nightly, but well worth it compared to what I used to have. Sorry to hear that they still sell defective pillows that they won't refund.

Bottom Line: Yes, I would recommend this to a friend

Previous review
Dec 25, 2015

Bought 2 from Walmart

Why do people buy from these infomercials? Wait 6 months or so and get it at a big box store. They have better return policies in case you don't like the smell and it's all around cheaper. Pillows weren't meant to be washed. You wouldn't wash your new suit if it was a little stiff would you? If yours are hard and lumpy, you must've panicked and threw it in the wash.

I bought 2 queen size pillows from Walmart, they did have an odor to them but after airing them out for 2 days, they hardly any smell at all. I also bought 2 extra pillow cases, this way the only thing getting washed will be the pillow cases, not the pillow. Plus I can always put in a scented dryer sheet inside of the pillow case if needed. I paid a total of $64.00 for 2 pillows, 2 covers, tax, and got free shipping included.

After reading some of the other reviews I think I made a great deal. The pillow fluffed up real good, the smell went away and with the new covers, and the pillows look as clean as ones you see in a hospital. Shop around people but be smart about it. No one likes getting ripped off.

(

read more

read less

...)

---

5 out 7 people found this review helpful

Miraculously terrible pillow

Arizona

,

Dec 3, 2017
Verified Reviewer

I bought two of these pillows at a home show and was so excited, as I've become Goldie Locks with pillows. The feathers are too soft, memory foams are too hard, so this sounded like a great middle ground.

The first week I slept on it I really liked the way it was "scrunchable" but held volume.

Fast forward about a month, and I'm in constant neck and shoulder pain. At first, I thought it was due to pulling a muscle in my left arm. But it keeps getting worse, especially at night.

A friend of mine also bought these pillows and when I saw her the other day I asked what she thought of them. She said she hates them, can't get comfortable. I asked my husband if he liked the one on his side of the bed and he also told me he doesn't like it.

I think the pain I'm in has a lot to do with this pillow being totally unsupportable.

Super disappointing.

Bottom Line: No, I would not recommend this to a friend

---

Advertisement

---

6 out 8 people found this review helpful

They are the worst pillow

I bought these pillow a year ago. They are not what they say on TV. They are hard, and you wake up with neck aches. I can't return them lifetime warranty; they lied. There is no way to contact them. Not worth the money.

Bottom Line: No, I would not recommend this to a friend

---

2 out 4 people found this review helpful

Pillow scam

By

Colleen

,

Pennsylvania

,

Aug 18, 2017
Verified Reviewer

This was the worst customer experience I have ever had. Realizing I had ordered the wrong pillows, I called the morning after the evening I placed the order to cancel and was told the package had already been sent out. That was lie #1.

Then the rep tried to offer me $10 off, then $15 off. When I accepted neither, she told me I can return the pillows if the package wasn't opened by refusing delivery or writing return to sender and dropping it off at FedEx. Lie #2.

A second rep told me the same thing before I dropped it off at FedEx. Which I did only to have the package returned to me THE NEXT DAY with a label that the return was refused. Their money back guarantee is a total scam. Do yourself a favor and buy ANY other pillow from ANY other company.

Bottom Line: No, I would not recommend this to a friend

---

6 out 6 people found this review helpful

Not as they advertise

I bought my Miracle Bamboo Pillow at a Walmart store about half a year ago, after seeing an ad on TV about it, and thought I would get it thinking it would be the as comfortable as they described it on TV. After about 2-3 months of use, the shredded memory foam inside started to clump and form an uncomfortable shape, not even fluffing every night could prevent it from shifting to the back of my head, leaving my neck sore in the morning and giving me headaches throughout the day. I wouldn't recommend this for long term use, as it only lasts about a month or two.

Bottom Line: No, I would not recommend this to a friend

---

4 out 7 people found this review helpful

Best sleep ever without sweating!

I have suffered from waking up every time soaked on head, neck and soaked hair when I sleep in front of a fan! With this pillow, I have not woken up sweaty for the past 30+ days. I saw it on the shelf at Menards and desperately needed sleep, and now I have it!

If you have sweaty nights and have difficulty sleeping, please try this pillow, it is amazing! I'm not sure about all the bad stuff about the contents, but I NEED sleep, and now I have it!

Bottom Line: Yes, I would recommend this to a friend

---

2 out 5 people found this review helpful

Forever my pillow

This is the best pillow ever. I bought a lot of pillows throughout the years. I used to toss and turn and wake up with a pain in my neck. Now I finally have relief with the Bamboo Pillow. It truly is a miracle pillow.

Bottom Line: Yes, I would recommend this to a friend

---

6 out 9 people found this review helpful

Love, love, love this pillow

I wanted a pillow that holds firm and had an elasticity to it. This was it! I paid $30 at Bed Bath & Beyond and can't live without it! It fits my neck right where I need it. My old pillow lost its shape three months after purchase, this bamboo pillow is a Dream Pillow!

Bottom Line: Yes, I would recommend this to a friend

---

7 out 8 people found this review helpful

Bamboo pillow

By

Judy McCombs

,

Due West, SC

,

Apr 25, 2017
Verified Reviewer

I have had my Bamboo Pillow for three years now, and they still have the same shape as when I purchased them. I love my pillows and would never change to another.

Bottom Line: Yes, I would recommend this to a friend

---