Miracle Pillow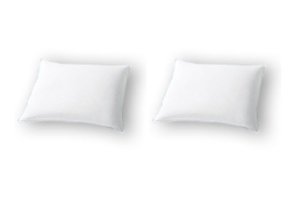 The Miracle Pillow uses interlocking foam chunks to provide a stable surface and shape that provides support for your neck and, they claim, help you sleep better.
Miracle Pillow Review – Get the Most Comfortable Sleep?
The Miracle Pillow is a foam-filled pillow that claims it can hold its shape and therefore provides your neck the support it needs to give you good night's sleep.
The secret to the pillow's supposed success is what they call "interlocking foam filling", which binds together when you shape the pillow.
To prove the success of the interlocking foam, a promo video shows the pillow keeping its shape even after someone drops a watermelon on it from around four feet in the air.
That same promo video has a clip of a New Jersey-based chiropractor named Dr. Ronald V. Kern talking about the benefits of a good pillow.
"The reason people don't get good sleep is because they don't get proper cervical support from their pillow," Kern said in the video. "When you get proper support, it relaxes the muscles and shoulders in the neck and gives you deep, healthy REM sleep."
It's unclear what Kern's relationship is to the product, aside from being a supporter of good pillows.
In this review, we'll talk about how the pillow works, provide some specific examples of research relating to pillows and sleep, then discuss Miracle Pillow's price and how it compares to other pillows.
How the Miracle Pillow Works
As we pointed out a few seconds ago, the Miracle Pillow uses interlocking foam pieces to support your head and neck. These pieces can form different shapes, making them versatile.
Side sleepers should fluff up the pillow, the site notes, while those who sleep on their back should pat the pillow down.
The pillow's website also claims to provide cooling air circulation that prevents you from becoming too hot and, therefore, lose out on good sleep.
The pillow is machine washable. Keep in mind you'll need to wash it in cold water and then tumble dry on the low setting.
Pro tip: Experts recommend changing your pillow every 12-18 months.
Do Pillows Solve Neck Pain and Poor Sleep?
Several times on the Miracle Pillow site there are mentions of how relieving neck pain with a pillow can lead to better sleep. And, to be honest, who wouldn't want better sleep after months or years of waking up with an aching neck?
"Tired from tossing and turning all night long? Are you frustrated by endless snoring? Do you wake up with headaches and neck pain," the site's promo video says.
We wanted to know how effective pillows are in creating good sleep, so we did some research on the matter to find out what the science says.
An article from WebMD provides mixed messages not so much about how effective a good pillow can be but about the origins of the pain you feel when you wake up.
For example, they quote Dr. Andrew Hecht, co-chief of spine surgery at Mt. Sinai Medical Center in New York City, noting that a pillow with poor support doesn't cause headaches, neck pain, shoulder and arm numbness or discomfort.
"A bad pillow won't be the cause of any of these problems, but using the incorrect pillow can certainly exacerbate many of the underlying problems linked to these symptoms, and it certainly can keep you from getting a good night's rest," Hecht was quoted as saying.
The key here is that you may have neck pain and other sore spots that aren't related to your pillow. Therefore, a pillow isn't guaranteed to get rid of those issues, WebMD's sources note.
Kammi Bernard, a Dallas-based physical therapist who talked with WebMD, told the site that, no matter what pain you're feeling, the point of using a pillow is to keep your head aligned.
"The goal of using a pillow is to help keep your head in what is called a 'neutral alignment,' meaning your head is sitting squarely on your shoulders without bending back too far or reaching too far forward," Bernard told WebMD.
As for the Miracle Pillow helping you reduce snoring, another article from WebMD notes that it's the allergens in a pillow that can cause snoring. Therefore, you may be able to solve your snoring problems by buying a new pillow that isn't laden with dust, skin cells and other allergens.
Miracle Pillow Pricing and Return Policy
At the time of publishing, you could buy one pillow for $29.99 and $7.99 for shipping and handling. You also had the option of ordering a second pillow for an additional $7.99 fee. If you wanted to buy two pillows, the total bill would be $45.97.
According to the website, the pillows have a 60-day, money-back guarantee that allows you to return the pillow or pillows with no questions asked.
Keep in mind that you'll need to call Miracle Pillow's customer service department to get a return authorization number you'll need to start the return. In addition to including this number on the return box as well as inside the package, you'll need to include your name, address, phone number and email address, too.
You'll be on the hook for return shipping, which, because of the size and weight of the pillow, could cost you between $10 and $15. Considering that you'll pay $7.99 to ship your pillow(s) and that your refund doesn't include shipping charges, it could cost you as much as $22.99 just to ship the pillow to yourself and back to the company.
How Miracle Pillow Compares to Amazon's Top-Rated Pillows
To get a sense of where this pillow fits in the context of competing pillows, we went to Amazon and did a search for the top-rated pillows that were filled with chunks or shreds of foam.
Here are the top three pillows:
Xixi Shredded Memory Foam Pillow: $46.99; 4.7 stars from 92 reviews
HNOS Shredded Memory Foam Pillow: $36.98; 4.5 stars from 120 reviews
Rachel PureComfort Pillow: $49.99, 4.5 stars from 77 reviews
While each of these pillows costs more than the Miracle Pillow, you have to remember that you aren't paying any shipping costs. So, in reality, the HNOS pillow is cheaper than the Miracle Pillow because it ships for free (same-day shipping) for Amazon Prime members.
Also, we want to point out that, in most cases, returns are free with Amazon Prime purchases. So, in the event that you don't like your HNOS pillow, for example, you won't have to pay shipping on your return.
If you went through the same process with one Miracle Pillow, you'd end up paying at least $18.00 in shipping in addition to the $29.99 you spend on the pillow.
The Final Word: Our Thoughts About the Miracle Pillow's Strengths and Weaknesses
After examining the information available on the Miracle Pillow website and doing some research about how pillows can help or harm your sleep, we believe we've found a clear list of pros and cons.
What we like about Miracle Pillow's marketing and commercials is that they inspire you to get a new pillow. There's a good chance your pillow is more than 12-18 months old; the older the pillow, the more allergens it collects.
The downside to the pillow is that there are competing products on Amazon that provide more peace of mind in terms of pricing and returns. If you don't like your Miracle Pillow and you want a refund, you're going to pay at least $18 in shipping costs, whereas Amazon Prime customers won't pay anything for shipping.
If you're absolutely certain that the Miracle Pillow is the right fit for you and that you aren't going to return it, we could see how it could be a decent choice since you're getting a new pillow that will most likely provide you more support than the older pillow you've been using.