Miracle Teeth Whitener Reviews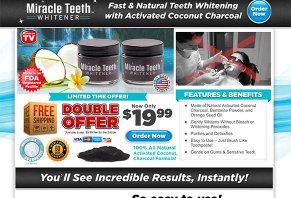 Miracle Teeth Whitener's blend of coconut-derived activated charcoal, bentonite powder, and orange seed oil promise to brighten your smile, without sensitivity.
About Miracle Teeth Whitener
Billed as the fast, easy, and natural way to whiten teeth, Miracle Teeth Whitener uses an all-natural formula of activated coconut charcoal to lift, extract, and remove years of yellowing and stains—including those caused by smoking, coffee, soda, and red wine.
For a whiter smile, you just need to dip your toothbrush into the powder, brush it onto your teeth like normal toothpaste, and then rinse. The company tells us the tasteless formula gently purifies and detoxifies without the use of bleach or peroxide, so it's a good option for those with sensitive teeth or gums.
Despite this gentleness, Miracle Teeth Whitener's manufacturer claims their product is so effective that you'll see incredible results after the first application, which will only become more pronounced the more you use it.
A great smile can create an equally great impression, so you want to make sure yours is as gleaming as possible. But for the price, will Miracle Teeth Whitener provide the most value for the money, or should you consider the competition?
Let's start our discussion by covering the basics of teeth whitening.
What Is Activated Charcoal & How Does It Whiten Teeth?
There are three main layers that make up your teeth:
Enamel – The hard, pearlescent outside.
Dentin – A softer, yellow substance that distributes nutrition and transmits pain signals.
Pulp – Tissue composed of blood vessels, nerves, and dentin-producing cells.
While the enamel on your teeth might look fairly smooth, it actually contains microscopic structures called rods and crystals. When pores (spaces between these structures) form, they can allow particles from food, drink, and other substances (i.e. smoke) to pass through and eventually cause discoloration and staining.
Over-the-counter whitening products use a variety of methods to remove these extrinsic (exterior) stains, although most involve peroxide and/or mild abrasives.
Peroxide works by reacting with oxygen to dislodge and lift away stains that a toothbrush might not have the power to address, while abrasives work like supercharged toothpaste to provide extra scrubbing power.
In fact, this is part of how Miracle Teeth Whitener works. Since the activated charcoal it contains (derived from coconut) is commonly used to bind to chemicals in the stomach, the manufacturer claims it could also help pull out toxins, although we didn't encounter any clinical evidence on the National Institutes of Health's PubMed that this has been shown to take place.
The website tells us that Miracle also contains coconut-derived activated charcoal, bentonite powder, another absorptive agent, and orange seed oil, a natural solvent and stain remover. However, we didn't encounter any third-party clinical evidence during our research that the latter can help remove stains specifically from teeth.
What will you pay for these three ingredients?
How Much Does Miracle Teeth Whitener Cost?
One 2oz bottle of Miracle's activated charcoal formula is priced at $19.99, plus free shipping. You can also purchase a second bottle for an additional $9.99 fee.
The customer service representative we spoke with indicated that the number of uses you get from each jar depends on how much you apply each time.
All orders come with a 60-day whiter teeth guarantee, less S&H (including fees associated with the BOGO offer). OnTel Products Corp's customer support department can be reached at 844-649-5109 to request one.
When it comes down to it, is Miracle's price competitive? Does it deliver any advantages over the competition?
Miracle Teeth Whitener vs. Other Activated Charcoal Formulas
Activated charcoal teeth whitening products are all the rage nowadays, so Miracle certainly isn't your only option, which is why Google Shopping returned dozens of results at the time of our research.
Some of these were sourced from materials other than coconut (often bamboo, although we didn't encounter clinical evidence that one is preferred over another for teeth care), included flavoring agents like wintergreen, peppermint, Stevia, cinnamon, and vanilla, and were priced anywhere from $3 to $25.
Where does this leave you?
As we outlined in How to Choose an At-Home Teeth Whitening System That Works, abrasive substances can be ideal if you're looking for an inexpensive whitening option, something that can address newer stains, or one that's less likely to result in teeth or gum sensitivity.
However, dollar-for-dollar, they typically don't provide the same level of whitening that peroxide-based products can, which penetrate the enamel's pores we discussed earlier to lift away older, more set-in stains.
As perhaps a firsthand example of this, while she didn't test Miracle Whitener directly, Bustle.com's Andrea Obaez didn't notice any difference in whiteness after using a competing activated charcoal product every day for a week. She did, however, note that her teeth felt clean.
Another potential consideration noted more recently in a 2016 article by FoxNews.com is that, "The American Dental Association has currently not evaluated or approved any charcoal teeth whitening products. A spokesman for the organization previously told Prevention the product is concerning because its abrasiveness isn't known." Specifically:
"Approved products seep through the enamel and into the inner layer of the tooth called the dentin, which influences tooth color. Users and dentists don't know how severe the charcoal supplement may be, so it may leave teeth stained or blotchy. The trendy product may also leave tooth enamel susceptible to deterioration and erosion, which can lead to sensitivity and cavities."
This potential staining and blotchiness could occur more frequently on false teeth, so it's especially important to consult with your dentist if this is the case. This thought will reappear as we wrap things up below.
Our Final Thoughts About Miracle Teeth Whitener
Compared to traditional teeth-whitening abrasive substances, according to many online customer reviews for third-party products, another thing to keep in mind is that activated charcoal can quickly become messy and stain any surfaces it comes into contact with.
As a result, you might want to wear old clothes and be very careful during the application and brushing process. It's also not exactly aesthetically pleasing after being applied, so don't be shocked by your initial appearance.
Given all the caveats we learned about from the Fox News article above, it's safe to say that you should at least consult with your dentist if you're thinking about using an activated charcoal product. They'll be able to discuss your goals and concerns, and then set realistic expectations accordingly.
At this same time, you'll want to discuss with them any specific products you're thinking about purchasing, Miracle Teeth Whitener or otherwise. But at nearly twice the price (or more) than a meaningful number of its competitors, as consumers ourselves, we remain unsure that this higher price will deliver a better value.
Did you find value in Miracle Teeth Whitener's formula? Help millions of other consumers make more empowered buying decisions by clicking below and writing your review.
---
I love it!

By Marie A.

,

Toronto, Ontario, Canada

,

Oct 29, 2019
Verified Reviewer

I just bought this product from Bed Bath & Beyond as I wanted a natural product that would brighten my teeth and remove stains. I tried it that night and in the morning and noticed results right away. Excellent product.

It can be messy, but it's worth it! Follow the instructions and when you brush keep your mouth closed as much as possible and when you spit, be gentle so it doesn't splash around the sick bowel - less mess. I am very happy to see the results.

Bottom Line: Yes, I would recommend this to a friend

---

My teeth are brown now

By Marvin B.

,

Denton, TX

,

Aug 6, 2019
Verified Reviewer

The product is not pleasant to use and my teeth have gone from slightly tan to brown. I've also had some aching in a couple of teeth. My lawyer friend says they should pay to get my teeth cleaned and fixed as well as damages for time and usage problems. It is very expensive for what it is...Can't imagine how little that jar of material cost to make and how much they charge for it...Ridiculous?

Bottom Line: No, I would not recommend this to a friend

---

Advertisement

---

Miracle Teeth

By Dawn A R.

,

California

,

Mar 27, 2019
Verified Reviewer

I have always been skeptical about any products that I have seen advertised on TV or online. I saw the advertisement about Miracle Teeth and thought I would give it a try. This is one of the best products for whitening teeth and it works. Would recommend highly. Thank you.

Bottom Line: Yes, I would recommend this to a friend

---

Very messy

By Susan A.

,

Venice, FL

,

Aug 13, 2018
Verified Reviewer

The experience was terrible. I had black everywhere. Don't open your mouth. Black was on my sink, mirror, me, etc. Then it takes two brushings to get the black out of your mouth. They need to invent a paste that is not black and remember me when they do. Until then, I will not use it or recommend it. A $20 disappointment.

Bottom Line: No, I would not recommend this to a friend

---

Advertisement

---

NOPE, do not purchase

By Cathy M.

,

Nampa, ID

,

Jun 27, 2018
Verified Reviewer

I, like the rest of you, saw this bright shining whiter teeth thing at Walmart and decided to purchase it. I've used it four times now and it is very messy, my gums are torn up, and I do not see a difference. I did take a before picture so I'm going to take an after picture when I get up in the morning. I am going to try to take it back to Walmart and get a refund because it does not do what it says. It's going to do in 1/2 to brushings, so do your research first and possibly get your money back. Good luck.

Bottom Line: No, I would not recommend this to a friend

---

Good so far

To begin with, I did use strips three or five times, but they were painful. So when I saw this at Walmart ($24), I had to try. It was a mess the first time just opening the paper under the lid and then trying to cover the brush, which is not a good idea.

Now I just lightly wet the tip of my brush and shake off almost all the water, then dip the tip of my brush into the black powder (it's difficult to get the powder on the whole brush anyway), then shake most of it back into the jar. This is enough to cover my teeth, once over. Then I brush. It does look bad while brushing and spitting out but makes my teeth feel cleaner than ever and I've had much improvement in the color after only five brushings (2/week as suggested). Of course I brush another 2 minutes with a whitening toothpaste.

Any improvement (and without pain) is great. But after this article, I will be speaking to my dentist, for safety.

Bottom Line: Yes, I would recommend this to a friend

---

Don't waste your money

By Angelique M

,

Slidell, LA

,

Apr 14, 2018
Verified Reviewer

I bought this product in hopes to whiten my teeth. In all reality, I know that I would actually need to visit my dentist for a 100% difference in whiter teeth, but when I purchased this teeth whitening kit, I would've been happy to have received a half of shade whiter. Unfortunately, after using this kit six times, following the directions to its entirety, I did NOT notice a difference whatsoever.

Due to the fact that I'm not a fan of bringing something back for a refund after I've used it, I'm now stuck with it and out $24.00.

I guess we all live and learn.

Bottom Line: No, I would not recommend this to a friend

---

Messy, no results

Like others, I saw this product at Walmart and treated myself to the expensive little jar of teeth whitener. I followed instructions, and it can be very messy if you are not careful. I have used it four times with no noticeable whitening. I would also note that it darkened a white filling. I wouldn't recommend this product. Baking soda seems to work better and is a lot cheaper.

Bottom Line: No, I would not recommend this to a friend

---

Instant results!

By Anne A.

,

New York

,

Apr 7, 2018
Verified Reviewer

I am a smoker and drink lots of tea. I was planning on getting zoom white laser treatment from my dentist, but it's very expensive. I opted to try this product since it was under $20.00, and I am so glad that I did. I noticed results the first time I tried it. My teeth looked whiter and shinny. It's was easy to use, a bit messy but worth it.

I did notice that some of the charcoal remained on my gums after I rinsed my mouth but a quick fix was using dental floss and it removed the charcoal. I have tried white strips and this is way better since it's immediate in giving the results I wanted. I was really surprised. I didn't think I would actually get the results I wanted. It literally removed the yellow stains.

I will continue to use this product and can't wait to see how my teeth will look after consistent use. I would recommend this product to anyone who wants whiter teeth, fast and at an affordable price. Thank you for making this available. I can smile now and feel so much more confident about my appearance!

Bottom Line: Yes, I would recommend this to a friend

---

Disappointing

I bought this product with high expectations. I read the directions and followed them very carefully. The product is very messy, however, the package does warn of this, so I was prepared.

I gently brushed my teeth with the product. Almost immediately my gums felt like they were being torn up. I brushed for two minutes as instructed. Then I rinsed and rinsed and rinsed some more, and got as much of the product out of my mouth as I could. It suggests doing your normal brushing routine hoping the black would be removed. Twice I brushed after and still the black remains. My gums are inflamed, sore, and swollen. While my teeth feel smooth, my gums are so irritated and sore it doesn't feel worth it.

There may be a light whitening but it's hard to tell with the remaining product that refuses to come off my teeth. No smiling for me today. $19.99 plus tax, I really would like my money back. Also, I don't think this product is good and should be taken off the market.

Bottom Line: No, I would not recommend this to a friend

---

Help

I rarely splurge on myself, but I found this product and its promises too good to pass up on. In my experience, it works as promised. I noticed a difference right away. However, making it a habit to add on top of my already lengthy routine was becoming difficult. Just recently, though, I've been able to use it regularly and keep it part of my routine. As a new mom it's hard to focus on myself. But I finally started to kick old habits and focus on my well being. I had gotten about an eighth of a way into the bottle when my two-year-old got his hands on it. His hands and everything else. I'll have charcoal remnants in my house for the next six months probably. A constant reminder of the pearly whites I may have had. I would really appreciate a new bottle. I love this product and really would really like the full experience.

Bottom Line: Yes, I would recommend this to a friend

---