MirroCool Reviews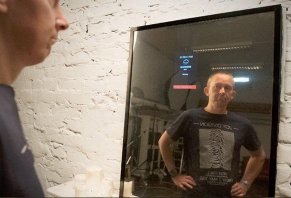 Using a built-HD camera, an invisible display, and Facial Gestures Recognition (FGR) technology, the MirroCool smart mirror claims to help you save time.
What Is MirroCool?
Called an all-in-one smart mirror, personal assistant, and home security system by the company, MirroCool promises to recognize your face and display information from your phone, saving you time and hassle while getting ready.
To accomplish this, the website indicates the smart mirror uses a built-in HD camera that's programmed with Facial Gestures Recognition (FGR) software, which then syncs with your smartphone. Regardless of the number of users in your household, this means you can take a pic when smiling, "click" with a wink, and even choose between other widgets by moving your eyes to a top corner.
When it comes down to it, though, is MirroCool really like a personal assistant, or is it just a cool piece of technology to play around with? Does it have staying power?
Let's start things off by taking a closer look at the smart mirror's operation and specifications.
How Does MirroCool Work?
Although much of MirroCool's promotional material features it in the bathroom, the company claims the 23.6" h x 31.5" w device can fit in just about any area of your home, including the hallway.
When not in use, the device looks like an ordinary mirror, since its small, thin hardware and electronics—including a high-speed, quad-core processor, 2 GB RAM, and a Wi-Fi and a Bluetooth adapter—are completely hidden from view.
On the outside, it boasts 1/4" precisely cut glass with a thick silver nitrate coating and edges that can be polished or beveled. When a registered user walks in front of the mirror, its Facial Gestures Recognition technology (FGR, which they claim is like a digital scan of a human face) identifies unique characteristics and compares 70 different facial features to understand their intentions.
This way, switching between widgets can be accomplished by moving your eyes to the top right or left corner, or taking a selfie by smiling and blinking. Then, you can send these images to your smartphone, your MirroCloud account, via email/MMS, and even share to your social networks.
MirroCool also syncs with your phone and displays important information inside a built-in five-inch, high definition display screen. This includes incoming email alerts, text messages, weather forecast, traffic to your favorite destinations, and breaking news headlines.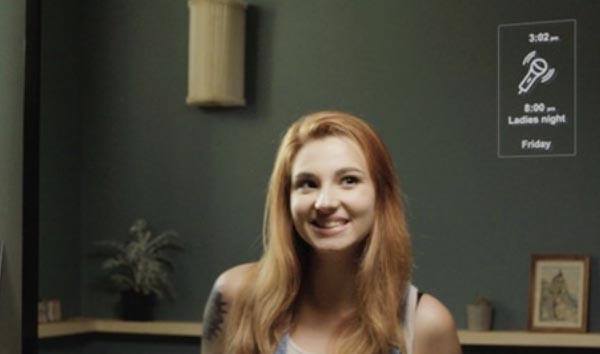 Using Facial MirroCool's Facial Gestures Recognition technology, it can display personalized information in a built-in screen for an unlimited number of users. Image credit: MirroCool, Inc.
Like an "automated personal assistant," MirroCool can also display customizable information like a personal welcome, appointments, meetings, birthday notifications, to-do lists, and so forth. Currently available languages include English, Spanish, French, German, and Polish, which will be expanded in the future.
The smart mirror's camera can also be used as a home security device, since it will take a snapshot if any motion is detected while you're away. Then, if the FGR doesn't recognize them as a registered user, it will send you an alert notification, after which you can immediately call police with the click of a button.
Whether they're taken when you're away from home or otherwise, any images snapped by MirroCool's camera are sent to your MirroCloud account using two-way SSL certificate-based mutual authentication. The camera can also be turned off and placed in privacy mode whenever you choose.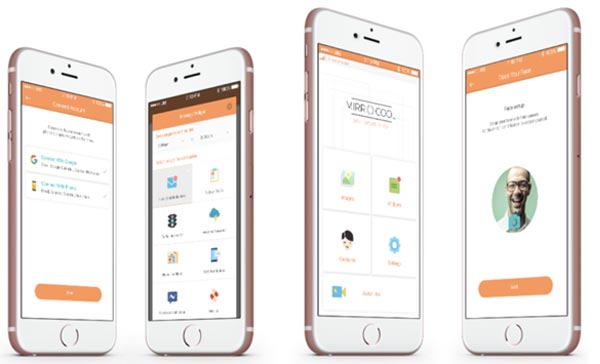 The iOS and Android apps are where users will be able to fully customize their MirroCool's display, including notifications, widgets, and home security settings. Image credit: MirroCool, Inc.
In the future, the MirroCool website indicates the company plans to expand the number of widgets available for download, and to release an API that allows others to create their own apps using the device's technology.
How Much Does MirroCool Cost?
MirroCool is currently undergoing a Kickstarter campaign that's set to end on August 25, 2017. Pledge options ranged between $139 (no frame and six months of MirroCloud storage) and $499 (two mirrors, framed, along with two six-month accounts worth of MirroCloud storage) at the time of our research. All prices included S&H.
Important: If you plan to install your MirroCool in a bathroom, you'll need to purchase the frameless version, which is IP65 water resistant certified. Framed versions, which are available in four colors (silver, gold, black, and white), are listed as being ideal for hallways.
Unless otherwise indicated, 1 GB of MirroCloud storage is included with all orders, along with 24/7 support (response time guaranteed within 48 hours). Their Extended plan increases cloud storage to 5 GB and the warranty to two years, and decreases response time to same day. For this, you'll pay $9.99 per month.
What Do We Know About the Company Behind MirroCool?
The MirroCool website tells us the venture started when Wojtek Kaszycki, the company's co-founder and CEO, experienced difficulty completing his morning routine while struggling to organize his day using his phone. He then realized that the solution was staring him in the face the whole time: a smart mirror.
Prior to co-founding the company, Wojtek created the first e-commerce portal in Poland in 1996. Two years later, he created Empik.com, which the website tells us is akin to the Polish Amazon.
MirroCool was also co-founded by CEO Andrzej Sadowski and CPO Bartek Chrzanowski. Along with the remainder of the team, we're told the company has more than 20 years of experience in business and technology, along with "mirror production, visual monitoring systems, and access control."
Our Interview With MirroCool
Speaking of the company, we had an opportunity to ask a MirroCool representative a few questions via email. Here's what we learned:
Is MirroCool installation any different than a standard mirror? Are there any special considerations?
According to the company, MirroCool is hung the same as any mirror. The only difference is that it requires a power source, so it features a cable that needs to be plugged in.
Is the FGR technology proprietary, or is it licensed from another company?
Here is their direct quote: "We are using third party libraries to achieve our results, but the technology is ours. We combine them to achieve the best FGR performance."
Are there any plans to integrate MirroCool with other home automation devices?
And if so, which ones? Is there an ETA?
The representative informed us that their MirroAPI will be open source and available for anyone to "develop a device that will use faceprints, along with our technology."
They told us that the company is also working on MirroLock, a door lock that will utilize FGR technology to recognize registered individuals. They also have some other consumer devices in the works that they'll make public once the prototypes are available.
Furthermore, they emphasized that their MirroCloud technology already offers customers the ability to synchronize with Google, Apple, and Microsoft calendars and tasks, weather services, maps, and many more services.
"Our plan is to allow connectivity with many APIs through services such as Zapier, or own connectors. Thanks to MirroAPI, it will be possible to connect any API enabled service with our MirroCool device," the representative stated.
At this point, what's the biggest obstacle the company is attempting to overcome?
Right now, they told us their biggest challenge is providing a device that doesn't cost much more than a traditional mirror, without compromising quality.
Would you like to mention anything else for interested readers?
In the end, "the idea behind MirroCool is not to produce another device you may need or not," they said, "but to make everyday objects smart enough to help you and assist with your daily routine."
They also emphasized that MirroCool does not "record" or monitor your actions, unless you give it the command to do so. It's a very secure device that only connects with MirroCloud, and that only provides the requested (and accurate) information when it is needed for the registered user.
Ultimately, the user is always under control. And if you choose, MirroCool can easily be switched off or unplugged.
Our Final Thoughts About MirroCool
As is often the case with crowdfunded projects, detailed information about MirroCool was limited to the company's website and their Kickstarter campaign at the time of our research. There also wasn't any hands-on testing available, and many of the Kickstarter demonstration videos appeared to be using a prototype.
Speaking of which, we encountered several different devices classified as "smart mirrors" during our research. But the majority were TVs that take on the appearance of mirrors when not in use, or more traditional mirrors that featured touch-based LED lighting (on/off, dimming, color changing, etc.).
However, there's clearly consumer demand for the features MirroCool offers, since the crowdfunded campaign reached its goal within 72 hours, so it seems likely that this type of technology will soon start appearing everywhere. Just keep in mind that delays are common in this industry, since companies are trying to bring completely new products—often utilizing brand new technology—to market.
Although, we think the fact that MirroCool's team is made up of successful Internet entrepreneurs and glass manufacturers could reduce the risk of something like this occurring.
Speaking of which, we'd like to thank the MirroCool team for taking the time to answer our questions. We'll eagerly await its release.