MOAR Bike Reviews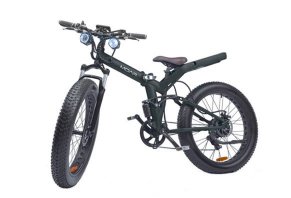 The MOAR Fat Tire Folding Electric Bike promises to deliver unique features, like powerful headlights, long-range batteries, and a rear blinker, at competitive prices.
What Is MOAR Fat Tire Folding Electric Bike?
The MOAR Fat Tire Folding E-Bike features a patent-pending design with front and rear suspension, a 48V Samsung lithium-ion battery with immediate power delivery and excellent torque, five levels of pedal assist, powerful Tektro disc brakes, and the ability to fold away with a flip of a safety catch and latch.
Compared to other e-bikes, MOAR promises to deliver 30% more power and range, an integrated horn, and built-in LED turn signals and brake light. You'll also find that the battery housing doubles as a sturdy rack that's independent of the rear suspension, allowing you to carry saddlebags.
On the handlebars, you'll find an LCD readout with five levels of pedal assist, including a twist throttle control and the ability to travel up to 45 miles on battery power alone (more than double this with pedal assist). And with the optional dual LED projection headlights, you'll be able to comfortably travel up to 20mph (limited by state law) at night.
It certainly seems like the MOAR Folding Bike is chock-full of features at mouthwatering prices. But will it deliver what you need in an e-bike so that you're getting the most value for your money? That's what we'll help you decide in this article.
Which Fat Tire Folding Bike Models Does MOAR Manufacture?
Overall, there are three different folding e-bike models in the MOAR lineup, which feature more similarities than differences.
All bikes look the same, come with rust-resistant 6061 aircraft grade aluminum frames, 42T front chainrings, 180mm disc brakes front and back, 26" x 4" fat tires on 80mm or 100mm wide aluminum rims, Shimano gears, water bottle mounting points, and a weight between 69 and 71 pounds, depending on the battery you choose.
In addition, each MOAR bike comes with hidden in-frame waterproof wiring, an automatic trigger for motor cutoff and brake light when the brakes are applied, and the ability to fold in half. And compared to many other folding bikes, MOAR folds to the right, so that the front wheel can help protect the derailleur.
MOAR's standover height is 30.5 inches and the seat can go as low as 33 inches, which means it can accommodate most riders between 5'2" and 6'4", with a maximum rider weight of 220 lbs.
The 10AH batteries can go up to 50 miles on pedal assist (30 miles electric only), the 13AH up to 65 miles on pedal assist (40 miles electric only), and the 17AH up to 85 miles on pedal assist (50 miles electric only).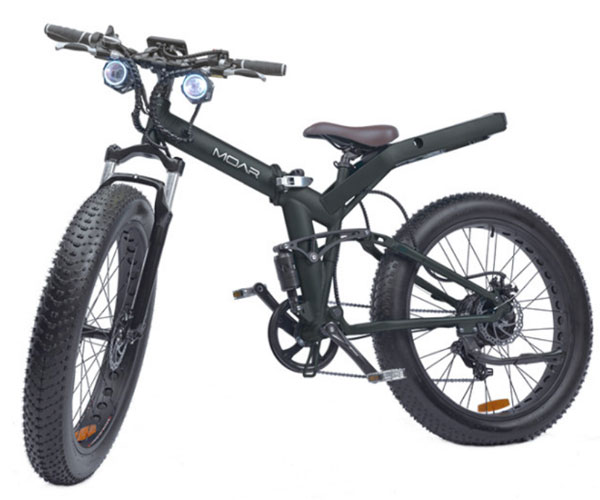 With several different configurations available, there's likely a MOAR E-Bike for every need. Here, we can see the optional dual LED projection headlights mounted to the handlebars. Image credit: MOAR Bikes
Now, let's take a look at their differences.
What Comes With the MOAR Rapt II?
The Rapt II is MOAR's top-of-the-line model, with a 1,000W 8Fun mid-driver motor that's light, quiet, and efficient. Like all MOAR models, it also features torque sensing for improved response.
Top speed is regulated to 20mph, but once you're riding in an unregulated area, you can tap the LCD screen a few times to boost this to 30mph. On this screen, you'll also find a battery level indicator, power consumption meter, speedometer, and odometer.
The MOAR Rapt II comes with a 16AH battery that powers dual LED projection headlights (>1,000 lumens each) with angel eyes, and a 6-8 hour recharge time (3-4 hours with optional quick charger).
Finally, you'll find a nine-speed Shimano drivetrain and hydraulic assisted disk brakes.
What Do We Know About the MOAR 24/7?
MOAR's 24/7 model features the same dual projection headlights, recharge times, and hydraulic assisted disc brakes, but with a 500W 8Fun Rear Hub Geared motor, eight-speed Shimano drivetrain, and a 13AH battery.
What Does MOAR's "Sun and Fun" Model Feature?
The biggest differences between MOAR's 24/7 and Sun & Fun models are that the latter features a max unlocked speed of 28mph, a seven-speed transmission, mechanical disc brakes, and the lack of a headlight (hence the "Sun" part of its name).
Recharge time is 5-6 hours (or 2-3 hours with optional quick charger).
How Much Does the MOAR Fat Tire Folding Bike Cost?
Through their Indiegogo campaign, MOAR's e-bike models were priced as follows:
Sun & Fun: $999
24/7: $1,199
Rapt II: $1,999
Shipping and handling was $195 for shipments to the US and $225 for international orders. Estimated arrival was between May and June 2017.
All MOAR bikes sold through Indiegogo come with a 10-day refund policy, less S&H—and only if the campaign hasn't ended. Through the manufacturer, MOAR's bikes come with a one-year limited warranty.
Since the MOAR Fat Tire Folding Bike was only sold via a crowdfunding site at the time of our research, were any backers providing feedback?
Are There Any MOAR Folding Electric Bike Reviews?
As mentioned earlier, the MOAR Folding Fat Tire E-Bike got its start on Indiegogo, where it raised more than $1.2 million from 2,800+ backers.
Since it hadn't yet shipped at the time of our research, the only in-depth review we encountered was from Electric Bike Review, who provided some excellent insight:
If you don't have time to watch the entire video, here are the highlights:
They noted the bike felt very rear-heavy, and there was enough frame flex they were concerned about the frame's joints. Note: In a follow-up video, the manufacturer noted that it wasn't frame wobble, but instead a loose headset.
However, this didn't seem to address the rear flex noted by EBR.
They also pointed out that the rear suspension only consisted of a rubber bumper (versus a piston-based design), without much travel or adjustability. The generic fork had 40-60mm of travel.
The reviewer liked that the super-bright lights gave the bike a lot of personality, although they felt they made the cockpit a bit crowded. They also appreciated the integrated motor inhibitors built into the brake lever, along with the double walled aluminum alloy rims with punch-outs to save a little weight.
On the other hand, they found the rubber grommet on MOAR's battery was difficult to get back in after recharging, the LCD wasn't removable, and the throttle's ability to override pedal assist could present some concerns if you forgot to turn off the battery.
When riding, they also found that it was easy to hit their knee on the buckle and that it might be easy to bump the torque sensor underneath, causing it to wobble.
Bottom line? While they felt it had some unique features and a competitive price point, they concluded that the "experience you get with [MOAR] probably wouldn't live up to the marketing hype."
Obviously, this was regarding a pre-production unit, and not necessarily what you'll experience with MOAR.
From a company perspective, MOAR was founded by Ken Chung, Valentina Cremasco, and Sean Chung. Previously, Ken worked as CPO for Rad Meme.
Based on what we learned from MOAR's website, the Indiegogo campaign, and EBR's video review, how does it stack up against other bikes?
MOAR Fat Tire Folding Bike vs. the Competition
Have you ever heard the saying, "You can have fast, cheap, and good; pick two"? Well, this seems especially pertinent when it comes to comparing MOAR to the competition. Why?
While you'll find hundreds of fat bike, electric bike, and folding bike options available from dozens of different manufacturers, you won't currently find them combined into a single model like you will with MOAR.
Sure, you can have an electric fat bike, a folding electric bike, or a folding fat bike, but all three are uniquely blended into MOAR's models. As a result, if this is your primary criteria, MOAR seems to be in a league all its own.
But if you can jettison one feature or another, you might find options that meet your overall needs just as well.
For example, FLX Electric Bikes offers a four-model lineup with 17AH batteries and mid-drive motors, but no fat tires. They also don't come with lights but are meaningfully lighter weight—but at $1,699 - $2,399, they're also meaningfully more expensive.
On the other hand, you can find standard fat bikes for as little as $300 (especially used on sites like Craigslist), but without a motor of any kind. The same can be said of many folding bikes, as well.
Our Final Thoughts About the MOAR Fat Tire Folding Bike
The goal of many fat bikes is to go where other bikes can't, although their bulky design often makes them cumbersome for travel. E-bikes certainly seem like the wave of the future, but they're also much more expensive than traditional bikes.
Finally, folding bikes can be super convenient, although they're often small and not exactly confidence inspiring.
But at its most basic, MOAR seems to have developed an inexpensive electric bike with fat tires and a folding design, in addition to some great features like front and rear lights and blinkers.
With these benefits in mind, we think it's important to keep in mind that MOAR's models weight 70+ pounds. So, even though they fold, they might not be easy to lift into a vehicle by yourself for transport.
Taking everything we've covered here together, including a hands-on review from EBR, if the price is your main concern, it seems like you probably couldn't go wrong with MOAR. But if you're looking to take it offroad on anything more than a gravel road, its weight and component specifications might not fully live up to your expectations.
As a result, it might be best suited for those looking for an around-the-town bike that can be safely used any time of day or night.