Modoo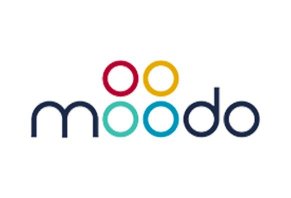 Brought to you by Agan Aroma, the app-connected Moodo smart diffuser allows you to custom your fragrance between four individual pods, helping to make you a "scent DJ."
What is Modoo Smart Fragrance Diffuser?
Moodo is a smart, stylish home fragrance diffuser that features a combination of four proprietary scent capsules, along with app and Wi-Fi connectivity and automation functionality, to help you mix your own signature scents "according to your taste, mood, and lifestyle."
First, you'll choose between dozens of unique, high-quality individual fragrance capsules. Or, you can select from four-capsule scent families created by professional perfumers, which the website explains "are compatible and harmonized to create a wonderful scent in any mixing selection."
Then, you'll connect your Moodo diffuser to a Wi-Fi signal, your app, and any other relevant smart devices in your home, and start enjoying. Together, the company calls it "the smartest aroma diffuser in the world."
But, is this necessarily the case? And even if it is, does this mean that Moodo is the right smart fragrance diffuser for you?
By combining our in-depth research with feedback from the company and interviews with industry professionals, these are just a couple of the essential questions we'll help you answer.
Let's start with the basics.
How Does Moodo Work?
To help you personalize the scents surrounding you, and perhaps experience specific moods and other benefits, the Moodo system involves three essential parts: a diffuser, scent capsules, and an iOS and Android app.
Moodo's Indoor Smart Diffuser
The Moodo diffuser is a countertop device that measures 4 inches high, and 4.9 inches wide and long. You can use it in all rooms of your home, including the living room, bedrooms, kitchen, office, and so forth.
Moodo's square-shaped smart diffuser, along with scented capsules you can mix and match to create custom fragrances to maximize your mood and brainpower.
The standard version requires power from an outlet to operate, although you can purchase a model with a built-in battery ($20 extra) that delivers up to seven hours of runtime, and will take four hours to recharge once depleted. You can operate the diffuser when it's charging, and it's perfectly safe to keep it plugged in at all times.
The site FAQ emphasizes that Moodo's rechargeable battery is factory-installed, so you can't add one if you purchase the plug-in model and decide you want a battery at a later point.
Once powered up, Moodo connects to your smart device via a 2.4Ghz (802.11 b/g/n) Wi-Fi network, while 5Ghz is not supported. Neither is mesh networks.
According to Yoav Thaler, US business development head for Moodo, they're not supported because the company's product team has focused on developing the app and other features like Wi-Fi, Alexa, Google Home, and Siri connectivity.
"Mesh networks have been lower down the priority list," he says. "That's on our product roadmap, but we can't commit to a timeline yet."
The site FAQ does list a workaround for this issue, although the process requires two smartphones to complete.
Once your Moodo diffuser is up and running, it uses adjustable speed fans to diffuse scents (more soon) from the device—a process they call cold-air diffusion. It will cover up to 600 square feet, or 60 square meters.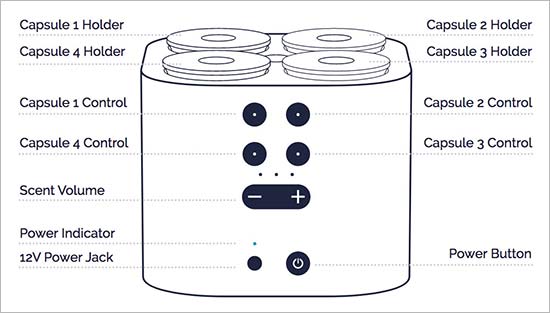 In addition to the app, you can also control Moodo's diffuser manually after inserting fragrance capsules. Credit: Agan Aroma
Moodo's Scent Capsules
Moodo's fragrance capsules fit into four corresponding inlets on the top of the diffuser and look similar to a coffee pod, with tiny holes in the top that allow each aroma to emanate.
Moodo's capsules allow you to easily and instantly change the room fragrance and mix different scents, using the app or smart-home automation functions.
Thaler tells us that because "Agan Aroma is one of the world's largest ingredients manufacturers for everything from top-self fragrances to laundry detergent," only "very high-quality perfume goes into each of our capsules, which is formulated by industry professionals."
Furthermore, all Moodo fragrances comply with EU and US fragrance and cosmetics regulations, and they're safe for adults, pregnant women, children, and domestic pets. They're cruelty-free, eco-friendly, last up to 60 hours on full fan speed (and even longer at lower intensities), and contain no oil, gas, wax, alcohol, or aerosol residues.
The handy chart located in Moodo's FAQ can help you gauge how long each capsule will last based on different fan intensities, run times, and room sizes.
This capsule-based approach allows you to mix and match fragrances individually, or choose from scent families selected by professional perfumers. These "scent capsules are grouped into harmonized [scents] that produce a pleasant fragrance in any mixing combination," the website advertises.
You can switch your capsules and store partially used ones in a container, such as the original box, to help ensure they don't lose any of their scents. Even stored out in the open, the Moodo website says capsules won't lose their scent any more than a fragranced candle might.
Moodo's App & Home Automation Functionality
Available for iPhone (iOS 9 and above) or Android (OS 5 and above) smartphones, Moodo's app allows you to control and customize scents contained in the capsules. Options include:
Controlling intensity – The "volume" button controls the dominance of each scent, which is individually adjustable via sliders. Then, you can name your combination, save it, and quickly access it from your favorites tab, as well as send it to your friends via a message with a link.
Creating smart scent schedules – Allows you to turn the diffuser on at specific times of the day.
Shuffle feature – Automatically switches between your favorite moods every few minutes.
Interval feature – Moodo comes with three different on/off time gaps, which the company says can help scent capsules last longer and ensure you don't get more fragrance than needed.
Preset mixtures – Browse and explore from the home screen.
Power button – Puts the diffuser into standby mode.
Moodo's iOS and Android app allow you to customize scent intensity, set timers, save favorites, and pair with home automation devices.
Because you can control multiple Moodo devices from a single phone without creating multiple accounts, the company advertises these features can make you a "scent DJ."
The Moodo app and diffuser are also compatible with popular smart home technologies like Amazon Alexa (10 skills, currently), Siri Shortcuts, and Google Assistant (11 commands). IFTTT.com also provides access to 10 basic IFTTT (if this then that) applets.
Finally, Moodo's open API services allow third-party developers access to the system's data so they can incorporate it into their own applications.
How Much Does Moodo Cost & Where Can You Buy?
If purchased on Moodo.co, you'll pay $97.30 for a black or white diffuser. The battery, which is required if you want to use the device when it's not plugged into an outlet, is an additional $20, and you'll choose between US, UK, and EU adapters.
As far as scent capsules, you'll have the following options:
Complimentary Pack: Free – Beach Party pack, which contains four scents.
Value Pack: $50 – Includes a free complementary pack, plus two additional popular scent family packs (four capsules each).
Rainbow Pack: $100 – Includes a free complementary pack, plus five additional popular scent family packs (four capsules each).
Outside of this, single-fragrance and scent family four-packs are priced at $29.90 each ($7.48 per capsule). You can also agree to a monthly capsule subscription and get 10% off your first purchase.
We found Moodo sold on Amazon for $189 plus $7 shipping as well, which included three scent capsules. Fragrance capsule four-packs were priced the same, at $29.90.
For direct purchases, the website explains that exact shipping costs are calculated based on the products ordered and your address, and are displayed at checkout. You'll receive a notification and a tracking number once your order ships, and your signature is required for delivery.
All Moodo smart fragrance systems come with a 30-day hassle-free return policy, less original and return shipping charges, along with a 5% processing fee, as long as products are in their original packaging and you include all original accessories. Cancellation and shipping fees don't apply to defective products.
You'll need to send an email to service@moodo.co to request one.
Are There Other Smart Fragrance Diffusers Like Moodo?
While the market isn't exactly flush with app-connected smart home scent diffusers, there are a handful of portable options potentially competing for many of the same customers as Moodo.
Here were some of the most popular options on Amazon at the time of our research, as well as how their critical criteria compared:
| | | | |
| --- | --- | --- | --- |
| Brand | Price | Returns | Special Features |
| Moodo | $189 for diffuser, $30 per 4-pack of capsules | 90 days | Use 4 pods at a time, app helps create and save custom scent blends, share blends with friends, crafted via expert perfumers by one of the top fragrance companies worldwide |
| Aera | $200 for diffuser, $50–$55 per pod | 60 days | 10 adjustable settings depending on room size, single-scent spheroid pods, fragrance lasts up to 800 hours, compatible w/Alexa, crafted by expert perfumers, touch model available for $150 |
| ASAKUKI 700 ml Smart Wi-Fi Essential Oil Diffuser | $39.99 | 180 days | Ultrasonic essential oil diffuser (no pods), works using the TuyaSmart app (can only turn on/off, adjust color and mist density, set timer), 7 LED colors, different mist nebulizer modes, safety switch-off when the 500 ml water tank runs dry |
| Sierra Modern Home Smart Wi-Fi Wireless Essential Oil Aromatherapy Diffuser | $38.95 | 30 days | Ultrasonic vaporizer, wrapped wood finish (available in light and dark), Alexa and Google Home compatible, app control (LED color, mist intensity, timer, scheduling) |
| Dularf Essential Oil Diffuser | $31.99 | N/A | Wood finish, ultrasonic vaporizer, also acts as a cool mist humidifier, Alexa and Google Home compatible, LED lights, 4 timing modes, runs continuously for up to 8–10 hours |
| Yeshow Smart Wi-Fi Diffuser | $39.97 | N/A | Currently only works with Alexa (light and mist density, time schedules), 5 LED bullets |
| Emoi 3-in-1 Cool Mist Humidifier | $35.99 | 2 years | Essential oil diffuser, 1 LED nightlight, Bluetooth speaker, 1- to 6-hour timer, safe mode, compact 200 ml tank fits just about anywhere |
After years of researching popular consumer products, we've found that consumers typically have a range of options to choose between. However, you can see this isn't the case here—you're either paying a lot or a little, for robust or basic technology.
For example, if you want to use capsules/pods and also plan on utilizing all of the features offered by a smart fragrance diffuser, Moodo and Aera are the only options currently available. However, they're also the most expensive, but provide top-of-the-line features like highly-adjustable settings, long-lasting scents, and fragrances formulated by professional perfumers.
On the other hand, if you don't necessarily need pods and are OK with diffusing liquid essential oils, but want to maintain bare-bones app connectivity, the ASAKUKI, Sierra Modern, Home, Dularf, Yeshow, or Emoi models' ultra-low prices might suit your needs just fine.
At two years, the Emoi version also offers the longest satisfaction guarantee of the bunch and comes with a Bluetooth speaker, followed distantly by ASAKUKI's 180 days. However, Emoi also has the smallest water tank, which means you'll have to refill it more often.
During our interview, Moodo's US Business Development Head, Yoav Thaler, emphasized that no one offers anything close to their proprietary, real-time personalization and scent-mixing, which seems to hold true based on what we learned above.
"They might only let you turn them on and off, with maybe some scheduling," he says. "You're pretty much locked into one—or a few—discreet scents that you have to choose in advance."
But, does this mean you should go ahead and place an order? Let's wrap everything up in the next section.
What Are Customers Saying About Their Moodo Experiences?
Moodo users provided lukewarm feedback on Google Play (2.4-star average among 49 users), with a meaningfully higher rating on iTunes (3.9-star average among 55 ratings) at the time of our research.
While some were pleased with their experiences, most complaints reported a confusing and unnecessarily complicated setup process, as well as frequent, random disconnections from Wi-Fi networks. And when this occurred, users reported they were forced to factory reset their diffuser and the app and attempt the process again, with little-to-no support from customer service.
With this said, more than one Google Play review posted within the last eight months reported that v3.0 of Moodo's app solved many of these problems. Others, however, continued experiencing them.
Interestingly, all iTunes reviews for Moodo's app were more than a year old.
The Bottom Line
The bottom line is that, when it comes to app-connected fragrance diffusers, the only options available are at opposite ends of the spectrum, and there's not much in the middle. In other words, you'll either pay a lot for high-level tech, or a more modest amount for bare-bones "smart" features.
Given this, your choice really comes down to the price you want to pay, as well as the level of technology you desire. After all, they're inextricably linked.
With this said, Thaler emphasizes that Moodo is the only option that "lets users personalize their fragrance in real time, which is accomplished through a combination of mixing four capsules at a time in different proportions."
"Similar to how individual colors like red, green, and blue combine to change into a completely different color," he explains, "this changes the overall scent."
And this proprietary, patent-pending technology isn't something you'll get anywhere else.
These fragrances are also formulated by Agan Aroma, which Thaler explains is "one of the world's largest ingredients manufacturers in the world, for everything from top-shelf fragrances to laundry detergent," he says.
Just keep in mind that unless you know you'll use your Moodo diffuser only in locations within proximity to a power outlet, the rechargeable battery seems like a no-brainer, since it can't be added after the fact. It's an additional $20, though, so make sure you budget accordingly.