Modsy Review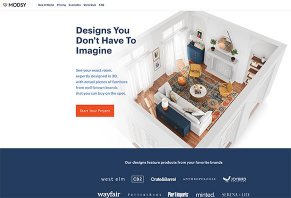 Modsy is a personalized home design service that promises to make the renovation process simpler by letting you visualize real furniture within the actual dimensions of your room.
Modsy Review: A Detailed Look
Modsy is a virtual home design service launched in 2016 by Google alum Shanna Tellerman. The company website that's that they provide a middle ground between decorating a room yourself and hiring an interior designer.
Taking into account your style preferences, the program utilizes 3D visualization technology to provide style ideas and let you see how specific furniture fits in the space.
For a one time purchase, you will receive two stylistic renditions of your room and unlimited opportunities to personalize the design yourself.
How Does Modsy Work?
Modsy uses photos of your home to render a 3D design that matches your style preferences. This lets you visualize your room with real pieces of furniture from leading brands, allowing you to see how they would fit precisely within the space. You can also request (for an additional cost) that the design includes pieces of furniture you already own or change the floors or walls to match future renovation plans.
Selecting Your Space with Modsy
To begin the process for a 3D rendering, you will first tell Modsy about your project through the company website by specifying the room you are renovating and the level of change you want.
At the time of writing, room options included living rooms, bedrooms, office spaces, bedrooms, dining rooms, and entryways. Because the program doesn't support physical changes to space, bathrooms, kitchens, laundry rooms, and outdoor areas weren't options at the time of writing.
How to Send Photos
Next, you will send photos of your space to Modsy. The company needs a minimum of eight photographs (more is encouraged), and the images should show every feature in the area from floor to ceiling.
These photos are used to render realistic models of your room, so the more detail you can provide about the way you use the space the better. For instance, the company website states that it's smart to note whether you want a tv in your living room or require the area to be pet-friendly.
There's no reason to empty the room before taking pictures, so long as the photos showcase essential details like the floors, windows, and fixtures. Modsy suggests using the panorama feature on your camera and taking advantage of natural light.
Once you submit your room's photos and dimensions, the Modsy team will review your pictures within 24 hours. You will receive an email about whether your photos are approved and if you need to resubmit them.
About the Modsy Style Quiz
After you upload your photos, the website will prompt you to take a style quiz that gives the designers insight into your style preferences. The quiz requires you to select the room designs you like most from approximately a dozen, and then designate whether you love or hate specific furnishings within them.
At the end of the quiz, Modsy will attempt to label your style preferences. For instance, my result was "vintage farmhouse." If you disagree, the company suggests taking the quiz several more times or messaging them with concerns.
You will also choose a budget for your project to give the designers an idea of furniture options that will work for you.
About Modsy Custom Design Plans
Over the next two or three weeks, the Modsy team of designers will create two custom 3D renderings for your room. Your design will be filled with furniture that matches the specifications you requested and your style quiz results.
The amount of revision requests you can make depends on the package you purchase (more on this later), but you will have unlimited access to the Modsy software to make changes once you receive it.
How to Buy Furniture from Modsy
Once you land on design elements that you like, you will have the option to buy specific pieces of furniture from Modsy's collection of over 100 designers, including CB2, West Elm, Restoration Hardware, Design Within Reach, Crate & Barrel, and Wayfair. The company offers a centralized shopping cart, meaning that you can make purchases from multiple retailers through one checkout process.
If a product is no longer available or out of stock, the Style team can work with you to find an alternative.
Pricing and Options
At the time of writing, Modsy offers three packages:
Modsy Essential ($59/room)
Modsy Plus ($79/room)
Modsy Premium ($169/room)
With Modsy Essential, the Modsy team will build you a 3D rendering of your space with two initial design plans within 10-14 days based on the details you provide and your style quiz results. Once you receive your designs, you are allowed unlimited revisions by sending design feedback through email or chat, or by making changes to the room yourself.
Modsy Plus offers the same service, but with the added benefit of quicker delivery time (7-10 days). You will also gain access to Modsy's complimentary concierge shopping service and any discounts it offers.
The Modsy Premium plan includes a pre-design consultation to discuss your project, designs delivered in just 4-7 days, and live one-on-one style sessions to adjust them. You'll also receive unlimited ongoing consultations to review the progress of the design and provide feedback, as well as the same access to exclusive shopping discounts as Modsy Plus.
The company promises to provide you with a plan you like, and you can request a refund if you aren't satisfied. You can contact the company directly at hello@modsy.com.
Add-On Options
Modsy allows you to customize your design further by purchasing add-ons. Options include updating your flooring ($30), changing paint colors ($10), adding wallpaper ($30), or getting a 3D rendering of furniture you already own ($15).
It's also possible to get a room design based only on the floorplan ($300), an excellent option for those still in the process of building their home.
Which Modsy Plan Is Best?
The Modsy plan that is best for you depends on how much personalized assistance you want with your home design. While you'll be able to continue tweaking your design with the traditional plan, you won't get as much personalized feedback.
The Modsy Plus plan, in contrast, offers an experience more similar to working with a traditional interior designer. A dedicated designer will virtually work with you to guide you through the design process, making it a smart option for anyone that lacks confidence in their design ability and wants expert feedback throughout the process.
It's possible to upgrade your account at any time, so a smart option might be to start with the standard version and change your service if necessary.
Alternatives to Modsy
Modsy is one of many options available today for virtual interior decorating. Other brands you might consider working with include Havenly and Decorilla. How do these stack up to Modsy? Let's look at the details.
Havenly is a virtual design program that lets you work directly with one of 100+ designers on the site. You can start an initial chat with a designer for free, and then choose between a "mini design" package (best for final touches) for $79, or a "full design" (best for room makeovers) for $169.
With both packages, you will receive three design ideas and concepts, and up to two rounds of revision. You can expect several weeks of design time before you get your results and you can purchase the products you prefer directly from the site, similar to Modsy.
If you're looking for a full room renovation, this service is about the same price as Modsy Plus. However, you'll have greater control over the designer you choose to renovate your space and can look through multiple portfolios before selecting one. This makes the renovation process less anonymous, which some people might appreciate.
Decorilla is slightly different from these two companies. You can tell the company about your style preferences, and multiple designers will provide you with concepts to choose from. If you decide not to select any of them, you can request a full refund.
If you choose a concept, that designer will work with you on every aspect of the concept, from paint colors to lighting selection. You will also receive a 3D rendering of your space.
One advantage Decorilla has over Modsy is that you will receive multiple style ideas at stage one that is less limiting for what the final design can be. Pricewise, you'll pay significantly more: between $449-$699, depending on the package you choose.
Virtual Interior Design vs. In-Person Interior Design
Now for the bigger questions- should you invest in a virtual interior design service in the first place? Some people might be better with complete control over the design process, while others need the confidence that comes from an in-person consultation.
If you crave the creative process and don't want to be limited by someone else's perspective, designing from scratch might make the most sense. You'll also have more freedom to build your design over time as you source furniture and accent pieces.
However, if the idea of taking full control turns you off and you doubt your abilities to make smart decorating decisions, it might be better to work directly with an interior designer. Working in person also opens up opportunities to have them shop for you and physical design your space to your preference.
This hands-on service will come at a price, costing between $2,000 and $10,000 (excluding furniture), according to Home Advisor.
What Do Customers Think of Modsy?
A review from Mackenzie Schmidt of People.com highlighted how easy the company was to work with, and how convenient it was that every piece of furniture was shown to scale. This provided near-perfect representations that made it easier to commit to purchases. Mackenzie noted that Modsy relieved her stress about buying furniture because it gave her the confidence that it would look good.
A review from Ashley at Domestic Imperfection noted how lifelike the renditions were, and that it was possible to shift the screen for different perspectives. Adding extra features like wood floors or a brick fireplace was also simple, making it easy to visualize these changes in the existing space.
Ashley also appreciated that every design made was saved online on Modsy and that each rendition listed all the furniture used to make purchasing easier.
Finally, a review from Ben Lovejoy at 9 to 5 Mac noted how accurately the style test matched his style and how realistic the 3D rendering of the room felt.
One downside he noted was that the selection of furniture offerings was somewhat limited because Modsy only works directly with select brands. As most of the retail stores are located in the United States, this can be a limitation for those outside the country.
The Bottom Line
A careful review of Modsy's services makes it clear that it might be a stellar interior design option for those who want to make significant changes to their décor without creating the design themselves or investing in a professional designer.
While the program is somewhat limited in the rooms it lets you redesign (kitchens and bathrooms aren't options at the time of writing), Modsy provides almost unlimited décor ideas that match your specified style preferences for other parts of the house.
Compared to the competition of other virtual interior design services, Modsy is cheaper than both services we looked at (Havenly and Decorilla), and less than a tenth of the cost of an in-person interior decorator. Few services seem sacrificed for this cost savings, and you have the option to tweak your design online on your own endlessly.
At just $59 for unlimited access to the program, it's hard to go wrong with Modsy. The service is less of a financial commitment than hiring a designer, but it gives you enough structure and guidelines to provide you with the confidence to move forward with your renovation plans.
And, if you're unhappy with your rendered designs, the company offers a 100% refund.
---
Terrible fulfillment systems

By Gary G.

,

USA

,

Dec 20, 2019
Verified Reviewer

Overall Experience:

The design service from Modsy was reasonable enough. The designer was mostly responsive and the designs certainly better than I might have come up with on my own. I subsequently placed an order for a piece of furniture listed on the site as being "in stock." The paperwork then reflected a five-week delivery window which I assumed was a typo for an in-stock item. When I inquired of Modsy, they said they could not get a response from their vendor. Eventually, it became clear that 5 weeks is exactly what was meant. Apparently in-stock could mean "in production" or "in shipment" from somewhere overseas on a very slow boat. Five weeks have expired and I finally heard from the delivery service. The item will arrive today in Seattle. I am not in Seattle. It will be another 9 days before they have a truck able to bring the unit to me. Sheesh. This is ridiculous. The same item was carried by a local retailer and for a similar price. I should just have gone there and suggest you might want to do the same.

Bottom Line: No, I would not recommend this to a friend

---

Don't waste your time or money

By Katie R.

,

Colorado

,

Dec 10, 2019
Verified Reviewer

Overall Experience:

The designer I have been working with has been wonderful. She has been very good about getting back to me in a timely manner and has created beautiful designs. However, the ordering process through Modsy is painfully frustrating and completely ridiculous. They charge a fee every time you place an order, do not always reflect the current discounts from their vendors and take FOREVER to respond. Like several days with me putting in multiple calls, emails and leaving messages. Their customer service is horrible. Don't waste your time or money. It's a great concept but their execution is truly horrible.

Bottom Line: No, I would not recommend this to a friend

---

Advertisement

---

Modsy is a waste of money and time!

By Sidney S.

,

Salt Lake City, UT

,

Oct 19, 2019
Verified Reviewer

Overall Experience:

I love interior design and technology so I decided to try all three sites mentioned here (Modsy, Decorilla, and Havenly) for each of my different rooms because I couldn't decide! Between the three, I have to say Modsy was my least favorite. While all three sites had their pros and cons I found Modsy to be a very frustrating process. My designer was professional and responsive, however, I felt like my design had been a copy and paste type of situation. I don't think scale is really considered as both the sofa and coffee table chosen for my living room were way too big. While it was nice to receive two designs from one designer there wasn't much variation. A few of the major pieces were swapped out with something slightly different, but overall they were too similar (this was a similar case with Havenly too). I wanted to see two different designs...not two versions of the same design. When I had a room designed by Decorilla two different designers submitted competing concepts of my room and each had a different perspective and I could merge the different ideas together when I was refining the design with my designer. It felt very tailored to me.

The ordering process is perhaps the most frustrating part of it all. My ordering experience with Havenly and Decorilla was great. Decorilla extends their designer discounts, which saved a ton of money in the end. I felt like I didn't have to lift a finger when ordering. Just like Havenly, Modsy matches the best prices online, but doesn't beat them. Havenly was easy when I used them, so I decided to try to order though Modsy as well and I wish that I didn't. After the fact, I found a better deal online myself anyway and I wouldn't have had to pay their $20 ordering fee. Havenly and Decorilla offer their ordering service for free, but Decorilla passes on their trade discounts. With Modsy, I ended up feeling like I paid a company for no reason and ended up doing all the work myself. I have to say Decorilla had much more realistic 3D renderings than Modsy and Havenly does 2D concepts instead of 3D, but it's still better than Modsy. Do your research and read the reviews beforehand. I wish I had.

Bottom Line: No, I would not recommend this to a friend

---

Awful designs, save your money

By Lisa N.

,

Florida

,

Oct 11, 2019
Verified Reviewer

Overall Experience:

I was so excited to find this service that I purchased 3 room designs at once. After more than the advertised 10 days delivery, I received an awful looking design that was nothing what I had asked for. They basically put a bunch of furniture together that doesn't even match with the hopes that you will buy it and they get a commission for it.

If you want to still give it a try, just go ahead and purchase their $50 package to try it out. You'll regret it!

Bottom Line: No, I would not recommend this to a friend

---

Advertisement

---

Don't buy from them!

By Aixa R.

,

Union, NJ

,

Oct 7, 2019
Verified Reviewer

Overall Experience:

I had a good experience with my designer and got a lot of great ideas. However, the ordering process was a nightmare from there on. Absolutely everything they recommended to me was available cheaper on other websites and they only give you one day to challenge the price. In the end, I ended up paying over $1000 more than if I had simply purchased all the same items myself. After several emails, they have yet to address my concerns. The price match is a joke and the ordering staff is s bunch of different people who drop the ball. I had to fight for every credit and eventually they just never bothered to reply.

Bottom Line: No, I would not recommend this to a friend

---

Great design process, but don't buy furniture from them!

By Anna M.

,

Missouri

,

Sep 10, 2019
Verified Reviewer

Overall Experience:

We were very happy with the entire design process, felt that the price for the design package was helpful to see some layout ideas, and the 3D rendition was nice. But that's the only utility of Modsy. I do NOT recommend purchasing furniture or decor from them. You have no idea when something will arrive at the time of placing the order. They advertise a price match policy, but it's only the day of the purchase, compared to retailers who often have a 14-day price match. They also charge a fee for an order "concierge" who is supposed to update you on when things ship, and reach out to retailers on your behalf. But after reaching out to them several times about the same item(s), wondering when everything will ship, and not getting a response besides "it's still within the order delivery timeframe" - the same timeframe with a range of 30 days that you did not know when you placed the order - this is NOT helpful information. No one should have to sit around and wait and hope furniture will be delivered "soon" after shelling out thousands of dollars. It's much better to get some design ideas from Modsy, and then buy the furniture directly from the retailers. I spent over $10K in furniture and decor in the past month from Modsy, and still waiting on key furniture pieces to arrive. It's been a nightmare, and I'm regretting the whole experience.

Bottom Line: No, I would not recommend this to a friend

---

Modsy is a waste of time

By Amy P.

,

New York

,

Sep 3, 2019
Verified Reviewer

Overall Experience:

Modsy is not for everyone. After taking a lot of time to fill out the quiz in detail, send pictures and measurements of my room, and a Pinterest board with my inspiration, I waited almost 2 weeks to get my initial concepts. I wasn't able to update my questionnaire with any more items I found and the designer came back with two concepts that were slightly different from each other, but I didn't really like any of them. I was asked to give feedback or revise them myself, but I didn't want to as that would require a lot of time as I didn't like much on them. Anyhow, I put in the time as suggested and gave very detailed feedback. The designer did not listen to my feedback and put in too much furniture that I don't think would even fit in the space. Their furniture discounts weren't great and I found the same deals online myself, but Modsy charges a $20 ordering fee for their concierge service, which was also disappointing as I didn't feel like I was saving money that way. To make a long story short, I feel like I wasted a lot of time and energy to get a design that I didn't like. The designer seemed inexperienced and I guess I should have read the reviews on Glassdoor first because designers only get paid $30/room that they design. Getting something personal, that is not a re-used design, would be hard in that time I imagine. It's a great concept and I was excited to try it, but overall I don't think it's executed very well, unfortunately.

Bottom Line: No, I would not recommend this to a friend

---

Terrible waste of money

By Derrick K.

,

New York, NY

,

Jun 19, 2019
Verified Reviewer

Overall Experience:

I asked for an art deco look and one look after another was just full clutter and contemporary bull. You can tell these things are just being thrown together by people who are paid to not care.

Also, Modsy claims to give you a "money back guarantee". False advertisings.

I've been trying to get my money back for MONTHS and they refuse.

Bottom Line: No, I would not recommend this to a friend

---

Thumbs down, back end purchasing

By Benjamin S.

,

Pennsylvania

,

Apr 5, 2019
Verified Reviewer

Overall Experience:

The whole delivery process is just so clunky. First, I have items delivered with no prior notification even though my contact information is available. Now, on the supposedly white glove service, which is more expensive than other services, cannot be delivered on a Saturday! This means I have to take off of work to sit and wait for a delivery which will cost me more money and time! How can you have white glove delivery that does not deliver on Saturday? The customer should be informed of these issues that can and will happen on the back end of your process. This is really disappointing and I feel like I should have purchased and sourced all of the items in my design directly at least in this way I would have had more control of the process. Simply disappointed with the purchasing and delivery aspects of your services!

Bottom Line: No, I would not recommend this to a friend

---