MOHELA Reviews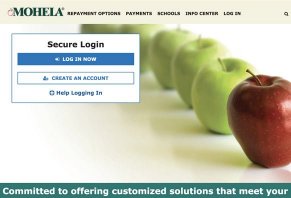 MOHELA is a student loan servicer who provides end-to-end student loan services, including processing your payments and helping you decide which payment plan is best for you.
About MOHELA
MOHELA (Missouri Higher Education Loan Authority) is a student loan servicer based in Missouri who provides borrowers services for repaying their student loans, choosing the right repayment plan and processing the necessary paperwork to do both.
According to their website, their "customer promise" is to be "committed to giving our customers a first-rate experience. To aid in repaying your student loans, we promise to listen, offer customized solutions to meet your specific needs and provide superior guidance as your dedicated resource expert."
MOHELA is one of several different student loan services whose purpose is to process your loan payments, not offer loans. Great Lakes, Nelnet, Navient, AES and Ascent are a few other popular servicers.
Comparing student loan servicers can be tough because they essentially offer the same services. What sets them apart is the number of customers they have and the customer service ratings they get from various groups like the Consumer Financial Protection Bureau (CFPB).
So, as we walk through this review with you, we're going to talk about what MOHELA offers in the way of loan servicing and how they've performed in the past month in terms of customer satisfaction. To figure out MOHELA's customer satisfaction, we'll provide an analysis of the complaints filed with the CFPB in the month before we published this review.
A quick word about student loan servicers: According to the U.S. Department of Education's Federal Student Aid division, you don't get to choose your student loan servicer – the Department of Education does. Your loan servicer will notify you about payments and your account once they receive your information and a disbursement has been paid.
What MOHELA Offers for Student Loans
MOHELA provides "servicing" for the following types of federal direct student loans: subsidized, unsubsidized, Graduate PLUS and Parent PLUS.
When we say "servicing," what we mean is that they are like the custodians of your account. They make sure that you know which loans you have, what your balance is and your monthly payments and they're the ones who take your payments each month.
In the event that you fall on hard times and can't repay your loans, you call them to set up a forbearance or an economic hardship that allows you to postpone your payments for up to three years so that you can get back on your feet and make your payments.
» For Further Reading: A Beginner's Guide to Student Loan Servicers
Using MOHELA to Track Your Student Loans
If MOHELA is your student loan servicer, then it is your responsibility, according to their website, to do the following things during your undergraduate education:
Set up your online account
Update your contact information
Know when your grace period is over
That last point is perhaps the most crucial. MOHELA gives you a six-month "grace period" in which you don't have to make loan payments. This grace period kicks in via two different circumstances: you drop below half-time or you graduate.
Once your grace period is over, you'll be responsible to make payments on your loan. Exactly how much you pay has a lot to do with the repayment plan you choose. Since your loans are federal loans, you have many more repayment options that you would with a private student loan lender like Discover or Wells Fargo:
Standard
Graduated
Extended
Pay as you earn
Revised pay as you earn
Income-contingent
Income-based
Income-sensitive
The first three options dictate your payment based on time: 10 years or 25 years, depending on the plan.
The final five options are all monthly prepayment plans whose payments are based on your income.
Now, it's quite possible that you start out on one repayment plan and then switch at some point during your repayment period. For example, you could start out with an extended repayment plan and then find out that you're eligible for an income-based repayment plan.
You can talk with MOHELA to find out exactly which programs you're eligible for. However, don't stop there. As your loan servicer, MOHELA is there to help you understand how your repayment choices will affect your monthly payment.
If you have bigger student loans balances, they can help you see the pros and cons of an income-based repayment plan. For example, you may qualify for a $0 monthly payment through IBR, but the interest on your loans will build when you aren't making payment.
These are the types of things that MOHELA can help you with, which is why they're a valuable resource for students.
However, it's really hard to tell how valuable they are compared to other servicers like Nelnet and Navient, which is why we're going to cover that comparison later in this review.
Making Your Payments Through MOHELA
MOHELA allows you to make payments on your student loans three different ways: by check, by a recurring bank withdrawal by MOHELA or by using your bank's bill pay feature to send recurring payments to MOHELA.
In most cases, your monthly payments will stay the same for a least a year. If you are on an income-driven repayment plan, you'll have to recertify every year, which means your payments may go up or down based on your financial situation.
MOHELA should give you enough notice about what your new payment will be that you can change your bank's bill pay.
However, we suggest letting MOHELA make the withdrawals from your bank account because the company will give you a 0.25% discount on your loan interest rates if you do it that way.
How MOHELA's Customer Service Compares to Navient, Nelnet and Great Lakes
It's really tough to identify one metric that best represents a student loan servicer's level of customer service.
We've decided to go with the CFPB's complaint files to show you what kind of things people are complaining about. Doing so gives you an idea of where the company's weak points are in their customer service.
While this isn't a foolproof way to judge a servicers overall level of service, it is, we feel, one of the most insightful.
We're going to provide a quick breakdown of the number of complaints the CFPB received regarding MOHELA, Nelnet, Navient and Great Lakes, then talk about the nature of the complaints about MOHELA.
Here is the data on the number of complaints the CFPB received in the two months prior to publishing:
MOHELA: 22
Navient: 766
Nelnet: 164
Great Lakes: 59
MOHELA has the least number of complaints among these four companies but, remember, MOHELA has far fewer customers than the other servicers Navient, for example, has more than 12 million customers. Nelnet, as of 2016, had about 9 million customers.
We could not find data on how many customers MOHELA has. That being said, we were able to read through all the complaints about the company. Here are some common themes from those complaints:
Issues with late payments reported to credit agencies
Scammers posing as a servicer
Bad recommendations on which repayment program to enter
Of the 22 complaints we read, 17 were related to the loans themselves. Three were related to debt collection and two were related to credit reports.
Thirteen of the complaints were one-sentence issues about customer service or verifying account information.
The most concerning complaint we read was from a customer who wanted to enroll in a repayment plan that was eligible for public service loan forgiveness (PSLF). A MOHELA phone rep recommended a certain prepayment plan. The customer chose that plan, then was told at a later time their plan didn't qualify for PSLF.
The customer called MOHELA back and told them about the problem, asking once more which plan would comply with the PSLF program. The representative recommended a plan, the customer chose it and later found out the plan was, once again, ineligible for PSLF.
» See Also: A Beginner's Guide to Student Loan Servicers
Pros and Cons of MOHELA
Based on our research of what MOHELA offers, we believe that, if you get them as your loan servicer, then you might be happy with the level of service you get. The number of complaints about the company was minimal and many of those complaints seemed to be, based on our observation, minor complaints.
As far as downsides go, we don't see any glaring issues with MOHELA. The complaints we saw weren't out of the ordinary for a student loan servicer and certainly not specific to MOHELA.
Our advice, regardless of which servicer you have, is to do your own study of the various ways to repay your loans. Read over the federal student aid division's website to get an idea of the options you have. Read our guide to the eight different student loan repayment choices.
Doing so will give you a base of knowledge you can arm yourself with when it comes time to choose the right repayment plan or to change to a new one.
And, if you're interested in the PSLF program, having your own knowledge of which jobs and loan types qualify can be a safeguard against the inaccurate information you read online or that you hear from a MOHELA rep.
» Related: Should You Refinance Your Federal Student Loans?
2 out 2 people found this review helpful

Worst customer service. Do not recommend for anyone planning to go back to school!

By Brittany I.

,

Redlands, CA

,

Oct 24, 2018
Verified Reviewer

I have had the worst customer service experience with Sofi Mohela regarding my student loans. Ever since I went back to school full time for my master's degree, I have had multiple terrible experiences trying to get my In-School Deferments approved (which have to be completed every three months). They take forever to process the In-School Deferment requests, from two weeks to over a month. The customer service representatives have given me incorrect and inconsistent information on many occasions, which have caused my In-School Deferment to be denied, and delayed the process further.

I feel this company does not care about the customers. It was one of my worst decisions to consolidate my loans with this company. I am regretting that decision every day. I would never recommend this company to anyone, especially if you plan to go back to school.

Bottom Line: No, I would not recommend this to a friend

---

Advertisement

---