Mohu Leaf HDTV Antenna Reviews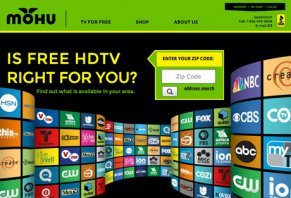 About Mohu Leaf HDTV Antenna
Made in the USA, the Mohu Leaf HDTV antenna can be installed just about anywhere and allows you to watch free, local, and public HDTV channels in your area.
The Leaf is modeled after an incredibly thin military mudflap antenna design, and at just 9 inches by 11.5 inches, it can be mounted on the wall, behind a picture, or just about anywhere else.
The Mohu Leaf includes a 10-foot detachable coaxial cable, giving you more than enough room to find just the right placement. In addition, the antenna is black on one side and white on the other—and is even paintable—allowing it to seamlessly mesh with your home's existing décor.
From a reception standpoint, the Mohu Leaf is optimized for UHF stations. This means that you can also tune in to VHF and Hi-V stations, but will not receive them from as far away as you would with UHF-band stations.
As a spinoff of Greenwave Scientific, the engineers at Mohu help transform defense-based military technology into "common sense consumer electronics." Their mission is to "deliver simple, intuitive, game-changing products that enrich the lives of [their] customers."
The Mohu Leaf has been featured on many prestigious news outlets, including CNET, CNBC, Fox News, Lifehacker, and NBC News.
What Is Free HDTV?
As of 2009, all major television networks and local broadcasters in every U.S. city were required to transmit their content digitally in HDTV, and completely free of charge. These signals are sent over the air, which means that no cable or satellite service is required—only a high-quality HDTV antenna such as the Mohu Leaf.
» See Also: Stop Paying Too Much for Cable! Find Freedom by Cutting the Cord
Think of it this way: Instead of broadcasting an analog signal, as we've been doing for more than 60 years, stations are now broadcasting digitally, which is carried from towers and received by antennas. Using an antenna to "catch" this signal is just as legal as using the traditional, unsightly "rabbit ears."
Mohu Leaf Pricing, Shipping, Return Policy, & Warranty
The Mohu Leaf comes in three different models, depending on your needs. These are:
Mohu Leaf Indoor HDTV Antenna – 35-mile range: $39.99.
Mohu Leaf Ultimate Amplified Indoor HDTV Antenna – 50-mile range: $89.99.
Mohu Sky Outdoor / Attic HDTV Antenna – 60-mile range: $169.99.
If you're unsure of your range requirements, you can plug in your zip code on the Mohu site, which will make a suggestion based on the broadcasting station distances in your area.
The Mohu Leaf comes with a one-year manufacturer warranty, and free shipping throughout the continental U.S., which can also be sent via UPS Ground, Next Day, and 2nd Day Air for faster service. If you're unsatisfied with your purchase, the manufacturer provides a 30-day money back guarantee, which encompasses a full refund, minus shipping and handling fees.
It's important to note that, while the Mohu Leaf is available through Amazon as well, you'll need to purchase it directly through the manufacturer's website in order to receive the money back guarantee.
Mohu Leaf TV Set Considerations
If you have an older, standard-definition television, you can still use the Mohu Leaf, but you will require a separate digital converter box. However, any HD programming you receive will be displayed in SD quality.
If you have a newer-generation flat screen TV, make sure it is digital-ready, which can be accomplished by checking your TV's manual to see if it supports ATSC tuning.
Pros:
Before making your purchase, you can check the manufacturer's website to verify the Leaf will work for you.
Easy to install, and can be mounted virtually anywhere.
Made in the USA.
30-day money back guarantee, though you will be responsible for return shipping charges.
One-year parts and labor warranty.
All models come with a coaxial cable and Velcro tabs in order to mount the antenna on your wall.
One-time purchase, without additional monthly cable fees.
Free over-the-air programming access for networks such as NBC, ABC, CBS, and Fox (varies by location).
Cons:
The Mohu Leaf might ruin your décor. Imagine a black or white rectangle in the middle of your wall, with a coaxial cable dangling from it.
» Read Next: Streaming Services: With So Many Choices, How Can You Pick the Right One?
Amazing

By A G.

,

Wisconsin

,

Aug 7, 2019
Verified Reviewer

So I've been looking for actual free tv for years, I've bought every different kind of antenna they made, then today me and my son were standing at Walmart and there it was, said it worked, so I brought it home and plugged it in and low and behold it actually fricken worked! Omg, I'm amazed.

Bottom Line: Yes, I would recommend this to a friend

---

Love Mohu Leaf

By Nancy S.

,

Warren, RI

,

Jun 18, 2019
Verified Reviewer

Best Buy helped me choose Leaf for my neighborhood and checked service there. Cannot believe the service and picture that I get. The instruction manual is hard to decipher but Mohu service person stayed on the line and walked me through the complete setup, so patient.

I absolutely love it and can't believe I'll be saving a couple of thousand dollars a year and am no longer owned by the cable companies that keep uping the rates.

Bottom Line: Yes, I would recommend this to a friend

---

Advertisement

---

Mohu will not return calls, respond to emails, or honor their warranty

By Glenn W.

,

Houston, TX

,

May 23, 2019
Verified Reviewer

I bought a Curve 50 directly from Mohu's website on May 5, 2019. Shipping was fast. I had the unit within a few days. They advertised a 30-day satisfaction guarantee or your money back. Unfortunately, during this time, I had an internet issue with AT&T which forced me to go to Xfinity. Xfinity's most basic package provides the channels I need. So now I don't need this antenna. I contacted them on Sunday, May 12, only to learn they are open Monday through Friday 8 to 5 EST. No problem. Since that call one week after purchase, I've sent 3, or maybe 4, emails with no response. I've made 9 or more phone calls which all go to voicemail. When I left messages, I've received no response. Further research reveals they are a Kickstarter-funded company who, according to Kickstarter's website, is having to issue refunds to their investors. I do not believe I'll ever get my money back for something I don't need.

Bottom Line: No, I would not recommend this to a friend

---

Disappointed

By Dave H.

,

Wilmington, DE

,

Mar 11, 2019
Verified Reviewer

Made the purchase very hopeful. Purchased a Tablo to easy the setup. 20 miles south of Philly I placed the antenna in a second-floor window aimed directly north at Philadelphia, a hotbed of towers. Hoped the multidirectional feature would grab a few more in the Wilmington area. Wrestled with connecting the Tablo to our router but was finally successful. Drumroll as the search for channels went on. Verdict? One English and one Spanish channel in 1080p...Nothing analog. I connected the antenna directly to the TV...Figured I'd purchase more coax and antennas for each set if successful. ABSOLUTELY NOTHING. I have a friend waiting to hear of my success. Guess I'm sticking with basic cable and Moho will get the antenna back to sell again.

Bottom Line: No, I would not recommend this to a friend

---

Advertisement

---

Worst ever

By Sheila W.

,

Memphis, TN

,

Jun 29, 2018
Verified Reviewer

I purchased a Leaf Value pack that had two antennas from Sam's Club. I paid about $70. I was so excited. I plugged them in and had to call because I had trouble with getting a signal. I was told to continue to move the antennas around and try to place them as high as I could. I continued to move around for about a week before we found good signal places.

When we finally did, the channels showed great and there was no digitizing for about a month. Then, all hell broke loose. I called and was finally told to take a picture of the box, the amplifier, and antenna and send it to them and they would send me a new amplifier, and then it became a new unit. It seemed like they were making me jump through hoops.

I have never received anything but rudeness when I call back. John leaves polite messages when he calls back to acknowledge, but when I return the call, I never get John and what I get is a nasty unprofessional person that never helps. This has gone on for years now. I share my experience whenever I am asked about these antennas anywhere I am and will continue to do so.

I would not recommend these antennas based on the service I have received, I feel I wasted $70.

Bottom Line: No, I would not recommend this to a friend

---

Just plain doesn't work!

By Pua Mei

,

Hawaii

,

Dec 7, 2017
Verified Reviewer

I ordered the Leaf 50 from Greenwave Scientific, who assured me it would work. I told them I live in a valley and was concerned that I would not receive signals from town. They assured me I would. I didn't! I was only able to get voice (no picture), and I could only get a voice on three stations. I tried FOUR times to get help. I didn't get ANY. A royal waste of time and money!

Bottom Line: No, I would not recommend this to a friend

---

The cable cutter's best friend.

By Bruce

,

NC

,

Nov 11, 2016
Verified Reviewer

We have purchased 3 Mohu products. 2 Leaf 50-mile antennas and 1 of the Air60 units. We now receive 44 channels, crystal clear, on the Leaf units and 53 on the Air60. Air60 in our attic and Leaf in the garage and a 3rd floor room without cable box so can't use the Air60 there.

Remarkable, no better way to describe it. Better, clearer picture than what Time Warner provided. Promise, you will not regret this purchase. Only need the Air60 to feed your outdoor cable box and it will serve the entire house, where you have cable connections.

Bottom Line: Yes, I would recommend this to a friend

---

Absolute nightmare

Ok I live in downtown Brooklyn right near the east river. Bought this thing. I live in an apartment building. From day one I have to reposition this antenna every single day and then rescan to get signals for local channels. For example channel 2 (CBS), I'll get a signal maybe for a few hours, maybe for 30 minutes then "no signal ". I have to circle around my room constantly sometimes to get nothing. I have had this thing for about 5 months and I have not had one day of uninterrupted signals without having to reposition. I bought this thing because of reviews. I am sorry but the Mohu Leaf is crap.

Bottom Line: No, I would not recommend this to a friend

---

Perfect

By Di

,

Annandale, VA

,

Sep 4, 2016
Verified Reviewer

I have tried numerous digital antennas. They have been cumbersome, unsightly and frustratingly unpredictable, sometimes requiring constant tweaking of position or worse. I purchased the amplified version of the Mohu Leaf antenna through Groupon several years ago. I don't even know how many stations I get, far more than ever before. I get stations I didn't know existed. Reception is clearer than I have ever gotten before. I have only had to adjust the position of the antenna (slightly) a couple of times during this whole time.

Bottom Line: Yes, I would recommend this to a friend

---

Across the mountain!

By Tammy

,

Maynardville, TN

,

Mar 18, 2016
Verified Reviewer

Bought this mohu leaf today at Walmart. It is the 60 mile range with an amplified signal. I live north of Knoxville, TN in all mountainous country. This Mohu leaf works well, I am picking up all 17 stations that are in a 30 mile range. Images are crystal clear. I have the Leaf set up in front of the window facing south over the mountain towards Knoxville. It does exactly as advertised, and very easy to set up. If you are expecting miracles, better pray instead of buying this antenna, but if you have reasonable expectations, it will work!

Bottom Line: Yes, I would recommend this to a friend

---

Don't Waste Your Money.

By J. Hill

,

Scott City, MO

,

Nov 21, 2015

The Mohu Leaf Antenna Does not work as advertised.

Bottom Line: No, I would not recommend this to a friend

---