Monday Project Management Reviews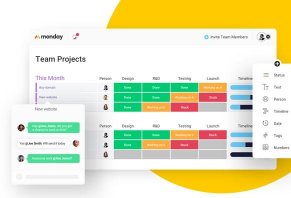 Formerly known as dapulse, Monday Project Management's online software and mobile apps claim to help boost your team's communication, collaboration, and overall operation.
What Is Monday Project Management?
Whether for a massive organization or a two-person team, Monday Project Management (aka Monday.com) offers software they promise will help manage your workload, transform the way your team works together, and improve the way your team or department operates.
In fact, by helping to "build a culture of transparency," the company advertises they can "empower everyone to achieve more and be happier at work." Perhaps this is why we're told the software is implemented by more than 17,000 paying teams all over the world, with 150K+ individual users.
Does all of this necessarily mean that Monday's project management software is the right option for you and your team? Stick with us over the course of the next few minutes, and we'll help you make a more informed decision.
How Does Monday Project Management Work?
Whether via Monday.com or their iOS or Android apps, everything in the Monday Project Management system is based around Boards, a central place where everyone on your team can visualize what's being worked on, what needs to be completed, view the status of where things stand, assign specific tasks or projects, and plan their workload in a single glance.
On each board, members can create new to-dos, called 'Pulses,' and make them related to anything they want, such as a client, task, project, mission, blog post, and so forth.
You can create a Board and individual Pulses from scratch, or choose from the company's selection of pre-made templates that cover many of the most popular scenarios (e.g., content planning, daily tasks, client management, sale boards, event planning, video production, construction and surgery schedules, bug tracking, etc.). While they're already set up, they remain completely customizable to meet your needs.
An example of Monday.com's Board, with individual tasks and Timelines therein. Credit: Monday.com
These Pulses can be segmented into completion dates, (e.g., this week, next month, etc.) and also display progress for each phase of a task. Timelines can be set up quickly and easily, dragged and dropped for adjustment, and can even be synced with an external calendar.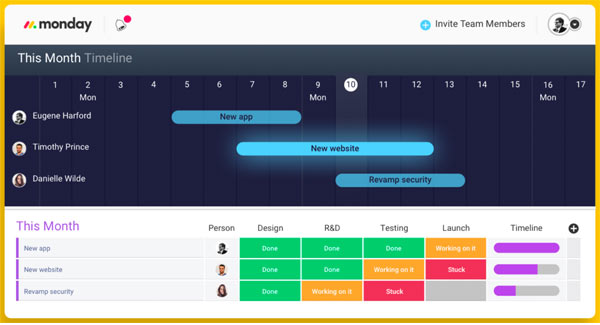 Monday.com's Timeline feature offers complete customizability and works similar to a Gantt chart view. Credit: Monday.com
Within a Pulse, team members can also set up checklists as a way of providing specific details to get the job done. Or, to break down a project's most important steps and make the process more efficient.
From a high-level perspective, you can also see all of the changes made to a Board, including the time and date they were made, a direct link to where they occurred, who viewed it, and even like the change and pin it for review at a later time. You can even reply to an update directly if needed.
Along these same lines, Monday's ability to search your board means you can "find everything your team has ever worked on, including images, updates, projects, and assignments."
You can accomplish this by manually entering keywords, clicking on 'hot tags,' utilizing quick searches (items you're assigned to, your files, archived boards, tasks where you were mentioned, etc.), and accessing saved and recent searches. Once the results are in front of you, you can filter them by date range and export files to Excel.
Not only does all of this mean that you can collaborate and communicate with your team all in one place, but it also means that you can keep your clients in the loop—and reduce the number of emails, meetings, and phone calls—by sharing your progress with them.
Finally, Monday Project Management software integrates with other popular programs and services like Slack, Google Drive and Calendar, Dropbox, Excel, Trello, Asana, and Jira.
How Much Does Monday.com's Project Management Software Cost?
New Monday customers can set up a free 14-day trial, which will automatically roll to one of the following options (prices shown are for an annual subscription for a total of between five and 200+ users):
Basic – 5 GB of storage, simple search function, the ability to filter by a person, iOS and Android apps, the ability to add unlimited boards, two-factor authentication, and 24/7 support: $25 - $1K/mo

Standard – Everything in Basic, plus 50 GB of storage, a powerful search function, the ability to filter by anything and create your own account templates, add updates via email, integrate external data, share boards with a limited number of guests, and gain access to a full API and timeline: $39 - $1,599/mo

Pro – Everything in Standard, plus unlimited storage, unlimited guests, private boards, tags, Google authentication, and user profile customization: $59 - $2,399/mo

Enterprise – Everything in Pro, plus a higher API rate limit, VIP support with an account manager, one-on-one training, advanced security features, single sign-on, audit log, 99.9% uptime SLA, and 24/7 priority support: $118 - $4,798/mo
You can upgrade, downgrade, or cancel your plan any time you want, while refunds are available within the first 30 days of a subscription by calling (201) 778-4567 or sending an email to support@monday.com.
Customer Reviews for Monday's Project Management System
Between iTunes and Google Play, more than 1,000 combined customers had given the Monday Project Management app an average rating of about 4.5 stars.
Compliments commonly revolved around ease of use/simplicity, improved team organization, and responsive support. The relatively few complaints often cited the fact that there isn't a free version, along with less-than-stellar functionality.
From a professional perspective, PC Mag's Jill Duffy used the Monday.com project management software back in December 2017 and reported there was a lot to like, including a responsive interface, a high level of customizability, and the fact that mobile apps are available. She also noted it was highly intuitive and customizable.
On the flip side, she felt that setting up her account was cumbersome, and she didn't like that Timelines don't support dependencies (e.g., task C can't begin until tasks A and B are finished). Also, she emphasizes there are no "recurring tasks, markup tools, and a general team discussion area that's unaffiliated with a particular task or board."
Ultimately, she concluded that—compared to the competition—Monday.com is "a little expensive for what it offers."
Monday vs. Alternative Project Management Programs
Because any project management software needs to meet a wide variety of needs, there are perhaps hundreds of options to choose from, each of which might offer their own unique advantages and disadvantages. Here are some of the more popular ones competing for the same market share as Monday.com:
| Service | Pricing |
| --- | --- |
| Monday.com | $25 - $4,798/mo, depending on number of users |
| Trello | $12.50 per team member per month, or $119.99 per team member per year |
| Asana | $6.25 - $11.99/mo per user |
| Slack | Free - $12.50/mo per user |
| Basecamp | $99/mo regardless of the number of users or projects |
| Wrike | $9.80 - $34.60/mo per user |
| Jira | $7 - $10/mo per user |
| Airtable | Free - $20/mo per user |
| Smartsheet | $14 - $25/mo per user |
| Todoist | $3/mo per user |
| Microsoft Teams | Free - $12.50/mo per user |
Which option is best? As you might imagine, the answer to this question will be based on highly individual factors surrounding your organization's needs.
According to Niki Gallo Hammond, a senior project manager with technology firm Jackson River, who was interviewed in Zapier.com's The Ultimate Guide to Project Management, you should start out by identifying your challenges and constraints. For example, you'll want to write down your answers to questions like:
"Are you looking for something to help organize assets?
"Something to facilitate more fluid communication between team members or clients and vendors?
"[Or,] something that can support complicated scheduling or budget tracking?"
From there, the guide recommends "picking something that fits the way your team already communicates and works," making sure the productivity benefits outweigh the costs, and ensuring it solves your team's most pressing problems."
Still, they point out that it will often come down to trying all of the viable options firsthand and seeing which ones are easiest to learn, if your current software (if any) matches up, and whether or not the advertised features are useful or just bells and whistles.
Specifically, Hammond "suggests looking for a user interface that's intuitive and allows you to perform common tasks without complex workflows. Also look for advanced search options, reporting, an emphasis on customization, and connectivity."
What does all of this mean for your future with Monday.com?
Our Bottom Line
Based on what we learned from the website, numerous instructional videos, and online customer feedback, it seems to be well rounded, to offer the ability to accommodate a wide variety of project needs and scenarios, and to be highly customizable.
However, at $25 per month for up to five users, Monday.com comes with the highest minimum price among the competitors above. Also, unlike Slack, Airtable, and Microsoft Teams, they don't offer ongoing free accounts past the initial 14-day trial.
Still, these first 14 days should be plenty of time to gain a better idea of whether or not Monday's project management system is optimal for your team.