Money Map Press Reviews
Claimed This company has claimed this profile, is getting alerted on any new customer reviews entering this page, and may engage in dialogue with its customers to address their matters.

Companies cannot pay money or provide goods in order to remove or alter customer reviews.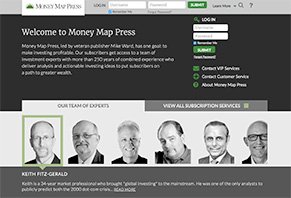 Money Map Press's team of 10 experts promise to help investors realize greater wealth through their different newsletters, subscriptions, and other services.
About Money Map Press
Between their newsletters and other services, Money Map Press claims to be focused on one goal: making investing profitable.
To do this, Money Map Press tells us they've built a team of investment experts that hold more than 250 years of combined experience in the industry. On a regular basis, these experts "deliver analysis and actionable investing ideas" that can help investors identify global trends and put them on a path to greater wealth.
But does this necessarily mean that a Money Map Press subscription is right for your needs and investing strategies? What do you get for your money? Are their customers pleased with the company's picks? You have questions, and we'll help you find some answers in this review.
To begin, let's take a look at all the different newsletters and services offered by the Money Map Press.
What Newsletters Does Money Map Press Offer?
Overall, Money Map Press publishes 4 different newsletters:
Money Morning Private Briefing
Co-founded by Bill Patalon, Private Briefing is Money Map Press's "flagship" publication, which is released every weekday. Bringing together seven top analysts, we're told the newsletter talks about different forces behind the markets, strategies, recommendations, and developing stories.
Since 2011, Private Briefing claims to have delivered "187 double- and triple-digit winners," which is why the company claims the newsletter is like a "cheat sheet" for picking stocks.
For more about this newsletter, be sure to read our Money Morning review.
Nova-X Report
With more than 35 years working in Silicon Valley, Michael Robinson claims his Nova-X Report newsletter is on a mission to "unlock $7 trillion in new high-tech wealth." How?
Each month, Nova-X Report will reveal two new opportunities that are designed to provide growth and safety across big-cap innovators, small- to- mid-cap visionaries, and unique opportunities, like "penny-stock biotechs and turnaround plays."
By scoring profit in one sector, which will point to profitable ventures in other sectors, Michael claims you can repeat this formula over and over again. Or, as Money Map Press calls it, making money through a "connected" market.
Money Map Report
Keith Fitz-Gerald's Money Map Report promises to focus on six high-profit "global trends," such as energy, technology, medicine, demographics, scarcity, and warfare, and making money by focusing on unknown companies that are "changing the world."
He'll also focus on maximizing profits, aligning your portfolio with the 50/40/10 structure, generating income, harvesting your profits, and minimizing your losses.
Energy Advantage
Because of his "access to the power-players who control 90% of the world's energy," we're told that Dr. Kent Moors' Energy Advantage newsletter claims to help you achieve "almost inconceivable" profits by investing in up-and-coming global energy needs. This includes oil, coal, natural gas, solar, biofuels, and just about every other energy source.
You'll receive once-monthly issues of the Energy Advantage newsletter (the third Friday of every month), along with industry briefings, vital updates, and 24/7 online access.
Money Map Press's Trading Services
In addition to their newsletters, Money Map Press also offers a variety of trading services:
Stealth Profits Trader
According to the company, D.R. Barton Jr. spent more than a quarter century developing his proprietary computer system named the Stealth Stocks Trading Indicator (SSTI). Here, SSTI tracks thousands of data points across thousands of stocks, always on the lookout for "specific market conditions that have proven to be the perfect set-ups for a highly profitable trade."
How profitable? Money Map Press claims D.R. doesn't even consider a trade until it's set to earn 4-5 times the average.
On average, you'll receive 3 email alerts per week, regardless of how the market is trending, which gives you the ability to "put cash gains back in your pocket an average of every 10 days."
Small-Cap Rocket Alert
According to Sid Riggs' Theory of Inevitable Profits, there are only 7 catalysts that consistently predict quick, large gains in the small-cap market:
Game-changing new contracts
Management upgrade
Disruptive technology
Upward revenue and earnings revisions
Institutional interest
Sector rotation
Returns
Using these catalysts, Sid's weekly Small-Cap Rocket Alert promises to reveal who might be set to take off like a "rocket," as well as how to play the opportunities.
Short-Side Fortunes
Shah Gilani claims his Short-Side Fortunes service will show you how to make "massive profits" when asset classes flip directions, or what he calls the "flip side of a trade." In other words, how to make money when prices go down.
To accomplish this, we're told Shah sends subscribers an average of 3 alerts per week across virtually every asset class, including step-by-step instructions and where to place your stop, down to the penny. Each alert will also include a Trade Blotter that "displays every open position, along with Shah's rationale for the position."
Radical Technology Profits
According to Michael Robinson, a Pulitzer-Prize nominated writer and venture capitalist, his Radical Technology Profits service can help you learn how to cash in on small- to mid-sized companies specializing in tech sectors like biotechnology, nanotechnology, robotics, aeronautics, and more.
Each month, you'll be given an average of 4 investment briefings, along with "explosive" ground floor opportunities and instant sell alerts.
Money Calendar Alert
Dubbed "America's #1 Trader," Tom Gentile tells us his Money Calendar Alert crunches 10 years of data for the 250 best stocks and ETFs, and then identifies patterns that repeat with 90-100% consistency. This way, he claims you can literally schedule "payout appointments" on your calendar.
Each week, Tom will reveal one of these trades with a "minimum 100% return possibility," along with step-by-step video instructions on how to identify and place these trades. In short, he claims his Money Calendar Alert can give you a "first-mover advantage" that helps you "trade ahead" of stock price moves.
High Velocity Profits
According to their home page, Keith Fitz-Gerald's High Velocity Profits services utilizes an "X" pattern that can identify when stocks are about to go up, and which are about to go down. In fact, Keith believes his pattern can help subscribers, "with 100% certainty," only buy 2-3 stocks per month that are going up.
Energy Inner Circle
As Dr. Kent Moors' second program, his Energy Inner Circle claims to provide new opportunities in energy, most of which focus on smaller, highly-focused enterprises that require a fast response to quickly move in and out.
With your membership, you'll receive urgent action alerts, along with weekly updates that provide a summary of energy markets and insights on emerging trends. The program's special research reports also promise to provide "big-picture themes" in the world of energy, including new trading techniques, emerging trends, new investment classes, and more.
Together, Dr. Moors claims his Energy Inner Circle can help make you "insanely rich."
Capital Wave Forecast
Shah Gilani's Capital Wave Forecast claims to identify Disruptors, or "agents of change" that are shaking up the markets, as they're beginning to gather force. These Disruptors can occur anywhere, including currencies, commodities, precious metals, and elsewhere.
Regardless of where they occur, though, Shah claims they start capital flowing in a new direction, so they can trigger "enormous profits."
Once a Disruptor is identified, Shah will issue a trade alert to your email inbox or via text message, so you can "garner market-shattering profits"—when then rise and when they fall. The minimum short-term profit target is always 100%, although some trades could be much higher.
Biotech Insider Alert
Ernie Tremblay's Biotech Insider Alert takes his 25 years of experience as a researcher/writer in the medical science field—including an understanding of the FDA approval process and market demand—to help members know "which opportunities deserve your investment dollars."
To accomplish this, Ernie developed a calendar to track the upcoming dates of new releases and to help you know when gains will come. Each week, he'll use this calendar to provide advice on when to buy biotech and pharmaceutical stocks (typically in the small- and mid-cap range), and what stop-loss mechanism you should have in place.
Which Elite Memberships Are Available Through Money Map Press?
Weekly Cash Clock
Tom Gentile tells us that his proprietary Weekly Cash Clock system "crunches millions of data points" for the 200 most liquid stocks in the market. Then, it uses this data to accurately predict which stocks are about to increase.
Together, Tom claims Weekly Cash Clock can deliver triple-digit gains in just four days or less.
Passport Fellowship
Money Map Press calls their Passport Fellowship program "one of the most powerful networks there is." With it, you'll gain lifetime access to Michael Robinson's Nova-X Report, Keith Fitz-Gerald's Money Map Report, Dr. Kent Moors' Energy Advantage, Bill Patalon's Private Briefing, the Money Map Dispatch, and more.
Money Map Project
The company describes their Money Map Project as an elite research service that provides private investment deals they've uncovered.
As a member, you'll receive three direct investment opportunities a year, all of which are from companies who have displayed a proven track record and world-class leadership, a rock-solid investment case, minimal risk, and sweeteners and perks like "a below-market entry price, or a lucrative bundle of free warrants."
You'll also receive:
The Full Money Map Prospectus for Our Latest Private Recommendation
Dedicated VIP Concierge Support Number
Money Map Project Dispatches
Quarterly Bulletins
Important note: In order to qualify for the Money Map Project, you must be an accredited investor.
Passport Select
If you're looking for an "unparalleled market advantage," Passport Select membership provides access to your choice of any Money Map Press research service.
Passport Club
Similar to Passport Select, Money Map Press's Passport Club provides access to 13 of the company's trading research services and investment newsletters, for life.
According to the company, membership is "extremely limited" and the books are only opened a few times each year.
Micro Energy Trader
By focusing on "some of the smallest publicly traded companies in the stock market," Micro Energy Trader members are promised the ability to acquire shares that can jump 400% or more, before it happens.
This way, we're told that you can experience "handsome" gains by investing only $1,000 to $5,000.
Who Makes up the Money Map Press Team? What Are Their Qualifications?
Overall, the Money Map Press team consists of 10 professionals:
Keith Fitz-Gerald
Money Map Press's Chief Investment Strategist, with 34 years of experience and "one of the most widely read market experts on the planet."
Keith specializes in Market Chaos Theory, pioneered the 50-40-10 portfolio model, and boasts a track record "among the best in the financial publishing world." He's also a frequent guest on Fox Business and Bloomberg, as well as in publications like The Wall Street Journal and MarketWatch.
Dr. Kent Moors
According to his bio, Dr. Kent Moors has acted as an advisor to the "energy industry's biggest players" over the past 40+ years, including multiple governments and high-level companies. Dr. Moors has also written six books and 750+ professional and market publications, as well as delivered presentations and workshops in 44 countries.
Michael A. Robinson
With 35 years in Silicon Valley, Michael A. Robinson has been closely associated with the advent of some game-changing technology, including cloud computing, robotics within the U.S. automotive industry, and cyber security.
On top of this, he's a Pulitzer Prize-nominated writer and reporter who wrote a book about an impending economic crash long before the Great Recession occurred.
Bill Patalon
After earning his BA in Print Journalism from Penn State University, as well as an MBA in finance from the Rochester Institute of Technology, William (Bill) Patalon spent 22 years covering financial news as a journalist; everything from manufacturing to telecommunications. He's also the author of Contrarian Investing.
Today, Bill is the Executive Editor and Senior Research Analyst for Money Morning, along with the creator and editor of Private Briefing,
Shah Gilani
Shah has been working in the industry since 1982, developed two different hedge funds, and also helped develop the Volatility Index (VIX) indicator. Because of this—along with his "vast network of contacts," including "the biggest players on Wall Street and in international finance"—he helps investors get the real story through his Short Side Fortunes and Capital Wave Forecast programs.
Sid Riggs
After working as Money Map Press's Director of Research and Performance Analytics since 2009 and performing thousands of hours of research, Sid uncovered a pattern that "predicts explosive stock gains." To date, he's scored two big hits that quickly doubled in price.
Ernie Tremblay
Prior to becoming the "most winning" stock-picker in the investment newsletter industry in 2014," Ernie Tremblay spent 25 years as a medical researcher and contributed to more than 100 books on a range of medical topics.
To help Money Map Press subscribers identify the next "blockbuster" drugs, his Biotech Insider Alert service promises to track the best profit opportunities. In fact, one of Ernie's picks from 2012 delivered a potential first year return of over 360%.
D.R. Barton
With 26 years of experience in the markets, D.R. Barton analyzed more than 133 million data points to build his proprietary Stealth Stock Trading Indicator (SSTI), a computer model that can identify short-term stock trends that can translate into fast gains.
In addition to his Stealth Profits Trader with Money Map Press, which promises to show traders how to make big profits using SSTI, D.R. Barton is author of "Safe Strategies for Financial Freedom," a lecturer, and a coach.
Tom Gentile
Using his 25 years of experience, Tom Gentile focuses on methods to help investors reach the top 1%.
After starting his investment career from his parent's home, then selling his options company in 2009, Tom began teaching traders how to spot "high-probability and low-risk trade opportunities." To date, he's helped more than 300,000 individuals, authored more than six books, and regularly appears on financial networks as an expert.
Michael Lewitt
With a 29-year career helping institutional and high-net worth clients, Michael Lewitt has worked at some of the top investment banking firms and co-founded Harch Capital Management (HCM), today working as principal at The Third Friday Group, where he manages private accounts.
Michael also works as Money Map Press's Global Credit Strategist, which has been a regular staple since 2001 and has "gained a large following around the world."
How Much Do Money Map Press's Services Cost?
There weren't any prices listed on the Money Map Press website, nor was there any pricing information available on third-party websites.
We're specifically told that the Energy Inner Circle program comes with a 30-day money back guarantee, but no mention regarding the other services or newsletters.
Money Map Press's customer service department can be reached at 888-384-8339 or customerservice@moneymappressinfo.com. To learn more, we emailed customer service and will update this review as soon as a response is received.
What Are Money Map Press Customers Saying In Their Reviews?
Despite the length of time Money Map Press has been producing investment-related literature (as well as their claimed hundreds of thousands of subscribers), there wasn't a whole lot of online customer feedback about them at the time of our research. And most of the feedback that was available related specifically to their Money Map Report.
For example, between customer reviews on Motley Fool and Stock Gumshoe, more than one customer claimed that some of Money Map Press's recommendations perform well, although one mentioned none are "home runs."
On the other hand, most complaints seemed to revolve around:
More marketing than profitable advice
Consistently losing money on recommendations
Frequent solicitations to buy research reports or subscribe to other investment services
Difficulty canceling subscriptions
The HighYa team also review Money Map Press's Money Morning program, which had 16 reader reviews and an average rating of 1.2 stars. Here, most complaints also referenced poor recommendations and difficulty obtaining refunds.
From a company perspective, Money Map Press held an A rating with the Better Business Bureau, based on 135 closed complaints (as of 8/17/16). These generally referenced difficulty obtaining refunds and being charged for unwanted products/subscriptions (usually after a low-cost trial period).
How does this feedback compare to the competition?
Are There Other Investment Services Like Money Map Press?
If you're in the market for fee-based investing newsletters, advice, or other informational subscription services, the good news is that you literally have thousands of options.
The problem is that, because these reports are written by different authors with varied market approaches, as well as published by different companies, finding the right one that matches your investing approach and overall goals is a highly personal process.
Important note: Since you're obviously interested in Money Map Press, however, keep in mind that the company is not a broker, dealer, or licensed investment advisor. What's this mean for you?
In a nutshell, while Money Map Press publishes investment advice, they're prohibited by the Securities and Exchange Commission from providing individual investment advice. As a result, it's always a good idea to consult with your broker before acting on anything you read in their newsletters or services.
Will Money Map Press Help You Achieve Investing Success?
Similar to words like "best" and "greatest," every investor's definition of "success" is probably a little different. Some may be focused on rapid growth, while others may prefer less risk and more measured growth. Some have very little capital, while others might have millions at their disposal.
Whatever your goals though, as we mentioned in the previous section, deciding where to spend your hard-earned money—especially when it comes to investing information—is largely based on a combination of factors unique to you. The good news is that Money Map Press has been delivering advice for many years, and seems to have helped many investors experience "success" in that time.
Did you experience success with Money Map Press's newsletters or services? What's your overall feedback? Tell us about it in your review below!
I think they're great - I've made a lot of money with them!

By Tina K.

,

Palm Beach Gardens, FL

,

Feb 28, 2020
Verified Reviewer

I've been with Money Map Press for years - I think they're fantastic. Especially Michael Robinson, almost all his recommendations are great. An example is:

Atlassian - which I bought at 53.24, now it's 144.48.

Nvidea - bought at 22.30, now it's 262.00.

Cardlytics - bought at 38.75, now it's 84.97.

Veela - cost was 39.86, now is 149.96.

These are just a few and these prices are after the coronavirus whacked the market.

As far as I'm concerned they've been great!

Bottom Line: Yes, I would recommend this to a friend

---

Money Map Press is a rip-off!

By James R.

,

Texas

,

Feb 9, 2020
Verified Reviewer

I joined MMP in 11/2019 through Keith Fitzgerald's (KF) Straight Line Profit program. Their financial program presented by KF is I believe called arbitrage.

When a business first becomes a member of the stock exchange there is an arbitrary value of the stock assessed to it. According to the KF presentation, the stock value is usually erratic at best as the graph is in a major zig-zag mode. KF's presentation recommends that a client invest as the stock/option value is low and then sell as it climbs. His advertisements include claims of over 1000% increases in value.

I made 2 transactions following KF's recommendations.

I purchased 11 shares of BOOT for a total of $473.77 and 10 shares of INST for 530.30. I was advised to place protective stops on both at 53.03 (BOOT) and 48.03 (INST) which I did. I lost $51.51 on BOOT and an even $50.00 on INST when my protective stop was activated on both.

ON 12/19/2019, KF placed a recommendation for a stock option on GDS for $4.60 per option share for a total of $460.00 + a transaction fee. His recommendation was to not sell until it hit $8.80 of value.

In the weekly alerts, he stated the same info to hold until it hit $8.80 share.

Last week, the market took a sudden drop and it went down below $3 share. He finally initiated a move to sell immediately. I've held on to at least recoup some of my money.

KF's guarantee was approximately $3k monthly. Haven't even come close but right after I subscribed I received calls from MMP to upgrade my subscription for another $2400.

I told them I haven't even made a cent yet and they want me to upgrade? Not happening.

They knew I was a new trader when they signed me up for the program. They recommended Trade Station as an online broker. However, after I was with them for 2 weeks I found out I wasn't approved for options trading (Level 2 with them).

I ended up going over to TD Ameritrade which was normal for them to approve new clients new to trading to allow Level 2 on a cash basis.

Right after I joined Straight Line MMP gave me a presentation for the 1450 subscription with Andrew Keene (AK). AK has a very good career in the financial stock market and has a great knowledge of options. After I enrolled for $1955 MMP and AK told us about joining the Mentorship and being a Club member for another $2400. I joined provided I could pay in 3 $800 installments.

The first installment was paid and I was put on the Mentoring program.

After the 1st three weeks, AK was telling us his success rate was in the 70-80% range. However, my trades on his recommendations weren't nearly that good (below 50%). One of the major problems we were having was that we were lacking the speed to get the buy-in on time to get the contract filled. Even when I was getting the buys the 1st few trades - though making money - were making cents per share.

The last time I heard him compare his success AK told us he was running in the 68-70% range.

However, as of 01/27/2020, out of 2 even trades (after fee, it's actually neg), 15 gains, and 18 losses with 2 options that are worth so little I can't even sell them. My total losses have been $579 compared to gains of $98. That doesn't include 2 outstanding options I've been trying to monitor to reduce my losses.

Part of the 1450 includes being on an online forum. At first, there was a counter at the top which kept track of how many subscribers were online.

This included the mentoring sessions also.

After a couple of weeks, the counter was turned off. AK told us he was told by MMP to turn it off. I remember seeing the regular subscriber count as being 700+ during the sessions. The mentoring had over 100 subscribers online before it was turned off.

I'm very suspicious why it was turned off.

My thinking is that the site was growing and the mentoring sessions were getting larger. As a former teacher, people think mentoring is a small group of students with a mentor learning how to perform certain tasks. It doesn't mean 200+ students paying $2400 each (for a lifetime membership).

Nothing like that was mentioned in the mentoring recruitment.

I've enclosed copies of my trades as proof. I request a refund of $2665 from Straight Line, $2772 from 1450 Club ($1972 + $800 for mentoring) and released from the remaining $1600 for the mentoring.

Bottom Line: No, I would not recommend this to a friend

---

Advertisement

---

Don't do it! SCAM ALERT.

By Patrick Y.

,

Victoria, British Columbia, Canada

,

Dec 27, 2019
Verified Reviewer

They write really good marketing scripts and promise the sun, moon, and stars above, with the amazing systems they use. You will pay a lot of money to get really bad advice! 80% of their recommendations are completely wrong, but they will swear it's just you, you're the problem! Thank goodness I only traded with a practice account or it would have been even worse. If you want to be involved with cheats and liars, have fun, go ahead and join. But if you use your dartboard you could get better results. When you try to get your money back, you will not get a nickel, but they will give you one more year of free horrible advise.

Just learn how to trade on your own, use verticle spreads for your options trading. You can make money, but not with "Money Map Press", they are simply scammers that should really be shut down.

Bottom Line: No, I would not recommend this to a friend

Dec 30, 2019

Hi Patrick,

I am very sorry to hear this. Please contact me at mmpresolutions@gmail.com and I would be happy to assist you.

Best,

Katherine

Money Map Press Member Services

---

This is a scam, not one of their recommendations came through

I regret paying $2495; it wasn't worth it. From the start their emails were not on time and their recommendations didn't profit me anything. They are scammers, liars, and should be shut down and people's monies refunded to them. I lost money on their recommendations. Don't do it! I put the transactions of payment through my debit card showing I paid for this subscription in June 2019, better than an order number - proof of payment and the amount.

Bottom Line: No, I would not recommend this to a friend

Oct 16, 2019

Hello Ms. Thomas, I am very sorry to hear you have been dissatisfied with the service. I recommend reaching out to our customer service department to make sure the instructions and exit strategies are being followed correctly. We would be happy to go over any of the previous recommendations with you and address any of your concerns.

We are available Monday through Friday 8 am to 5 pm EST at 1-888-384-8339.

---

Advertisement

---

Nice, even a dummy can understand

By L N.

,

Nevada

,

Sep 27, 2019
Verified Reviewer

Wanted to make money. I did. But then I got greedy. Didn't follow instructions so lost. Fast fortune club, fast profits, Melvin, Dr. Barton Fiztgerald and Tom Getile, are amazing! Some are too advanced for me, since I am new to options. Due to bills, I had to sell, take money out a lot. I did make money. Because of all the things going on in the world, I admit some trades did not go as planned. But no one could predict that. But, if in options. A person did a spread, then that person did gain. In the puts, the calls just went worthless. My prediction. 2020 will be amazing. For I will be approved to a lot of the options that are suggested. I did speak to a rep and she explained to me a lot of information which I never knew existed. Oh, first you learn it from Money Map Press, and a few days or a couple of weeks later you'll read it from other places. Will I stick with them...um...you bet! Oh, I might go to other services too, for I like them. Some I will leave for I need to be a certain level and some I will experiment with. Will I make my money back....um...if I follow instructions, and not be greedy by buying a cheap option then no. But if I follow what they say...I might be able to meet Mr. Buffet.

Bottom Line: Yes, I would recommend this to a friend

---

Great sales office - horrible customer servicer

By Steven B.

,

Georgia

,

Aug 1, 2019
Verified Reviewer

I have paid for Alpha 9 and the Money Weekly Call.

After the great membership service support, the customer service is horrible.

1. Regular calls to Customer Service gets, "sorry we are in a meeting", so call later.

2. The "trade alerts" have major losses and few winners - despite the PR of a 90% positive gains.

3. In May/June, there were 10 call trades that lost 100% value. So if you followed the entry and exit strategy from Alpha 9, you lost 100%

4. In July, consider:

a) Often you cannot get a fill order even when you enter a trade immediately when the alert is sent.

b) July 11: Buy DIEGO (DEO) for $2,30. July 25 the value is $0.20.

July 17 Buy Varien (VAR) for $2.10. July 25 value is $0.10.

July 18: Buy DMC Global (BOOM) for $2.30. July 25 value is $1.10.

July 25: Buy Oracle (ORCL) for $3.95. Hours later sent an "error" note to buy for $2.00. (Already made buys at $2.20.)

The reality is if you follow the directions 100% as recommended in the "Alpha 9 alerts" you will frequently get 100% LOSSES with ZERO updates for exits.

Again - if you can EVER get a customer service representative to answer a phone call, they will only say "you are responsible to monitor your trades"

So, no help or regular HONEST updates with Alpha 9 alerts!

Bottom Line: No, I would not recommend this to a friend

Aug 8, 2019

Hi Steven,

I'd like to thank you for taking the time to leave us a review. We do appreciate any feedback we can use to improve our customer service and publications. I am so sorry to hear about your experience thus far with the service. Our goal is to profit from all of our recommendations, unfortunately, there will always be risk in any investment. Our customer service team is here to help with any questions you may have regarding your membership or how the service works. Legally, our customer service team is not licensed to give you any personalized financial advice.

I have passed your feedback on to Tom's team and would be happy to answer any further questions you may have. Please feel free to reach out to me at MMPResolutions@gmail.com and we can schedule a phone call.

Best,

Katherine

Money Map Press

---

Scammed by Money Map Press

By Jong P.

,

London, England

,

Jul 30, 2019
Verified Reviewer

Money Map Press based in Baltimore, Maryland solicited subscription to financial trading recommendation service titled High Velocity Profits on a video on 4/16/2018. The firm offered recommendations on investing in stocks or trading options. The presenter of the video guaranteed 350% weekly profit on average or money back. The advertisement was convincing. The presenter on the video said that when money flowed into stocks, they advised their subscribers to buy stocks and when money flowed out of stocks, they advised their subscribers to sell their stocks. It was credible when I watched the video. I should not have believed the false claim. How would anybody know when money flows into stocks and flows out of stocks? The subscription fee for the service was $1950 per year. I did not have the funds to pay for a 1-year subscription. So I borrowed money from my credit card company and paid the firm $650. The publisher was going to charge me $650 in a month and the last installment of $650 was to be paid in 2 months.

I received 2 trading recommendations from the firm and placed 2 option trades on 4/18/2018. I made a profit on 1 trade and made a loss on the other trade. I hoped to make a profit and pay the firm the remainder of the subscription fee. But I made only 86% out of the 2 trades well short of 350%. I canceled my subscription on 5/1/2018. But the lousy scammers at Money Map Press refused to refund my fee because I had made part-payment of the subscription fee for a year. It does not matter that I did not pay the subscription fee for a year when subscribed to the financial trading recommendation service.

I read an article written by a financial writer some years ago. He advised against subscribing to money-making scheme. He said that why anybody would disclose a method of making money. I would not disclose a secret of making money to other people but to keep it to myself. You would agree with me. I regret not having taken his wise advice.

Financial trading recommendation service providers cannot predict market movements even in the near future. Investor sentiments, economic and political news and other impact markets. Nobody knows where markets will go in the future. Hence, it is a waste of money to subscribe to investing or financial trading advisory services. There are unscrupulous investing or financial trading advisory service providers who do not honor their money-back guarantees. They are lousy, despicable scammers who prey on novices in investing/financial trading and unskilled investors and financial traders. Novices in investing and financial trading and unskilled investors and financial traders should educate themselves instead of buying expensive courses sold by investing and financial trading advisory service providers or subscribing expensive financial trading recommendation services. Novices in investing and financial trading can learn investing and financial trading for free watching YouTube videos and/or reading books on investing and financial trading. Fraudsters always take pre-payments. So do investment and financial trading advisors. Folks, do not give your credit card numbers to scammers who claim to provide profitable trading recommendations. Do not believe their hypes and lies. They are out there to trick you into handing your money to them. I have subscribed to cheap investing and options trading advisory services. None of them worked. I have wasted my money on subscribing to worthless traps. Do not rely on useless and unprofitable scammers' advice and you will lose money on losses which you will make investing and/or trading and fraudsters' subscription fees thereby losing money on two counts. It is very bad. If you rely on your ability to invest and/or trade and lose money, you will save yourself subscription fees which might have been handed over to scammers. If you give your credit card numbers to scammers, you will put yourselves at the mercy of them. Since fraudsters can take payments from their unsuspecting customers in the future unless they have new credit card account numbers.

Folks, never subscribe to a useless financial trading recommendation service offered by Schaeffer's Investment Research. Subscribers to the firm's rubbish advisory services should end their subscriptions as soon as possible. Let the firm close down sooner rather than later. The sooner the scammers at Schaeffer's Investment Research lose their jobs, the better. It would not be worth subscribing to financial trading recommendation services. Those who are interested in financial trading and do not know how to trade should educate themselves rather than throwing money away by subscribing to worthless trading recommendations. They can learn financial for free by watching videos on YouTube and/or read books on financial trading. Do not waste money on subscribing to useless financial trading recommendations. Do not patronize scammers. Stop scammers from defrauding their victims.

Folks, never subscribe to a useless financial trading recommendation service offered by Money Map Press and any other investment and financial trading advisory service providers. Subscribers to the firm's rubbish financial trading advisory services should end their subscriptions as soon as possible. Let the firm and other investment and financial trading advisory service providers close down sooner rather than later. Do not waste money on subscribing to useless financial trading recommendations. Do not patronize scammers. Stop scammers from defrauding their victims.

Bottom Line: No, I would not recommend this to a friend

---

Don't do it!

By Bob C.

,

Abington, MA

,

Jun 18, 2019
Verified Reviewer

I subscribed to their Money Map Press program a couple of years ago and then canceled my subscription because all I was getting were emails with "tips" that were nothing but up-sells to other products, you would never get the "tip" unless you paid for it. Total scam. Then a year later they auto-renewed my subscription without any prior notification at all. I found the charge on my credit card. I had to dispute it with the credit card company to get my refund. This year they did the same exact thing! They auto-renewed and charged my credit card with NO prior notification. When you go to their website there is no place on the website to remove your credit card information to prevent them from keeping on doing this. Once again, I disputed the charge with my credit card company, along with filing a BBB complaint about their billing practices. I also sent their customer service department 2 emails about this situation and all you get back is an auto response that they will handle or respond back with 24-48 hours. I STRONGLY recommend not doing business with this company. They are a total bait and switch company and do nothing but up-sell and continuously bill you after you've canceled.

Bottom Line: No, I would not recommend this to a friend

Jun 19, 2019

Hi Bob,

I am so sorry to hear that you were dissatisfied with our service. For security reasons, we can only process cancellations by means of a phone call to our customer service department.

According to your account, a refund was issued earlier this month for your renewal since you were still within the trial period. I have sent you an email with more information. I do apologize for any inconvenience this may have caused you. Please do not hesitate to give me a call if you have any questions. I am more than happy to help

I am available for your call at 1-888-384-8339 Monday - Friday 9am-5pm EST.

Best,

Katherine

Member Services Representative

---

Zenith Trading Circle

By Glen P.

,

Maryland

,

May 28, 2019
Verified Reviewer

I followed Shah Gilani's recommendations and lost a lot of money. Called to cancel the subscription and was given a refund WHICH NEVER MATERIALIZED. This is a scam. Save your money and put in the time to educate yourself. They no longer return my emails...Scum!

Bottom Line: No, I would not recommend this to a friend

May 29, 2019

Hi Glen,

I am so sorry to hear about your experience with the Zenith Trading Circle. Your review is very concerning to me and I would like the opportunity to investigate your feedback further. If you could please contact me at mmpresolutions@gmail.com at your earliest convenience, I would be happy to work with you to resolve any issues.

Thank you,

Katherine

Money Map Press

---

I was taken for a fool

By Santiago R.

,

Brooklyn, NY

,

May 27, 2019
Verified Reviewer

After paying over $25000 for passport club, I feel like a complete fool. Their recommendations are not better than FLIPPING A COIN. The newsletter is not better than free news reports. They are just a get rich SCAM.

Bottom Line: No, I would not recommend this to a friend

May 30, 2019

Mr. Rodriguez,

I am so sorry you are feeling dissatisfied with your current level of membership. As far as the free reports go, they only give you filler information. I can turn these reports off for you so that you only receive and take action on all of your service's recommendations. Each service includes research reports, training materials, and videos that you can use to take full advantage of the service.

Please feel free to call us at 1-888-384-8339 or 443-353-4519, Monday-Friday, 8am-5pm EST so we may rectify the situation.

Best,

Katherine

Money Map Press

---

My take on Money Map Press

By Cindy B.

,

Florida

,

May 13, 2019
Verified Reviewer

I am a disabled senior citizen, that survives on nothing but my Social Security disability, and had gotten FED UP with living like this. I discovered Tom Gentile and Money Map Press, and am so seriously happy that I did.

Prior to finding Tom and the Money Map Press (MMP) I burned my way through a string of BAD supposed investors AND Brokers, and I am here to tell you that I FEEL that there are far more bad ones than there are good ones, and getting involved with anyone that is not superior, is devastating financially, and mentally, and a whole host of other ways too! Since I found Tom and MMP, I now finally feel as though I have HOPE, FOR THE DAY WHEN I can go to the grocery store and buy some meat to eat, be able to go fill the prescriptions that I need, and then still be able to get some gas in the car, and NOT have to worry about the money needed to do all this! Life it seriously hard to live as an old poor person.

The folks at MMP are some of the kindest people I have ever spoken to in the last 30 plus years of my life. I have called them on the phone for assistance some times as much as 10 times in a day, just asking for help. Each and every time I call, not only do they answer ALL my questions, but they fully educate me to so much more in this field, that I don't know, and THEN, they make me feel as though I am the most important person alive on the planet. I so wish that I could find people like them, at other places that I must deal with like the brokers themselves, like the phone and cable people, etc.

Being a senior citizen is a HUGE downside to living in the world today, and I especially have a hard time dealing with that. Now even though I have already left 1 broker and went to another, I am still finding myself being treated like dirt, and talked badly to, JUST BECAUSE, I need help and cannot find it anywhere, so what do I do, I call in to the place/broker that is suppose to help me, only to get my head bit off. Nobody should have to be treated like that, ever! MMP, they make me feel like I am a superstar! They make up for ALL THE BAD GUYS out here, and it is because of the fine folks at MMP, that everything that I know today about trading, is 100% due to MMP! Anyone, ESPECIALLY SENIOR CITIZENS who are scared to death of the trading industry as a whole can rest assured that MMP will take excellent care of you, ALWAYS. I wish I could say the same about BROKERS, but I still cannot, sadly, as I am 6 months into my subscriptions with MMP, and have not made a red cent all because of really bad brokers, giving me bad advice, and costing me money. Now that MMP has taught me as much as they have, I think I can finally see the light at the end of the tunnel and start to finally make a profit, of which looks insanely BRIGHT!

LOOK NO FURTHER than Money Map Press for ALL of your trading needs, then the best of luck to you on a decent brokerage firm, they are far and few between, but I am forever grateful to Tom Gentile and the Money Map Press folks, you guys ROCK! You are 10 plus stars in my book.

Bottom Line: Yes, I would recommend this to a friend

---