MoneyKey Reviews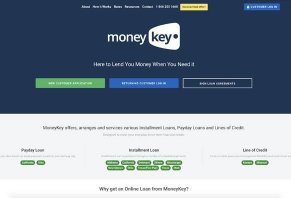 Whether you're looking for an installment or payday loan, or a line of credit, MoneyKey's online application process claims to make the process easy and convenient.
About MoneyKey
MoneyKey offers, arranges, and services short-term credit products for consumers in 15 states, including installment loans, payday loans, and lines of credit, via a safe and secure online platform.
Despite the breadth of their product lineup, the website tells us the company is focused on removing the complexity often associated with borrowing money, and on making the process as simple and as convenient as possible. In other words, providing access to the cash you need, when you need it.
All of this certainly sounds appealing, but is MoneyKey really designed to meet your everyday short-term financial needs, as claimed on their website? Even then, are there other short-term lenders competing for your business?
In this article, we'll explore everything we learned during our research so you can better understand what your next step should be.
How Does the MoneyKey Loan Application Process Work?
Depending on the state in which you live, MoneyKey offers three different products:
Payday Loans (CA, OH) – Paid in full on your next payday, which is why they're also referred to as single-pay loans.
Installment Loans (AL, CA, DE, IL, MS, NM, OH, TX, UT) – Repaid over a preset number of equal installments.
Lines of Credit (KS, MO) – Much like a credit card that provides a revolving line of credit for "more payment flexibility and control over cash flow."
Filling out a MoneyKey application works a lot like any other online loan, where you'll start by choosing a product and then entering your email address, state, and loan amount. This is followed by standard details like name, address, contact information, whether you own or rent, years at current address, and driver's license and social security numbers.
Then, you'll create a password and enter your income details, such as how much you earn and your pay frequency.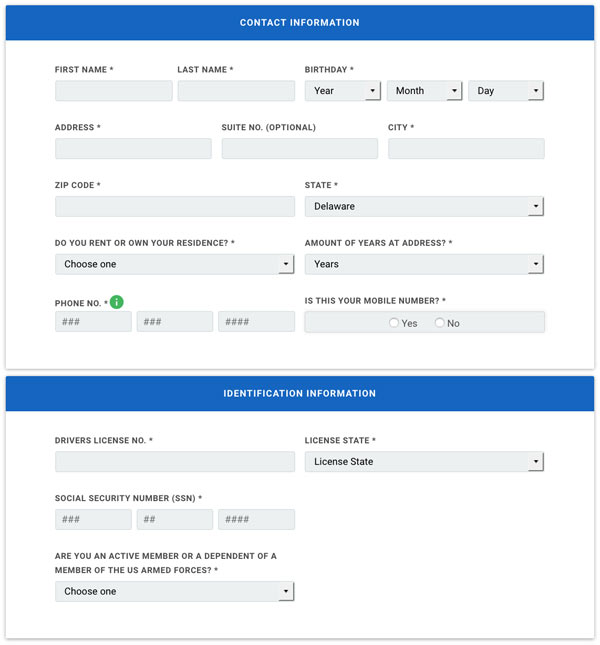 MoneyKey's application process works a lot like other short-term online lenders and involves entering basic personal details and income-related information. Credit: MoneyKey
After your application is complete, you'll be prompted to call a MoneyKey Customer Care specialist, who will verify your details. In most cases, loan requests are processed immediately, but in some instances, the company might need to speak with your bank or employer—or obtain proof of income—before receiving approval.
If you're ultimately approved, you'll be asked to review and sign a loan agreement, which will outline the details of your loan, as well as all related fees and interest rates (more about this next). We spoke with a member of the MoneyKey team, who advised that upon signing, the funds will be deposited into your bank account as early as the next business day.
Then, you'll repay your loan based on the specific product you chose. MoneyKey provides complimentary reminder emails to all customers before each payment is due. Furthermore, customers can view each due date and amount via their online customer dashboard.
All information submitted through MoneyKey's website is protected using secure socket layer (SSL) encryption and Verified Site Certificates. "Once your information is stored within our database," they tell us, "we have the necessary physical and logical security measures in place to keep your data secure."
MoneyKey's Rates, Fees, & Eligibility Criteria
Exactly which MoneyKey products are available to you, as well as how much you can borrow, depends on the state in which you live.
And according to the customer support representative we spoke with, the main eligibility criteria for new applications only revolve around and income. In other words, they don't look at credit score.
Outside of this, the Rates and Terms page on the MoneyKey website indicates the following:
Payday Loans
Available in amounts between $200 and $1,000, with APRs as high as 214 percent. Repayment occurs over the course of between 18 and 31 days.
Installment Loans
Available in amounts between $200 and $2,600, with effective interest rates ranging between 150 and 700+ percent at the time of our research.
Repayment is spread out across four to 18 months (5-36 equal installments), depending on when you receive your income; e.g., bi-weekly, semi-monthly, or weekly.
Lines of Credit
Available between $200 and $1,000, with interest rates ranging between 24 and 399 percent. In KS and MD, there is also a cash advance fee of between 10 and 15 percent.
Regardless of the state or product, customers can cancel their loan at no cost within three business days of the effective date. However, the website emphasizes that "until the entire principal balance is returned, your loan will remain in full force and effect and you will continue to accrue fees on such outstanding principal."
All MoneyKey loans can be paid off early with no penalty.
If you have additional questions, the company's Customer Care team can be reached at 866-255-1668 or customercare@moneykey.com.
What Can We Learn From Online MoneyKey Customer Reviews?
As a company, MoneyKey is based out of Wilmington, DE and has been in business since 2012. They held a B rating with the Better Business Bureau, based on 15 customer reviews (14 of which were negative) and more than 60 closed complaints, as of 1/10/18.
Most of these seemed to revolve around extremely high interest rates and customer support issues. In each instance, a company representative responded with a solution.
Across other popular consumer review websites like SuperMoney, SiteJabber, and TrustPilot, we encountered more than 1,700 customer reviews for MoneyKey who gave them an average rating of about four stars, with compliments frequently referencing ease of use, quick turnaround times, upfront fees and payment schedules, and solid support staff.
On the other hand, many of the complaints we encountered mirrored those found on the Better Business Bureau's website.
MoneyKey vs. the Competition: Are Short-Term Online Loans a Good Idea?
Whether you're searching for payday loans, personal lines of credit, or short-term installment loans, there are perhaps hundreds of different companies competing within the same industry as MoneyKey, including top results like LendUp, Rise Credit, CashNetUSA, and ACE Cash Express, to name just a few.
There are also newer entries into the market that offering peer-to-peer personal lending, such as Prosper, Peerform, LendingClub, and SoFi. How can you possibly choose which option you should go with?
Keep High Interest Rates & Other Fees In Mind
As we outline in What You Must Know Before Taking Out a Payday Loan, we think the most important factor to keep in mind is that—regardless of the company you choose—these loans almost always come with extraordinarily high interest rates.
Regarding MoneyKey specifically, here are a couple of quick examples taken from their site outlining just how much extra money these ultra-high rates could add to the cost of your loan:
Example 1: If you take out a $500 installment loan in Texas and repay it over the course of 11 installments, you'll end up paying a total of $1,687—or $1,187 more than your original loan amount. That's an annual interest rate of 740.67 percent.
Example 2: Taking out a payday loan through MoneyKey in the state of California will cost you $17.64 for every $100 increment. This means a $200 loan will cost you $35.28, while a $255 loan would charge an associated $44.98 fee. If repaid over the course of 30 days, this represents a 214 percent APR, while a 14-day loan would represent 459 percent.
Because these rates are so high, we also discuss in the article that 75 percent of payday loans churn, or extend beyond their original two-week agreement, often adding steep fees to these even steeper APRs.
Potential Upsides to Short-Term Personal Loans
But whether it's a two-week payday loan or a six-month installment loan, or doing business with MoneyKey or one of their competitors, perhaps the biggest advantage is that it's typically easy and convenient to receive your money from these companies. Simply fill out a quick online application and you can often have the money in your bank account within 24 to 48 hours.
Furthermore, many short-term lenders (MoneyKey included) either don't check an applicant's credit score, or if they do, don't place a lot of emphasis on low credit scores. And if you make your scheduled payments when they're due and pay off your loan on time, these types of loans can potentially help increase your credit score.
But it's important to reemphasize that this convenient and speedy money almost always comes at an extraordinarily high cost and could leave you paying double (or more) your original loan amount.
What does all of this mean regarding your future with MoneyKey—or any other short-term personal lender, for that matter?
Our Final Thoughts About MoneyKey
According to a 2012 Payday Lending in America report published by the PEW Charitable Trust, 69 percent of those surveyed stated they took out a payday loan to "cover a recurring expense, such as utilities, credit card bills, rent or mortgage payments, or food."
On the other hand, just 16 percent said they used the money to deal with "an unexpected expense, such as a car repair or emergency medical expense." Why is this important?
Returning to our payday loans article cited earlier, if you're not in a financial emergency, there are perhaps several other ways to get the money you need, without paying the ultra-high rates associated with online short-term personal loans. These include:
Applying for a short-term loan through a credit union
Ask your employer for an advance on your paycheck, or a close friend or family member to borrow money
Negotiate with creditors to skip a payment, or even reduce your associated balance
Even taking a cash advance from a credit card (if your available limit is high enough, of course) could offer meaningful lower interest rates than a traditional short-term personal loan
In the end, MoneyKey has been in business for several years, seems to come with mostly positive online customer feedback, and emphasizes that they're dedicated to helping applicants review important terms and conditions related to their loans, and helping them understand how the borrowing and repayment process works. We certainly found customer support friendly and helpful when we reached out.
MoneyKey's website also does a great job of outlining which of their products are available in different states, as well as providing examples of how much you might expect to repay over the course of your loan.
Based on the ultra-high interest rates often associated with these types of products, though, most professionals recommend avoiding short-term personal loans unless you absolutely have no other option. As such, we'd strongly recommend considering some of the alternatives above before applying.
Related: Credit Builder Loans Can Improve Bad Credit and Raise Your Credit Score
Con artists, stay away from them

By Shawn J.

,

Ohio

,

Jan 15, 2019
Verified Reviewer

They're lying crooks. I paid $400.00 two weeks early before my due date. Today would have been my first payment. I borrowed $1000.00, I asked what my payoff would be and was told $900.00. Today I went to pay the $900.00 to pay off the loan and they raised my payoff $500.00 in two weeks to $1400.00. My first payment wasn't even due until today. They're scam artist, I hope everyone sees this and is aware.

Bottom Line: No, I would not recommend this to a friend

---

Advertisement

---