Morty Reviews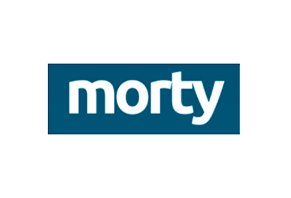 Breaking the mold of traditional mortgage brokers, Morty's algorithm-based approach and lender network claim to help you easily compare the best rates.
What is Morty Mortgage?
Morty understands that shopping for the best mortgage rate can be a pain, which is why their algorithm-based model promises to help customers gain access to the widest variety of loan products, lenders, and rates, for free.
How's it work? Morty customers start by filling out an online questionnaire, which compiles their financial profile using income, asset, employment, and personal and property data.
Based on the algorithm's assessment of this information, you'll submit one common application and gain access to the best products and prices among Morty's lender network, with transparent, real-time pricing and underwriting.
When you've found the right new mortgage or refinance loan, simply select the lender and begin the closing process. Morty promises to stick with you throughout.
There's no doubt that Morty seems to help streamline the application process and give customers the ability to shop multiple lenders at once.
But does their lending network necessarily represent the best rates out there? Is Morty the right option, or should you consider the competition?
Here, we'll help you decide if Morty really can help you "find the right mortgage from the right lender at the best price."
Quick Question: Is Morty a Direct Lender or a Mortgage Broker?
By definition, a mortgage lender is a company that lends money to individuals looking to finance the purchase of a new home or refinance an existing mortgage, often for a lower rate.
Recently, a new breed of online-only lender has entered the marketplace; one where complex algorithms handle much of the underwriting process. This way, applications can be processed quickly and customers can obtain preapproval in minutes, which is why many of these companies claim to "disrupt the industry."
The HighYa team has reviewed many of these high-tech lenders, including Loan Pal, Rocket Mortgage, and Guaranteed Rate.
On the other hand, mortgage brokers promise to help individuals match up with lenders that best meet their needs. In short, they bring lenders business while helping customers shop around.
We've reviewed a couple of these services as well, such as Fetcharate and Sindeo.
In some instances, though, mortgage brokers work as little more than lead generators. They don't do much but compile your information and then sell it to others, which doesn't provide any meaningful assistance in helping you score the best rate.
What about Morty? How do they distinguish themselves from these other mortgage brokers? Let's start by taking a look at the company.
Who Founded Morty? How Do They Compare to the Competition?
According to the Consumer Financial Protection Bureau, as of 2015, 77% of borrowers only apply with a single lender or broker. In other words, they're potentially leaving a lot of money on the table by not shopping around.
To address this, CEO Brian Faux co-founded NYC-based Morty in January 2016 with CTO Adam Rothblatt, a former algorithmic trader at Goldman Sachs; COO Sarah Thomas, an attorney, entrepreneur, and former US Treasury staffer; and Nora Apsel, who has a decade of experience working in venture capital-backed start-ups.
The goal? To greatly simplify the process of comparing mortgage and refinance offers by implementing the same algorithm-based approach as many online-only direct lenders.
How, specifically? By streamlining paperwork, reducing confusion, and lowering fees. As Brian Faux explained to CNBC:
"Individual mortgage guidelines from a range of lenders are automatically uploaded into [Morty's] database. A prospective borrower enters his or her financial information and then an algorithm determines what offers are best. The website uses the same terms when comparing loans and gets rid of paperwork, bank visits and cuts down the time to close."
When interviewed by Credit.com, Brian added: "Instead of things like printing and scanning and emailing your bank statements or credit, we can do it all digitally through linked data sources."
Not only does this help streamline the process, but Morty claims this approach can also help reduce inaccuracies during application, which can then lead to higher (or completely invalid) quotes.
Let's take a closer look at exactly how this process works.
How Does Morty Work?
At the crux of Morty's time-saving process is something they call your financial profile. Here, you'll link your income, asset, employment, and personal and property information, which allows you to get accurate quotes from lenders in as little as a few minutes.
Important note: Keep in mind that Morty will perform a hard credit inquiry (the type that can potentially affect your credit score) when building your financial profile.
Morty's proprietary algorithm then uses this financial snapshot to provide you with up to 1,000 different loan offers from five lenders in their network.
Which ones? We emailed the company for more information and will update this article as soon as a response is received.
Morty tells us that this gives you the opportunity to browse and compare various offers, along with completely transparent pricing. In fact, they claim "you're always guaranteed to get the best price available on the market."
After choosing your best offer and submitting your materials for processing, Morty will work with everyone (including your lender and real estate agent) to finalize your mortgage and close as soon as possible.
In the interim, you can take advantage of Morty's educational content and in-house mortgage experts to help plan ahead.
Rates & Fees
Like most mortgage brokers, Morty earns a commission from lenders. Their service is completely free for borrowers, including application, hard credit pull, and income and asset verification.
Is Morty the Right Mortgage Broker for You?
Whether directly on their website or from third-party sources, there wasn't a whole lot of in-depth detail about Morty during our research, leading to some important unanswered questions. For example:
Which lenders does Morty work with? How were these five selected?
What important factors does Morty's algorithm look at?
Who is Morty's target customer (e.g. low/high credit score, those looking for certain loan amounts, etc.)?
Are customers prequalified with any of the lenders, or do they have to re-apply based on the lender they choose? After all, entering your information is generally the easy part; achieving underwriting approval is often where questions (and hiccups) tend to arise.
Are Morty's education and planning tools anything special, or are they comparable to other free online tools? Without signing up for an account, the only information available was the company's blog.
Despite these questions, we have to say that we've yet to encounter a mortgage broker that uses an algorithm-based approach like Morty, which we think clearly distinguishes them from much of the dense competition.
In fact, if you search for "online mortgage broker," Morty is the only relevant option that pulls up.
Does this necessarily mean they deliver the best experience and the lowest overall rates? That will certainly depend on hundreds of personal factors, like your good credit score, income level, existing debt, whether this is a new mortgage or a refinance, and how much you're looking to borrow.
According to the same Credit.com article referenced earlier, though, Faux claims one borrower completed the whole process in nine minutes and 18 seconds, so you might not have to spend much time to find out where you stand with Morty.