Mosaic Reviews
Claimed This company has claimed this profile, is getting alerted on any new customer reviews entering this page, and may engage in dialogue with its customers to address their matters.

Companies cannot pay money or provide goods in order to remove or alter customer reviews.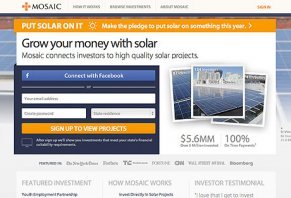 Mosaic claims to provide everyday investors access to high quality, environmentally friendly solar projects for as little as $25.
About Mosaic
In an increasingly environmentally conscious marketplace, Mosaic claims to provide individuals with the opportunity to invest in high-quality solar projects, and to earn a decent return on their investment. In fact, Mosaic claims to have helped more than 2,500 investors from all across the U.S, with more than $5.6 million invested to date.
But does Mosaic really help you make money, while also making a difference? Let's shed some light on the facts and find out.
Quick Facts About Mosaic
With a claimed goal of "opening up clean energy investing and fundamentally changing the way energy is financed," Mosaic is a new impact investing company that provides everyday individuals with the opportunity to invest in high-quality, eco-conscious solar energy projects, and to collect repayments with interest. Mosaic claims that every project is fully vetted to present minimal risk to investors, while also providing maximum returns.
As such, the process works over three steps:
Mosaic connects an investor with a solar project in need of financing.
After coming online, the project generates revenue by selling power to customers.
Some of this revenue is then paid back to investors, with interest.
As a Mosaic investor, you'll be provided with access to an online account, which allows you to manage and track your investment, and to view related prospectuses. As your payments accrue in your FDIC-insured account, you can choose to reinvest these profits into new solar projects, or to transfer them to your personal bank account.
Beginning in March 2014, if you're a California resident you can also apply for a home solar loan through Mosaic, which ultimately works the same as their other projects. In other words, investors will fund your project, and you'll repay your loan over a period of up to 20 years.
Mosaic Pricing & Refund Policy
While there is no fee to create an account or to transfer funds, Mosaic does charge a 1% annual platform fee, which is assessed on a monthly basis.
Investments can be made for as little as $25, which present 4.5% to 6.3% average returns on investment over the course of nine years. In addition, Mosaic claims to provide 100% on time payments to all investors.
What Do Other Consumers Have to Say About Mosaic?
Mosaic was founded by Billy Parish in 2010 and is based out of Oakland, CA. The company has received quite a bit of media attention, and has been featured in the New York Times, Forbes, the Wall Street Journal, Fortune, and more. Despite this, Mosaic does not appear to be listed with the Better Business Bureau.
Since investment opportunities have only been open to the public since 2013, online investor reviews are thin. However, those present appear to be wholly positive, and include ease of use, good customer service, and higher than average rates of return.
What's the Bottom Line About Mosaic?
From a business perspective, Mosaic's crowdfunding platform for solar energy projects seems to have provided access to a vastly underserved market. In fact, after the company's first return-on-investment solar project launched in January 2013, it sold out in just 24 hours.
While online investor reviews are few and far between, those that are available paint Mosaic in a very positive light. On top of this, the company has garnered an immense amount of positive media attention due to their unique investment platform.
As with any other type of investment, it's possible that you could lose money in a Mosaic project, so it's important to weigh your options carefully before handing over your money. With this said, if you're interested in investing in environmentally friendly solar projects, Mosaic appears to be a solid choice.
Have you invested in a Mosaic project? If so, tell the world about your experience by writing a review!
Mosaic is not helpful

By Rene R.

,

San Antonio, TX

,

Jan 20, 2020
Verified Reviewer

I was a borrower of Mosaic for 4 years and in my 3rd year I lost my job and also going through health issues so I of course needed attention. I asked for help multiple times and was not able to get any kind of assistance. So, of course, I needed to maintain my mortgage and fell behind on payments. I was making payment arrangements and received an email stating my payment was coming out in 5 days. After my payment was taking out, they placed a lien on my house and sent me to collections. This organization obviously does not care about their borrowers' hardship or health.

Bottom Line: No, I would not recommend this to a friend

---

Bad business

By Don S.

,

California

,

Aug 20, 2019
Verified Reviewer

We were told we would get a tax credit to put back towards the loan, to keep the low monthly payment. So, following year of paying 1.9% $254 a month, our tax advisor for my small business said we do not qualify. Mosaic then said it is time to pay the $13-16k (we were told we would get back). We could not come up with $13-16k after paying taxes, so Mosaic raised our interest rate to 4% and we now have been paying $415 a month. Try and sell our house and Mosaic said they would not renegotiate a new contract with a new buyer. The best as new buyer can qualify for is $415 a month. Good luck finding a buyer.

Bottom Line: No, I would not recommend this to a friend

---

Advertisement

---

Worst customer service ever!

By Angela C.

,

Rosamond, CA

,

Jul 26, 2019
Verified Reviewer

If you have any other option than Solar Mosaic for financing your solar panels, take it! This company is an absolute nightmare to work with! They won't transfer you to a helpful department. Their customer service department "escalates your issue" to the correct department with the intent that someone will call you back. This is a big joke of course because NO ONE CALLS BACK! I have called every weekday for almost 2 weeks, and on only one occasion was I transferred to a helpful department. I have never in my life dealt with a company that has such poor customer service. I am trying to sell my house, and they have already delayed my escrow closing by 2 days. I sent the request for transfer over a month ago, and it's still not resolved. If you are considering financing with this company, RUN! Find a company that cares and wants to help you have a good experience! This company will only bring you anger and frustration!

Bottom Line: No, I would not recommend this to a friend

---

It really is the worst!

By Jackie C.

,

Tucson, AZ

,

Mar 19, 2019
Verified Reviewer

Everyone rating it 1-star would give it a 0-star if they could. Balloon payment for sure! Over a year of payments and the principal balance only went down a couple hundred bucks...I was LIVID when I saw that. Issues all the time with this company. No reply to any questions. I'm trying to pay this darn loan off with another loan so I don't have to deal with this...Sucks.

Bottom Line: No, I would not recommend this to a friend

---

Advertisement

---

Crooked company!

By Cheryl S.

,

Auburn, CA

,

Jan 18, 2019
Verified Reviewer

What a scam! You get solar installed to save money on electric bills. What a mistake in signing the loan with this company. I've been paying for the loan for 10 months, not ONE cent goes towards the principal. When I called to find out why, I get the runaround and it is impossible to get a straight answer. I had to ask seven, yes SEVEN, times to speak with a supervisor before finally being transferred to a voicemail. Nowhere in the loan does it mention that all money goes towards interest only. When asked how long before the principal starts decreasing, I'm told the same over and over, that the daily finance charge is almost $6.50. That left a little under $20 that should have been applied to the loan but is not. Again, no explanation why it's not being applied when asked over and over. Run away. NEVER get a solar loan with this company. Now, I'm stuck owing over $70K for a solar system that costs 1/2 of that. I only wish that I had read the reviews first.

Bottom Line: No, I would not recommend this to a friend

---

Excellent - easy - no surprises

By Nick S.

,

Oregon

,

Oct 28, 2018
Verified Reviewer

I only see terrible reviews here and must say I was impressed with the ease and transparency throughout the process. Solar loan from Mosaic for a Solar City (now Tesla) array. Perhaps my positive experience can be attributed to the thorough transparency from Solar City during the sales process. I was fully aware of the balloon payment, which is designed to be due after ample time to allow receipt of federal tax credits from solar.

As for the complaints about small amounts applied to principal, this is basic finance principles! Think of your Mosaic loan as a mini-mortgage and look at any amortization chart...at first very little is applied towards principal and most is interest. I feel the criticism is in part due to the ease of access to payment history on their website, which clearly shows amounts applied to principal and interest. I respect the company for allowing the consumer easy access to this data!

Bottom line: Understand basic finance, plan for your balloon payment, and allow Mosaic to assist you with financing your solar project!

Bottom Line: Yes, I would recommend this to a friend

---

Worst business

Tucson, AZ

,

Mar 14, 2018
Verified Reviewer

Late posting of paid bills, crooked financial business practices, and total lip service while never correcting any issues. I will never use this company again, nor will I ever promote this company. Every instance with this company has ended in frustration and dissatisfaction towards myself as the customer.

Bottom Line: No, I would not recommend this to a friend

---

Run away!

By John Oehler

,

Phoenix, AZ

,

Jan 17, 2018
Verified Reviewer

What a sales pitch at the kitchen table. They tell you and contract with you a 3.99% APR on the loan if you'll only set up ACH Payments with them through your checking account with your banking institution. If you'd rather pay yourself, it will be a 4.24% rate. Sounds good, right? Wrong!

When you start making payments on a $23,000 loan at an APR of just 3.99%, you'd assume (you know what they say about assume) payments would be knocking down the loan principal. A minimum payment (for the first 15 months of the loan) is just $103. What does Mosaic do? They take the $103 and designate $82 to interest and only $19 to the principal. I might as well have gone to a car title loan company on a street corner and gave them my arm and a leg.

I called a customer service rep after hours, and she told me, "I'll see what I can do" when I ask to have a finance manager call me back the following morning. Really? Run away!

Bottom Line: No, I would not recommend this to a friend

---

Mosaic, the company that does not care!

Jamestown, CA

,

Oct 24, 2017
Verified Reviewer

My wife and I are trying to obtain a re-loan to so we can get our credit cards under control and be able to better pay our loan to Mosaic. However, they are refusing to release the lien that they have on our property so that our loan can go through. We agreed to allow the lien to be replaced after the house loan goes through and they still will not help us out. They said that they would only release it after we pay off our loan. This to us seems like extortion.

They do not care about their clients, and they are forcing us into bankruptcy. If this happens, they will not get that much money in the settlement. They cannot take our home, and they can reclaim the solar panels, but they would have to repair the roof at their costs. All they have to do is help their clients, and they would be a better company to deal with. You may get a loan when you need it, but the 18-month re-amortization and balloon payments will kill you.

I would not recommend this company for any reason, and I will warn many people to stay away at all costs.

Bottom Line: No, I would not recommend this to a friend

---

Don't do it

By Debra Walters

,

Summerville, SC

,

May 15, 2017
Verified Reviewer

I have a home listed in Ridgeville, SC, and they are selling their home because of a divorce situation. We were trying to do a short sale, but with no help from Mosaic. They told the attorney that they would not give anything and because of that decision, it may force this couple into a foreclosure. Don't do it.

Bottom Line: No, I would not recommend this to a friend

---

Watch out for balloon payment in first year!

By Geoffrey Calnan

,

Valley Village, California

,

Apr 19, 2017
Verified Reviewer

Mosaic makes their loan process so easy and quick that you will think it's the greatest company ever. Then they screw you.

No one every suggested the possibility of a balloon payment. We set up our solar loan to auto pay right out of our checking account so that there are no missed or late payments. Yet, a few weeks ago, and in the first year of our loan, we got a notice from them saying we needed to pay in excess of $9,000 to stay current with the loan.

Where did that come from? Why didn't anyone tell us that was even a possibility?

I should have known the ease and smoothness with which we first executed this loan was too good to be true. Mosaic will put you in a terrible spot without warning. I'm checking on the legalities and responsibilities, but we would never have used Mosaic if we knew what cons they are. Stay away.

Bottom Line: No, I would not recommend this to a friend

---