Mosquitron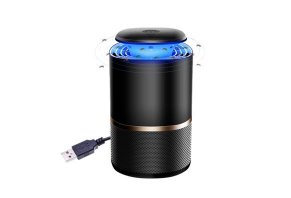 The Mosquitron is a new bug trap that combines a UV light to draw in bugs and a fan-powered suction chamber that traps buts and dries them out until they die.
Mosquitron Review: Does It Work?
Mosquitron is a bug killer that uses a blue light to lure bugs into a fan-powered trap door that sucks them in and doesn't let them out.
The product is unique in that it does not utilize the annoying popping sounds that common backyard bug zappers implement, nor do you see any of the dead bugs the device captures.
In this review, we'll talk about how the Mosquitron works, how much it costs, what its return policy is as well as how the device compares to others like it. We'll also give you a short conclusion that summarizes the Mosquitron's pros and cons.
How the Mosquitron Works
As we mentioned earlier, the Mosquitron has a two-step process for catching bugs. First, it uses a blue UV light to attract the bugs. As the bugs draw close to the light, a suction-type fan sucks the bugs down into a holding chamber they can't escape.
After two minutes, the device's website points out, the bugs die from being dried out by the fan. What's convenient about the way it kills bugs is that you can remove the holding chamber, empty out the bugs and wash it.
The bug-catcher also has an integrated light sensor that will automatically turn the device on when it's dark and shut it off when it's light outside.
To power the device, you simply plug it into a USB power source.
Do UV Bug Zappers Do a Good Job of Killing Mosquitos?
Mosquitron is available for purchase on a couple of different sites, one of which lures you in by presenting a pretty scary narrative of the dangers of mosquitos. Here's an excerpt from one site selling the device:
"Did you know that mosquitos have killed many more humans than all wars in history? Mosquitos are by a mile the most dangerous creatures on earth to use humans. We're not kidding … If you're like us, then you've probably noticed more mosquitos in recently? That's because their swarms are on the rise. Warm seasons are lasting longer because of the global earth warming, which means they have more time to breed, multiply and feast. On you!"
It's clear that this product emphasizes its ability to combat mosquitos but, ironically, the research we looked at indicates that UV-light bug killers are not effective for killing mosquitos.
We wanted to know exactly how effective these types of bug traps were, so we reached out to Dr. Jonathan Day, a professor of entomology at the University of Florida Institute of Food and Agricultural Services.
Day told us that UV lights are effective because insects' breeding and feeding grounds tend to be plants that reflect UV light. So, when they see UV light, they're literally drawn to it.
However, Day said, UV lights tend to be less effective with mosquitos, in particular, because mosquitos are more drawn to the carbon dioxide you breathe out than a UV light.
"The problem is that human hosts are far more attractive to mosquitos than UV traps," he said. "In all likelihood, the mosquito will come to you way before they'll go to a UV trap."
Well talk about some ways to use the Mosquitron to your advantage in light of what Day said but, for now, we'll move on to how much it costs.
Mosquitron Pricing and Refund Policy
When we did our research for this product, its price was $89 for one machine. Two machines were $139, three were $177, four were $219 and five were $267.
The more machines you buy, the bigger the discount you get. If you buy five, the per-machine cost is around $53.
According to the fine print, you have a 30-day return window within which you can send your machine back for a refund or exchange. If you choose to make a return, then you'll have to pay return shipping.
The Mosquitron also comes with a three-year warranty for $14 that covers defective workmanship. The company will cover the cost of shipping as well as the cost of repaired or replaced parts.
How Mosquitron Compares to Other UV Traps
We went to Amazon to find some competing UV bug traps, some of which use an electrical field to zap bugs dead when they approach the light and others that use sticky surfaces or fans.
One of the top-rated devices was the Crioxin Indoor Plug-in Bug Zapper, which was $39.99 for two devices. More than 900 reviewers gave the device an average rating of 4.6 stars. This zapper draws bugs in with a UV light and uses an electrical field to zap them dead.
Recent reviews of the product were positive, with some of the most common phrases being "easy to clean", "works great", "easy to use" and "works well". This particular machine plus straight into an outlet.
Another highly-rated option was the BRISON Indoor Plug-in Bug Zapper. Like the Crioxin, the device plugs straight into the wall and zaps bugs with electricity.
At the time of publishing, 104 people reviewed the device and gave it an average rating of 4.5 stars. Common phrases in reviews were "definitely buy," "highly recommend," "easy to use" and "super easy."
The Final Word: Pros and Cons of the Mosquitron
Through our research, we found that there are plenty of angles to take with the Mosquitron. First, price: the device is far more expensive than the two examples we showed above. And, in our opinion, rightly so.
For someone who travels, buying a bug zapper that plugs into a wall could be an issue if you intend to use the bug zapper on vacation in places like the Caribbean where, Dr. Day pointed out, there tend to be indoor mosquitos.
The plugs on the in-the-wall type of zappers won't work, which is where the Mosquitron has the advantage since it's USB powered. So, in that sense, we think it's a great option for frequent travelers who want a bug zapper that will work anywhere.
And, on that note, Day says a good way to use a zapper on vacation is to leave it on during the day when you're out of the room. That way, he told us, the mosquitos won't be distracted by your carbon dioxide and will gravitate toward the trap instead.
The downside of the device is that, even though the USB capability gives it an advantage over plug-in zappers if you're someone who travels abroad often, the trap doesn't offer that same advantage to those who live in the United States and want an affordable indoor bug zapper.
If that's you, then we suggest researching plug-in style zappers. They tend to be cheaper and, based on the reviews of actual users, pretty effective in curbing bug populations including fruit flies.
But, keep the following observation in mind. Plug-in zappers that use an electrical field to kill bugs will emit a scent and anyone walking by it and noticing it may see a buildup of dead bugs. The Mosquitron, on the other hand, hides the dead bugs.
The differences here are very situational-based and may or may not apply to your situation. In our opinion, the Mosquitron's price doesn't justify its function considering how highly-rated similar (but cheaper options) are.
However, we would see this product working out for someone who has an indoor bug problem, entertains often and wants to have a visually appealing UV bug trap.