Motif Investing Reviews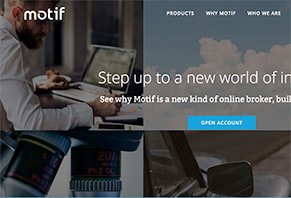 By selecting up to 30 stocks, Motif Investing allows you to create your own ETFs based on specific themes, trading strategies, and even individual values.
About Motif Investing
A lot of the time, consumer-level investing involves a limited set tools, often built by huge companies that might not have your best interests—or values—in mind.
Motif Investing is an online broker looking to upend the industry with their motifs, which are a collection of up to 30 stocks or ETFs focused on a particular theme or idea (used cars, shale oil, Obamacare, or just about anything else you could imagine). This can include a hot trend, trading strategy, investment style, or something you came up with completely on your own.
Motif claims they currently offer 150+ professionally built motifs in six easy-to-access categories: Sectors, Income Strategies, Trading Strategies, Global Opportunities, Values-based, and Asset Allocation, which have averaged 16.3% annualized returns since creation.
You'll also gain access to more than 180,000 motifs that have been built or customized by the Motif community—and of course, you'll be able to customize them even more as much as you like in just one click. To top it all off, Motif claims you'll always know what you own and how much it costs, while trading in real dollars instead of shares.
Even if you don't know a whole lot about trading stocks and ETFs, you have to admit that Motif's trading platform seems unique, not to mention an ideal way of investing that's aligned with your values. Does this mean Motif is right for you? We'll walk you through what we learned step-by-step, so you can make a more informed decision.
How Does Motif Investing Work?
What Is a Motif?
As we mentioned above, each motif is a collection of 30 stocks, ETFs, and/or ADRs listed on all major U.S. exchanges, such as NASDAQ or NYSE. These are based around a central idea (or insight, as the company likes to call it), which can involve a specific strategy, theme, value, or just about any other concept. For example:
Imagine you have a motif built around new housing construction in the U.S. You notice that the market is slipping considerably in the Southern California region, so you decide to lighten your exposure in one region and increase your exposure in an area with more housing starts.
Important note: While Motif allows you to act on your insights, they don't provide formal advice on how to invest, outside of their 150+ premade motifs.
How Do You Build a Motif?
According to the company, here's how you build your own motif:
Find your motif. You can choose from categories such as 30 Day Winners/Losers, Top Performers, Most Purchased, and Highest Dividend Yield. You can also browse motifs individually, which often come with eye-catching names like Z Street Fool's Gold Watch, Catching the Dip and a Cup of Joe, Sand Crackers, and more.
Customize your motif by adding, removing, or changing a stock's weighting. Alternately, you can build a new motif from scratch.
Buy your motif (you can build up to 250). All trades at Motif are executed in real-time during market hours.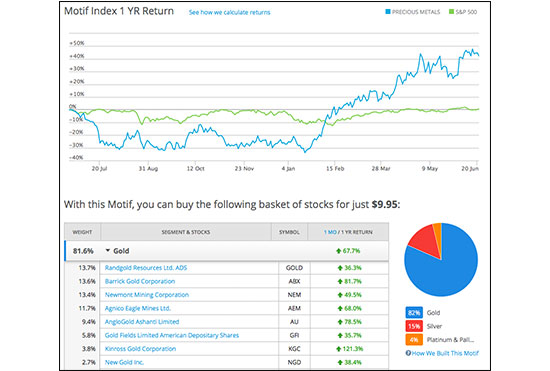 After clicking on a motif, you'll be given in-depth information about the stocks and ETFs it contains, its performance history, and more.
You'll also have the ability to add specific motifs to a watchlist and track their performance, as well as to receive trading alerts that let you know whenever a motif you own reaches a specific value.
Directly from your account, Motif Investing gives you the ability to quickly see what your motifs are worth, what they cost, and what you're invested in, "down to the fractional share and penny."
Motif Investing's Social Aspect
After signing up for a Motif account, you'll gain access to Motif's social network, where you can read ideas from other investors, as well as share your own. For example, you might become involved in a discussion about why someone should leave the Southern California housing market, with each user providing their own insights and data.
To expand your network, you can invite Facebook friends, or request connections with other Motif users.
How much will all of this cost?
Motif Investing's Pricing, Fees, & Royalties
Signing up for a Motif investment account is free, and there aren't any hidden costs or management fees. However, you will pay a $9.95 total commission for up to 30 stocks (as low as $0.33 per stock), $9.95 to rebalance, and $4.95 to sell or buy stock.
How Much Does It Cost to Invest In a Motif?
In order to invest in a motif, you'll need a minimum of $250, although the company recommends "having at least $300 in your account to absorb intra-day stock price shifts the day you make your initial purchase and to cover the $9.95 trading commission."
Your account can be funded by directly linking to your bank account, wire transfer, ACH deposit, or by mailing a check.
If you want to avoid commissions altogether, you can sign up for Motif's new Horizon model, although you'll have to pay different fees.
Is There a Motif Account Minimum?
There are no account minimums, but you'll need a minimum balance of $2,000 to trade on margin. For detailed information, be sure to read through Motif Investing's Pricing & Fees page.
As far as investing, you can buy or sell as little as .01 shares of a stock. If you own less than this, you can sell the entire position.
How Do You Earn a Motif Royalty?
If other Motif investors buy, sell, or rebalance one of your custom motifs, you'll earn a $1 royalty for every transaction. These royalties will accrue over the course of a quarter and are paid 15 days after the quarter's end.
Given this level of customization and reasonable, flat-price fees, what are Motif Investing's customers saying?
What Are Clients Saying In Their Motif Investing Reviews?
Pretty much wherever you turn, you'll find that Motif Investing has garnered some glowing reviews from industry professionals.
InvestorJunkie found Motif's investing platform to be unique, cost-efficient, and a good way to diversify your portfolio, although they noted the "service is a bit clunky when trying to customize, but it still works reasonably well." They also noted a new Motif Premium service is available ($9.95/mo for rebalancing, $19.95/mo for automatic investing), although there wasn't any mention of this on the Motif website at the time of our research.
Both CashCowCouple and FrugalRules gave Motif Investing a 5-star rating, based on the company's innovative ideas and no hidden fees. FrugalRules also felt Motif Investing can be a solid option for secondary investing—even for beginners, due to their low entry costs.
On the other hand, some of the most common downsides mentioned were that no dividend reinvesting is available, and that if you tend to be picky about the stocks you choose, Motif might not be your first choice.
From a company perspective, Motif Investing had a B rating with the Better Business Bureau, based on just 6 closed complaints (as of 6/21/16). Only one of these offered details, which referenced fees for accounts lower than $95.
Who Founded Motif Investing?
Motif Investing, Inc. was founded in 2010 by Hardeep Walia, a former General Manager and Director of Corporate Development and Strategy at Microsoft, where he oversaw investments and acquisitions. Prior to this, Hardeep obtained his BS in Economics and Engineering from Yale University and his MBA from the Wharton School of Business.
Today, Hardeep serves on FINRA's Small Firm Advisory Board and Technology Advisory Committee, and is a frequent contributor to CNBC, Fox Business, Forbes, and many others. In a 2014 Reddit Q&A, Hardeep mentioned that he can't believe how Motif has taken off, noting that, "Only in Silicon Valley can you raise $26M off twenty pages of Powerpoint. It doesn't happen anywhere else."
Note: Motif Investing is supported by several financial industry giants, including JP Morgan and Goldman Sachs.
Is Motif the Next Innovation in the Investment Industry?
Based on their immense success and stellar reputation, it seems like Motif Investing really is "disrupting" the industry in a meaningful way. After all, there's really no other consumer-level investing service out there that allows you to create your own ETFs a la carte.
Despite this level of customization, many industry professionals claim that Motif might be a great way for beginners to enter the market, especially since you'll only need about $300 to get started. However, if you're especially choosing about your stocks, more traditional investing platforms might be more suited to your needs.
Do you use Motif for your investing needs? Is it your primary or secondary investing platform? What are some pros and cons? Tell us all about it by writing your review below!
Avoid this company if you can

By Chad H.

,

Arkansas

,

Sep 12, 2018
Verified Reviewer

All I can say is to stay away from this company from my personal experience with them. It was a scam. They didn't honor their promise for account opening bonus and charge you excessive fees when you want to withdraw. And they even made a mistake when I transferred money out and now the IRS is coming back to ask me to pay tax for the cash I already paid tax for. The worst is, this scam company deleted all my historical statements. I cannot find any other company worse than this.

Bottom Line: No, I would not recommend this to a friend

---

Love Motif!

Motif is wonderful for what it is. I was very disappointed in how one of my old 401k's was languishing. It was pretty obvious that the investment company had restricted me to mutual funds with poor performance. I personally like risk. I was frustrated at all the mutual funds that were too conservative, and never serving my interests. Motif was different. It allows you to essentially design your own mutual fund for $10 per every time you want to contribute to it. It allows re-balancing at the touch of a button.

You can track the progress of individual stocks or the whole motif. The company has a range of "Motifs" you can get into or make your own. There is a lot of variation in success levels of the funds, but you can easily search for options or build your own or both. My advice is that it's useful for an IRA or ROTH IRA where you don't have to worry about individual stock filings at tax time. With the regular account, you will need to file each stock in the Motif separately for each sale. So if you use it to diversify and buy 5 motifs (150 stocks) and re-balance those quarterly you are looking at 600 tax entries. You can import to your favorite tax program, but I personally try to just use it for IRA and ROTH IRA.

Bottom Line: Yes, I would recommend this to a friend

---

Advertisement

---

Motif - the best solution for stock pickers

Motif is EXACTLY what I have been hoping for, for years, and I just discovered it recently.

I am a good stock picker, and the ability to buy/sell/add/remove/rebalance multiple stocks in a single event (daily if I choose to) for a single fee of $10 is awesome. It creates much savings on fees and allows flexibility at the same time.

There are some minor disadvantages/limitations on the website, but I use a different charting platform (TOS) to screen and select stocks.

All in all, Motif is 5/5 stars.

Bottom Line: Yes, I would recommend this to a friend

---

Ease of investing

By John Fox

,

Hershey, PA

,

Mar 24, 2017
Verified Reviewer

I've been a customer of Motif for a year now. I can do everything I do with my other brokerage accounts for less money. And I have the opportunity and enjoyment of building (and managing) my own funds. I've enjoyed the "community" experience as well. By far, however, no one beats their customer service. Highly recommended!

Bottom Line: Yes, I would recommend this to a friend

---

Advertisement

---