Motivo Reviews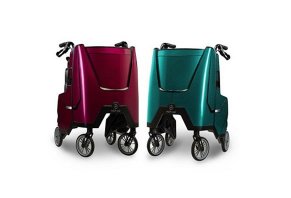 The Motivo Tour upright walker features a solid design, a fold-down seat, onboard storage, and a unique position that provides zero-radius turning and less stress on your back and neck.
About Motivo
Compared to traditional 4-wheel rolling walkers, the USA-made Motivo Tour features a patented stow-away seat that doesn't just help you sit down—its stowability also promises to place you upright inside the walker, align your spine, and reduce back and neck pressure by up to 60%.
The website advertises this also minimizes unnecessary strain caused by reaching, allows you to maneuver in tight spaces easily, and ultimately helps you live a healthier, more independent life.
Additional unique features include an integrated tray, two cup holders, easily accessible private storage, height adjustability, a sub 20-pound weight, foldability for easy storage, and a modern, non-medical design.
As a company, Motivo, Inc. was co-founded in 2012 by Jeremy Knopow and Jennifer Harris. Jennifer is also co-founder of Empathium Design, while Jeremy is an Adjunct Professor of Industrial Design at the Milwaukee Institute of Art and Design.
If you're used to hunching behind a traditional 4-wheel rolling walker, all of these benefits might sound appealing. But is Motivo Tour the only game in town? And if not, how can you choose which model will best meet your needs? We'll briefly explore many of your most important questions here.
Let's start off with an important distinction.
Traditional Walkers vs. Rollators vs. Upright Walkers
Writing for Medical News Today, Jayne Leonard explains that "walkers, also known as Zimmer frames, are made up of a metal framework with four legs that provide stability and support to the user. These very stable walking aids are used by 4.6 percent of adults in the U.S. over 65."
Basic models, she says, "have a 3-sided frame that surrounds the user. Users lift the frame and place it further in front of them, they then step forward to meet it, before repeating the process." Some models also add "wheels or glides on the base of the legs, which means the user can slide the walker rather than lift it. This is especially helpful for people with limited arm strength."
Comparatively, rollators often feature this same 3-sided design, but mount wheels to each of the frame's four legs, which can improve mobility. Most of these models also feature handbrakes attached to handlebars, as well as a seat.
Where do upright walkers like the Motivo Tour come in? These typically deliver many of the same features as rollators, but instead of standing behind the device, users stand in a central position with the cage surrounding their body.
This creates a center of gravity that allows for a zero-sum turning radius, straightens the user's back and neck, and helps reduce strain when reaching for things on counters and in cabinets.
However, while it might make logical sense that straightening the neck and spine might increase comfort and overall mobility, we didn't encounter any clinical evidence on the Motivo website, or on third-party websites, that upright walkers can specifically create an aligned spine or reduce back and neck pressure by up to 60%.
Motivo Tour Rollator Specifications
Based on 300+ hours of user testing and covered by 7 US patents and 3 European patents, the Motivo Tour weighs 19.8 lbs, boasts a 300 lb weight capacity, and measures 24" wide x 35" high x 27" deep when opened. Folded, the height increases to 38.5", while the depth decreases to 13".
The stow-away padded seat (18.5" W x 7.2" D) is positioned 19.75" above the ground and is not adjustable, although the handlebars are adjustable between 31" (78.7 cm) and 38" (96.5 cm) in height, which the manufacturer advertises will accommodate users from 4'3" to 6'4". To do so, you'll press the thumbscrews on each side while the walker is in its upright position.
Motivo's Features
Instead of bent aluminum tubes like traditional rolling walkers, the Motivo Tour's frame is made from smooth automotive-grade materials that are engineered to exceed the most stringent ISO international standards, along with a multi-layer UV protective finish.
From a safety perspective, the Tour features a bicycle grade parking brake with locking parking ability, which can also be used as a drag brake. According to the website, this keeps the brakes "partially engaged to slow the rotation of the wheels, such as when going down a ramp or incline."
Additional features include a zero-sum turn radius that makes it easier to maneuver in tight spaces, along with an easily accessible half-sized tray and two cup holders that can flip open to full size to accommodate larger items.
Its large storage compartment also measures at 19.73" W x 7.40" D x 9.36" H, meaning it can typically accommodate oxygen tank sizes M2 through M9, depending on the size of the regulator.
When the time comes, the Motivo Tour's side panels fold up like a book using a quick release of the side lever on either side, making it compact and easy to transport or store. It even includes a convenient carrying handle for ease of loading and unloading and is self-standing when folded.
According to the website, the stow-away padded seat effortlessly slides into the side compartment, which doesn't have to be emptied or removed when the Tour is folded up.
Finally, from a styling perspective, each Tour is said to feature contemporary styling and is available in a wide range of graphic, color, and finish options to make it your own.
Motivo's Operating Angle
The Motivo website emphasizes their Tour models have been shown to reduce back an neck pressure by 60%, while shortening the reach over your walker by more than 50% and making it easier to access sinks, countertops, and so forth.
Furthermore, this inside-the-walker positioning is said to deliver a virtually zero turn radius, while retaining about the same dimensions (sometimes even smaller) as a traditional walker with a seat.
Minimal Motivo Maintenance
Despite all of these features, Motivo indicates the Tour requires only periodic maintenance, which includes inspecting the wheels for tightness, wear, and damage, inspecting parts (hardware, brackets, and plastics) for deformation, corrosion, breakage, wear or compression, and regularly wiping all surfaces with non-harsh chemicals or solvents.
Its wheels are designed for indoor and outdoor use, although you'll also want to make sure they "rotate freely and are free of hair, lint, and debris."
What's the Difference Between Each Motivo Fuel Model?
We contacted a friendly Motivo customer support representative and confirmed that each Tour walker is identical in terms of operation and features. The only differences are the colors available for each model:
Classic – Dark Cherry, Pure Silver, Obsidian Black
Designer – Deep Fuchsia, Mediterranean Teal, Sapphire Blue
Premier – Brushed Titanium, Satin Nickel, Carbon Fiber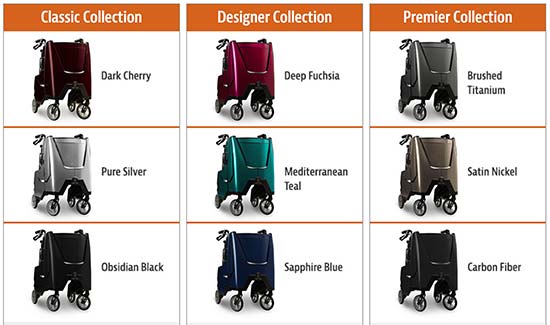 According to Motivo, the only differences between each Tour model are the available colors. Credit: Motivo, Inc.
How Much Does Motivo Cost?
The Motivo Tour upright walker is available in nine different colors and finish options:
Classic: $499.99
Designer: $527.99
Premier: $544.99
According to the product's website, these walkers aren't coded for Medicare, although private insurance might cover them since they meet the requirements of a rolling walker with a seat. Given the different providers and plans available, the company recommends calling your company directly for further inquiries.
However, Motivo offers PayPal credit as a way to finance the purchase of your walker.
All Motivo Tours come with a 30-day money back guarantee, less S&H.
Important note: According to the website, returned products "must arrive in brand new condition (in original packaging) showing no signs of wear and tear and must be free of any scuffs, dings, cracks, odors or scrapes."
All Tours also come with a lifetime limited warranty against defects in the materials and workmanship, "including but not limited to handle grips, seat cushions, wheel assembly, brake cables, latches, levers, handle clamps, and straps," less wear and tear items, which carry a 1-year warranty.
To request a refund or file a warranty claim, Motivo customer support can be reached at 414-235-9409 or info@motivolife.com.
Motivo vs. UpWalker (LifeWalker): Which is the Best Upright Walker for You?
Outside of traditional rollators and walkers, we only encountered one other upright walker competing for many of the same customers as the Motivo Tour; the UpWalker (aka LifeWalker).
Both models featured bicycle brake levers with padded handles, lockable brakes, seats with backrests, foldability, zero-radius turning, onboard storage, and the ability to accommodate users up to 300 lbs. Here were some of their standout differences:
| | | | |
| --- | --- | --- | --- |
| Model | Price | Weight | Standout Features |
| Motivo | $499.99 - $544.99 | 19.8 lbs | Solid design (no bent aluminum tubing), height limit of 4'3" to 6'4", fold-down table, drag brake |
| UpWalker (aka LifeWalker) | $595 | 23 lbs | Elbow rests, large 8-inch all-terrain wheels, height limit of 4'6'' to 5'10'' |
Which of these is best for you? It seems like it could come down to which of these factors you place the most emphasis on.
For example, if budget is a top concern, Motivo's Classic version comes in $100 less expensive than UpWalker, while also weighing about three pounds less (if weight is a primary concern).
From a design perspective, Motivo's standout colors and solid panels certainly don't look like anything else out there, while the UpWalker uses bent aluminum tubing akin to more traditional rollators.
UpWalker's elbow rests might make it ideal for those with hand, wrist, or arm pain or dexterity concerns and its larger wheels might deliver greater accessibility, although you'll have to consider third-party models if you're taller than 5'10''.
Regardless of which model or manufacturer you're considering, writing for the Graham-Field website, Amy Boughner explains you'll want to consider the following:
You'll still need to have a relatively good sense of stability and balance to use one of these devices.
Foldability is a great feature, but if you need to frequently lift your upright walker in and out of your car for everyday use, keep in mind that even a difference of a couple of pounds can add up.
While upright models typically have height and weight limits, their wrap-around design means they usually also have a girth limit.
Finally, the National MS Society emphasizes that if these devices are "not adjusted to the correct height, you may experience back, shoulder, elbow and/or wrist pain. A physiatrist or physical therapist can recommend the appropriate equipment for you and train you in its proper use."
Our Final Thoughts About Motivo
If you're looking for a lighter weight upright walker with a unique design, a variety of colors to choose from, many different useful features, and competitive price points, the Motivo Tour lineup appears to tick a lot of important boxes.
The company has been in business for several years and stands behind its upright walkers with a 30-day refund policy, which should be more than enough time to decide if it's right for you.
But, at about 20 pounds, keep in mind that it might not be inexpensive to ship back if you're dissatisfied.