Mott & Bow Reviews
Claimed This company has claimed this profile, is getting alerted on any new customer reviews entering this page, and may engage in dialogue with its customers to address their matters.

Companies cannot pay money or provide goods in order to remove or alter customer reviews.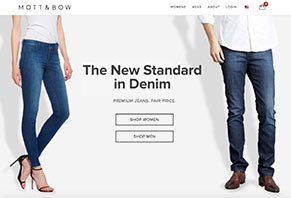 Mott & Bow promises premium denim at fair prices. Learn how the brand brings 30+ years of experience to lower costs while making jeans more comfortable than ever.
About Mott & Bow
Mott & Bow offers premium, handmade denim at affordable prices—promising the same quality at approximately half the cost when compared to other designer brands.
Alejandro Chahin, the brand's founder, grew up in a denim factory in Honduras—first counting buttons, then fabric sourcing and hand-creating washes later as a teen.
But rather than stay put and spend his life filling production orders for other brands, Alejandro took everything he learned in the factory to business school at NYU. From there, he studied consumer demand and realized there was a gap in the marketplace.
In short, there weren't any brands offering premium denim at a fair price.
How Can Mott & Bow Offer Premium Denim at a Lower Cost?
Alejandro recognized that part of the reason premium denim was so expensive was that these brands had started before the era of online shopping. Instead of bringing the product directly to you, the customer, it went through various distribution channels and was marked up along the way.
By creating jeans in the same factory that his family has owned since 1982, Mott & Bow is able to cut out the cost of distribution—and pass those savings onto their customers.
What Makes Mott & Bow "Premium" Denim?
Mott & Bow states that the high-quality of their jeans starts with the raw materials and that they source denim from some of the most respected denim mills in the world: Orta in Turkey and Candiani in Italy.
The brand claims that this higher-quality cloth not only looks better, but it performs better with wear, unlike cheap denim that won't "bounce back" after multiple washes.
Once the raw fabric arrives at Mott & Bow's factory in Honduras, each pair is attended to by hand to ensure that the design, cut, wash, and finish are all perfected.
The result, claims Mott & Bow, is that customers have come to know the brand as successfully blending comfort, style, and an affordable price point.
Mott & Bow Men's Denim Styles
Composition fabrics that offer stretch have been used for women's jeans for years. Sometimes called "stretch denim," they're more comfortable and move with your body. Mott & Bow is one of only a few brands that offer jeans made from blended fabrics for men.
The jeans, which range from $96 to $128 a pair, are made from a high-quality blend of cotton, polyester, and elastane for a formulation of up to 35% stretch denim.
Note that not all Mott & Bow jeans are cut from the same cloth—there are varying degrees of stretch, up to their Dynamic Stretch line that claims to be as comfortable as athletic wear after just two washes.
Mott & Bow offers about ten different colors of denim for men, including the jet-black Morton or the indigo Moscow to the light and casual Ludlow. The different shades are achieved through special processes of washes and applied resin, as well as some detailed razoring and scuffing up the edges of pockets and hems for that perfectly worn-in look.
Available men's sizes range from 28" to 36" waist and either 32" or 34" length. Additionally, Mott & Bow provides exact measurements for each different fit to take the guesswork out of selecting skinny, slim, or straight:
Skinny:
Mid-rise with zipper fly
Skinny from hip to hem
Tapered leg
13 ½" Leg opening
Slim:
Mid-rise with zipper fly
Straight through hip
Slim through thigh
15 ½" Leg opening
Straight:
Mid-rise with zipper fly
Straight through hip and thigh
Straight leg from knee to opening
17" Leg opening
Each product page displays the denim's fit, where the fabric is sourced from, its composition and weight, fit details (seen above), and how Mott & Bow achieved the pair's particular wash. You'll also find customer reviews that rate on size, comfort, and quality along with comments.
Mott & Bow Women's Denim Styles
Mott & Bow started offering only men's denim but has recently expanded to women's. Women's denim is available in six different washes, including jet black Bond and a pretty, subtle grey-black named Orchard, and prices range from $96 to $128.
Women's denim are more limited in available sizes, with waist ranging from 24" to a max of 32". Choose between three styles of fit:
High Rise Skinny:
Front rise of 10"
Skinny fit
9" Leg opening
30" Inseam
Mid Rise Skinny:
Front rise of 8.5"
Skinny fit
9" Leg opening
30" Inseam
Slim Boyfriend:
Front rise of 8.75"
Slim fit
12" Leg opening
32" Inseam (for cuffing)
Just like the men's category, each product page shares information on the denim, the wash, and details of the fit, followed by customer reviews of the specific product.
Even if you read through all the reviews and compare measurements, it can be darn difficult to find perfectly fitting denim in the store—much less online. How to find your perfect Mott & Bow size?
Ensure a Perfect Fit With Mott & Bow Home Try-On Program
A feature unique to Mott & Bow is their home try-on program, which allows you to order both your own size and a second pair, either a size above or a size below, to make sure the fit is right, at no extra cost.
Here's how their home try-on program works:
Buy your first pair and choose a second waist size for free.
They'll send both so you can decide the best fit for you.
Keep the one you like and send the second pair back for free.
Using the pre-paid label drop the box off at the nearest FedEx.
One catch: A few styles are in such high demand that Mott & Bow can't spare the extra pairs for their home try-on program. However, you can filter out which styles aren't available in the top menu bar.
Mott & Bow Pricing & Refund Policy
Both men and women's Mott & Bow denim costs between $96 to $128 a pair. The cost of shipping varies slightly depending on your location (they also ship to 24 countries outside of the United States). However, order two or more pairs and shipping is free.
If your jeans don't fit, Mott & Bow also claims to make returns easier. Orders are eligible for refunds for 30 days. To do so, follow the instructions that came with your package or fill out a digital refund request here.
Refunds will be processed within five days. However, each is subjected to a $5 restocking fee—that's per order, not per product. And don't forget, returns are free as each delivery comes with a prepaid return label.
Potential Cons of Mott & Bow Denim
Members of the Men's Fashion Advice (MFA) Subreddit offer up some criticisms of Mott & Bow denim. Two points being that the jeans aren't made in the US and that they don't include the kind of details that denim lovers associate with quality, such as selvaged edges. ("Selvage" means that the edges are self-finished, which keeps them from unraveling or fraying over time.)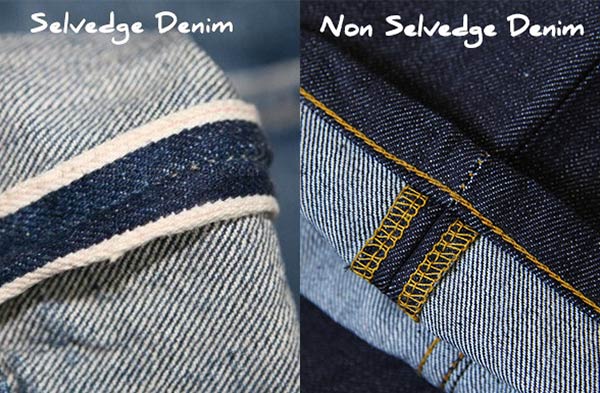 Image via Brooklyn Clothing
However, it's important to note the any criticism offered came from people who hadn't actually tried on Mott & Bow denim. Reading further down in the forum and you can find that the lack of a self-finished edge hasn't curbed the enthusiasm of several MFA customers.
Customer Reviews of Mott & Bow
Either Mott & Bow has an amazing press team or these jeans really rock, because you're hard pressed to find anything but glowing reviews of their men's denim. Reviewers at The Style Guide, Paul Evans, and even Business Insider offer up the opinion that Mott & Bow are likely the most comfortable men's jeans ever made.
As we mentioned above, blended comfort fabrics aren't anything new to women's denim. After all, we have "jeggings" made from sweatpant material. However, Mott & Bow does promise to offer that perfect point of compression and stretch.
That being said, customer reviews of Mott & Bow's women's denim are equally glowing, with women remarking that the high-rise style was surprisingly giving in the waist while retaining shape.
The only criticism was of the women's slim boyfriend style, which one reviewer said wasn't a true boyfriend fit, and wore more like a skinny jean.
Bottom Line on Mott & Bow?
Hovering at right around $100 per pair, Mott & Bow denim are certainly more expensive than a pair that you'd pick up at Target or Macy's.
On the other hand, based on what we learned during our research, it seems like you'll get what you pay for with Mott & Bow, including high-quality fabric, fashionable designs, and an exact fit.
Looking to switch things up from your standard jeans brand? If you're not on a tight budget, Mott & Bow could deliver exactly what you need.
Read Next: 6 Top Tips to Buying Pre-Owned Designer Clothing Online (That You'll Actually Love)
---
Love my Mott & Bow jeans

By Erica

,

Atlanta, GA

,

Feb 15, 2017
Verified Reviewer

Overall Experience:

I tried one pair of Mott & Bow high rise women's jeans, and I love them! The are very tapered at the ankle, so I love the slimming silhouette. I am 45 years old and had a 21-year-old niece ask me where I got my jeans. They are very simple and stylish. I am ordering two more pairs now.

Bottom Line: Yes, I would recommend this to a friend

---

Super comfy if they fit you

By Arthur Chan

,

San Jose, California

,

Sep 14, 2017
Verified Reviewer

Overall Experience:

I'm accustomed to hunting for jeans with high elastane content and nothing beats these. Soft to the touch and very very stretchy - for jeans. Fit wise, they fit around my waist at the same size to my 3301 slims. I also got a pair of SLIM - OLIVER - RAW, but if you know about raw denim you know this won't stretch at all.

Relatively the Wooster jeans I ordered as well are made to be a little bit slimmer due to extra elasticity, therefore, don't freak out if it's more tapered than others. Allin all, I'm happy with my purchase and I'll be buying more jeans from Mott and Bow, that's for sure!

Bottom Line: Yes, I would recommend this to a friend

---

Advertisement

---

They finally did it!

By John

,

Sep 14, 2017
Verified Reviewer

Overall Experience:

I love Mott & Bow jeans and I'm a loyal customer to the brand. They had this special style that I like but they're no longer manufacturing it which is a bummer because I love the stretch on those. So I write an email like two months ago asking for them to reconsider in making more jeans like those and they listened.

I appreciate a company that can take feedback and makes positive changes. The just introduced a new style with the 4-way stretch I like so I'm placing a new order today. Kudos to them!

Bottom Line: Yes, I would recommend this to a friend

---

Comfortable and fit great!

By Maria

,

Sep 14, 2017
Verified Reviewer

Overall Experience:

I'm curvier on the bottom and I must say was skeptical about these jeans. I've been too lazy to go to a local store, so wanted to give these a try since I had seen positive reviews everywhere. They do not disappoint. The cut for me is fantastic, and goes up high enough to cover my muffin top -- bring on the white t-shirts! I will say that I also got the Mid Rise Skinny. Those fit great as well, however, I am a different size in each style.

Customers should keep that in mind when trying them out and definitely go with the try at home pair for first time orders.

Bottom Line: Yes, I would recommend this to a friend

---

Advertisement

---

Birthday Jeans

By Joyce

,

Sep 18, 2017
Verified Reviewer

Overall Experience:

I needed new jeans because I've lost a few inches in my hips over the last year. These fit great. Super Soft. Pretty good length on me actually! I like the rise and the wash. I kept the size 27. I'm 5'3", hips 38" waist 32" around 129lbs. Hope this helps future shoppers. I'm not 100% sure what size I am to know if they run true to size, small or big. But I typically wear somewhere between 27-29.

Bottom Line: Yes, I would recommend this to a friend

---

Super comfy, if they fit you

By Arthur Chan

,

San Jose, California

,

Sep 18, 2017
Verified Reviewer

Overall Experience:

If you're looking for stretchy and comfy jeans, search no more! I'm accustomed to hunting for jeans with high elastane content and nothing beats these. Soft to the touch and very very stretchy - for jeans. They are super comfy. I'm accustomed to hunting for jeans with high elastane content and nothing beats these. Soft to the touch and very very stretchy - for jeans. Fitwise, they fit around my waist at the same size to my 3301 slims.

Bottom Line: Yes, I would recommend this to a friend

---

As comfy as my yoga pants!

By Catherine

,

Sep 18, 2017
Verified Reviewer

Overall Experience:

Not exactly like yoga pants, but pretty darn close! I just received my pair in the mail yesterday and immediately tried them on. I am so glad they send a second size just in case since I can run between sizes depending on the brand. I love how they already feel like I've owned them for months. SO COMFY, I could live in these.

For me, the jeans run true to size. I typically wear a 26. The waist a touch large but that's my own problem for being between a 25 and 26. Also, for being 5'4, the inseam is great as well for cuffing. I am really impressed with these jeans and hoping my other non-Mott & Bow jeans wear holes soon so I can order more pairs of these!

Bottom Line: Yes, I would recommend this to a friend

---

Mid Rise Skinny Jane Medium Blue

By Rebecca R

,

New York City, NY

,

Oct 20, 2017
Verified Reviewer

Overall Experience:

These jeans are great! The waistband is a little roomy and the thighs are pretty tight, but they have enough stretch that it all works out. I'm 5'0 and always have trouble finding short jeans. One thing though, I recommend Mott & Bow make 28-inch inseams in all of their women jeans as it's only available in select styles.

On the other hand, the jeans I got are pretty spot on and I'm happy with my purchase. I could use an inch shorter inseam but overall they're good quality jeans that I don't feel the need to have them hemmed.

Bottom Line: Yes, I would recommend this to a friend

---

Best black denim that I owned ever!

By Joyelle W

,

New York City, NY

,

Oct 20, 2017
Verified Reviewer

Overall Experience:

I was hesitant to order a pair from Mott and Bow, especially because I wear 28-inch length and there is no option for a "try on" size on the style I wanted. I'm so glad I ordered regardless! They fit perfectly and make my legs and hip look great. They are the most comfortable denim ever. I wish the other colors fit the same way though. I also got Jane (medium blue) but they were definitely much tighter than the black pair, so I had to return.

Please make all the sizes consistent. I'd buy every single color available if other colors also fit like the black pair!

I'm 102 lbs/5'2 and the size 24/28 is perfect. Hope this helps someone out there thinking of buying Mott & Bow jeans.

Bottom Line: Yes, I would recommend this to a friend

---

Low priced premium jeans

By Melanie M

,

San Francisco, CA

,

Oct 20, 2017
Verified Reviewer

Overall Experience:

I bought the mid-rise dark blue and bond black skinny jeans, finally found 2 pairs of jeans that I can honestly say are wonderful.Comparing these to Paige Jeans, it's the same quality and they're comfortable but cheaper.

I honestly would buy these over Paige Jeans any day because they fit perfectly. Plus, if you are curvy at the hips, they'll make your butt look good. Trust me. I am 100% happy with these jeans and would recommend them to anyone who wants to own premium jeans at a decent price.

Bottom Line: Yes, I would recommend this to a friend

---

Amazing Quality Jeans

By Jordan W

,

NYC, NY

,

Oct 20, 2017
Verified Reviewer

Overall Experience:

I love these, they're my new staple jeans in my wardrobe. The Customer Service was stellar in proactively letting me know of a minor delay (thanks, guys!) and my pants arrived without issue.

I purchased the mid-rise skinnies in black and the color hasn't faded (or bled onto my hands/legs) at all so that's great. I'll say that if you're a runner (or have leg muscles at all) the skinnies are super form-fitting. I personally love the fit though!

Bottom Line: Yes, I would recommend this to a friend

---