MoveMD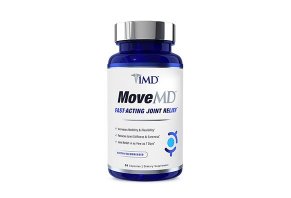 MoveMD uses a combination of natural ingredients in an attempt to relieve your joint pain. However, its ingredients come in low dosages and there isn't much research to support its effectiveness.
MoveMD Review - Can It Provide Joint Pain Relief?
Medically Reviewed by Jason Reed, Pharm.D.
MoveMD is a supplement intended to fast-acting relief for joint pain in the knees and back through a combination of five vegan, gluten-free ingredients.
"MoveMD is a special combination of the latest in joint health science to help you wake up each morning and hit the ground running," the product's website claims.
The company that sells this product is 1MD. It sells at least nine different supplements. 1MD works with four board-certified doctors to create their supplements. Dr. Adam Kreitenberg, a board-certified rheumatologist, is the doctor who specifically endorses MoveMD.
In our review of this supplement, we will discuss how it works (including instructions for taking it), the scientific evidence for its ingredients' efficacy, possible side effects and MoveMD's pricing and return policy.
How MoveMD Works: How to Take It and the Claims
The directions for use are simple. Take one capsule in the morning with a glass of water on an empty stomach. The site says you can take the capsule whenever you'd like but in the morning is the suggested time.
Each bottle of MoveMD contains 30 capsules, so one bottle will last you a month.
Once that capsule is inside your body, 1MD says it releases its five main ingredients into your system:
ApresFlex boswellia serrata (100 mg)
Zanthin natural astaxanthin (2 mg)
Type XIV eggshell membrane collagen (100 mg)
Type II chicken collagen (280 mg)
Hyaluronic acid (25 mg)
The collagen in each capsule will be to reduce joint pain after seven days, 1MD claims, while it will take about two months for the boswellia serrata to alleviate knee discomfort. The two-month timeframe is something we'll discuss in the scientific efficacy section, as it's based on a study published in 2006 in the Journal of Neurosurgery.
Additional claims about conditions for which MoveMD provides help include:
Lymphocyte proliferation
Joint comfort support
Joint flexibility and strength support
Cartilage synthesis support
Anti-inflammatory support
Scientific Evidence for MoveMD Ingredients
MoveMD's claims focus on two things: what its ingredients can do and how fast they can do them. We will examine both in this section.
ApresFlex Boswellia Serrata
Boswellia serrata is commonly known as frankincense. Researches over the past 20 years or so have investigated this plant's effect on rheumatoid arthritis and osteoarthritis, as well as other conditions unrelated to the claims MoveMD makes about it.
One of those studies, a 2006 article published in the Journal of Neurosurgery, says that a group of people suffering from arthritis-driven knee pain experienced a "statistically significant improvement in arthritis of the knee."
The caveat is that participants took around 1,000 milligrams per day, whereas MoveMD's daily dose provides 100 milligrams.
Also, independent research lab ConsumerLab.com notes that, while the study's results were promising, around half the patients in the study dropped out, "which seriously diminishes the significance of the results."
ConsumerLab.com goes on to point out that a more recent study about boswellia and osteoarthritis in which eight weeks of boswellia treatment led subjects to feel "significant pain reduction" and "improved physical function."
Editor's Note: "ApresFlex" refers to a name-brand manufacturer of boswellia serrata.
Zanthin Natural Astaxanthin
This ingredient is a brand-name ingredient like ApresFlex boswellia serrata. It's produced by Valensa, a lab based in Central Florida that gets its astaxanthin from Chile.
The ingredient is prevalent in ocean animals and plants, ConsumerLab.com says.
As for its clinically-proven effectiveness, Oregon State University's Linus Pauling Institute, a research department that studies vitamins and supplement ingredients, says that astaxanthin has shown anti-inflammatory capabilities in cells and animals but not in humans.
Per HighYa medical adviser Dr. Jason Reed, PharmD, many drugs don't have the same effects in the human body as they do in individual cells or animals.
Additionally, ConsumerLab says that the daily dosage for astaxanthin should range between 5 and 40 mg per day. The daily MoveMD serving includes 2 mg.
Editor's Note: "Zanthin" refers to a name-brand manufacturer of astaxanthin.
Type X.I.V. Eggshell Membrane Collagen
Collagen is a basic building block of cartilage. When cartilage in your joints wears down, you'll start to feel pain because bone is grinding on bone.
The idea behind taking collagen in supplements is that it can help with joint pain because it might encourage cartilage growth or, at least, curbing cartilage loss.
However, an in-depth review of eggshell membrane collagen studies by McGill University's Office for Science and Society indicates that the existing evidence is underwhelming and that the most promising studies were done on animals, not humans.
"These results are all pretty lackluster and point to natural eggshell membrane helping only minimally with pain and stiffness, both in those with and without arthritis," the university concluded.
Type II Chicken Collagen
Chicken collagen is an ingredient we see from time to time in joint health supplements. Companies like MoveMD claim it helps with joint health.
However, WebMD's analysis of existing research concludes that there is insufficient evidence to prove chicken collagen can help with knee and back pain, osteoarthritis and rheumatoid arthritis.
Hyaluronic Acid
The final ingredient on the list is hyaluronic acid. Because it's often paired with collagen, you'll see this ingredient in beauty products (collagen is a skin building-block) and in joint-pain supplements.
ConsumerLab's research concludes that the existing studies about hyaluronic acid are limited to trials with obese people who have osteoarthritis. Studies analyzing the ingredient's effects on the average population have yet to be conducted, the site said.
There is, however, a study of older patients with osteoarthritis who saw improvement in their arthritis symptoms after taking 200 milligrams of hyaluronic acid each day for a year.
Furthermore, the existing clinical studies of hyaluronic acid required participants to take daily doses of between 80 mg and 200 mg, ConsumerLab said. Your daily dose of MoveMD contains 25 mg.
Summary On The Ingredients
Based on the information presented in this section, we believe there are several factors at play concerning the efficacy of this supplement.
First, the research regarding each of the ingredients is either inconclusive or was promising in tests on animals. Therefore, we conclude there isn't enough scientific evidence to indicate that MoveMD can deliver the results it promises.
Second, even if the ingredients had more scientific backing, the dosage amounts in a daily serving aren't anywhere near the amounts used in studies. For example, boswellia serrata is a somewhat well-researched ingredient. However, the studies featured daily doses up to 10 times higher than what you'll get in one MoveMD capsule.
Finally, the element of time is important to consider. MoveMD's claim that boswellia serrata's positive effects will start to show around the two-month mark is accurate based on the existing positive research. However, that timeframe is based on daily dosages that are much higher than what's in MoveMD.
MoveMD Side Effects
The big benefit of this supplement is that our research did not turn up any dangerous side effects. One study indicated that some people may experience nausea, acid reflux or diarrhea from boswellia serrata.
Keep in mind, though, that those participants were taking around 10 times the boswellia serrata found in MoveMD.
MoveMD Cost and Return Policy
You have three one-time purchase options and one subscription option to buy this supplement.
One bottle of MoveMD is $54.95 plus $5.95 for shipping. Three bottles will cost you $148.98 and six bottles will cost $268.98. The three- and six-bottle bundles come with free shipping.
There's a chance 1MD will give you a discount code via a pop-up window, too. The site pitched us a 22% discount and a 10% discount during the time we were on their site. You'll have to provide your email address to get the discount.
The product was available on Amazon, too, for $60.90 per bottle, which is equal to a single-bottle purchase plus shipping from 1MD's website.
You have 90 days to return your order if you aren't happy with MoveMD. You can either return the supplements through the mail or call 1MD.
By mail, you'll have to write your name, order confirmation number (in the original email confirmation) and "Return" on the outside of the box. You have to include all the bottles you bought in your shipment whether opened or sealed.
The address to which you'll send the return is: Shipping Dept; 1MD; 675 N. 2800 W #101; Lindon, UT; 84042.
You can also call 1MD at (888)393-4030 between 6 a.m. and 5 p.m. PST, Monday through Friday. They're available by phone from 7 a.m. to 4 p.m. on Saturday and Sunday, too.
The Bottom Line: Is MoveMD a Good Solution for Joint Pain?
The existing scientific research and expert opinions of the ingredients in this product indicate there's a good chance MoveMD won't provide the benefits it claims it can give.
Part of the reason is that there aren't enough human studies to provide definitive support of the ingredients' ability to soothe joint pain. Also, the dosages of each ingredient in MoveMD are too low, as clinical studies and suggested serving amounts are far greater than what's in each capsule.
Because of this evidence and research, we believe that you most likely will not relieve the joint-pain relief you're hoping to get out of this product.
Also, Reed points out that rheumatoid arthritis can progress if you seek treatment for a doctor, which may happen if you put all your trust in a supplement like this and put off going to your physician.
That being said, we like that 1MD's customer service line is open seven days a week and that returns are as simple as sending the box back with a note on it. Should you choose to go ahead with your purchase, these will be important benefits.
If you choose not to buy MoveMD but still want a supplement to relieve joint pain, the most promising ingredient in MoveMD is boswellia serrata. Supplements that include at least 1,000 milligrams of boswellia will be on par with dosages in clinical studies.