Moven Reviews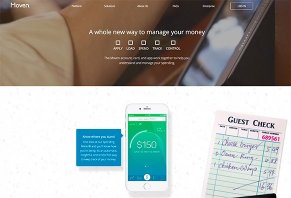 Moven's app and connected bank account claim to help you gain insight into your money habits, alert you to spending spikes, and budget for what you want.
About Moven
By combining a bank account, debit card, and an app, Moven is a mobile money management system that promises to help you connect with your money as you're spending it, while providing real time insights that can help you spend, save, and live smarter.
In other words, the website tells us that the app provides instant feedback on your transactions and spending patterns, so that you'll never have to worry about your finances.
As soon as you make a purchase (whether using the Moven card or your existing one), the app will instantly categorize the transaction, so you'll only need to look at your Spending Meter to know how much you're spending and where your money is going. And if you're spending money faster than usual, such as on an unexpectedly large expense, you'll automatically receive Spending Spike alerts.
Need to pay a friend? You can do so through an email or text message, even if they don't have a Moven account.
Finally, all accounts are FDIC insured, with no monthly fees or minimum balances, and customers have access to more than 42,000 no-fee ATMs.
But does that necessarily mean that Moven represents a whole new way to manage your money, as claimed on the website? Even then, should you sign up for an account?
We did the research to help you make a more empowered decision, so let's start by taking a closer look at the Moven app.
How Does the Moven App Work?
The app is currently available for any Android (4.1 and above) and iOS (8 and above) mobile device. After downloading, you'll need to either link your existing debit, checking, or credit card account, or apply for a FDIC-insured Moven Smart Banking account.
Then, whenever you pay with your connected bank accounts and credit cards, the app will instantly categorize each purchase in one of three ways:
Wants – These are the expenses you choose, such as eating out, travel, entertainment, shopping, and so forth.
Needs – Basic expenses required for day-to-day living, such as rent/mortgage, food, utilities, healthcare, and transportation.
Other – Common transactions that don't necessarily fit into either of the above categories, such as donations, savings, taxes, business expenses, income, etc.
In addition to these automatic classifications, you'll be able to manually move purchases to different categories. You might also find uncategorized transactions in your "Completion Bar," so be sure to check there often.
As you make purchases, Moven will send you spending receipts and insights that can help you track, understand, and manage your spending and savings habits. And if you want to quickly view a summary, the app's Daily Digest will provide the previous day's spending, as well as what you've spent for the month.
Outside of this tracking feature, Moven's app provides a spending gauge, which is said to provide a "snapshot view of how fast you're spending your money compared to your spending patterns in previous months." Green means you're spending below average, yellow means you might need to slow down, and red means you might want to consider stopping your spending.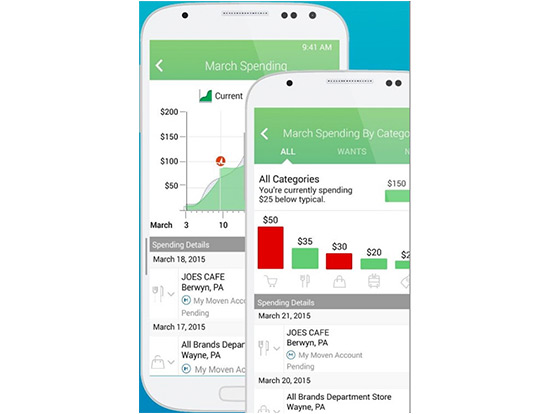 In this Moven app screenshot, you can see the spending gauge at work, categorized by month, date and location, and whether the user is above or below their average spending habits. Image credit: Google
Do you find it difficult to save? If so, Moven's Stash tool allows you to easily and instantly move funds from your available balance to your Stash 'savings' account. Then, the money can be moved back to your spending account when you're ready to reap the rewards of your smart savings habits.
These all certainly sound like solid benefits. But are there any considerations to keep in mind if you're looking to make the switch from a traditional bank account to a Moven one?
Moven Smart Bank Account vs. Traditional Bank Account
Similar to most other banks, you'll be able to add money to your Moven account via direct deposit, checks, and cash—no foreign currency is allowed. Further, you'll be able to use your debit card (issued by CBW Bank) with Apple Pay to shop in stores or apps, and you'll have the availability to pay friends instantly, for free, even if they don't have Moven.
While you can link multiple accounts, such as credit cards, to your Moven account, you'll only be able to connect a single bank account (called a funding account by the company).
Per the company's FAQ, here are some considerations, though:
While deposits can be made via direct deposit and transfer money, you'll have to use a third-party service called Ingo to cash checks. A free Ingo account means checks will take 10 days to reflect in your account, while a paid account (2-5 percent fee per transaction) will reflect these funds instantly.
Furthermore, you'll have to visit a convenience store that participates in the MasterCard® rePower network in order to deposit cash—again, usually for a fee. Wire transfers are not supported, and if you need to write a check, the only acceptable purposes are to pay rent or your mortgage.

Moven accounts are non-interest bearing and do not offer overdraft protection, as any transactions that exceed your balance will be declined. Their debit cards are accepted anywhere that takes MasterCard, but they do not feature an EMV security chip.
Finally, if there's more than one user in your household, Moven does not offer joint accounts. Instead, each user will need to open their own account, which can then be linked, allowing you to instantly transfer money between them, for free.
Taking a Closer Look at Moven's Cost, Eligibility, and Security
Other than having to be 18 years old, no specific eligibility criteria were noted on the Moven website. We reached out to the company for additional details and had not yet received a response.
The company doesn't charge customers to open an account, make payments, or deposit or transfer funds, but as we learned in the previous section, keep in mind that some third-party vendors charge for services that are often free with a traditional bank account.
In some circumstances, Moven may charge $30 for expedited shipping, $10 to close an account, or $4.99 for each card above the two free offered per year.
All Moven accounts are FDIC insured up to $250,000, and there are no monthly fees or minimum balances. You can use your card anywhere MasterCard is accepted, and you can withdraw cash from more than over 42,000 ATMs in the STAR network at no charge.
You can use your Moven card in person, for online or phone purchases, digital wallets like Apple Pay, and a sticker placed on the back of your phone that provides contactless payments at stores. You'll have a maximum spending limit of $10,000 in any 24-hour period.
Have additional questions? Moven support can be reached at inquiry@moven.com.
What Are Moven Customers Saying in Their Reviews?
NerdWallet's Jeanne Lee gave Moven an overall rating of 3.5 stars, and appreciated the no monthly/overdraft fees, the spending tracker and tools, and free STAR network ATM access. However, she didn't like the fact that accounts aren't interest bearing, and that "cash and check deposits may be costly and inconvenient."
In the end, she noted that Moven might work best for those who are looking for a better way to track their spending, but that the account might not be the best for international travel or for adding cash or checks.
Writing for Magnify Money, Kali Hawlk also referenced many of these same potential downsides, including the fact that no local branches are available.
On the other hand, she emphasized that a Moven account might be ideal for people who hate paper clutter and appreciate all-in-one integration (no third-party apps needed), as well as those who like visual cues to their spending habits, such as the Spending Gauge.
Between iTunes and Google Play, the Moven app had an average rating of about four stars, with most compliments referencing ease of use, excellent customer support, helpful insight, and lack of fees.
On the other hand, frequent complaints seemed related to technical issues (accounts not linking, general bugginess) and less-than-stellar user experience.
From a company perspective, NYC-based Movencorp was founded in 2011 by CEO Brett King. He is also the host of the Breaking Banks radio show on WVNJ 1160 and author of several books, including "Augmented: Life In the Smart Lane" and "Bank 3.0: Why Banking Is No Longer Somewhere You Go But Something You Do."
Moven held a D+ Better Business Bureau rating based on two closed complaints as of 9/11/17, one of which the company failed to respond to.
Are There Other Personal Finance Apps Like Moven?
The good—and perhaps bad—news is that consumers are swimming in personal finance tracking apps and websites these days. These include top names like Mint.com, You Need a Budget (YNAB), BillGuard, Fudget, LearnVest, and GoodBudget.
Many of these come with similar core features, including automatic transaction categorization, short and long-term tracking, and graphic displays (charts, graphs, etc.). Let's take a look at some of their unique features side-by-side:
| Company | Price | Unique Features |
| --- | --- | --- |
| Moven | Free | Bank account and app all in one |
| Mint.com | Free | Custom tips, free credit score and related tips, receive alerts, schedule payments |
| You Need a Budget (YNAB) | $50/yr | Debt pay down tools, goal tracking, live workshops |
| Fudget | Free ($2.99 for Pro version) | Pared down features, manual entry |
| LearnVest | $299 setup fee + $19/mo | Personalized financial plan, access to a financial planner, goal setting, action plans |
| GoodBudget | Two versions: Free, or paid ($50 per year) | Envelope system, sync and share budgets |
How to choose which option is best for you?
Like any other purchase, choose the best app (budget tracker or otherwise) will primarily come down to answering the following questions:
Does the app's purpose suit my needs?
Continuing with our examples above, if your primary need is to spend as little money as possible, then a free service like Moven or Mint.com might be the way to go. However, if you're looking for the highest level of service and the most robust tools—at the highest price, of course—LearnVest might be what you need.
And while each of these offers some method of tracking your income and expenses, they have some meaningfully different features. For example, the envelope system featured with GoodBudget is a tried and true method many people have used to find budgeting success, while Mint's ability to schedule payments could be indispensable—again, depending on your needs.
What are the app's customers saying?
Search around and make sure that the app and its developer come with mostly positive feedback from customers. When reading through these online reviews, quickly write down any common compliments or complaints you encounter.
Am I ready to start budgeting?
Last, but certainly not least, if you're not ready to implement a budget, taking the time to set up your app and track your spending probably won't deliver a valuable return.
However, this isn't always the easiest thing to accomplish. If you're new to the topic, we think A Beginner's Guide to Making a Budget is a must-read before downloading a related app. There, we outline why you should create a budget, common roadblocks, and how to implement one.
Our Final Thoughts About Moven
There are two parts to the equation here: Moven's app and their bank account.
From an app perspective, it seems like the company implemented several unique features that customers might find interesting, including the Stash 'savings' feature, spending gauge, and Daily Digest. And let's not forget that it's currently the only option that integrates an app and a bank account from the same company.
Speaking of which, Moven's banking system comes with some fairly big upsides, like no minimum balance requirements, no monthly or overdraft fees, and customers can even avoid ATM fees by visiting STAR network locations.
On the other hand, compared to a standard bank account, there could be some potential drawbacks—again, depending largely on your needs:
You can only cash checks through Ingo, which is free (10-day waiting period) or fee-based (immediate deposit; 2-5 percent fee per transaction)
You can only write checks from the account to pay rent or for your mortgage
Depositing cash can only occur at a MasterCard® rePower network location, for a fee
No wire transfers
Accounts do not accrue interest
No overdraft protection; if it's more than what's in your account, the transaction will be declined
No EMV security chip on debit cards
No joint accounts, but two different users' accounts can be linked
Bottom line: Based on what we learned during our research, Moven seems to provide a lot of services people are looking for and to come with mostly positive online customer feedback.
So, if you don't make wire transfers, don't tend to deposit a lot of checks into your account or write checks from your account, and you don't need overdraft protection—and if tracking your spending is your most important need and you're willing to encounter some mild to moderate inconveniences (and perhaps additional expenses) as a result, Moven might be right up your alley.