MSC Cruises Reviews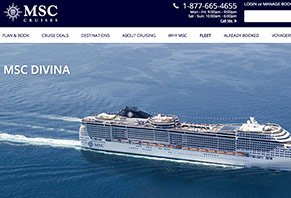 With 34 worldwide departure ports, a fleet of 12 ships, and competitive pricing, MSC Cruises promises to provide an all-inclusive experience akin to a 5-star hotel.
About MSC Cruises
Whether for singles, couples, or families, MSC Cruises features an all-inclusive fleet of 12 elegant, modern ships that sail to locations throughout the Caribbean and Antilles, Mediterranean, Northern Europe, South America, South Africa, as well as Abu Dhabi, Dubai, and Oman.
And with a $5.4 billion investment plan, MSC claims they're the fastest growing cruise line, offering a wide choice of restaurants, entertainment (including excursions), relaxation treatments, well-equipped staterooms and suites, and personalized service.
In fact, the MSC website promises that you'll experience "all the quality and comfort of a 5-star hotel" while aboard one of their cruise ships. They tell us you just need to choose your ship, itinerary, room preferences, and enhancements, and they'll take care of the rest.
After browsing through the MSC Cruises website, you're seriously considering booking your next trip through them. But do they offer everything you're looking for? Are they expensive? Should you consider the competition? What are their customers saying?
Before handing over your hard-earned money, let's discuss each of these aspects in detail, starting with what you'll experience on one of their "floating cities."
Your Quick Reference Guide to MSC Cruises
Which Ships Are Part of the MSC Fleet?
Currently, MSC Cruises sails 12 different ships, each of which meets international accessibility standards for those with special needs or health requirements:
MSC Armonia
MSC Divina
MSC Fantasia
MSC Lirica
MSC Magnifica
MSC Musica
MSC Opera
MSC Orchestra
MSC Poesia
MSC Preziosa
MSC Sinfonia
MSC Splendida
According to their website, the company also has a new ship set to debut in May 2017, called the MSC Meraviglia. It's scheduled to embark from three major ports in the Mediterranean, including Genoa, Marseille, and Barcelona.
While each of these ships sails under the MSC Cruises banner, they have their own unique flair and amenities and sail to/from different areas of the world.

The Seaview is one of MSC Cruises' 12 ships, which features a 5,429 guest capacity and aims to make the most of the Mediterranean's sunshine. Image credit: MSC Cruises S.A.
Once onboard one of these ships, what will you find?
What's Included in MSC's Staterooms & Suites?
Compared to classic cruise ships, MSC tells us their staterooms and suites deliver a vastly different experience, including the amount of space available, the available light, and style.
Regardless of your ship, all staterooms are located away from public areas and feature 100 percent natural bedding and Dorlean mattresses, an interactive TV where you can learn more about onboard services and bookings, and are cleaned twice daily.
Keep in mind that some staterooms and suites are only available on certain ships and with certain packages. With this in mind, here's a quick overview of each of MSC's offerings:
Suites – Each suite contains a double bed that can be converted into two single beds upon request, in addition to air conditioning, a wardrobe, bathroom with shower or tub, phone, mini-bar, and safe. Some suites are located in the ship interior (no windows), while others feature a private balcony (Deluxe) or a panoramic sealed window with an ocean view (Executive or Family suite).

Superfamily – These rooms are comprised of two connecting triple staterooms and can accommodate up to six people.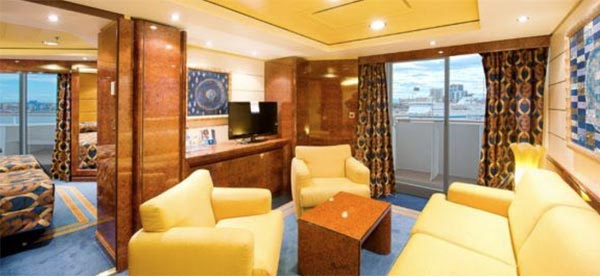 The MSC Royal Suite shown here is tailored to those looking for luxurious appointments, including balcony, Egyptian cotton sheets, marble bathroom furniture, and exclusive goodnight chocolates. Image credit: MSC Cruises S.A.
What can you do once you leave your suite or stateroom?
What Kinds of Restaurants & Food Does MSC Cruises Offer?
The majority of MSC Cruises' buffet fare is focused on Mediterranean fusion cuisine, which features 13 different stations. These include a Meat Carvery, fast food at the Take-Away station, Bakery Corner, Wellness Corner, and even a Kids Corner.
If you or a family member has special dietary requirements, such as vegetarian, kosher, halal, or gluten-free, MSC claims they can accommodate with advance notice.
Breakfast is served from 7 am to 10 am, or you can call room service. Depending on the ship and geographical location, lunch is served at different times across four different restaurants.
Evening dining includes the Mediterranean fusion cuisine mentioned earlier, in addition to Asian and French specialties, Neapolitan pizzas, Sushi, Italian, Tex-Mex, and again, dedicated children's menus. In addition to these options, each meal comes with three available dining styles:
Classic – You'll have a pre-set time, the same table assignment, and the same dining room staff each night.
Flexi – Choose a preferred time slot each day, which can be changed to accommodate your schedule.
My Choice – Here, you'll be able to dine anytime you like while the restaurants are open.
Once you've had your fill of food, what can you and your family do for fun?
What Kinds of On-Board Entertainment Does MSC Offer?
According to the MSC website, they offer guests 20 hours of activities and entertainment each day.
During the daytime, this can include everything from water games, group dances, and culinary challenges to fitness activities, professional dance classes, and sports tournaments. At night, you'll find themed dances and programs, talent shows, world-class music and live shows, karaoke, and even a Las Vegas-style full gaming casino.
In addition, you'll have access to upscale boutiques and duty-free shopping, sports facilities, kids activities (aqua park, swimming pools, water slides, Virtual World, F1 simulator, 4D cinema, etc.), yoga, arts and crafts, and a workout gym.
All MSC Cruises guests have 24-hour Internet access almost everywhere onboard using your smartphone, tablet, or laptop (extra fees are involved). You can also visit the Internet Café.
What if you're looking to get off the ship?
Does MSC Cruises Offer Any Excursions?
Each MSC Cruises ship employs 126 expert consultants that can help you choose from more than 2,000 full- or- half-day excursions, as well as short trips, in 190 destinations and 73 countries around the globe. This includes everything from art and archaeology tours to 4x4 safaris and glacier hikes.
This way, MSC claims you can visit what's important, learn from multilingual guides, and adhere to the highest safety standards for everyone.
What If You're Looking for Relaxation on Your MSC Cruise?
At the MSC Aurea Spa, which the website claims is the "only Balinese spa at sea," guests can choose from 20 different massages, 19 body treatments and facials, manicures and pedicures, and aromatherapy and acupressure treatments.
If you're looking for something a little more intensive, MSC Aurea Spa also offers wrinkle and dermal filler treatments, as well as body sculpting and radio frequency treatments.
Alright, now that we've covered the basics, how much will you pay for an MSC Cruise?
How Much Do MSC Cruises Cost?
Playing around with different locations on the MSC Cruises Find Your Cruise page, we returned the following rates (note: Rates are highly variable and depend on the time of year you sail, your chosen stateroom or suite, and the length of stay). All prices are per person:
Caribbean and Antilles: $529.50-$2,889+ per person
Abu Dhabi, Dubai: $629-$1,539+ per person
Mediterranean: $574.50-$979+ per person
MSC Grand Voyages: $899-$2,599+ per person
MSC World Cruise: $17,999+ per person
Northern Europe: $989-$1,199+
South Africa: $361-$390+
South America: $1,389- $2,119+
Pro tip: As with most cruises, keep in mind that if you book directly through the MSC Cruises website (versus a travel agent, for example), your airfare and other transportation to the port of departure are not included.
When sailing as a third or fourth guest and with two full-fare adults, children 11 and under are free. However, you will be responsible for their taxes and port charges.
Internet access (limit of 340 MB per day / 1.5 GB per cruise) ranges between $9.90 per day and $79.90 per cruise, depending on the number of devices supported. Access at the Internet Café is pay-as-you-go.
You can pay for your MSC Cruise online by credit card, through their call center (877-665-4655), or through your travel agent.
What Types of Reviews & Ratings Are Guests Leaving for MSC Cruises?
On CruiseCritic, MSC Cruises had more than 1,000+ guest reviews at the time of our research, who had given the company about a 3.5-star average rating. 58 percent of guests claimed they "loved it."
There, most compliments seemed to revolve around quality accommodations, great-tasting food, supportive staff, and enjoyable entertainment and shows.
On the other hand, frequent complaints referenced less-than-stellar customer service, not a lot of value for the money, food that didn't match their tastes, little English was spoken (among both staff and other cruisers), cramped rooms, and slow security when re-boarding ship.
On Consumer Affairs, MSC Cruises had a lower overall average rating under two stars, with common complaints referencing much of the same as on CruiseCritic. Similar feedback was found amongst 41 Yelp reviews.
Fodors recommended an MSC Cruise if you appreciate authentic Italian cooking or are looking for a premium experience at a fair price. They mentioned that MSC might not be your cup of tea, though, if you're not able to do anything other than the "American way" or are looking for a variety of dining experiences and a casual dress code.
Finally, MSC Cruises had a C- rating with the Better Business Bureau, based on 48 closed complaints (as of 4/5/17). Most of these appeared to reference customer service and billing issues.
How does everything we've discussed so far compare to other cruise lines?
MSC Cruises vs. Carnival & Other Popular Cruise Lines
The fact of the matter is that most popular cruise lines offer many of the same basic features, such as a variety of onboard dining options, entertainment choices (arcades, gambling, pools, excursions, etc.), and accommodation levels.
If this is your first cruise, some important factors you should focus on are:
Price (you'll need to set a budget)
Itinerary (where do you want to go and how long do you want it to take to arrive?)
Preferred ship and cabin type (Small or large vessel? Interior room or one with a view?)
Often overlooked considerations like noise level, primary languages spoken aboard, facilities and activities, and even the type of other passengers you'll be around (Is it a bunch of Millennials in their 20s, or seniors in their 70s?)
While much of this will vary based on your needs and preferences, let's take a look at some core details for many of the world's most popular cruise lines:
| Line | Regions Served | No. of Departure Ports | Pricing | Duration |
| --- | --- | --- | --- | --- |
| MSC Cruises | Caribbean and Antilles, Mediterranean, Northern Europe, South America, South Africa, as well as Abu Dhabi, Dubai, Oman | 34 | $360-$18K+ | 7-10+ days |
| Carnival | Alaska, The Bahamas, Bermuda, Canada & New England, Caribbean, Cuba, Europe, Hawaii, Mexico, Panama Canal, Transatlantic | 19 | $299-$1,099+ | 2-10+ days |
| Disney | Alaska, Bahamas, California Coast, Canada and New England, Caribbean, Europe, Mexico, Panama Canal, Transatlantic | 11 | $1,198-$17,264+ | 2-14 days |
| Viking | Baltic & Northern Europe, Mediterranean & Adriatic, Americas & Caribbean, Asia & Australia | 22 | $2,399-$7,999 | 1-19 days |
| Norwegian | Alaska, Australia & New Zealand, Bahamas & FL, Bermuda, Canada & New England, Caribbean, Cuba, Europe, Hawaii, Mexican Riviera, Pacific Coastal, Panama Canal, South America, Transatlantic | 29 | $419-$4,879+ | 1-15+ days |
| Royal Caribbean | Alaska, Asia, Australia & New Zealand, Bahamas, Bermuda, Canada & New England, Caribbean, Cuba, Europe, Hawaii, Pacific NW, South Pacific, Transatlantic, Transpacific | 29 | $209-$5,889+ | 3-19 days |
Which of these is "best?" Again, this largely depends on your primary focus.
For example, of the above options, Viking seems to have the most worldwide departure ports, but also one of the most expensive base prices. Comparatively, MSC Cruises might give you a lot of bang for your buck, but they only offer one U.S. departure port (Miami).
Royal Caribbean can include the cost of airfare and ground transportation in your overall cost, perhaps making the process more straightforward, while Royal Caribbean is your only option if you're looking for a transpacific cruise.
The Bottom Line About MSC Cruises
Based on what we learned during our research, including reading through hundreds of online customer reviews, it seems like MSC Cruises offers access to a variety of destinations around the globe at highly competitive prices. So, if you're on the hunt for a solid combination of value and amenities, they just might fit the bill.
For these lower prices, though, you might have to give up some of your flexibility, since only the Caribbean is accessible from a U.S. port. As a result, you'll also need to factor in the cost of an overseas flight into your budget if this isn't your intended destination.
Finally, since MSC is primarily a European cruise line, it's important to keep in mind that—as reported by Fodors earlier—English might not be the primary language spoken aboard, and if you're American, you might have to become accustomed to doing things a little differently.
AWFUL (everything)

I selected this cruise company for my long-awaited (14 years) vacation to Havana, Cuba and other ports. This 7-day cruise was a nightmare for myself and travel companion.

Hot cabin for sleeping (would not lower preset thermostat that you cannot control).

Light fixtures did not work (blinked on and off 6 days).

Shower drain in restroom stopped up (never repaired).

Many hidden costs (even if you purchase in advance).

Rude restaurant manager(s).

Overstated customer service (no follow through).

Cruise line so unpopular docking the ship they were the furthest, last behind other ships.

Customer Service will not get Upper Managent for you to speak to.

I paid for two excursions, first one was behind schedule returning to ship, did not get to see Tropicana (the only highlight I really wanted to see) no help getting to the venue later, no refund, no compensation for another excursion).

Officers sitting in bar smoking, drinking, if you approach for assistance with anything, you're told to go to the Customer Service desk as if you're bothering them.

They do not warn you that all transactions are made from foreign banks, which if you have not informed your bank of that country, they will shut down your credit card.

Prepaid internet access is nonexistent unless you are on the decks, then sporadically at best.

Very unfriendly to individuals with a disability. ADA should look into their practices.

Bottom Line: No, I would not recommend this to a friend

---

Advertisement

---