M&T Bank Mortgage Reviews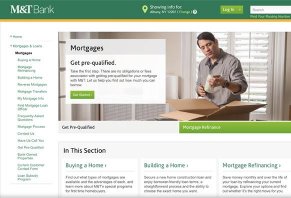 M&T Bank has a wide range of mortgages to fit many homeowners and homebuyers' needs, including FHA, VA, and conventional mortgages as well as reverse mortgages and HELOC's.
About M&T Bank Mortgage
M&T Bank is a bank based in Buffalo, N.Y., that provides multiple mortgage options including purchase loans, refinancing, HELOC's and reverse mortgages.
The bank also acts as a servicer for loans that people get from other financial institutions. At the time of publishing, they'd received an influx of customers from Citi and CENLAR.
What makes their lineup of mortgages so interesting is the variety – other banks don't devote much space to reverse mortgages and HARP refinancing.
In our review, we're going to talk about each type of mortgage the bank offers and, where possible, provide information about their mortgage rates.
We'll also spend some time reviewing existing customer feedback about M&T's customer service. We believe this is important because buying a home is stressful and clear, constant communication from your lender is one of the things that can ease the turmoil homebuyers often feel as they inch closer to closing.
At the end of our review, we'll give you our thoughts on the general pros and cons of using M&T for your home purchase, refinance or reverse mortgage.
M&T Bank's Mortgages
As we mentioned at the outset of this review, M&T is really diverse in what they offer homebuyers and homeowners. In this section, we're going to do a quick review of each type of mortgage they offer.
For Homebuyers: FHA, VA, Conventional and Construction
These loans are designed for people who are buying a home. One of the reasons why there are multiple types of loans is because now two borrowers are the same. Some of them are trying to get a mortgage with bad credit, while others are first-time homebuyers who are looking for an easy way to fund a home.
FHA and VA loans are two popular choices for nearly all borrowers, as they tend to be pretty forgiving about credit scores and down payments.
For example, an FHA (Federal Housing Administration) loan is a government program that requires a 3.5% down payment and will accept applicants with credit scores in the 500's. If you're at a 580 or higher, then your down payment can be 3.5%.
If your scores are below 580 but 500 or above, then you can get an FHA loan if you produce a 10% percent down payment and meet all the other requirements.
The VA loan is a product of the Department of Veteran Affairs. These loans are designed for members of the military. You won't have to pay a down payment and credit scores don't have as much influence as they do with an FHA loan or conventional loan. Rates are pretty competitive, too.
The best rates, however, are usually found with conventional mortgages. BB&T offers these to borrowers who can meet credit and income requirements that tend to be higher than FHA and VA loans. However, the reward is that your good credit (700 and above) and solid income can get you a lower APR.
To get that lower rate, you'll most likely need to put down at least 5%. The reason behind this is that lenders like M&T are willing to give you lower rates if you can give them more money up front. It reduces the risk that they'll lose money if you choose to stop paying your mortgage.
The final type of home purchase mortgage you can get from M&T are construction loans. These loans are different from the ones we listed above because they involved two things: building the home and financing the home.
M&T offers two main types of construction loans, each with variations for certain types of homes: one-close and two-close. These loans are meant to fund your construction and then act as a mortgage that pays for the appraised value of the home.
A one-close construction mortgage pays for the construction and the home in one loan, which means you only have to close once. A two-close construction mortgage gives you two loans – one for construction and one for the home. Because they are two different loans, you have to go through two different closing processes.
According to M&T's website, a two-close loan "can be advantageous depending on your financial needs. It could provide more flexibility when choosing your permanent mortgage loan and you can still take advantage of long-term lock options."
For Homeowners: HARP Refinancing and Home Equity Funding
Refinancing a mortgage with M&T can benefit you if, for example, the rates for mortgages is lower now than it was when you bought your home. It could also work to your advantage if your original loan had a high rate as the result of it being part of a federal or state program, but you now have great credit scores that most likely can get you a good rate on a conventional mortgage.
One of the options you have for refinancing with M&T is using the HARP program, or the Home Affordable Refinancing Program. This is a federal program designed to help homeowners lower their monthly payment through an affordable refinancing program.
What makes this program great is that there is no minimum credit score required and you may be able to roll the closing costs for the new mortgage into your loan amount, which means you don't have to pay much money up front.
According to documents from HARP, the average homeowner saves $179 per month through the program.
While refinancing is a way to lower your monthly payment, home equity loans and lines of credit help you generate extra cash you can use to spend on whatever you want. They are often called "second mortgages" because you put your house up as collateral for the loan or line of credit.
The home equity program M&T features is called a CHOICEquity account. This line of credit is based on the equity in your home. "Equity" refers to what's left after you subtract what you owe on the home from what it's worth. If you have a $400,000 home and $300,000 left on your mortgage, you've got $300,000 in equity.
Now, you can't get a home equity line of credit for the entire amount. Here are the loan-to-value restrictions for how much you can borrow, according to data on M&T's website at the time of publishing:
89.99% on primary residences
70.99% on manufactured homes and vacation homes
Using the previous example of equity, if you were to take out a CHOICEquity line of credit with M&T for your primary residence, the most you could have is $89,990.
This is a line of credit, which means you can use it whenever you want but you don't have to use it – basically, it works like a credit card with a few exceptions. Your M&T CHOICEquity has a "draw" period of 10 years, which means you have 10 years to use the money. Once your draw period is over, you move into repayment. If you have an unpaid balance when the draw period ends, you pay it back during repayment.
Reverse Mortgages
The final type of mortgage that M&T Offers are reverse mortgages. These mortgages are designed for homeowners 62 and older who want to use the equity in their home to get cash they can use to pay for expenses.
These loans have become popular in recent years because they're an easy way for aging homeowners pay for retirement. However, there are drawbacks. For example, you have to keep paying expenses like homeowner's insurance, property taxes and mortgage insurance.
Also, the balance is paid off when you sell the home or settle the estate. In other words, the bank assumes that, because you're getting older, you'll pass away and your relatives will be able to sell the home and pay off what you borrowed.
Finally, at the time of publishing, M&T only offered reverse mortgages in the following states: NY, MD, NJ, PA, DE, CT, VA and Washington D.C.
We did a very light treatment of the advantages and disadvantages of these mortgages. If you want to learn more, read through our guide to the pros and cons of reverse mortgages.
How M&T Ranks in J.D. Power's 2018 Retail Banking Study
Every year, consumer research firm J.D. Power releases rankings of the best banks when it comes to customer satisfaction. They rate each company in various categories according to a 5-circle scale, with 5 being the best and 1 being the worst.
According to their 2018 Midatlantic Retail Banking Study, M&T's overall banking operations ranked #14 out of 27 banks in the Midatlantic region.
J.D. Power gave the bank 3 Power Circles which, according to their site, indicates that M&T performed "about average" compared to other financial institutions in the study.
That overall 3-circle-rating was the product of ratings in six different categories. Of note is M&T's score in the "Problem Resolution" category: 2 stars. While J.D. Power's rating isn't a guarantee that you won't have a good experience getting a mortgage through M&T, it is indicative of the general sentiment consumers have about how the bank handles and resolves problems that customers bring to their attention.
The takeaway from these rankings is that M&T's overall customer service, according to their customers, is going to be average and that there are banks out there that scored much better (and worse) than M&T.
In this particular study, Northwest Bank and Community Bank were #1 and #2, while Capital One ranked last and Fulton Bank was the second worst.
The Final Word: Pros and Cons of Mortgages with M&T Bank
Based on our research of M&T's mortgage offerings, we believe their strength is that they're a one-stop shop for nearly every kind of homeowner or homebuyer.
Their menu of purchase loans provides bad-credit and good-credit options. Those looking to build a home on a lot have construction loan options and, if you want to tap into your house's equity, then you've got HELOC and reverse mortgage options.
The downside to the bank is that they rank pretty low when it comes to customer satisfaction. Another downside is that some of their products (reverse mortgages, for example) aren't available in all 50 states. You'll have to check with M&T Bank to make sure the product you want is available in your state.
In general, we believe M&T's mortgages are a good fit for someone who is already an M&T customer or who values a traditional banking experience and wants to avoid online-only lenders.
We think the fact that they offer reverse mortgages is a plus if you believe that particular product is right for you. Because of the somewhat risky nature of reverse mortgages, it's best to be able to sit down with someone and talk about it, rather than corresponding over the phone or through email.
If you aren't completely sold on using M&T for your mortgage, then consider getting mortgage pre-qualifications from multiple lenders, both online and brick-and-mortar. Doing so allows you to see the various rates and fees each lender charges.
Some of the higher-rated lenders we've reviewed are Quicken Loans' Rocket Mortgage site and PrimeLending, two top-five mortgage lenders according to J.D. Power.