MUAMA Enence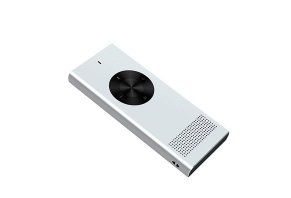 MUAMA Enence is designed to be a convenient instant translator. However, its price and function make it a secondary choice to highly-rated instant translator apps you can download to your smartphone.
MUAMA Enence Review: Features, Details, and Pricing
MUAMA Enence is an instant translator that's small enough to fit in your hand and translate more than 40 languages.
Anyone who has traveled abroad to a new country, whether for business or pleasure, can attest to how much of a relief it would be to have a device that can act as a translator as you try to communicate with locals.
In this review, we will take a detailed look at this device to help you decide if it is right for you.
How Does the MUAMA Enence Translator Work?
To get your translator to recognize your language and the language you want to understand, you'll need to download the Enence app from the iTunes or Google Play store.
When you open the app, it will take you through a series of steps, one of which is setting your language and the language of those you want to communicate with. You can change the languages at any time in the app.
When you need to talk with someone, you press down a record button on the instant translator, say what you need to say, and then wait.
After about 1 to 1.5 seconds, the device will speak the phrase in the preset language you chose.
While the device is useful it has two major limitations. It has to be paired with your phone via Bluetooth and your phone has to be connected to the internet. Otherwise, your Enence won't work.
This nuance means you need to be aware not only of how much battery your phone has left but also how good the reception is.
If you're in a foreign country and you're headed to an area of bad reception, your Enence may not work and you'll be on your own when it comes to communication.
Another aspect of this device that's important is sound quality. We watched several YouTube videos of the device in action and the speaker seems to be lower quality than what you'd get with a higher-end Android phone or an iPhone.
This is a crucial quality issue if you're in a loud area like a restaurant or a metro station and you need to communicate quickly with someone.
The MUAMA Enence comes with a charging cord. One full charge provides four hours of battery life.
Which Languages Does the MUAMA Enence Translate?
The MUAMA Enence could translate 43 languages and variants:
Arabic (Egypt)
Arabic (Saudi Arabia)
Arabic (International)
Bulgarian
Catalan
Chinese (Simplified)
Chinese (Traditional)
Chinese (Cantonese)
Croatian
Czech
Danish
Dutch
English (U.S.)
English (U.K.)
English (Australia)
English (India)
Finnish
French (Canada)
French (France)
German
Greek
Hebrew (Israel)

Hindi
Hungarian
Indonesian
Italian
Japanese
Korean
Malay
Norwegian
Polish
Portuguese (Portugal)
Portuguese (Brazil)
Romanian
Russian
Slovak
Spanish (Mexico)
Spanish (Spain)
Swedish
Tagalog
Thai
Turkish
Ukranian
Vietnamese
Based on the most recent list of the world's most-spoken languages, the MUAMA Enence translates eight of the top 10. The two languages it's missing are Bengali and Lahnda.
Additionally, the Enence provides translations for the major languages spoken in the 10 most-visited countries in the world.
Pricing and Return Policy
The cost is:
$89 for one device
$138 for two
$177 for three
Shipping is free. You can choose between grey and silver color.
According to the fine print, you have 30 days to return your device. The fine print says that only translators that are "unused, brand new, manufacturer condition, in original packaging with all their components and accessories included" are eligible for returns.
To initiate the return you'll have to email the company. If the company approves your return request, they will send you a link to a form you'll fill out. After you submit the form, the company will send you a return merchandise authorization number you'll need to write on the box when you send your device back.
If the number isn't visible, they won't accept your return. Furthermore, you'll have to use the return link to enter the tracking number of your package. If you skip this step, the returns warehouse won't accept your package.
Finally, the company will charge you a 15% restocking fee which, for one device, will cost you around $13.50.
Alternatives to MUAMA Enence
An alternative to the MUAMA Enence device is a translator app.
Both PCMag.com and Macworld (U.K.) listed iTranslate as a top option for iPhone translation apps. It's a popular app in the Google Play store as well.
The app can translate 38 different languages and can do automatic voice detection, which means you don't have to manually enter the languages you want to translate. The app costs $39.99 per year for both Apple and Android phones.
Translation apps give you the advantage of using your phone's microphone and speaker. Not only that, but iTranslate's apps give you a free seven-day trial to test them out, a luxury you don't get with the MUAMA Enence.
Furthermore, the cost of the one-year app subscription is about half the price of the Enence device.
The Bottom Line
With these factors in mind, we don't see enough features and functions in the Enence to justify buying it over a translation app.
Buying this device will cost more than twice as much as an annual subscription to a top-rated iPhone and Android translation app.
Furthermore, the Enence is tethered to your phone via a Bluetooth connection. This limits its function and drains your phone battery.
We believe that a phone-based app will provide you with a better experience than the Enence.
41 CHF customs had to be paid

By Doris B.

,

Maur, Switzerland

,

Feb 12, 2020
Verified Reviewer

Overall Experience:

The value "15 USD" as declared on the packet by the company was not accepted by customs authority. Thus 41 CHF (according to the bill) for customs and expenses were imposed on our account.

The tool is not very helpful and much too expensive.

Bottom Line: No, I would not recommend this to a friend

---

Advertisement

---