Multi-Cut Reviews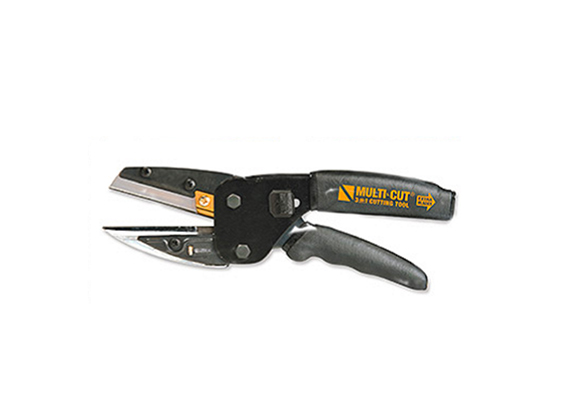 The Multi-Cut is a three-in-one cutting tool that features an extra sharp main blade, a retractable utility knife mode, and a titanium-coated wire cutter.
About Multi-Cut
Billed as the most powerful and versatile cutting tool on the market, the Multi-Cut features three distinct functionalities, claiming to allow for a range of flexibility that standalone products just don't offer. Like what?
The device serves as a general material cutter, a utility knife, and a wire cutter, with each function available at any given time. It also features a safety lock on the front of the handle, a replacement blade storage area within the grip itself, and a titanium-coated wire cutter positioned behind the main blade.
The creators of the Multi-Cut state that the device can easily cut through strong materials like PVC pipe, rope, smaller steel bands, chains, aluminum and steel wire at a variety of gauges, and battery cables. They claim that the secret to the product's cutting power lies in its built-in extra sharp blade and offset pivot point.
Due to the angle at which the force is being applied, this allows you to cut larger, harder materials more easily than you'd be able to if the pivot point was center-set.
Though we haven't tested it ourselves, how you use the Multi-Cut looks as though it will depend on what you are trying to cut. For instance, if you wanted to address a small tree limb, you'd need to use the main blade by releasing the safety at the end of the grip. If you wanted to cut something like carpet or drywall, however, you'll likely need to use the retractable base in order to reveal the utility blade.
When the main blade gets dull enough that it needs to be changed out, there are five replacement blades that can be found in the Multi-Cut's handle.
Now that we know a bit more about the device, let's take a look at how much it'll cost you to get one.
Multi-Cut Pricing & Return Policy
Currently, Multi-Cut is available both directly through the manufacturer as well as on Amazon.com. The product is listed on the main website for $29.99, plus a $4.99 P&H fee. In addition, it is sold as a "double offer," meaning you'll receive a second device for another $4.99 P&H fee.
Additionally, we asked the manufacturer about replacement razors and were told that you can get them in packs of four for $9.99.
You have a 30-day guarantee included with your order when going this route, and should you decide to take advantage of it, you can return the product for a refund (minus the P&H fees).
On Amazon, the tool runs for $34.95, and shipping can range depending on whether or not you are a Prime member. Returning the product is available for 30 days directly through Amazon's well-established returns program, which can be accessed through your order dashboard.
Multi-Cut Vs Alternative Cutting Tools
With its multifaceted construction, it seems that the creators of Multi-Cut were trying to innovate on the classic design found on utility knives all over the world. But what about others? Do any competitors offer something similar?
As it turns out, they do. Searching for "three-in-one utility knife" on Google and Amazon brought up multiple results, some of which bore a striking resemblance to the product at hand, like the Craftsman 9-37310 3 in 1 AccuCut and the Ronan RON330.
As you can see, these options come with many of the same design features, down to the safety lock, handle blade storage, retractable base, and ergonomic grip. That being said, virtually all of the products we encountered in our research that had these features were priced higher than Multi-Cut, ranging anywhere from $37 to $43 and up.
So, how can you choose which tool might be best for you? With the details above in mind, consider what you are looking to use the tool for. What material are you looking to cut? Pay special attention to the handle, as its role is crucial to the operation of the tool itself. A quality handle will be comfortable and will not fatigue you easily during use.
Keep an eye out for one with solid construction and an ergonomic grip, preferably made from a softer, non slip material. Seeing as you won't be able to actually touch the product beforehand (if buying online), look closely at what reviewers are saying about the overall comfort of the tool.
You'll also want to evaluate the blades themselves, looking at how sharp they are, whether or not replacements can be ordered, and what they are able to cut. The safety lock is another important aspect, especially if the tool will be stored around small children or pets.
Finally, you'll want to learn what real-world users are saying about the product. In the following section, we'll look at this specifically.
What People Are Saying About Multi-Cut
Of the various tools we researched, Multi-Cut was the highest (and most frequently) reviewed on Amazon. As of the time of this writing, the product featured a 5-star rating out of 24 reviews on the marketplace.
Customer feedback seemed to be very positive overall, with many users remarking about the strength of the main cutting tool, stating that it could easily handle cutting wires, leather, and even tree branches.
Only one negative review was present on Amazon during our research, and the user was upset about the device not behaving like scissors, stating that they wished the tool could cut things "progressively".
In our examination of the product's pictures and commercial, we imagine this could be due to the flat base that is meant to support the material you are cutting. With basic scissors, you have a blade on both sides, allowing for a straight cut that "travels" up the material. This does not appear to be the case with Multi-Cut.
Other than this sole account, reviewers stated they enjoyed the product highly, and that the construction quality was solid and felt well-made. One verified customer also mentioned that using the product didn't get tiring, even for those with mild arthritis.
So, taking all of this into account, what does it mean for you at the end of the day?
Final Thoughts On The Multi-Cut
The Multi-Cut looks to be a sturdy, effective cutting and slicing tool, at least based on the product commercial and the various customer reviews detailed above.
Without having tested the device ourselves, we can't guarantee that your experience will be the same as others. We also can't guarantee that it will be the most powerful and versatile cutting tool on the market, as the manufacturer claims.
That being said, whether or not a product has real customers using and talking about it is something we always consider during our research, and the fact that this is the case here seems reassuring.
Looking at your alternatives, there are a few competing tools that feature nearly identical construction and functionality, but when it comes down to it, as of this writing, the Multi-Cut is both cheaper and higher rated overall on Amazon.com.
In addition, based solely on the accounts of real-world users, it appears the Multi-Cut has already carved out a spot in many user's tool boxes. Ultimately, if you can envision a few scenarios where the product would come in handy, it might be worth it to take the leap and add it to yours as well.
Have you used the Multi-Cut before? Leave a review below and share your valuable experience with other HighYa readers!
Great tool, everyone should have it next to their duct tape

By Timothy B.

,

Smithtown, NY

,

May 24, 2019
Verified Reviewer

I have a ton of tools. My father taught me the right tool for the right job. This tool is as advertised, it is definitely a multifunction tool that does well at all it claims to do. I would definitely purchase more of these and definitely recommend it to anyone needing a total of the sort. It's a good wire cutter, box cutter, primer and all around versatile tool. Again I probably have more tools than the average person and this is one of my go-to do anything tools. I definitely recommend it for all around general use around the house and yard. Anyone who has a good collection of tools can definitely respect and appreciate this one. I do recommend having this in your arsenal of do-anything tools. It should be right next to your duct tape.

Bottom Line: Yes, I would recommend this to a friend

---

Usefulness

By Neil B.

,

Red Lion, PA

,

Mar 28, 2019
Verified Reviewer

The entire tool is useless to me. It does not cut as advertised. While it may cut small branches, the blade does not meet the anvil squarely enough to do much more. Hard as I try, I have not been able to retract the part that is retractable. In addition to being of little or no use to me, it is very heavy.

Bottom Line: No, I would not recommend this to a friend

---

Advertisement

---

Dissatisfied

By Marek V.

,

Orlando, FL

,

Oct 17, 2018
Verified Reviewer

I am not a handyman. This tool was not used, stored on a shelf for a long time. I cut several pieces of aluminum sheet and small branches of bushes. The blade snapped. The blades could be replaced, but I do not know if this tool came with additional blades and if I have them or do I have to buy new blades. I also do not know where to buy blades. Too much trouble.

Too bad - I expected more.

Bottom Line: No, I would not recommend this to a friend

---

10 out 10 people found this review helpful

All hype, dollar store scissors work better

By Bob Finlay

,

Arizona

,

Nov 1, 2017
Verified Reviewer

I bought the multi-cut tool at my local Walmart based on the TV commercials. Very disappointed with its performance. I bought it to trim bougainvillea bushes. My cheep scissors work better. The cutting blade fell out after a few cuts. Poor quality.

Bottom Line: No, I would not recommend this to a friend

---

Advertisement

---