MunchPak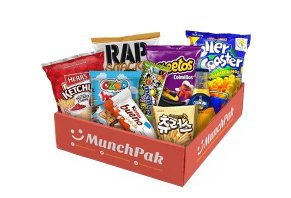 MunchPak and HealthPak offer a curated collection of international treats and healthy snacks on a subscription basis, with the option to buy your favorites directly from the company.
MunchPak Review: Is This Snack Subscription Worth It?
MunchPak is a subscription snack service that sends you curated boxes of popular snacks from more than fifty countries.
The brand offers you the option to receive either international snacks (MunchPak) or all-natural, non-GMO snacks (HealthPak). Each box is designed to expose you to new tastes, and the company also offers opportunities to customize your order for an additional cost.
Ready to learn whether MunchPak makes sense for your monthly snacking needs? This article will dive into the details.
How Does MunchPak Work?
When you sign up for MunchPak, you first must determine the type of box you want and how frequently you want it. At the time of writing, MunchPak offered the following varieties of snack boxes:
| | MunchPak | MunchPak Mini | FamilyPak | HealthPak | CheatPak |
| --- | --- | --- | --- | --- | --- |
| Description | Contains 10+ full-sized snacks selected from over fifty countries | Contains 5+ full-sized snacks selected from over fifty countries | Contains 20+ full-sized snacks selected from over fifty countries | Contains 10+ snacks that are made with natural ingredients and GMO-free | Contains 10+ snacks that are half indulgent, half healthy |
| One-Month Cost | $23.95 | $13.95 | $43.95 | $32.95 | $32.95 |
| Three-Month Cost | $22.95/ delivery | $12.95/ delivery | $42.95/ delivery | $31.95/ delivery | $31.95/ delivery |
| Six-Month Cost | $21.95/ delivery | $11.95/ delivery | $41.95/ delivery | $30.95/ delivery | $30.95/ delivery |
| Twelve-Month Cost | $19.95/ delivery | $9.95/ delivery | $39.95/ delivery | $29.95/ delivery | $29.95/ delivery |
According to the company, 'full-sized' is defined as a snack that weighs .2 ounces or more, and any products that are lighter won't count towards the box's total number.
The company website states that each snack pack should arrive within two to eight business days of ordering, though non-US orders will take longer. Shipping is free across the United States.
It's also possible to buy MunchPak snacks a la carte from MunchPak's online shop.
About MunchPak's Return and Cancellation Policy
According to the company website, MunchPak doesn't offer any returns or refunds. If you want to cancel an active subscription, you are responsible for doing so before it renews automatically.
In the situation where you cancel your account in the middle of a subscription, you will be granted a refund with either $9, $18, or $36 taken out, depending on whether you are canceling a three-month, six-month, or twelve-month subscription.
What Snacks Options Are Available from MunchPak?
MunchPak promises to provide you with a balance of sweet, salty, savory, and sour snacks from over all over the globe. Below are some of the options available at the time of writing:
MunchPak Snacks
Glico Pocky Chocolate Banana Flavor (Thailand): Sweet chocolate biscuit covered with banana cream icing.
Cadbury Curly Wurly (United Kingdom): A chewy chocolate bar that's filled with caramel.
Chiky Strawberry Cookies (Costa Rica): Crunchy shortbread cookies with a strawberry filling.
Haitai Home Run Ball Biscuit Cream Cheese Flavor (South Korea): Puff pastries with a sweet cream cheese filling.
Toxic Waste Sour Bears (Brazil): Ultra-sour gummy bears in a variety of flavors.
Almdudler Soda (Austria): Incorporates 32 natural Alpine herbs for a refreshing ginger ale taste.
Fashio Foods Paprika Crackers (Thailand): Crunchy chips with a hint of paprika.
HealthPak Snacks
Pizootz Baja Taco Peanuts: Natural peanuts infused with Baja taco seasoning.
Honey Stinger Gluten-free Cinnamon Waffle: All-natural, gluten-free waffle with a hint of cinnamon.
Halfpops Caramel and Sea Salt Flavor: Half-popped popcorn kernels flavored with caramel and sea salt.
Lenny & Larry's The Complete Cookie, Snickerdoodle Flavor: A protein-rich cookie that's free of egg, dairy, soy, and GMOs.
Beanfields Bean Chips Barbeque Flavor: Fiber-rich chips that are gluten-free and vegan-friendly.
Cascadian Farm Organic Chocolate Chip Granola Bar: Chewy granola bar with dark chocolate and whole grain oats.
Can You Customize a MunchPak Box?
MunchPak will curate a collection of snacks for you for a flat rate, but you also have the option to personalize your order by selecting your preferred and non-preferred snack types for an additional cost per item. You should note that this doesn't provide you with extra snacks per box, but merely changes its ratio.
Preferred or non-preferred selection options ($1 each) include:
Nuts
Sweet
Sour
Salty
Spicy
Chewy
Crunchy
Gummy
Seafood
Meat
Candy
Chips
Cookies
Chocolatey
Fruity
You can also add a drink (coffee, tea, soda, juice, energy drink, or water) to each order for an additional $5.
What Do Customer Reviews of MunchPak Tell Us?
Looking through previous MunchPak subscriber comments, it's clear that many people are fans of MunchPak because they love the variety of snacks they receive each month.
Many reviewers commented that the treats they received in the standard MunchPak were ones they hadn't seen for sale anywhere else in the United States and that each box provided a fun culinary experience.
Reviewers also appreciated the bright packaging and the fact that each box came with the signature of the employee who put everything together. A few also noted that they took advantage of the company's online shop to buy more of their favorite snacks.
On the negative side, several people noted that personalized requests were pricey at $1 each and that they thought only receiving full-sized products was a waste for the products they didn't enjoy.
Some also noted that the HealthPak was slightly repetitive each month and that they wanted more nutritional information about the international snacks they received.
What Companies Are Similar to MunchPak?
Does MunchPak offer something unique compared to other subscription snack companies? This chart compares both MunchPak box and HealthPak with three other popular snack options:
| | HealthPak | MunchPak | Yummy Bazaar | NatureBox | Graze |
| --- | --- | --- | --- | --- | --- |
| Price Per Box | $32.95 | $23.95 | $35.95 | Snacks offered a la carte at membership pricing | $13.99 |
| Servings Per Box | 10+ | 10+ | 6-8 full-sized products | Determined by purchasing preferences | 8 |
| Average Price Per Snack Serving | $3.30 | $2.40 | $4.50 per full-sized product | $1.50- $6 | $1.75 |
| Types of Snacks | Healthy snacks made with natural ingredients and free of GMOs. | Gourmet sweet, salty, sour, and savory snacks from around the world. | International snacks with a monthly country theme | Healthy snacks free of artificial ingredients. Dried fruit, granola bars, chips and crackers, etc. | Low-calorie, high protein, or traditional healthy foods like nuts, dips, crackers, dried fruit, and more. |
| Option to Cancel Each Month? | Yes | Yes | Yes | Yes | Yes |
| Shipping Costs | Free in the U.S. | Free in the U.S. | $5.95, free for orders over $49 | $4.95, free for orders over $25 | Free in the U.S. |
Looking at these details, it's clear that the MunchPak is most similar to Yummy Bazaar, while HealthPak has more in common with both Graze and NatureBox.
A key difference between the companies is that both Graze and NatureBox only offer their own branded snacks, while MunchPak, HealthPak and Yummy Bazaar provide a variety of brands.
One way that MunchPak and HealthPak differentiate themselves is by providing the signature of the person who put the box together. Some people might appreciate this personalized touch, but it likely won't be a factor for others.
MunchPak and HealthPak also offer more options for customization than the other brands we looked at, but you will pay $1 per selection for that privilege. NatureBox and Graze both let you specify which snacks you don't like for no charge, but they don't give you a say over the ratio of flavors you receive.
Overall, MunchPak provides more snacks at a lower price than Yummy Bazaar, another company that offers international foods. This might make it a smarter brand to experiment with if you're interested in trying a subscription box that gives you global foods.
Our View: Should You Try MunchPak?
From our view, MunchPak is a quality subscription snack service for those who are interested in either international snacks or healthier food options.
The company provides a straightforward pricing system and offers the option to sign up for a single box or a subscription of varying length. We appreciate this transparency, as a major complaint about many mail-order snack services is that customers didn't realize they were signing up for a subscription when they made their first purchase.
We think that MunchPak offers a wide variety of foods that should appeal to people who want to add something new to their snacking routine. You'll receive full-sized snacks in every box, which might be a disadvantage if you don't find yourself liking some of them.
While MunchPak offers customers the option to customize their order by specifying categories of snacks, you'll pay $1 per selection, which can add up quickly if you're a picky snacker. Paying extra potentially could be worth it for some people, as you can rebuy all your favorites directly through the brand's online store.
Overall, this is a solid subscription snack option for those who want snacks that are hard to find elsewhere. If you aren't sure whether MunchPak or HealthPak make sense for you, consider signing up for a single box before committing to a subscription.
Magnificent snacks!

By Emily B.

,

North Carolina

,

Feb 14, 2020
Verified Reviewer

Overall Experience:

I received a box of snacks as a gift. I was so amazed at the presentation! It came in a neat box with a booklet. Showing a color picture of each snack. Showing where each snack came from. Also describes how the snack tastes! I have since given a box as a Valentine's gift! Remarkable snacks.

Bottom Line: Yes, I would recommend this to a friend

---

Advertisement

---