Mute Snoring Device Reviews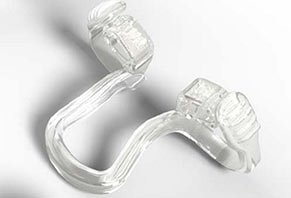 Mute Snoring Device allegedly helps you reduce snoring and improve sleep quality by dilating your nostrils and improving airflow, allowing you to wake up refreshed.
About Mute Snoring Device
Using technology developed by a team of specialists, Mute Snoring Device allegedly relieves the severity and frequency of your snoring, while improving the quality of your sleep.
The company states that you'll feel more refreshed and invigorated, and everyone in your household might sleep better too! But how does the Mute Snoring Device work?
Made from a supple, bio-compatible, medical grade polymer, Mute easily and comfortably fits into your nostrils. From there, its patented independent dilation system widens your nasal passages, increases the volume of air traveling through your nose, and alleviates congestion.
But here's the big question: Will it work for you? Will the Mute Snoring Device reduce your snoring and help you sleep better?
How Does the Mute Snoring Device Work?
Mute Snoring is basically a U-shaped device with 2 perpendicular circles on each end. This is the patented independent dilation system, which the company claims makes them different from the competition (we'll come back around to this in a moment).
In layman's terms, these circles increase the diameter of your nostrils, and can be independently (and subtly) adjusted for the best possible fit.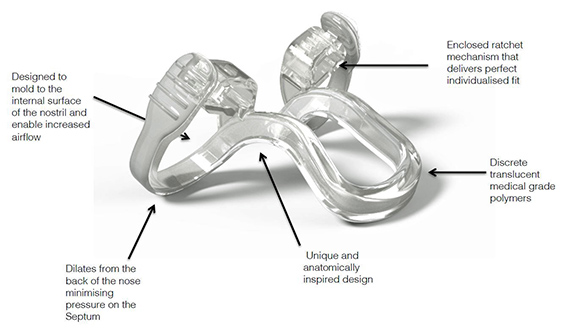 ​Mute's basic design and features. Image: FitnessCafe360
To use your Mute Snoring Device, you'll go through 4 steps:
Hold by the bridge, with the curved arms facing toward you.
Place the curved arms into your nostrils first, and then gently guide the device backwards (the connecting bridge should span across the top of your nose).
Adjust the width of the paddles on each side for a customized fit. You should be able to feel Mute's ribbed paddles hugging the internal curves of your nostrils.
Feel more air entering your nasal passages.
But is there any proof that devices like Mute are effective for reducing snoring or improving sleep?
Is Mute Clinically Proven to Address Snoring?
The company behind Mute claims they developed the anti-snoring device after hundreds of hours of careful research and development.
Part if this involved a trial of 236 people, where Mute is claimed to have helped 75% of participants snore less often and 78% breathe better at night, while 73% reported a reduction in snoring severity.
The company also cites a clinical trial conducted by the Royal Victorian Eye and Ear Hospital in Melbourne, Australia, which "showed that the technology platform increased air-flow through the nose by an average of 38% when compared to nasal strips."
Unfortunately, the company doesn't provide any citations to back up these claims and there weren't any additional sources on third-party sites, so there's no way to confirm their findings.
But think about this: You either snore through your nose or through your mouth. Since Mute is a nasal device, if you primarily snore through your mouth, the device will have little (if any) effect on your snoring.
Are there other products out there similar to Mute Snoring Device? Have they been clinically shown to reduce snoring?
Similar Products To Mute Snoring Device
Nasal dilators (also known as nasal expanders, athletic performance dilators, and nostril expanders) are a fairly common type of anti-snoring device, and are commonly used in endurance sports. While most of these are designed slightly differently than Mute and may not feature the independent adjustability, they all basically work the same.
And whether you search for other options at your local pharmacy, big box retailer, or online, you'll quickly learn that many of these are priced much lower than Mute. You also won't have to worry about return S&H if you're not satisfied.
Speaking of which, how much does Mute Snoring Device cost?
Mute Snoring's Price
Available in S, M, and L sizes, a 3-pack of Mute Snoring Devices costs $27.95. Each one can be used 10 times before being discarded, which means it'll cost you a little less than $1 per use.
At the time of our research, you could sign up for Mute's newsletter to receive 10% off your next purchase.
Mute Snoring Device comes with a 60-day refund policy, although this only applies to faulty or defective items. Outside of this, no refunds are available, even if you purchased the wrong size.
Important note: Unfortunately, the company doesn't provide any kind of sizing information on the Mute website, so it seems like a bit of a crapshoot.
Even if something is wrong with your Mute device, you'll still be required to pay for shipping back to Australia, which might not be cost effective.
If you need to request a refund or ask about sizing information, you'll need to contact ASAP BreatheAssist's customer service at 1800 887 246 or sales@mutesnoring.com.
Now, let's wrap everything up and answer your most pressing question: Is Mute the anti-snoring device for you?
Will Mute Reduce Your Snoring?
Snoring generally occurs because the soft tissue in the back of your throat relaxes as you sleep. Sometimes, it may temporarily close off your airway as air forces its way past, resulting in vibration and the traditional snoring sound.
This narrowing can also occur in the nose, which is where the Mute Device will likely be most effective. After all, if you're breathing in more air but it can't make its way past your throat, it wouldn't be very effective, right?
Just remember that there are dozens of nearly identical options out there (albeit without the same adjustability as Mute Snoring Device), most of which are available locally and priced lower. And depending on what's causing your snoring, you'll also have hundreds of other anti-snoring products to choose from, including chinstraps, mouthpieces, and more.
Pro tip: Need help choosing between all the options? Be sure to read our Anti-Snoring Products Buyer's Guide.
When it comes down to it, you're basically paying for Mute Snoring Device's adjustability, which you might not need in the first place. So, we'd recommend trying out a less expensive local option first (after speaking with your doctor, of course).
Then, if you find that these options just don't fit right, you can swing for the fences with Mute.
In the mean time, there are numerous things you can do right now to reduce snoring and improve the quality of your sleep, including avoiding alcohol and certain medications, losing weight, eating right and getting plenty of exercise, quitting smoking, and more!
Great Nights Sleep

By Thomas Everett

,

Warwick Farm, New South Wales, Australia

,

Jan 28, 2016
Verified Reviewer

I have had trouble breathing during the night for years and was using sprays to unblock my nose which did not last long and resulted in restless sleep. Last night I had my first good nights sleep in ages. My nose did not block at all. Great Product.

Bottom Line: Yes, I would recommend this to a friend

---

Epic, so epic

By Adam W.

,

New Hampshire

,

Apr 17, 2019
Verified Reviewer

Omg, I've seriously snored my whole life and it's been getting worse. I did some serious damage to my nasals from being young and dumb. I regret it now and am proud to say I'm 10 years sober. I'm sure you can figure it out. Lol. But anyways. I've used these for two nights now and have actually slept two nights in a row, only waking up once instead of 10 times. I feel rested, I feel good, I can't believe they actually work. The second I put them in it was like breathing for the first time ever. Just make sure you clean your hands good and keep your device clean so there are no worries about infection. These things work, they really do, my fiance said she did not hear me snore and the one time she did it was minute and it didn't bother her. They work, take my word. 100% worth a try. Don't be skeptical, give them a try.

Bottom Line: Yes, I would recommend this to a friend

---

Advertisement

---

Amazing

By Phyllis M.

,

Texas

,

Jul 30, 2019
Verified Reviewer

Life-changer. Game-changer. This little device changed everything for me. It gives me more air for the inhale, when sleeping. I realize it is not designed to treat any condition, but this product allows such complete breathing, that for me I no longer snore. I wake up so refreshed, like I never thought possible. I cannot imagine living life without these - I am deeply indebted and grateful to the company that made them, always a customer for life.

Bottom Line: Yes, I would recommend this to a friend

---

Was sceptical but it helps.

By Dee

,

Mt. Dandenong, Victoria

,

Jul 29, 2016
Verified Reviewer

I'm a chronic snorer, had my nose broken a few times through football in my younger days so breathing through my nose isn't very good, especially when I sleep. I've tried nasal sprays - absolutely wasted my time & money. Breathing strips across nose felt good when I first tried them, but the missus still was assaulting me in my sleep during the night.

I saw this on TV & tried it. Over 10 nights I have slept much better, not feeling run down during the day & I feel like I think more clearly during the day. The device hasn't stopped the snoring 100%, as twice I have been told I snored, but not in the same capacity as before. All this device does is hold the nasal airways open, which has been beneficial to me, as I would snore because I wasn't breathing through my nose.

Bottom Line: Yes, I would recommend this to a friend

---

Advertisement

---

Working for me

By Cynthia Long

,

Gainesville, FL

,

Dec 9, 2016
Verified Reviewer

I would definitely recommend this product. I bought the trial pack for sizing and I am using the small. It opens up my nose and I breathe much better.

I am a mouth snorer however, I use paper tape to keep my mouth closed and a chinstrap. It might seem a little extreme but these three measures have made my night sleep much more restorative.

There is a huge difference in the quality of my sleep. I started out with just the chinstrap and tape; then added in the mute-snore and did see an additional support using that.

Bottom Line: Yes, I would recommend this to a friend

---