My Fun Fish Reviews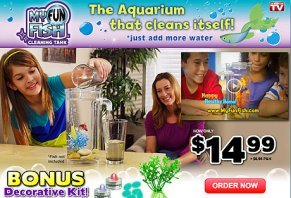 My Fun Fish is a self-cleaning fish tank that's claimed to automatically flush out any accumulated debris through an attached tube when adding fresh water.
About My Fun Fish
The My Fun Fish Tank is a self-cleaning fish tank that promises to be a perfect, addition to any room; simply add fresh water whenever the tank needs cleaning, and the dirty water is forced out through the attached spout.
At its most basic, My Fun Fish Tank is a clear, round plastic tank that looks about the size of a water pitcher (listed size is 4.5" x 4.5" x 10"), which holds about half a gallon of water. Attached to the tank is a small tube with a spout that runs from the bottom and pokes out near the top.
To use My Fun Fish, first fill with water and fish (neither of which are included), cover the bottom with the included river stones, and adorn with the (optional) decorative kit. Once complete, the manufacturer claims you'll have created "an incredible water world" that will "captivate your family's imagination".
When the tank gets dirty, instead of dumping and cleaning, My Fun Fish is claimed to use "gravity clean technology" to keep it free from cloudy debris. And when you pour in the new water, this "technology" will force the old water through the tube and out the spout, which is claimed to keep water fresh and oxygenated, and (presumably) your fish happy.
But is My Fun Fish really as imaginative as the manufacturer claims? Is it easy to keep clean? Consider the following:
What Is My Fun Fish's Gravity Technology?
While it certainly looks cool when it's occurring, the My Fun Fish tank is simply using fluid displacement to flush dirt and debris that's settled on the bottom through the attached tube, but only once new water is added. In other words, there can only be so much water in the tank at any given time, and once this level is exceeded, the excess water is automatically pushed out.
Will My Fun Fish Work as Claimed?
However, this also means that any debris inside the tank needs to be heavier than the water surrounding it. Otherwise, it won't sink to the bottom or be flushed out.
As such, you'll still almost certainly be required to clean your my Fun Fish tank in order to remove floating debris (something a traditional pump and filter would achieve) and to clean the buildup of algae.
What Are Consumers Saying About My Fun Fish?
Since writing our original My Fun Fish review, 24 HighYa readers (as of 6/11/19) have provided feedback on their experiences and rated the tank an average of 2.6 stars. While some customers claimed to have had positive experiences, the most common complaints seem to revolve around failure to work as advertised (doesn't clean debris adequately, etc.), and poor quality (cracked plastic, fish die soon after placing in the tank, plants can cut fish's fins, etc.).
On Amazon, My Fun Fish garnered an average 3.4-star rating from more than 700 customers, where the compliments and complaints were similar to those on HighYa.
From a company perspective, My Fun Fish is brought to you by Product Trends, a division of Hampton Direct, Inc., a direct marketing company based in Williston, Vermont. Product Trends held an A+ rating with the Better Business Bureau (as of 6/11/19).
My Fun Fish Pricing, Shipping, and Returns
Editor's note: At the time of our last update of this page on 6/11/19, it appears that the ASOTV offer is no longer active and this product is now available from Amazon and Walmart for $9.99.
My Fun Fish sells for $14.99 plus $6.95 shipping, bringing your total to $21.94. You'll also have the option to order the decorative kit at checkout for another $6.95, plus an additional $1 web processing fee, making the total $29.89.
You'll have 30 days to try My Fun Fish and if it doesn't turn your room "into an under-water world of discovery" (or for any other reason), you can return it for the initial $14.99, although the company will keep any handling fees and you'll have to pay to ship it back.
Each My Fun Fish Order Includes:
My Fun Fish tank
White LED light
Riverbed stones
Decorative kit with plant, 6 glow-in-the-dark stones and 2 colored LEDs (extra shipping fees)
Bottom Line: Is My Fun Fish Tank Right for Children?
Overall, My Fun Fish seems to be a good idea for parents who want to give their kids a nice fish tank for their room, although there are a few "red flags" we'd like to re-emphasize.
Perhaps the most important of these is the size of the My Fun Fish tank. At 4.5" x 4.5" x 10", it's not very roomy and seems only large enough to hold one tiny fish and a plant.
Second, whenever shipping/handling fees are close to (or more than) the price of the product, you should realize the manufacturer is still making money off of you, even if you return it.
Finally, the Product Trends's negative BBB rating lets you know that people have had been very unsatisfied with their products, customer service, or getting their money refunded.
As such, if you want a fish tank for your family, we'd suggest visiting your local pet store.
Pros
Self-cleaning
Kids love fish
Cons
Negative BBB rating of company
Small size of tank (4.5" x 4.5" x 10")
As Seen On TV products sometimes overstate their benefits
31 out 31 people found this review helpful

it is a scam

By aquino

,

new york

,

Aug 21, 2014

when I call to make an order for my daughter, they push you to by another things. when I received the fun fish, they send me 2 and charge me $53 for it. when I called them to return the product they want to keep for themselves $27.00 for the shipping; although when I was making my complain, they left me waiting in the line for long time with a music and then they never answer the phone again.

Bottom Line: No, I would not recommend this to a friend

---

25 out 31 people found this review helpful

LED lights in bonus package

By Monica Kosinar

,

New Jersey

,

Jul 4, 2015

The tank is holding up well with my Betta fish, but you need to be on top of the water cleaning since the water can change quicker than usual. But changing the water works. In regard to the LED lights, they lasted only an hour. I called customer service and they are going to send me replacement led lights upon administration's approval. These lights are not purchased in stores. So you may be careful about ordering the extra package that they offer.

Bottom Line: Yes, I would recommend this to a friend

---

Advertisement

---

14 out 19 people found this review helpful

The fish will die

By J

,

Rhode Island

,

Jul 13, 2015

I had bought two of these and placed one male Betta in each. I followed the directions perfectly, conditioned the water, bought live fish tank plants, and did an 80% water change every other day. This, apparently, was not enough. Both fish eventually died. The first one, then about a month later, the other. They had developed a whitish mucus on their fins and died shortly after, regardless of any intervention I tried. Do not buy this tank. I don't know anyone who had a fish live longer than three months in one of these tanks.

Bottom Line: No, I would not recommend this to a friend

---

12 out 14 people found this review helpful

Not what I was really hoping for

By Anonymous

,

Dec 31, 2014

My fish doesn't seem very happy in this tank. He tore off part of his fin with that stupid plastic plant, and got stuck in the tube when we were doing the "just add water" technique. It sucked him up into the tube and he got stuck inside with no water. We got him out of the tube just before he died, and now he looks really sad. He won't eat anymore and wont do the tricks we taught him. He's just swimming slowly around in circles. My fish doesn't really like this tank, and we expect to be digging a grave soon.

Thanks a lot, fish murderers.

Bottom Line: No, I would not recommend this to a friend

---

Advertisement

---

11 out 14 people found this review helpful

Be careful

I had a betta who was about 18 months old. He lived in a glass bowl for most of his life, but we decided to try out the My Fun Fish. I'm not blaming the tank because I do not know for sure what happened, but he died within two days. Please be careful if you purchase one of these tanks, I hope this keeps someone else from making the same mistake I did.

Bottom Line: No, I would not recommend this to a friend

---

11 out 15 people found this review helpful

Great Product

I am 27 years old, and this is this is the first fish I have ever had. We bought a male Betta Fish for my son because his Aunt and Uncle purchased this tank for Christmas. I thought why not give it a shot? This fish went straight from the pet store and into this tank. He seems to like his environment. We do have two plants in there, though I do agree the tank is not very big. Only one fish will fit in this tank. I love the self cleaning technique. I do make sure not to pour the water in too quickly because the pressure of the water does cause him to sink towards to bottom. I would highly recommend this product to any first time fish owners.

Bottom Line: Yes, I would recommend this to a friend

---

10 out 11 people found this review helpful

Very dissatisfied

By Portia

,

St. Louis, MO

,

Jul 7, 2015

They never call you if there is a problem with your order. They cancel and reopen orders and because they never read e-mails or listen when you call, they take the money out of your account, only to advise that you have to return the item, which you have yet to receive and once you receive it – it could take at least 2 weeks to receive it back and then you will get a refund. No telling how long it will take to get the refund back. I called before to cancel 1 of 2 orders before it even got into the system so there is no way they should have sent it.

So the next day I e-mailed and they allegedly mailed it out that quickly, when they said it was not even in the system the day before. I would never use them again, or recommend them. This is worst customer service I have ever had.

Bottom Line: No, I would not recommend this to a friend

---

10 out 15 people found this review helpful

Yes it really works. But...

By Laurie Hughes

,

Plainsboro, NJ

,

Jul 8, 2015

I saw this advertised on early morning cable and it inspired me to once again try my hand at raising guppies. I never buy stuff off cable that puts shipping and handling costs in fine print and throws in free stuff for an additional S&H charge so I went to Bed Bath & Beyond where they stock. I set it up and added a guppy couple, and enjoyed it so much I bought another one for yet another guppy pair. The trick is to slowly pour in just enough water until the tank starts draining into a receiving container, then immediately stop. I don't use the LED light very often so mine haven't failed. Yet. The instructions say to do the flushing once a week but for guppies I think once a day is more like it. Alas, the uneaten food does not filter through the bottom screen but maybe that's because I didn't pulverize it fine enough. As it is it sort of collects on the rocks and turns into a gooey cloud. This aquarium might best be used with lower maintenance fish like bettas. For guppies I think I will move them into a larger tank with a proper charcoal and gravel filter system.

Bottom Line: Yes, I would recommend this to a friend

---

10 out 11 people found this review helpful

Your product sucks!

By Lori

,

Omaha, Nebraska

,

Nov 22, 2014

I bought your so called "Amazing Product" and all it did was kill my Beta fish that we got in 12/14. I followed the directions to a t, even watched the video to make sure everything was right, I put my fish in the tank, he went down and swam and went to swim between the tube and the wall and got stuck, he got out, swam around a bit he lived awhile then died. Your product sucks and I am spreading the news as we speak. Consumers: Do not by this!

Bottom Line: No, I would not recommend this to a friend

---

9 out 13 people found this review helpful

Not working!

By Aisley D

,

Canon City, CO

,

Sep 23, 2014

The tank killed the fish and it didn't work. It sucked it the fish up the tube.

Bottom Line: No, I would not recommend this to a friend

---

9 out 12 people found this review helpful

Bye, bye fish

By Meg Rusn

,

Pennsylvania

,

Aug 4, 2015

The tank is small and the fish didn't even have room to turn around. I think pouring water in would cause brain damage for the fish. Did not work well. Sorry.

Bottom Line: No, I would not recommend this to a friend

---