mySugr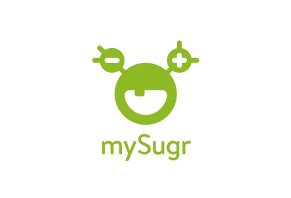 As a popular diabetes tracker, mySugr is a mobile health service designed to manage your blood glucose levels, so that you stay healthy and informed.
mySugr Review: A Detailed Overview
mySugr is a digital logbook designed to make managing the symptoms of diabetes less difficult. Founded in Austria in 2012, the app is currently available in 13 languages and has more than one million users in 51 countries.
Diabetes is a disease where the body struggles to utilize insulin properly, either by failing to produce it (Type 1) or by becoming resistant to its effects (Type 2). According to the Centers for Disease Control, diabetes impacts close to 30 million Americans, or nearly 10% of the total population.
Both Type 1 and Type 2 Diabetes are chronic conditions that can't be cured, but they can be managed through good nutrition, taking the proper medicine and sticking to a treatment plan.
Unfortunately, when diabetes is not properly controlled, it can lead to complications like kidney problems, heart failure, blindness, and even amputations or death.
For many diabetics, keeping track of their care plan is tricky, so mobile apps like mySugr have emerged to make it easier to control their condition.
How is mySugr designed to help you manage your diabetes? Let's look at the details behind the app.
What Are the Features of the mySugr App?
According to the company website, the mySugr app strives to simplify life with diabetes by making it quick and easy to store, graph and access your health data in one place.
Specifically, the app is designed to be a simple way to track your blood glucose levels throughout the day.
It utilizes game-like activities that center around the "diabetes monster" (an in-app personification of dealing with diabetes) and other rewards and incentives to help you track your health progress in real-time.
The app also gives you a 24-hour overview of your records for meals, medications, and blood sugar levels on graphs that show your average blood sugar level, insulin level, and estimated HbA1c at a glance.
You can also look at snapshots of your information for the past seven, 30, and 90 days.
Likewise, the app is highly customizable. Users can personalize the logging screen to add, remove, and reorder the fields that matter most to them for tracking their diabetes.
In the app's pro version, you can add context tags and upload photos to add more information to each entry. mySugr also gives you reminders for daily treatments so that you never forget to take your insulin.
To ensure you can always keep track of your data, the app also has an intelligent search feature to let you instantly seek out the results of every note you've entered. You can use this feature to get a detailed analysis of your diabetes and suggestions for optimizing your treatment options.
All data can also be saved as PDF reports, making it easy to take your information directly to the doctor's office.
How Much Does the mySugr App Cost?
At this time, the mySugr Diabetes Logbook is available for free as a mobile app. The full functionality of "pro service" will cost you either a month-to-month rate of $2.99, or you can pay $27.99 for an annual subscription.
In the free app, you get access to basic logging, analysis, CSV reports, and limited access to in-app challenges, tags, and a precision insulin measuring tool called the bolus calculator (for EU users only).
In the pro version, you get all the above features, as well as the ability to add photos, use smart search, set up blood sugar reminders, see your basal rates for pump users, sync your info between multiple devices, enjoy priority support from the developers, and better utilize bonus challenges and tags.
You have two other paid options, too: in-app coaching and a bundle package.
mySugr In-App Coaching
For the additional cost of $39.99 per month (introductory pricing of $19.99 is often available) or $399.99 per year, you can sign up for mySugr in-app coaching and get personalized tips and information from a certified diabetes educator.
After you complete a quick mobile assessment about your health history, you will have unlimited access to in-app messaging with certified diabetes educators and be able to work with them to make and achieve your health goals.
To get the most from this service, the mySugr blog makes it clear that you need to log as much of your health data in the app as possible so that the doctors have information to work with before providing you with personalized recommendations for your health.
mySugr Bundle
mySugr also offered a bundle starter kit at the time of writing. It ships free to everyone who signs up for three months of premium membership has a purported retail value of $213. The starter kit includes the following:
Unlimited supply of test strips (you can request more at any time)
Blood glucose meter to log blood glucose values
Three-months of mySugr Pro App access
Free in-app diabetes coaching
Fastclix lancing device for simple blood testing
Are There Studies on the Benefits of mySugr?
The mySugr science page revealed that the app has undergone multiple studies to discover how beneficial it is for diabetics. There are seven studies included in this section that date from February 2013 to May 2019.
Most of these clinical studies are observational and look at the effects of regularly tracking blood glucose levels and other data on the long-term health of patients who have diabetes or are at risk of developing it.
In general, these studies seem to indicate a positive correlation between the regular use of the mySugr app and better glucose, glycemic, and overall diabetes control.
What Do Users of mySugr Have to Say About It?
Our search through blogger reviews, forum posts, and even testimonials from the Google Play Store seemed to indicate that many users are satisfied with mySugr as a diabetes tracking app. At the time of writing, the app had more than 32,000 Google Play Store reviews and averaged 4.6 stars.
Online testimonials on the product's website revealed that many users found the included games fun and addicting enough to convince them to keep tracking their health information. Others mentioned that the app was easy and fun to use, and some noted that they had tried multiple blood glucose trackers before deciding that mySugr was the best.
In the same way, diabetes blog Everyday Ups and Downs appreciated how the app's graphs gave instant feedback by changing color. The blog also noted it was easy to see the stats for multiple days at once and create completely customizable PDFs to take to the doctor.
A blogger at Diabetes Daily noted in her review that she thought what set mySugr apart from the competition was that the app was made by people with diabetes, for people with diabetes. Because the app wasn't created to promote a specific pharmaceutical company, she wrote, it better accomplished its goal of making it easier to live with diabetes.
What Diabetes Apps Are Similar to mySugr?
During our research on diabetes trackers, we couldn't find any other options that featured comparable gamification to mySugr.
The diabetes monster was consistently noted as a favorite feature by reviewers, and many people responded that the app was less "technical" than other options, which made it easier for nonmedical people to use.
To make a comparison with the specific features that this app provides, we chose to look at two other popular diabetes trackers to see how they compared to mySugr.
Averaging four stars in the Google Play Store, Diabetes Tracker is a free blood glucose tracking app that is designed to make it easier to stay healthy. The app claims that it helps users follow a proper diet and exercise routine so that their diabetes remains under control.
Like mySugr, Diabetes Tracker offers ways to track your glucose levels and view detailed charts of multiple days of data. The app also lets you log your meals and keep track of upcoming doctor's visits.
However, it contains ads and doesn't have a paid pro option or in-app coaching, making it more functionally equivalent to the free version of mySugr, but without the gamification.
Another popular diabetes tracking app is Glucose Buddy, a program that has been downloaded from the Play Store over 100,000 times. While it doesn't sync with a glucometer, it can store your manually logged data about your insulin levels, glucose readings, and carb intake through the free app.
While this app earned praise for how straightforward it is to use, many users reported that diabetics who need to check their glucose levels multiple times a day are likely going to want to use an app with more features for monitoring their long-term blood sugar levels.
Also, like mySugr, it's important to have the ability to sync with multiple devices.
For these reasons, many online users seemed to prefer using mySugr as their primary diabetes tracker because of its numerous health services, entertainment value, and ease of use—at least based on their feedback.
The Bottom Line: Should You Try mySugr?
Now let's summarize our viewpoint. Our research into mySugr's features, clinical studies, and online reviews have shown us that it is one of the most popular diabetes trackers available today.
In this way, we think that the app will be useful for anyone with diabetes that needs to track their blood glucose, insulin levels, diet, or oral medications on a daily level.
We think that the mySugr app stands out in how engaging it is for users and the ways that it helps them to visualize their diabetes as a monster that needs to be tamed.
The app seems especially beneficial for those who find logging medical information boring, as its focus on gamification might encourage them to open the app and record their data more often.
While paying for the Pro version and in-app coaching will make mySugr more expensive than the competition (most of which is free), these services seem to provide enough additional benefits that many users report finding them worth the price.
We encountered dozens of reviews in our research where customers started on the free version and upgraded to Pro after a few weeks.
So in summary, if you are looking for a better way to monitor the symptoms of diabetes and don't mind paying the cost of a cup of coffee per month to do so, mySugr seems like a solid app to try.
Old meter Bayer Contour Next One vs. mySugr using Accu-Chek Instant

Flanders, Belgium

,

Mar 30, 2018
Verified Reviewer

First, we got a lot of hassle to get the meter and Accu-Chek Instant even working; you'll need a PC program to get the time and date right. With Bayer, all went smoothly; the pairing, both with gsm and tablet, plus the PC program worked like a charm.

As we could not get the original Accu-Chek Connect for our mobile and tablet, the company offered mySugr app. Then all of hell broke loose. The app maker, now owned by La Roche but still independent as they say, assured us when you pair the meter with the app you'll get automatically a pro version. Now that's not the case, and I had to send screenshots to prove on which status the app was. At last, they gave my the pro version instantly....rare but true. I felt it was a step or steps back when using Bayer, and I still prefer Bayer where it counts, the hospital sought a cheaper solution apparently...so far.

Bottom Line: No, I would not recommend this to a friend

---