N26 Mobile Banking Reviews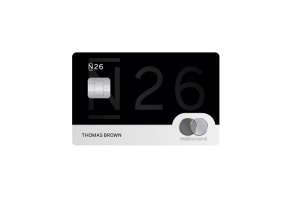 N26 is a European mobile banking app/debit card combination that will release in the United States in 2018. Users will be able to manage all their banking needs from the convenience of a smartphone.
About N26 Mobile Banking
N26 is a banking app combined with a debit card that is part of a new wave of stripped-down banks that emphasize low fees and ease-of-use.
N26 started out in Germany before branching out to other EU countries and eventually landing in the United States. And it certainly came at the right time; there are countless new startups capitalizing on millennial skepticism about high-fee banks.
"N26 is a young company based in Berlin that aims to revolutionize the traditional banking industry and how people spend, save and send money. N26 is Europe's most modern way of banking. With N26 the current account is reinvented," the company's Crunchbase profile says.
Their website says they focus their company on simplicity, integrity, drive, and excellence.
What we've learned over the past two years reviewing fintech companies is that many of them present their products as a new way to bank or invest. But what matters most is how the bank works and what it can do for you.
Our N26 review will cover how the app works, the fees and rates you may have to pay and how the company compares to similar banking apps we've reviewed.
Now, before we launch into the review, we want to point out that, at the time of publishing, N26 had yet to launch in the United States. The information you have here is what was available at the time.
How N26 Works
As a customer, you'll have two main tools for N26 banking: the card and the app.
The N26 debit card is a MasterCard that's linked to your N26 account. The debit card can be used anywhere that MasterCard is accepted.
The money funding the debit card comes from the N26 account you'll have. Normally, this account would be characterized as a checking account. The "check" terminology is a little outdated; basically, your N26 account will be where you deposit money via direct deposit and that you'll use to pay your bills.
Based on what we've learned from our reviews of other app-based banks, you'll have the ability to write checks, but those checks will be electronic instead of paper and will be processed via N26.
Now, the debit card and your "checking" account are the two ways you'll receive and send money, either for bill payments or everyday transactions.
The real heart of the banking tool, though, is the app. Everything you'll need, in theory, will be accessible on your phone. This is perhaps the defining characteristic of new banks – the app is today's version of a brick-and-mortar branch.
Consider the app N26's version of the online banking you get with your traditional bank. From this app, you can track your spending, see your most recent transactions and set up bill pay and/or direct deposit.
Further details about the app are sparse because, as we mentioned earlier, it wasn't launched at the time of publishing.
However, we do know what was mentioned on the website and can offer some insight on how the app works in Europe. There's no guarantee that its European features will be available in the U.S. – the banking laws are in Europe are different than they are here.
Security Features
N26 says their banking app will allow you to do a couple of things that are pretty standard with most debit and credit cards.
First, you'll be able to lock your card with one swipe, allowing you to prevent people from making fraudulent charges. Second, your card is equipped with chip technology. Chips prevent skimmers from stealing data normally housed on the magnetic strip on the back of your card.
Another security perk you'll get with N26 is a notification feature that will tell you whenever transactions are made via your account or your debit card.
Rewards
One of the things that makes N26 unique among mobile banks is that you'll have the chance to earn rewards, something that used to be popular before credit card rewards took over.
While N26 didn't provide details on what those awards would be, screenshots of the app indicate you might be able to redeem rewards for travel like transportation and hotels. You'll also have a running balance of rewards points you can keep track of in the app.
Tiers
N26 features tiers of customers in their European operation. The upgraded status they offer is called "Black," a color that most U.S. consumers associate with premium credit cards – the MasterCard Black is a good example.
Those with Black card membership have the chance to get the N26 Metal MasterCard, a top-tier debit card made from tungsten.
This type of perk is the kind of added status symbol that sets luxury cards apart from their competition.
During our research of metal luxury cards like the Chase Sapphire Reserve and the U.S. Bank Altitude Reserve, we came across multiple unboxing videos where people commented on the weight of the card.
The perception is that the heavier the card, the more prestigious it is. While this fact has no bearing on the actual financial benefit of the card, it wins style points.
While there's yet no indication of how many tiers the U.S. N26 card will or won't have, we do know this: metal debit cards are virtually non-existent and may spark some mildly viral interest. That's just our opinion, though, and is contingent on the fact that N26 actually has various customer tiers.
The N26 Accounts Rates and Fees
We expected to see N26 tout low or no banking fees for transactions but we found no mention of those features on their website, blog and news stories written about the bank.
Expect there to be small fees that are less than what you pay for checking accounts at your current bank.
How N26 Compares to Other Mobile Banks
It's really hard to do a side-by-side comparison of N26 with competitors because there has been, to this point, so little information revealed about what the bank will offer.
However, doing a quick overview of competing bank Chime should give you an idea of what you can expect.
Chime partners with a bank called Bancorp and uses an ATM network called Green Dot. The accounts can accept bank transfers from other bank accounts, a feature which allows you to get quick infusions of cash into your checking account.
Perhaps the most interesting feature in Chime is a savings account that earns 10% rewards up to $500.
Our Final Thoughts About N26
N26 is unique in that it's a European company trying to break into the American mobile banking market. Aside from that, what we've seen of app screenshots and information indicates that the app and debit card function will be similar to Chime.
We're anxious to see what rewards the account will offer, as we think this may be an important way to entice customers of other banks to use their product.
In terms of pros and cons, we believe N26's greatest strength is that it provides you with a phone-centric banking experience that uses a secure debit card, direct deposit and other features you're familiar with via traditional banking experiences.
The drawback to the bank is, obviously, the fact that it won't be active in the United States until 2018. But availability isn't the only issue here. When the app does launch, there may or may not be bugs and various kinks the bank has to work out.
Overall, though, we think that N26's popularity in Europe means that the company has an established track record. This is a good sign, as they have tons of banking experience and have interacted with customers by the hundreds of thousands.
Unreliable

By David H.

,

Germany

,

Dec 1, 2018
Verified Reviewer

I have used this bank since it started and technically it's great. I have forgiven many problems, but now customer support is so badly organized, difficult to get hold of and rude. I have lost confidence in N26 and I am afraid I will have to look for another bank.

Bottom Line: No, I would not recommend this to a friend

---

Terrible bank, no customer service

By Shaw R.

,

Jul 25, 2018
Verified Reviewer

Do not bank with N26 and just hope that you never have any issues. There is no customer service, no number to call, only email and chat and they can't help with anything. I am in the middle of a full-on nightmare right now dealing with them. They took over 110,000 euros from me during a wire transfer and I can't get it back. This bank is a scam.

Bottom Line: No, I would not recommend this to a friend

---

Advertisement

---