NatureBox
Claimed This company has claimed this profile, is getting alerted on any new customer reviews entering this page, and may engage in dialogue with its customers to address their matters.

Companies cannot pay money or provide goods in order to remove or alter customer reviews.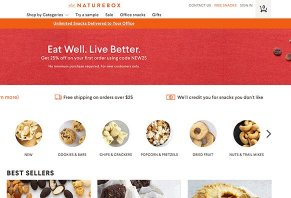 Previously promoted as a subscription snack service, NatureBox offers members a selection of over 100 healthy snacks that can be purchased as often as you prefer.
NatureBox Review – Best For Your Healthy Snacking?
Established in 2011 around the San Francisco Bay area, NatureBox is a food membership service that offers hundreds of healthy snacks for home or office delivery. Though the company used a subscription-based service before 2016, it has since pivoted to a traditional retail model with annual memberships.
According to the company representative we spoke with, NatureBox was founded by Gautam Gupta, a business advisor whose addiction to junk food left him overweight for much of his childhood. Gautam felt inspired to create NatureBox as a business that helped others improve their diets.
There's no question it's advantageous to eat healthier, but is NatureBox a smart way to do so? Let's look at the details to determine whether it's worthwhile to consider buying snacks from NatureBox.
How Does NatureBox Work?
NatureBox is a primarily e-commerce company that offers over 100 snack varieties at the time of writing, and their website indicates that they regularly add new ones to the mix.
The company states online that they work with a variety of vendors to develop their snacks, most of which are composed of ingredients sourced from the United States. According to the company website, NatureBox snacks don't contain artificial flavors, colors or sweeteners, and they are free of high fructose corn syrup and hydrogenated oils.
The brand also offers various snacks that qualify as vegan, gluten-free and non-GMO.
About the Membership
When you make a purchase on NatureBox's website, you are automatically signed up for the brand's membership program, which is free for the first thirty days.
Costing $30 per year, this membership lets you save up to 40% on select snacks, qualify for free shipping on orders over $25, and receive $5 worth of in-store credit each month. The plan auto-renews after twelve months unless you choose to cancel it beforehand.
If you want to opt out of a NatureBox membership, you need to cancel it within 30 days of your first order. Otherwise, you will be charged the full year's amount of $30 at the start of the second month.
This annual membership also qualifies subscribers for NatureBox's 'Don't Like It, Don't Eat It' guarantee. If you aren't happy with a sample you receive, you can contact the company within 90 days of purchase and they will reimburse you with store credit.
What is NatureBox Subscribe-to-Save?
For those who prefer a subscription system for their snacks, Subscribe-to-Save lets you receive any snack or combination of snacks as a regularly scheduled shipment that saves you 5% off each order.
If you need to skip or pause your subscription or have any other questions, you can contact the company directly at support@NatureBox.com or through the Contact Us page.
Where Else Can You Buy NatureBox Snacks?
At the time of writing, NatureBox is transitioning from solely e-commerce company to offering their snacks in retail locations across America. Current options include Target, Safeway, and select Costco, Cost Plus, Sprout's, Barnes and Noble locations and more.
About NatureBox Office Snacks
NatureBox has begun offering a new form of subscription service: Office Snacks. This plan allows businesses of more than 20 employees to received unlimited snacks for a fixed monthly price per employee.
The Office Snacks program offers two pricing systems:
| | | |
| --- | --- | --- |
| | Base Program | Boost Program |
| Cost | $20 per employee | $25 per employee |
| Benefits | Unlimited bulk snacks | Unlimited bulk snacks, single-serve snacks, coffee |
Included in the base program are nut mixes, pretzels, dried fruit, cookies, granola bars, popcorn and more. The Boost program adds on single serving packets of different chips, cookies, and nut mixes, as well as medium, breakfast, and dark roast coffee from Counter Culture.
Along with a subscription purchase, the company also offers free kitchen setup supplies like jars, scoops and trays, as well as free shipping for every purchase. Office Snacks are provided on an unlimited basis, meaning that the company can request more snacks once the current supply is 75% gone.
What are NatureBox Snack Options?
NatureBox snacks promise to transform your between-meal relationship to food, but what does the company really deliver?
Some of the snacks available at the time of writing included the following:
Dark Cocoa Nom Noms: Filled with dark chocolate, almonds and rolled oats, these dense treats are meant to satisfy your sweet tooth and keep you satiated, and they contain ten grams of protein per serving. Price $9.99 per eight ($7.99 with membership).
Big Island Pineapple: Containing no ingredients but dried Hawaiian pineapple, these chewy rings are purportedly full of flavor that will satisfy any sweet tooth. Price: $11.99 per approx. 15 rings ($8.49 with membership).
Hickory Smoked Turkey Jerky: Each one-ounce serving of this savory smoked jerky contains ten grams of lean turkey protein, meaning it might help you stave off hunger in the mid-afternoon. Price: $7.99 per 3 ounces ($6.99 with membership).
Mini Belgian Waffles: These lightly-sweetened waffle cookies are designed to add indulgence to your afternoon without too much sugar content- each serving has just nine grams. Price: $9.99 for approx. 15 waffles ($8.49 with membership).
Crunchy BBQ Twists: These airy twists are designed to satisfy all salt cravings with a light seasoning of sweet and smoky BBQ sauce. Each batch contains half the fat of standard potato chips due to the addition of lentils. Price: $7.99 per 3 ounces ($6.49 with membership).
Sriracha Roasted Cashews: If you like some spice with your snacks, these siracha cashews offer a low-carb, low-sugar, high-protein option. Price: $11.99 per cup ($8.49 with member discount).
Allergies and NatureBox Snacks
According to the brand's website, NatureBox snacks do not qualify as safe for allergy sufferers.
All of their food is packaged in the same facility, which creates a risk of cross-contamination. For this reason, the snacks can't be certified as gluten-free, even they are made with ingredients that are free of gluten.
Knowing all this, is NatureBox worth committing to? Looking at customer reviews can help us answer that question.
What Are Customer Reviews of NatureBox Saying?
Twenty-four HighYa readers have rated NatureBox, giving the service 1.5 stars out of five, and only 8% of users stated that they would recommend the service to a friend.
The primary complaint was about NatureBox's customer service. Many people reported that they had frequent problems with late packages and missing products. Others felt that the terms of their membership service weren't clear and that they had no idea that they were joining a membership program when they first ordered a snack sample.
Some reviewers stated that they were billed for future snacks even after they had seemingly canceled their account. One person also noted that the company advertised "out of stock" products as available, so when he ordered them he was sent random foods. Instead of a full refund, he only received store credit.
Saying this, some reviews on HighYa and other websites were positive. NatureBox's nut mixes seem to be a hit, as many people specifically mentioned their appreciation for the mocha almonds and Siracha cashews.
To have success with NatureBox, these reviewers make it clear that you need to read the membership terms carefully and cancel your account within 30 days if it isn't the right fit.
How Does NatureBox Compare to Other Snack Subscriptions?
Does NatureBox offer snacking incentives that beat the competition? We created this chart of subscription and luxury food companies to make a meaningful comparison:
| | | | | | |
| --- | --- | --- | --- | --- | --- |
| | NatureBox | Graze | HealthPak | MunchPak | Yummy Bazaar |
| Price Per Box | Varies based on membership and box | $13.99 | $32.95 | $23.95 | $35.95 |
| Servings Per Box | Determined by purchasing preferences | 8 | 10+ | 10+ | 6-8 full-sized products |
| Price Per Snack Serving | $1.50- $6 | $1.75 | $3.30 | $2.40 | $4.5 per full-sized product |
| Types of Snacks | Healthy snacks free of artificial ingredients. Dried fruit, granola bars, chips and crackers, etc. | Low-calorie, high protein, or traditional healthy foods like nuts, dips, crackers, dried fruit, and more. | Healthy snacks made with natural ingredients and free of GMOs. | Gourmet sweet, salty, sour, and savory snacks from around the world. | International snacks with a monthly country theme |
| Option to Cancel Each Month? | Yes | Yes | Yes | Yes | Yes |
| Shipping Costs | $4.95, free for orders over $25 | Free in the U.S. | Free in the U.S. | Free in the U.S. | $5.95, free for orders over $49 |
NatureBox is the only brand we looked at that doesn't sell a discovery subscription package (the brand's "Subscribe to Save" program sends you only snacks you specifically request).
This is a change from their previous model, and a possible reflection on the fact that their customer base likes to choose precisely what they receive each month.
If you're more interested in the surprise factor, a company like Graze, MunchPak or HealthPak might be a better fit.
Graze and HealthPak both offer subscribers a collection of healthy snacks, but Graze also promises to adjust the items you receive based on your feedback. MunchPak also lets you request specific categories of snacks in each box for an extra $1 each.
For those whose goal is more about experimenting with new snack varieties than gaining energy during the midafternoon slump, MunchPak and Yummy Bazaar both offer a curated collection of snacks from around the world that fall more under the category of junk food, as they often include chips, sodas, gummy candy, and baked goods.
Which box is best for you? That depends on your needs. If you're less interested in the subscription process but want to receive discounts on a precise type and amount of healthy snacks each month, then NatureBox is a brand to consider.
Our View: Is NatureBox Worth Considering?
Since NatureBox changed their business model from a discovery subscription to a membership service, many people are wondering if this is the right time to sign up.
According to our research, NatureBox is presenting itself as a premier snack option for those who want convenient choices for snacking on a regular basis but don't want to deal with a "discovery subscription" and would instead prefer to choose precisely what they get in each order.
Likewise, NatureBox is targeting itself towards corporate culture by offering an unlimited office subscription service with a flat price per employee. Companies pay for the service monthly, and NatureBox promises to refill all snacks whenever they request it.
Compared to the competition, NatureBox offers more autonomy for consumers than subscription services like Graze or HealthPak, and it provides subscription savings for those committed for the long term.
For those who decide to try NatureBox, you need to be aware that your first purchase will enroll you in their $30/ year members plan that gives you $5 of in-store credit each month. If you wish to opt out of this plan, you will need to message customer service directly within the first 30 days of ordering.
---
Not sure if it is a scam or just bad service...

Overall Experience:

My family has been so excited to choose and taste the snacks. We paid for three months and after 6 weeks we have just received one box. When I complained they said they would send it, but instead they just charged my card again. I called to cancel my subscription but their phones don't work.

The snacks aren't healthy and not even all the natural. This is not working at the moment. I hope they can turn the ship around, but first step is to actually send the customers what they pay for and not charge them double.

Bottom Line: No, I would not recommend this to a friend

---

Overall Experience:

I submitted for the so called free trial, that I NEVER received. Instead, they sent me a regular box of merchandise and charged me. The package of snacks had BUGS in it. I threw it away thinking it was the free trial and it was not. I recorded the product in June 2015 and it is now November 2015 and I'm still fighting to get my $19.95 refunded back to my account. The only resolution that was given to me was a refund of $2.00 and another box of their garbage snacks. Please don't use Nature Box.

Bottom Line: No, I would not recommend this to a friend

Feb 21, 2017

Thank you for the feedback. We're so sorry to hear about your experience! We take our dedication to our customer service very seriously, and we apologize for the frustration. If there's anything we can still do, or if you have any questions in the future, please don't hesitate to reach out to us at cem@naturebox.com.

---

Advertisement

---

I never write reviews but I feel robbed

By John

,

Boston, MA

,

Feb 13, 2017
Verified Reviewer

Overall Experience:

I won't get into my personal experience. I will tell you that I've read many other people reporting the same negative experiences I've had with unwanted boxes and trouble when canceling. The customer service was awful. I never write reviews, but I feel robbed.

Bottom Line: No, I would not recommend this to a friend

Mar 7, 2017

Hi John,

Thanks for your feedback. We apologize for your experience and would love to make this right. Please email us at CEM@naturebox.com and we'll look into this as soon as possible.

Regards,

Sierra @ Naturebox

---

Did not get what I wanted and charged membership fees

By Bob

,

Chicago, IL

,

Mar 14, 2017
Verified Reviewer

Overall Experience:

It could not have been worse. I placed a $25 order and was not informed at that time that the items I ordered were out of stock, however, the website showed several other items were out of stock. I received an email a few days later that $18 of the $25 of merchandise was out of stock and would not be sent, and rather than crediting my credit card, I have a credit at the site. Then my credit card is hit again with a $5 monthly fee, while there is still a credit on the site. And the membership fee was not really disclosed.

Bottom Line: No, I would not recommend this to a friend

---

Advertisement

---

Misleading

By Donna

,

Louisiana

,

Apr 13, 2017
Verified Reviewer

Overall Experience:

I signed up for NatureBox thinking I would be billed $5.00 a month for a membership fee. To my shock and extreme disappointment, my credit card was charged $50, not $5.00.

There is no number to "call" customer service, so you have to chat with someone online. I explained I was misled by the information they gave, and I wanted a full refund. They stated that they could give me a refund, but it would take 5 to 7 business days. I have not received a refund to this day. This is unacceptable.

I do not recommend NatureBox to anyone! The snacks were ok, but you can get the same or better at any grocery store.

Bottom Line: No, I would not recommend this to a friend

Apr 13, 2017

Hi Donna,

I am sorry that your refund has not posted to your bank account. All refunds should process within five to seven business days. Please email us at support@naturebox.com, so that we can look into why there has been a delay. We look forward to helping you

Thanks, Sierra.

---

NatureBox is shady (or at least incompetently run), not to be used for important gifts

By Dan Lundy

,

Texas

,

May 15, 2017
Verified Reviewer

Overall Experience:

NatureBox emailed a "CART50" code to me, stating that I would "Get 50% off your first order." Turns out it is only 50% "up to a $15 discount." This bait and switch code should have been my first clue.

Since it was for a Mother's Day gift, I decided to pay full price and order it anyway, plus paid $10 for 2-day shipping for a "promised" Friday delivery before Mothers Day (my mom was moving and would no longer be at her address after Mother's Day). I received an email on Tuesday that my order was processed. I received an email Thursday night that my mother would not receive her gift until Monday, six days later, not 2-day express.

After wasting several hours "live chatting" and getting the runaround, I finally get someone to call me directly (NatureBox will not give out a direct line, only a number to a VM box). The manager says he is sorry, but there is nothing they can do. Since they are the ones who waited until Thursday to ship my package, I asked if they would break protocol and overnight it. NatureBox was not willing to do it.

So my mother missed her mom's day gift from me because I chose NatureBox as a gift. Be extremely wary of any promises or offers from NatureBox. It is sloppily run and poorly executed.

Bottom Line: No, I would not recommend this to a friend

---

Horrible customer service and a rip off!

Overall Experience:

My daughter placed a trial order with them, and she didn't like any of the items ordered. We canceled any future orders and subscription via their "contact us" email page because there's no phone number to call. And now I'm getting charged for a yearly membership. I emailed them, no response. I "chatted" with someone from their site and was told they do not do refunds for membership.

This company is a complete rip-off and customer service was poor. I hope no else suffers from their way of doing "business." I will post this review everywhere I can so others can know what a terrible company this is. And their products aren't even good.

Bottom Line: No, I would not recommend this to a friend

Aug 7, 2017

Hi Jacklyn,

Thank you for your feedback. Customer satisfaction is of utmost importance to us, and we are sorry that you felt misled when you signed up for a membership with NatureBox. I see that the concierge you spoke with in July processed a refund of the annual membership fee. If you are still waiting on this refund, please let us know so that we can identify the cause.

Thank You,

The NatureBox Team

---

Bait and switch + misleading "subscriptions"

By Chris

,

Texas

,

Aug 7, 2017
Verified Reviewer

Overall Experience:

I used a promo that made a whole box of snacks shipped free for $10 total. After I received the packs of nuts, pretzels and such, I CANCELED my subscription. You won't find any other areas to cancel. Guess what?

You have to cancel again. There's another annual membership fee of $50 plus ANOTHER $50 fee for "an annual fee which gives you access to our catalog for the entire year. The payment converts to store credit which automatically applies to your snack purchases."

That was what chat support told me. $100 charge for some stupid nuts and rabbit food. And this is AFTER I canceled already! They told me how "luckily, I can use $50 towards snacks." Oh wow, lucky me! And somehow these business practices aren't considered illegal? How in God's name would anyone want a $100 fee suddenly for snacks after canceled their subscription? The company can't justify the charge no matter what nonsense jargon they may throw as an explanation.

Worst service I've ever signed up for willingly in my entire life.

Bottom Line: No, I would not recommend this to a friend

Aug 7, 2017

Hi Chris,

Thanks for your feedback. We deeply apologize for your experience and would like to review what happened. Please email us at CEM@naturebox.com and so that our lead customer support team can look into this as soon as possible.

Best,

Sierra @ NatureBox

---

Unauthorized charges

Hickory, NC

,

Sep 7, 2017
Verified Reviewer

Overall Experience:

Do not sign up for this. I received a $1 box and nowhere in the description did it mention signing up for a $50 membership. Low and behold, a week after I get the box, $50 comes out of my account. I did not agree to this, and I did not authorize this. There's no way to cancel this crap on my account, and this "business" has no phone number to reach anyone for customer service. I have disputed this charge with my bank, and I WILL be getting my money back.

Bottom Line: No, I would not recommend this to a friend

---

Shady, but perhaps not horrible?

By Nunya B.

,

New Hampshire

,

Sep 28, 2017
Verified Reviewer

Overall Experience:

So, I signed up for NatureBox via a YouTuber and figured I would try them out. I love these YouTubers, but NatureBox did them dirty by charging me $50 after I canceled my automatic shipment, which I thought was my subscription (what an idiot!).

I attempted to log into my account to no avail, so I requested a password reset. The email link they sent was not safe, and Chrome wouldn't even humor opening it. I decided to try it in Internet Explorer, and it still wouldn't open (INTERNET EXPLORER blocked their link, probably for the best).

I ended up on their site, chatting with Grace. She was nice enough, but I could almost taste her sweat from the effort she put forth to not refund my $50. As of this moment, I haven't got my money back, but I just ended the chat. I felt so unsure of NatureBox's actions/promises that I decided I needed to cover my butt and back up my request for the refund and Grace's approval of my request via screenshots and email transcripts.

Go anywhere else. Your local convenience store would be better for your wallet.

Bottom Line: No, I would not recommend this to a friend

Sep 28, 2017

Hello,

Thank you for taking the time to leave us a review. We take our dedication to customer service very seriously, and we apologize for the frustration. We're happy that Grace was able to resolve your cancellation and refund your request. You can expect to see this refund post back to your account within 5-10 business days. If there's anything we can still do, or if you have any questions in the future, please don't hesitate to reach out to us at support@naturebox.com.

Thanks,

The NatureBox Team

---

Great snacks, terrible customer service

Overall Experience:

I first opened up a membership with NatureBox on 9/18/2017, through initiating a monthly subscription of one of their products. At the time, the only option presented to me was a membership to the tune of $10 a month.

When I got an email notifying me that the product I'd subscribed to was sold out, I placed an order on 10/3/2017 consisting of a bunch of other stuff. I then went to cancel the subscription on the item that was sold out and saw that there were no means of managing that through the website, so I initiated a chat with customer service. The representative, Monica, immediately interrogated me on why I was canceling, and I told her "I shouldn't have to explain myself to you, and I also shouldn't have to contact customer service to manage my subscriptions. If this is how it's going to be, I'm canceling my membership altogether."

So, without even addressing my concerns, she canceled my membership. I then inquired why I was being billed $10 a month when the website clearly states that the subscription was $5 a month, and she spewed some nonsense about the fee earning me $15 in NatureBox credit. She could not explain why my account, which had only been opened 20-something days ago, did not qualify for the lower monthly rate they were offering that today.

I did not stick around long enough to experience the Annual Fee that some people spoke of, but the fact that I had to interrupt my busy life to deal with a customer service rep when all I wanted was to cancel my product subscription really makes me sour towards the company's business model. I should be able to pause or cancel at my own leisure through the website. Anything but that registers as a scam, in my book, because it's banking on people's likelihood to forget or not wanting to be bothered.

THUMBS DOWN.

Bottom Line: No, I would not recommend this to a friend

---