NatureBox
Claimed This company has claimed this profile, is getting alerted on any new customer reviews entering this page, and may engage in dialogue with its customers to address their matters.

Companies cannot pay money or provide goods in order to remove or alter customer reviews.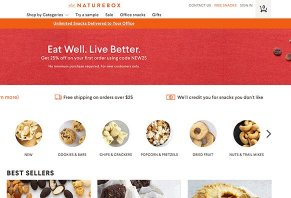 Previously promoted as a subscription snack service, NatureBox offers members a selection of over 100 healthy snacks that can be purchased as often as you prefer.
---
NatureBox is anything but natural

By Amy Bergrud

,

Los Angeles, CA

,

Jan 23, 2018
Verified Reviewer

Overall Experience:

I ordered the NatureBox through a Groupon. I went to place my order and then realized that all of their savory snacks are full of MSG. As I am highly allergic to this, I canceled my order. Their name and marketing information is EXTREMELY misleading as I would not expect "natural" snack foods to be loaded with MSG.

Bottom Line: No, I would not recommend this to a friend

Jan 24, 2018

Hi Amy,

Thank you for taking the time to leave a review. While our products do not contain added MSG some of our items are made with naturally occurring glutamates such as tomatoes, parmesan cheese, autolyzed yeast, yeast extract, protein isolate and hydrolyzed vegetable proteins. Not all of our items contain these ingredients and we are sorry you weren't able to find items that will fit within your dietary restrictions.

Best,

The NatureBox Team

---

Not worth it

By Talin

,

Los Angeles, CA

,

Jan 17, 2018
Verified Reviewer

Overall Experience:

Here's the thing about NatureBox.

I've been a customer and subscriber for one, maybe almost two years, and don't plan on unsubscribing any time soon. Would I recommend this service to anyone?

No. God, no.

The problem isn't so much with the snacks themselves (there's a good selection, they're relatively health-conscious, and the quality is all there).

No, the problem is with NatureBox itself as a company. So many times I've had to contact customer service about forgotten goods, missing packages, late shipping (in one instance, they completely lost my entire order).

Expedited shipping is a joke as well. I have twice made the mistake of purchasing two-day shipping. Don't do it, folks. It truly comes across as if they just don't have the manpower to actually carry through the shipping demand. They make the shipping label, then five days pass until they ship it out, then another two days until it reaches you (FedEx usually holds up their end, thank God), and then you learn that they only shipped three items out of the eight that you purchased, and it'll be another few days before they ship those, and then ANOTHER two days until it arrives.

Maybe just don't advertise two-day shipping, eh NatureBox?

Now the silver lining is that customer service is absolutely amazing. Impeccable. Five stars. Seriously, the people there are godsends, most likely because they constantly have to deal with the unending mistakes of whoever is shipping out this stuff. I view them as completely separate, benevolent entities from NatureBox as a whole.

So that being said, if being in constant contact with customer service is your jam, or, you know, if you're a disabled person like me and are unable to make regular trips to the grocery store and rely on services like these so you don't starve by the end of the month, OR if you just love confusion and suffering, then go for it. Otherwise?

Stick with the grocery stores.

Bottom Line: No, I would not recommend this to a friend

---

Advertisement

---

This place sucks!

By Taylor

,

Kentucky

,

Jan 9, 2018
Verified Reviewer

Overall Experience:

I tried to place an order, but when I entered my card info, it says it was unable to process. I tried three times, but it still didn't work, so I just assumed it was meant to be. Then I get a confirmation email saying that it did actually go through. I immediately emailed them needing to cancel the order and wasn't able to call on the phone because it was a Sunday. No answer. Now it's Monday and I've gotten into contact with an associate and they're saying that they can't cancel my order because it has already been shipped out.

This website is no good. Now I'm out $30 because this company sucks!

Bottom Line: No, I would not recommend this to a friend

Jan 24, 2018

Hi Taylor,

We're so sorry you had issues with your order. We'd like to take a look at this to identify what went wrong and what we can do to help. Please send an email to CEM@naturebox.com and our lead support team look into how we can make this right.

Thanks,

The NatureBox Team

---

Take your money elsewhere!

By Riley L

,

Des Moines, IA

,

Nov 15, 2017
Verified Reviewer

Overall Experience:

Do not buy from these people. They are scammers and signed me up for a membership for $50 without my consent.

Not only do they routinely steal people's money, their customer service is absolutely awful. They sold me snacks that were out of stock and sent me a bunch of random crap instead. I then asked for my money back, and they had the nerve to give me "store credit" instead. Then after taking $50 from my checking account, I made a lot of phone calls and eventually Amazon Pay (Nature Box's method of payment) ORDERED them to give me a refund, but they blatantly REFUSED. After routinely being ordered to issue me a refund they finally did.

Absolutely ridiculous. Take your money to your local grocery store instead. These people are cheats and liars.

Bottom Line: No, I would not recommend this to a friend

---

Advertisement

---

Overall Experience:

The snacks that NatureBox offers are actually very good. I tried this on a whim because my friend sent me $20 in free snacks to try it out, but I've actually kept it because the snacks are good. Some favorites are the Sriracha cashews and the mocha almonds.

I also had a different experience than others with the customer service; I found them to be very helpful and responsive. My only pickle might be that I don't know if I can eat enough snacks in a month to keep up the subscription (I'm not a huge snacker). But for now, I'm happy with my delicious snacks!

Bottom Line: Yes, I would recommend this to a friend

Nov 6, 2017

Thank you for taking the time to leave us a review! We appreciate the feedback and are happy to hear you are loving both our snacks and customer service.

Best,

The NatureBox Team

---

Great snacks, terrible customer service

Overall Experience:

I first opened up a membership with NatureBox on 9/18/2017, through initiating a monthly subscription of one of their products. At the time, the only option presented to me was a membership to the tune of $10 a month.

When I got an email notifying me that the product I'd subscribed to was sold out, I placed an order on 10/3/2017 consisting of a bunch of other stuff. I then went to cancel the subscription on the item that was sold out and saw that there were no means of managing that through the website, so I initiated a chat with customer service. The representative, Monica, immediately interrogated me on why I was canceling, and I told her "I shouldn't have to explain myself to you, and I also shouldn't have to contact customer service to manage my subscriptions. If this is how it's going to be, I'm canceling my membership altogether."

So, without even addressing my concerns, she canceled my membership. I then inquired why I was being billed $10 a month when the website clearly states that the subscription was $5 a month, and she spewed some nonsense about the fee earning me $15 in NatureBox credit. She could not explain why my account, which had only been opened 20-something days ago, did not qualify for the lower monthly rate they were offering that today.

I did not stick around long enough to experience the Annual Fee that some people spoke of, but the fact that I had to interrupt my busy life to deal with a customer service rep when all I wanted was to cancel my product subscription really makes me sour towards the company's business model. I should be able to pause or cancel at my own leisure through the website. Anything but that registers as a scam, in my book, because it's banking on people's likelihood to forget or not wanting to be bothered.

THUMBS DOWN.

Bottom Line: No, I would not recommend this to a friend

---

Shady, but perhaps not horrible?

By Nunya B.

,

New Hampshire

,

Sep 28, 2017
Verified Reviewer

Overall Experience:

So, I signed up for NatureBox via a YouTuber and figured I would try them out. I love these YouTubers, but NatureBox did them dirty by charging me $50 after I canceled my automatic shipment, which I thought was my subscription (what an idiot!).

I attempted to log into my account to no avail, so I requested a password reset. The email link they sent was not safe, and Chrome wouldn't even humor opening it. I decided to try it in Internet Explorer, and it still wouldn't open (INTERNET EXPLORER blocked their link, probably for the best).

I ended up on their site, chatting with Grace. She was nice enough, but I could almost taste her sweat from the effort she put forth to not refund my $50. As of this moment, I haven't got my money back, but I just ended the chat. I felt so unsure of NatureBox's actions/promises that I decided I needed to cover my butt and back up my request for the refund and Grace's approval of my request via screenshots and email transcripts.

Go anywhere else. Your local convenience store would be better for your wallet.

Bottom Line: No, I would not recommend this to a friend

Sep 28, 2017

Hello,

Thank you for taking the time to leave us a review. We take our dedication to customer service very seriously, and we apologize for the frustration. We're happy that Grace was able to resolve your cancellation and refund your request. You can expect to see this refund post back to your account within 5-10 business days. If there's anything we can still do, or if you have any questions in the future, please don't hesitate to reach out to us at support@naturebox.com.

Thanks,

The NatureBox Team

---

Unauthorized charges

Hickory, NC

,

Sep 7, 2017
Verified Reviewer

Overall Experience:

Do not sign up for this. I received a $1 box and nowhere in the description did it mention signing up for a $50 membership. Low and behold, a week after I get the box, $50 comes out of my account. I did not agree to this, and I did not authorize this. There's no way to cancel this crap on my account, and this "business" has no phone number to reach anyone for customer service. I have disputed this charge with my bank, and I WILL be getting my money back.

Bottom Line: No, I would not recommend this to a friend

---

Bait and switch + misleading "subscriptions"

By Chris

,

Texas

,

Aug 7, 2017
Verified Reviewer

Overall Experience:

I used a promo that made a whole box of snacks shipped free for $10 total. After I received the packs of nuts, pretzels and such, I CANCELED my subscription. You won't find any other areas to cancel. Guess what?

You have to cancel again. There's another annual membership fee of $50 plus ANOTHER $50 fee for "an annual fee which gives you access to our catalog for the entire year. The payment converts to store credit which automatically applies to your snack purchases."

That was what chat support told me. $100 charge for some stupid nuts and rabbit food. And this is AFTER I canceled already! They told me how "luckily, I can use $50 towards snacks." Oh wow, lucky me! And somehow these business practices aren't considered illegal? How in God's name would anyone want a $100 fee suddenly for snacks after canceled their subscription? The company can't justify the charge no matter what nonsense jargon they may throw as an explanation.

Worst service I've ever signed up for willingly in my entire life.

Bottom Line: No, I would not recommend this to a friend

Aug 7, 2017

Hi Chris,

Thanks for your feedback. We deeply apologize for your experience and would like to review what happened. Please email us at CEM@naturebox.com and so that our lead customer support team can look into this as soon as possible.

Best,

Sierra @ NatureBox

---

Horrible customer service and a rip off!

Overall Experience:

My daughter placed a trial order with them, and she didn't like any of the items ordered. We canceled any future orders and subscription via their "contact us" email page because there's no phone number to call. And now I'm getting charged for a yearly membership. I emailed them, no response. I "chatted" with someone from their site and was told they do not do refunds for membership.

This company is a complete rip-off and customer service was poor. I hope no else suffers from their way of doing "business." I will post this review everywhere I can so others can know what a terrible company this is. And their products aren't even good.

Bottom Line: No, I would not recommend this to a friend

Aug 7, 2017

Hi Jacklyn,

Thank you for your feedback. Customer satisfaction is of utmost importance to us, and we are sorry that you felt misled when you signed up for a membership with NatureBox. I see that the concierge you spoke with in July processed a refund of the annual membership fee. If you are still waiting on this refund, please let us know so that we can identify the cause.

Thank You,

The NatureBox Team

---

NatureBox is shady (or at least incompetently run), not to be used for important gifts

By Dan Lundy

,

Texas

,

May 15, 2017
Verified Reviewer

Overall Experience:

NatureBox emailed a "CART50" code to me, stating that I would "Get 50% off your first order." Turns out it is only 50% "up to a $15 discount." This bait and switch code should have been my first clue.

Since it was for a Mother's Day gift, I decided to pay full price and order it anyway, plus paid $10 for 2-day shipping for a "promised" Friday delivery before Mothers Day (my mom was moving and would no longer be at her address after Mother's Day). I received an email on Tuesday that my order was processed. I received an email Thursday night that my mother would not receive her gift until Monday, six days later, not 2-day express.

After wasting several hours "live chatting" and getting the runaround, I finally get someone to call me directly (NatureBox will not give out a direct line, only a number to a VM box). The manager says he is sorry, but there is nothing they can do. Since they are the ones who waited until Thursday to ship my package, I asked if they would break protocol and overnight it. NatureBox was not willing to do it.

So my mother missed her mom's day gift from me because I chose NatureBox as a gift. Be extremely wary of any promises or offers from NatureBox. It is sloppily run and poorly executed.

Bottom Line: No, I would not recommend this to a friend

---