Navient Reviews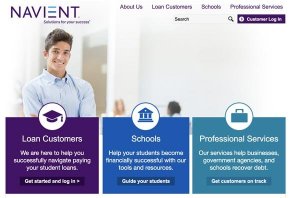 Student loan servicer Navient has a dubious reputation as the result of recent lawsuits, but our research indicates the servicer will most likely do a solid job helping you repay your student loans.
About Navient
Navient is a Delaware-based student loan servicer who process payments and orchestrates repayment plans for borrowers with federal and private student loans.
The company is currently one of four of the nation's leading student loan servicers. AES, Great Lakes, and Nelnet are the other three.
As a servicer, the government hires Navient to oversee your student loans while you're still in school and afterward. Their job is to inform you of what, when and how you need to pay each month.
In terms of their client base, Navient has more than 6.5 million customers and oversees the servicing of more than $200 billion in loan balances, according to Sept. 2017 statistics.
As far as history goes, Navient used to be known as Sallie Mae, a company that offered student loans and student loan servicing. However, Sallie Mae split into two separate entities in 2014. The company that is now known as Sallie Mae offers private student loans. Navient does loan servicing.
Over the past few years, Navient has found itself in multiple lawsuits alleging the company did not have the borrower's best interest in mind when they made recommendations for payment plans or, in some cases, when students asked for extra payments to be applied to loan principals.
In this review, we're going to give you a brief overview of what Navient does, talk about their customer service track record, offer the insight of an actual Navient customer and then conclude with a quick section on our opinions about the company's pros and cons.
What Navient Offers
As a student loan servicer, Navient functions as the custodian of your student loan repayment. What that means is that they work with you from the time when your loan is first disbursed to your school to the time that you pay off your loans.
Your relationship with them starts when the federal government assigns your loans to them; you don't have a choice who your servicer is.
Navient will contact you to let you know that they're your loan servicer. It's your responsibility to sign up for an online account, through which you can view your loan balances, your monthly payments, and access important paperwork you'll need at tax time or when you're buying a home.
Over time, your loans could change to another servicer, but, assuming they stay with Navient, then you'll contact them about questions you have regarding your monthly payments, repayment plan changes and other loan-related questions.
For example, you'll want to talk with them if you're interested in doing Public Service Loan Forgiveness, a program through which you can have your loans forgiven after 10 years if you work in specific public-service jobs.
You'll also contact them if you want to change your repayment plan in order to reduce monthly payment, or, if you want to pay off your loans faster, increase your monthly payments.
We need to be clear – Navient doesn't determine your monthly payments arbitrarily. They refer to the guidelines associated with the eight different student loan pre-payment plans the federal government offers:
Standard
Extended
Graduated
Pay as You Earn
Revised Pay as You Earn
Income-based Repayment
Income-contingent Repayment
Income-sensitive Repayment
In our guide to federal student loan repayment plans, we talk about what each of these means. For now, we'll sum it up by saying the first three plans are basic plans whose monthly payments aren't influenced by your income.
The remaining five plans on the list calculate your payments based on your income and the types of loans you have.
Navient, in theory, will help you decide which of these plans is the best fit for your needs.
If you choose an income-driven repayment plan (the last five on the above list), then you'll have to do a yearly "re-certification", in which you work with Navient to submit paperwork to the federal government so they can calibrate your monthly payments for the following year.
You'll also use Navient to finalize the details of loan repayment. If you're in the PSLF program, you'll work with them to process your loan forgiveness. The same principle applies to your income-driven plans, all of which include some form of loan forgiveness after 20 or 25 years.
Within these services includes various learning materials on Navient's website, include a financial quiz for millennials and resources for avoiding student loan scams.
One of the things that's important as it relates to student loan servicers is their default rate. How many students have gone more than 90 days without making payments? This is a good metric because It's a reflection of how active the servicer is in finding the right repayment plan to fit a student's needs.
For example, someone who lost their job should be able to work with their servicer to place an economic hardship deferment on their account so they can avoid making payments for the time being, or find them an income-driven repayment plan that could get their payment down to as low as $0 per month.
To understand what Navient's default rate is and the number of customers who are enrolled in income-driven plans, we reached out to Navient Vice President of Corporate Communications Paul Hartwick for data.
"Navient-serviced borrowers are 37 percent1 less likely to default than borrowers serviced by our peers," Hartwick told us via email. "And 53 percent of student loan balances serviced by Navient for the government are enrolled in income-driven repayment programs—more than any comparable servicer."
» For Further Reading: A Beginner's Guide to Student Loan Servicers
Navient's Customer Complaint History
The Consumer Financial Protection Bureau is a relatively new agency that acts as an advocate and resource for consumers. One of their features is the Consumer Complaint Database, to which you can file a complaint about a financial company.
We turned to this database to get a sense of how many complaints Navient gets and what those complaints are about. Because the CFPB's database is well-organized, we're able to identify how many complaints Navient has received in the past two months, as well as the type of complaint and the actual text of the consumers' grievances.
Here's a quick list of the number of complaints Navient, Nelnet and Great Lakes received in the two-month period before this review:
Navient: 794
Nelnet: 164
Great Lakes: 59
As you can see, Navient has more than four times the complaints of Nelnet and 14 times the number of complaints as Great Lakes.
According to the CFPB's various search filters, those 799 complaints were broken down into the following categories:
Student loan servicing, payment plans, etc.: 640
Credit-related issues: 81
Debt collection: 70
Misc.: 3
As you can see, the majority of the CFPB complaints about Navient focus on issues related to the loans themselves. Exactly what that means is something you can figure out by looking at the breakdown of those 640 complaints:
Dealing with the lender or servicer: 381
Struggling to repay the loan(s): 203
Incorrect information on the account: 94
Based on this data, we believe most of the issues with Navient relate to corresponding with the company and trying to figure out a payment plan that will help the borrower afford their monthly payments.
Navient pays attention to customer complaints, Hartwick said, and is constantly trying to improve their services to meet the needs of their borrowers.
"We continually make enhancements designed to help our customers, drawing from a variety of inputs including customer surveys, analysis of customer inquiries and complaint data, regulator commentary and website activity," Hartwick said. "We regularly use customer and employee research panels to gather real-time feedback to inform enhancements underway."
Based on our research, we believe that Nelnet's customer complaint record is more extensive than lenders Great Lakes and Nelnet. However, this isn't a guarantee that you'll have a negative experience.
A good example of this is Grove City College graduate Angalena Malavenda. She has student loans with Navient and Nelnet.
She said that she's happy with the service she's received from both companies. Her 1098-E tax forms come on time each year (forms used for student loan interest deductions).
Overall she said her experience with Navient's website has been positive. One drawback, she said, is that you can't make payments to a specific loan within a loan group via their website.
"The online process is pretty easy to use. I haven't had any real issues, but one thing I would love to fix is the ability to be able to adjust the payment increments to put more on a speck loan within my loan set rather than paying a lump sum and they allocate it how they would like."
Loan servicers tend to lump all of your student loans into one group, then display an overall interest rate and balance. If you click on the loan group, however, you can see a breakdown of the semester-by-semester loans you received for school.
Some of these loans have higher interest rates than others because they're disbursed in different years. Malavenda is saying she wishes she had the chance to apply an extra payment to, for example, a loan within a group that has a higher interest rate or balance than other loans in the group.
When asked her to summarize her experience with Navient and Nelnet, here's what she said:
"Paying back debt sucks, but they have made the process pretty seamless. I really enjoy their autopay option and it's easy to adjust each month if I know I am able to pay more. I log in to the platform about once every two months to reassess any upcoming payments. For what little I do, it's been a breeze."
Navient's Lawsuit
As we mentioned earlier in this review, Navient has been embroiled in lawsuits claiming that their customer service representatives weren't putting students in the right repayment plans or doing an adequate job of educating borrowers about income-driven repayment plans. This main complaint is what made headlines when the lawsuit was first announced.
In a January 2017 press release, Navient firmly denied the accusations of those involved in the lawsuits, including the CFPB, saying that many of the standards the CFPB was applying to Navient did not exist at the time the alleged violations were taking place.
Their response to the lawsuit included the states mentioned in the previous section – that Navient has a high percentage of people enrolled in income-driven repayment plans and that their borrowers are 31-percent less likely to default than borrowers with other servicers.
"Navient has a responsibility to its customers, shareholders, and employees to defend itself—publicly and in court—against this unsubstantiated, unjustified and politically driven action. We cannot and will not accept agenda-driven ultimatums designed to get headlines rather than help for student borrowers," the company wrote. "We will vigorously defend against these false allegations and continue to help our customers achieve financial success."
The Final Word: Pros and Cons of Navient
Based on our research of Navient's website, an email interview with a borrower and a communications rep, we believe that, while their complaint rate is higher than Nelnet and Great Lakes', there's a good chance you'll have a positive experience with them.
Mark Kantrowitz, a student loan expert and an executive at SavingForCollege.com, noted that even though there's been a lot of bad press about student loan servicers, their complaint rates are still lower than what you'd find with other financial products.
"The complaint rate for education lenders as a whole since the CFPB began collecting complaints ... is lower on a per-borrower basis than other forms of financing, such as credit cards and auto loan," Kantrowitz said. "While there are some lenders that have a disproportionate share of the complaints, the well-known lenders such as Navient, Great Lakes, AES/PHEAA and Nelnet are not among them."
Now, there's no way to tell you exactly how excellent or poor your relationship with Navient will be, but we do know that the more you educate yourself about your student loans, the more equipped you'll be to make a wise decision about your repayment plan, monthly payments and other important matters regarding your student loan.
» For Further Reading: The 8 Different Options You Have to Pay Off Your Student Loans