Navy Federal Credit Union Mortgage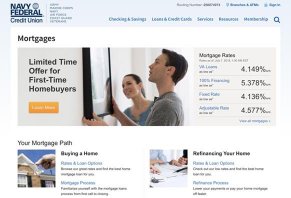 Navy Federal Credit Union 's mortgages offer attractive in-house options for first-time homeowners as well as VA loans available to members of the military. Rates, however, are high for certain loans.
Navy Federal Credit Union Mortgage Review: Right Lender for You?
Navy Federal Credit Union's mortgages provide options for conventional, VA and FHA loans, as well as a pair of in-house offerings for those who would have a hard time making a down payment.
What makes Navy Federal's mortgages different from other mortgage lenders is that their mortgages only available to members of the credit union, a membership that's made up of members of the military, Department of Defense and their families.
Along with their limited membership comes a high level of customer service, which is something we'll discuss later in this review.
The credit union was founded in 1933 and has more than 7.5 million members, a company fact sheet notes. Their headquarters are based in Vienna, Virginia.
As a potential homebuyer, it's important that you understand which types of mortgages your lender offers and what their customers say about them.
We're emphasizing these aspects because they're the ones that impact you the most. Navy Federal should provide you a mortgage that best fits your needs and a level of customer service that keeps you informed and up-to-date on what's happening with your mortgage application.
Our review of Navy Federal will cover the types of mortgages they offer, the reviews they get from past users and objective ratings based on borrowers' input about the company's customer service.
The Mortgages That Navy Federal Credit Union Offers
As we mentioned earlier, Navy Federal has multiple types of loans. Their site features VA loans, FHA loans, two in-house loans and conventional loans.
VA Loans
VA loans are loans provided by the Department of Veteran Affairs. These mortgages are designed for members of the military and the National Guard as well as their families. The key characteristics of these loans include 100% financing (no down payment) and no private mortgage insurance payments.
Offering mortgages without down payments is a way to make homeownership easier for military families – many families don't have enough money saved up to cover a big down payment.
Another feature of these loans is that you don't have to pay monthly or up-front private mortgage insurance (PMI). In most cases, your PMI is paid monthly and is 1-2% of your principal amount divided by 12, SFGate notes.
If you've got $240,000 left on your mortgage principal (borrowed amount not including interest), then 1% is $2,400. Your monthly PMI would be $120, all of which you'd save with a VA loan that doesn't require private mortgage insurance.
Military Choice
Navy Federal offers an alternative to the VA loan called the Military Choice mortgage. Like the VA loan, you can get 100% financing and no private mortgage insurance. You'll pay a 1.75% if you choose to use a no-down-payment mortgage, but that fee can be added to your loan balance so you don't have to pay it up front.
Another slight difference between the Military Choice and VA loans is that the seller can contribute up to 6% of the closing costs of a Military Choice mortgage, whereas VA loans allow up to 4%. It's also important to note that these loans range from 16-30 years, whereas VA loans rage from 10-30 years.
The final point of comparison is the interest rate, which is significantly higher for the Military Choice loan than it is for the VA loan (more on that in a few minutes).
FHA Loans
The Federal Housing Association (FHA) provides mortgages that have low down payments as well as more forgiving credit-score requirements.
According to Jacksonville-based mortgage broker Linda Suazo, FHA loans have down payments as low as 3.5% and will accept borrowers with credit scores as low as 580. We spoke with Suazo for our guide to mortgages for bad credit and discovered that the FHA will go as low as 550 if you can come up with a 10% down payment.
Homebuyer's Choice
Another one of Navy Federal's in-house loans, this one is similar to the VA and Military Choice loans because it doesn't require a down payment and there is no private mortgage insurance or upfront mortgage insurance.
These loans, like the ones listed above, have certain limits on how much you can borrow. At the time of publishing, $453,000 was the most common cap for most states, with Alaska and Hawaii getting a higher ceiling.
Like the Military Choice loan, this mortgage's APR is higher than the competing FHA loan.
Conventional Mortgages
Navy Federal's conventional mortgages offer more traditional term. The credit score requirements are higher than the other options on this list and you don't have the opportunity to get 100% financing that relieves you of a down payment.
This type of mortgage could work for a first-time homebuyer, provided you have good credit scores (700 and above) and you have a low debt-to-income ratio (all monthly income vs. all monthly debt payments).
If you can meet these standards, you get a nice perk. Conventional mortgages have lower interest rates than the other mortgages on this list, which is what we'll analyze next.
Interest Rates and APR's of Navy Federal Mortgages
Whenever you shop for a mortgage, you'll be presented with a loan's interest rate and a loan's APR. The interest rate is the baseline rate, whereas the APR is your actual rate after all the fees are added to the loan.
Here are the lowest interest rates and APR's available for each type of loan at the time of publishing, including the difference between the two:
| Loan type | Interest rate | APR | Difference |
| --- | --- | --- | --- |
| VA | 3.625% | 4.149% | 0.524% |
| Military Choice | 5.250% | 5.547% | 0.297% |
| FHA | 3.625% | 4.888% | 1.263% |
| Homebuyer's Choice | 4.875% | 5.378% | 0.503% |
| Conventional | 3.875% | 4.136% | 0.261% |
As you can see, the government-backed and conventional mortgages have the lowest fees, whereas the Military Choice and Homebuyer Choice have the highest rates.
The difference between the best APR for a VA loan and a Military Choice loan is about $150 a month over the course of a 30-year-loan, or $53,816. That difference is $76 a month between the Homebuyer's CHoice and the FHA, and $27,144 over 30 years.
As far as fees go, the FHA loan has the highest fees and the conventional loans Navy Federal offers have the lowest fees.
While Navy Federal's Homebuyer's Choice and Military Choice have fees, their interest rates are much higher than the government-backed and conventional mortgages.
in other words, Navy Federal's no-down-payment mortgages will cost you less up front but more in interest payments over the course of your mortgage.
» See Also: First-Time Homebuyer Tips That Will Help You Avoid Costly Mistakes
A Quick Word About Fixed-Rate and Variable-Rate Mortgages
You'll most likely have options for fixed- and variable rate loans through Navy Federal. The difference between the two is that fixed-rate mortgages use a single interest rate and your monthly payments are the same every month.
Variable-rate mortgages have a fixed-rate for a certain period of time and then the rate changes yearly based on the standard interest rates set by the Federal Reserve. This means your interest rate could go up or down every year. In the event that the economy is strong and going, interest rates will most likely go up. As the economy falters, history shows that interest rates tend to go down.
Your adjustable-rate mortgage will have a name like 5/3, which means you have a fixed rate for five years (5) and then your variable rate kicks in and adjusts every three years (3).
J.D. Power Consumer Reviews
J.D. Power is an independent research firm that provides consumers ratings of products and services that are, in most cases, based on the input of actual customers.
They apply their research to mortgage lenders, publishing those results in their yearly Primary mortgage Origination Survey.
In 2017, Navy Federal ranked 10th out of 26 mortgage lenders. On a 1,000-point scale, Navy Federal scored an 829., which was three points above the industry average of 826.
In addition to a numbers-based score, J.D. Power provides Power Circle ratings, which is basically a star system. They gave Navy Federal three circles, which means their customer satisfaction level is about average.
Those circle ratings are based on six different factors and here is how Navy Federal scored in each of those categories:
Loan offerings: 3 circles
Application/approval process: 4 circles
Interaction: 3 circles
Loan closing: 3 circles
Onboarding: 4 circles
Problem resolution: 4 circles
What we noticed about Navy Federal's scores is that they are split evenly between 3 stars and 4 stars. Caliber Home Loans, another lender we've reviewed, also has a 3-star overall rating but its category ratings are split evenly between 3 stars and 2 stars.
In our opinion, Navy Federal's consumer ratings are favorable and there's a good chance, based on J.D. Power's research, that you'll have a positive experience with this credit union.
Pros and Cons of Navy Federal
Based on our research of Navy Federal's mortgages, we believe the lender's strength is that they give you multiple options for 0% down loans, which is a crucial feature for first-time homebuyers who may not have the money needed to put a down payment on a home.
Another strength is the customer satisfaction score J.D. Power gave the company. Navy Federal is among the 10 best, a fact that will most likely make your mortgage application and closing process easier than a company who has lower scores.
Don't underestimate this positive, as poor customer service can make an already-stressful process infinitely more stressful.
The downside to Navy Federal's mortgages is that both of their in-house mortgages have interest rates, at the time of publishing, above 5%. So, while you may not have to pay a down payment, your monthly payments will most likely be higher.
Exactly how much higher those monthly payments will be may not be as bad as you think because the same loans that require a down payment also don't require mortgage insurance.
In our opinion, Navy Federal is a great fit for first-time homebuyers who don't have the money for a down payment and want monthly mortgage payments that, while higher because of these loans higher rates, don't require the 1-2% monthly fees for mortgage insurance.
» See Also: How to Use a Mortgage Calculator: Understanding Its Strengths and Weaknesses
Mortgage

By Yolanda D.

,

Charlotte, NC

,

Nov 5, 2018
Verified Reviewer

Before I could send paperwork to prove my income, they had already sent my predicted income to the underwriter. Before I knew it, they disqualified me for the loan. I spoke with my co-worker, and she said the same thing happened to her without any explanation. Like what the heck? Navy Federal is just good for their name, and that's it. I believe some underhanded discrimination is going on. I can qualify with any other bank, but the one I thought would help the most turned me down, and then had the nerve to tell me if they were to give me a loan it would be for 100,000 - what a joke. I pay all bills on time, credit history with medical bills.

Bottom Line: No, I would not recommend this to a friend

---

Advertisement

---