Neato BotVac Reviews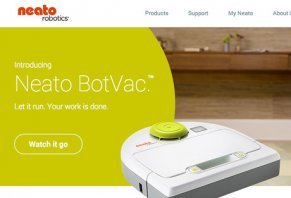 About Neato BotVac
If you've been searching for one of the top robot vacuums available, you've almost certainly read about the Neato BotVac. Although this model doesn't release until mid-April, it already claims to be the smartest, most powerful robot vacuum on the market.
Pretty big claim, right? Let's take a look at the data to see if it holds true.
Quick Facts About the Neato BotVac
Right out of the box, the standout feature on the Neato BotVac is its patented botVision, which uses a QNX® Neutrino® operating system and laser technology to scan each room, plan the most efficient course, and then vacuum. According to the company, this can be accomplished in record time, since the BotVac is able to sense furniture and ledges, and then to move around them.
In addition, Neato claims that the BotVac is ideal for homes with pets, and that it works well on hard surfaces as well as carpeting. The company even goes so far as to claim that it cleans better than the competition with features such as:
Powerful suction
Edge-to-edge brush
Precision side brush
Extra large filter
Large dirt bin (.7 liter)
Square front edges, which move within 10mm of furniture, walls, and ledges
Low profile to fit under most furniture
The ability to schedule cleanings, and to update new features by downloading new software versions
According to the company, the Neato BotVac features a larger battery than previous models, which provides up to 4 hours of clean time. When it's running low on power, the BotVac will automatically return to its base station and recharge, and once complete, will return to its previous spot and resume vacuuming.
Neato BotVac Pricing & Refund Policy
The Neato BotVac is available in four different models (70e, 75, 80, and 85), which appear to be delineated based on brush options. Other than this, we weren't able to locate any specifics regarding the differences between each model.
Keep in mind that the BotVac will not available until mid-April, although according to company press releases, prices will range between $479 and $599.
What Do Other Consumers Have to Say About the Neato BotVac?
The BotVac is manufactured by Neato Robotics based out of Newark, CA, which has been in business since 2010. The company holds a B rating with the Better Business Bureau, based on 10 closed complaints over the past three years, most of which relate to poor customer service.
Regarding the Neato BotVac specifically, there were no online customer reviews available as of the time of this writing, as it won't be released until mid-April.
With this in mind, we read several reviews regarding other Neato vacuum models (more specifically the XV Series), which claimed that they tend to be louder than the competition, and to experience navigation problems (bumping into things, falling off ledges, etc.). On a positive note, since other models were noted to leave behind dirt when turning, the BotVac is claimed to include a side brush, which allows it to continue sweeping up dirt while turning.
What's the Bottom Line About the Neato BotVac?
In short: It's too early to tell. Why? Because the product won't be available until mid-April 2014, so there are currently no online customer reviews regarding the upcoming model.
However, it's important to note that robotic vacuums are generally not as powerful as upright vacuums, and are also ideally situated for homes with open floor plans and only a moderate amount of furniture. So if you have a lot of clutter around your home or require frequent deep cleanings, a robotic vacuum may not be the right choice for you.
Have you recently purchased a Neato BotVac? If so, tell your story by writing a review today!
Great suction - Pet owners will be amazed

By Tam

,

Pennsylvania

,

Jul 8, 2015

We have a central vacuum system and always thought we had a pretty good handle on our two long hair cat hair problems. The Botvac returns with a full tray every time and it's shocking how much it is able to collect. We've been running consistently for the last week and it never disappoints in what it is able to return. Our house seems less dusty, carpets always have that fresh vacuumed look. We have mostly hard surfaces, but the transition to our carpets and area rugs is seamless. We purchased a second for our second floor. Our biggest challenge is having to keep an eye on it to avoid getting stuck under our cabinetry and furniture. We are also puzzled with it's docking behavior. All in all, the time savings for us far outweighs the challenges. We bought a second one for our second floor cleaning. I wish there was a little better customer support, the website needs a little more comprehensive information on who to contact and how. Perhaps a little more trouble shooting. Very happy with the quality of the Botvac 75 Pet cleaner. Now we need one that climbs and cleans furniture and we will be in housekeeping heaven.

Bottom Line: Yes, I would recommend this to a friend

---

Advertisement

---