NeckRelax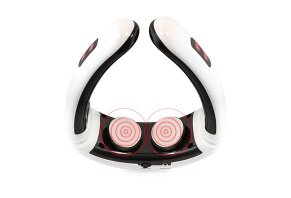 Summary
NeckRelax is a massage collar that allegedly addresses your neck pain. However, there isn't enough supporting evidence to conclude that this device may be efficient.
NeckRelax Review: Does It Relieve Neck Pain?
What is NeckRelax?
NeckRelax is a portable massage collar that allegedly helps relieve your neck pain through ultrasound, infrared heat, EMS, and magnetic therapy.
As many as 70% of the population may experience neck pain at some point. Frequently, this is a condition that can persist for years.
There are a wide variety of remedies that can include over-the-counter (OTC) and prescription medications, hot and cold packs, physical therapy, and even invasive surgery. NeckRelax claims to offer yet another option for managing your neck pain.
According to their website, with daily use, their portable massage collar will:
Instantly release tension in your back, neck, and shoulders
Treat sore muscles
Relieve stiffness
Heal injuries
Reduce stress
Improve blood circulation
Reduce swelling and inflammation
Improve flexibility
NeckRelex states that these benefits are made possible through the combination of ultrasound, infrared heat, EMS, and magnetic therapy. But can these methods relieve neck pain?
In this review, we'll help you answer this question and more by highlighting the available research that has examined these features and their ability to manage neck pain.
How to Use NeckRelax
NeckRelax has an adjustable collar, so it is alleged to fit anyone.
Its portability requires 2 AAA batteries for use. Also, the NeckRelax allows you to increase or decrease the intensity, as well as cycle through different modes that vary the intensity, frequency, and direction of the massaging pads.
To use, simply secure the NeckRelax around your neck and upper back and power on. Select the appropriate intensity and mode of your choice. Your NeckRelax also comes with Pulse Patches - these allow you to send electrical pulses to other painful regions of your body.
NeckRelax suggests using the device for 10-20 minutes daily. Keep in mind, the NeckRelax is programmed to shut off automatically after 15 minutes of continuous use.
While using the device is not unlike traditional massage collars, the NeckRelax claims to also offer ultrasound, EMS, and magnetic therapy.
In the next section, we'll help you determine if these methods can provide effective relief for your neck pain.
Is There Any Science Backing NeckRelax's Claims?
NeckRelax presumably provides pain relief through the combination of ultrasound, infrared heat, EMS, and magnetic therapy. Here, we'll briefly define each method and highlight the available research, if any, to help you determine if there is any merit to their proposed benefits.
Massage Therapy
As different forms of massage are often administered by therapists, research regarding devices similar to NeckRelax is less common.
This review of 15 randomized trials included studies that analyzed the ability of both forms of massage to manage neck pain. Researchers concluded that massage may offer moderate pain relief, though no evidence supported its ability to improve dysfunction.
Ultrasound
You may recognize ultrasound as the high-frequency sound waves used to image a fetus. This same technology is also commonly used in managing pain.
A recent systematic review of 10 randomized trials examined the use of ultrasound in managing neck pain in particular. Researchers found that while ultrasound may offer short-term relief, it can't be recommended as a stand-alone treatment for neck pain due to low-quality studies and mixed results currently available.
Infrared Heat
Infrared heat is created from low energy waves of a particular range of wavelengths on the infrared spectrum. This type of heat may aid enhance the healing process by promoting better blood flow, nerve conduction, and metabolism in damaged tissues.
In a review of 20 studies analyzing various methods of managing acute and chronic neck pain, researchers determined that heat was no better than a placebo for acute whiplash injuries, chronic muscular neck pain, or chronic neck pain.
EMS
EMS is not a new phenomenon, though it is less common for a neck massager to also offer this method of pain relief. It involves sending small electrical impulses to stimulate muscle contractions.
It has been used in a variety of settings, including therapy, as well as strength and conditioning. It is less well-studied as a method of relieving neck pain.
In a review of 20 randomized trials, EMS was not more effective in relieving neck pain when compared to placebo. This means that no treatment at all was just as effective.
However, researchers did go on to mention that definitive conclusions couldn't be drawn as much of the available studies were of low quality.
Magnetic Therapy
Magnets with alleged therapeutic benefits are often included in bracelets, braces, and necklaces designed to help manage your pain.
A randomized trial found magnetic therapy was effective in improving neck pain over 7-days when compared to placebo.
These results conflicted with an earlier review of 9 randomized trials. While this study didn't specifically examine the use of magnets for neck pain, researchers concluded that the available evidence did not support their use in managing pain.
Is NeckRelax Safe?
The methods of pain relief that NeckRelax claims to offer are generally safe when used as directed. The available research reviewed in the previous section did not report serious adverse effects.
This does not mean that unwanted effects are impossible, however. For example, EMS may be risky during pregnancy or in those with pacemakers.
Additional risks may be due less to the specific methods of pain relief, and more to the fact that a more serious condition may cause your neck pain. In these instances, you may be delaying appropriate care by managing your symptoms with NeckRelax.
Thus, it's best to speak with your doctor to identify the underlying cause before attempting to treat it.
NeckRelax Cost
NeckRelax is available for purchase directly through their website with a few different options to choose from. Current pricing reflects savings of up to 60%, so if you're interested in buying, now may be a good time.
Pricing and options are below (shipping is calculated at checkout):
1 NeckRelax - $78.99
2 NeckRelax - $144.99
3 NeckRelax - $196.99
4 NeckRelax - $254.99
Remember, you'll also receive 2 pulse patches per NeckRelax.
While you certainly save money the more you purchase, keep in mind, you do not need more than one NeckRelax for personal use as the device is completely portable. Thus, purchasing multiple units only makes sense if you are pooling money with other individuals who also plan to use a NeckRelax.
Lastly, your order is backed by a 30-day guarantee if you're unsatisfied with your NeckRelax, return to the company for a full refund, less shipping.
What Are the Alternatives to NeckRelax?
NeckRelax seems to be a more modern portable pain relief device that does more than just a massage.
While we haven't reviewed similar products that combine ultrasound, infrared heat, EMS, and magnetic therapy, we were able to track down one nearly identical to the NeckRelax designs.
The YAVOCOS Therapy Neck Massager is currently available from Amazon.
Like NeckRelax, it also offers adjustable neck wings for a secure fit, deep kneading massage nodes, an infrared heat function, a health magnet, and 2 pads to treat other areas of the body. Priced at just $28.29, it's also considerably cheaper than NeckRelax.
As Amazon also offers a 30-day return policy, YAVOCOS may be a more cost-effective option given that their product is so similar.
The Bottom Line
NeckRelax is a portable massage collar that also offers ultrasound, infrared heat, EMS, and magnetic therapy to help treat your neck pain.
There isn't any strong scientific support for any of these methods for managing neck pain, through massage and magnetic therapy seems to offer the most promise. None of the options are likely to improve your pain when used alone.
Most likely, managing your pain requires the combination of many therapies targeted at the specific underlying cause.
Also, similar products are available for much cheaper. If you miss out on the current promotions, you'll pay $160 for a single NeckRelax - more than 5x the cost of similar devices. Given the similarities, it is unlikely that NeckRelx and the available scientific support justify the hefty price tag.
While these devices are generally safe when used as directed, your neck pain can be caused by a number of underlying issues. As some of these may warrant medical attention, it is best to speak with your doctor first.
Once the cause of your neck pain is identified, you can work together to develop the safest treatment plan.
Customer Reviews
Posted on Aug 12, 2020
It might be good. I'll never know.
They advertise 100% customer satisfaction. After a lengthy wait mine finally came. It does not work. I have called, done the chat, and when I call they mysteriously hang up on you before you can explain the problem. I'm now in the process of trying to get my money back from PayPal. These people are scammers.
Length of Use: Less than 3 months
Bottom Line: No, I would not recommend this to a friend
Pros and Cons
The ad
It doesn't turn on
Our Promise to You
In order to safeguard you and ensure helpfulness and relevance, our compliance team manually assess every customer review before it goes live.
We have a zero-tolerance policy for fake reviews, and companies cannot control or alter any reviews at any time.