Nectar Mattress Reviews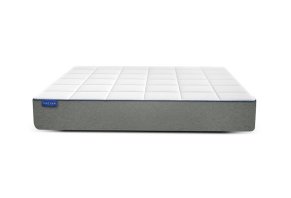 Nectar Mattress is a direct-to-consumer company that claims to manufacture high-quality, comfortable memory foam mattresses that come with a forever guarantee.
What is Nectar Mattress?
Based on three years of development and 10,000 customer tests, Nectar Mattress promises to deliver healthier hypoallergenic materials, along with unmatched comfort, support, and a perfect night's sleep.
And because they're built using better quality materials and on a stronger base than the competition, this is one the reasons why Nectar claims they're able to offer a "forever guarantee" on every USA-made mattress they sell.
Despite this higher quality, though, Nectar's business model cuts out middlemen commissions and retail markups, allowing them to remain competitively priced.
After you have a Nectar mattress in your home, will you find that it really is the most comfortable mattress out there? Or, are there other direct-to-consumer options that might better serve your needs—and your wallet?
Stick with us as we briefly walk you through what we learned during our research so that you can answer these important questions.
What Features Will You Find With the Nectar Mattress?
The Nectar mattress is constructed from four different foam layers, all of which is CertiPUR Certified, meaning they're made without ozone depleters, PBDEs, TDCPP, mercury, or lead:
6" Breathing Base Layer – Made of high vegetable base, super core 5lb support foam, this layer acts as a stable foundation for the layers above. It boasts a 2.2 ILD rating (compared to the 1.5 rating often found with other mattresses), along with a molded design that allows fresh air to pass through a special channel.
3" Adaptive Hi Core Memory Foam – This Hi Core 9.2 grade transition foam is wholly unique to Nectar mattresses, since it's heavy and expensive to ship. From a sleep perspective, though, we're told this recovery foam ideally supports the body while providing plenty of rebound and bounce.
1" Gel Memory Support Foam – Semi-open, medical grade viscoelastic memory foam that holds five different patents and is usually manufactured for medical use. In the Nectar mattress, it provides weight and heat distribution, along with pressure relief.
And once you're finished sleeping, it will perfectly recover to its original, untouched state.
1" Quilted Gel Memory Foam – A quilted layer of gel cooling memory foam that promises to deliver better loft, breathability, and air circulation, while perfectly contouring to the body.
Surrounding these four layers is a Tencel cooling cover that features a specially milled and loomed design with long staple fibers. This way, it draws away heat, wicks moisture, circulates air, and helps maintain an ideal temperature when you sleep. It's even naturally bed bug resistant!
Nectar's Tencel covers are OEKO-TEX® Standard 100, Class 1 certified, making them safe enough for babies and children. If you need to spot clean, simply unzip and apply a mild detergent. Alternately, you can take it to your local dry cleaner.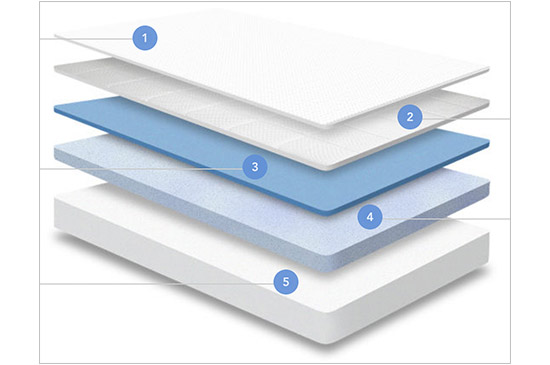 In total, each Nectar mattress features four memory foam layers, surrounded by a Tencel cover to help maintain an ideal sleeping temperature. Image credit: Nectar
Nectar claims these four foam layers give their mattress a medium-firm feel (between a 5.5 and a 7.5 on the firmness scale), while allowing it to adjust to your body position and relieve pressure points, no matter how you sleep.
Nectar mattresses promise to work with all bed types, including box springs, divan and adjustable bases, traditional frames, platforms, and on the floor.
Once it arrives at your door, simply place the mattress roll at once end of the bed frame, cut open the first plastic layer and unroll, cut the second plastic layer, and watch your mattress expand.
Important note: While Nectar claims their mattress "off gassing is limited or non-existent," they point out that you might recognize a new mattress smell for a few days. This is caused by the foam being vacuum packed—not from any chemicals—and should dissipate quickly.
How much will these features cost you?
How Much Does Nectar Mattress Cost?
While Nectar only offers one mattress model, they manufacture six different sizes:
Twin: $500, or six monthly payments of $108
Twin XL: $550, or six monthly payments of $114
Full: $700, or six monthly payments of $139
Queen: $795, or six monthly payments of $159
King: $900, or six monthly payments of $175
Cal King: $900, or six monthly payments of $175
Nectar's White Glove service provides packaging removal, setup on your bed frame in the room of your choice, and old mattress removal for an additional $139.
Compared to many of the other direct-to-consumer mattress companies we've written about, Nectar's financing is in-house and does not involve a credit check.
Nectar only ships their mattresses to the US and Canada, which is free. It will be sent via FedEx and will arrive at your door compressed in a reusable bag with handy straps. Weight will be between 45 and 89 pounds, depending on size.
Regardless of the size you purchase, all Nectar mattresses come with a 365-night trial and will be picked up for free if you're not satisfied.
Here's how Nectar's Forever Warranty works: If your mattress is defective within five years, the company will replace it at no charge. If more than five years have passed, the company will repair and re-cover your mattress at a fee of $50 each way. This is waived if manufacturing defects exist.
There are some important stipulations to this, so be sure to read through Nectar's Forever Warranty page on their website. Or, you can contact support at 888-8-NECTAR.
If you simply need to refresh your cover at any point, Nectar will send you one at no charge.
With this kind of warranty and these kinds of prices, what are customers saying about their Nectar Mattress experience?
Does Nectar Mattress Come With Positive Customer Reviews?
Nectar's Customer Feedback
Whether from customers or industry professionals, Nectar seemed to have received nearly unanimous—and essentially identical—glowing reviews.
On their website, Nectar's mattress had an average rating of 4.8 stars, with most compliments relating to high quality, exceptional comfort and support, competitive price, comfortable sleeping temperature, and solid customer service.
Of the few complaints, they seemed to reference preferences (i.e. not comfortable for one reason or another).
Was it much the same elsewhere online? In a word, yes.
We found a couple of user reviews on Reddit who mentioned great comfort and quality, despite their 245lb weight, although one found the heat retention to be a "little uncomfortable." They also reported a little off-gassing that dissipated within a couple of days.
A second customer mentioned that it's easy to set up the mattress yourself, so they didn't see much value in the extra cost for white glove delivery.
What Are Professionals Saying About Nectar Mattress?
Whether on MemoryFoamTalk, SleepSherpa, or many other professional mattress-focused websites, Nectar received similarly positive feedback, including:
Comfortable, with great support
Little-to-no motion transfer or off gassing
Didn't sleep hot
In the end, MemoryFoamTalk claimed Nectar could compete with much higher-priced mattresses, and was one of their top three mattresses for 2017.
SleepSherpa also seemed impressed by Nectar when writing that it's "one of the best mattresses you can get for pressure relief." They felt its defining feature was the quilted cover, noting they "hadn't felt anything quite like this before."
Note: The word 'awards' is featured prominently on the Nectar website, as well as in many third-party websites reviewing/promoting their mattresses. However, Nectar didn't provide any insight into exactly which awards their mattresses have won.
We reached out to the company for additional details, and we'll be sure to update this article as soon as a response is received.
Nectar Mattress vs. Casper, Leesa, Ghostbed, & Other Direct-to-Consumer Options
When online-only mattresses first made their appearance several years ago, one of the biggest benefits they promoted was that—unlike traditional mattress shopping—you weren't forced to randomly choose from dozens of seemingly identical options. In other words, you knew precisely how they were different from retail options.
However, with so many online-only mattress companies now competing for your business, you might feel like you're right back in that retail showroom, suffering from analysis paralysis. Given this, how can you find the option that suits you best?
After reviewing 15+ direct-to-consumer mattress manufacturers, we've learned that they're a lot more similar than they are different. For example, nearly all:
Feature 2-4 layers of foam; often a mix of polyurethane and latex
Provide a medium-firm feel; generally somewhere between a 5.5 and 7.5 on the firmness scale
Are priced somewhere in the neighborhood of $500 (twin) to $950 (CA king)
Cut out the middlemen and provide significant savings compared to comparable retail models
Arrive at your door in a vacuum-packed box for easy maneuvering
Offer extensive in-home trials and relatively comprehensive warranties
Given these similarities, Nectar's standout features seem to be its 365-night trial, which is more than triple the length of the nearest competitor (Novosbed at 120 nights).
For the money, it also comes with some unique features (such as the quilted foam layer and cover), as well as frequent customer feedback that you get more for your money with Nectar.
What's the Bottom Line About Nectar Mattress?
The mattress seems to have received some of the highest marks from customers and professionals, compared to the majority of other direct-to-consumer options we've written about.
It's also competitively priced, and many of the reviews we read during our research indicated that you get more for your money with Nectar.
If you don't experience the same, though, the company seems to stand behind their mattress with a 365-night trial—which is significantly longer than you'll find anywhere else. And this is to say nothing about their unheard-of forever guarantee.
Looking for something to read next? Be sure to check out How to Buy a Mattress Online: Save Time & Money by Knowing What to Look For.
Firm but pleased with customer service

By Julie B.

,

Connecticut

,

Feb 6, 2019
Verified Reviewer

I wanted to love this mattress, but I found it too firm for me (5'2", 135 lbs) - as another reviewer said, maybe it's more comfortable for heavier people who can sink into the mattress. I struggled to get comfortable every night and had pain in my hips and shoulders (I'm a side sleeper). I wrote to customer service to initiate a return and they offered a free soft topper. Of course, I know they just wanted us to keep the mattress, but I took them up on it - those things are expensive! It has made all the difference. The topper is another 3 or 4 inches of foam and it hugs my body perfectly. If you're looking for a soft mattress, this isn't it, but the customer service saved it for me.

Bottom Line: Yes, I would recommend this to a friend

---

Horrible service

By Sophie R.

,

California

,

Sep 12, 2018
Verified Reviewer

I cannot speak to the comfort of the mattress, but I ordered it to get to my house by the time I moved in, and they had not yet even shipped it when I got there. They told me it would ship within two days, so I waited for it with no results. After calling again, they told me it would be at least another week before it was shipped. They gave me nothing to compensate for the fact that I had to sleep on a friend's couch for a week, and did not seem very apologetic at all. I was lied to multiple times while in contact with Nectar, and they seem to not care much about their customers.

Bottom Line: No, I would not recommend this to a friend

---

Advertisement

---

Illegally advertised mattress (settled with FTC) for false claims, poorly constructed, and HORRIFIC customer "service"

By Jacob M.

,

Denver, CO

,

Sep 4, 2018
Verified Reviewer

Buyer beware!

Not only are the mattresses poorly made in China with sub-par materials prone to excessive sinkage (not designed for couples), but the initial delivery and return processes are abysmal. It has been one week since I initiated the return process and the mattress pickup was improperly booked by Nectar, and the company demanded I pay for the service on the spot (I subsequently turned them away). I now have to wait until next Tuesday (8 days from today) to have the mattress picked up, provide my own proof of pickup to Nectar, and then wait another week for the return to be processed and credited back to my account. To get to this "resolution" I have had to call several times, send countless emails, and waste half a day of work for a pickup that couldn't be executed because Nectar messed up.

Adding insult to injury, their customer representative had the audacity to imply that I was trying to cheat Nectar and try to keep the mattress being returned (despite my very obvious and repeated attempts to have the mattress picked up). This is one of the worst experiences I have ever had with a "modern" web-based company. If your time, your sanity, and your money are important to you, steer clear of Nectar!

Bottom Line: No, I would not recommend this to a friend

---

Good but not white glove

By Sherree B.

,

San Antonio, TX

,

Sep 3, 2018
Verified Reviewer

I, like so many others, turned to direct to the consumer due to the ridiculous price of mattresses. I read a gazillion reviews and settled Nectar due to the longer sleep guarantee and warranty. I was very pleased with the price for a king. We are coming from a memory foam purchased in a store for a great deal more money. It is a major brand and has broken down to the point if a significant back pain in less than eight years. That is a major reason for not wanting to spend that kind of money again. At any rate, the mattress was in transit with FedEx very quickly with a promised delivery of Tuesday.

Now, I did order the white glove service first the main reason for hauling off the old mattress. The FedEx tracking showed the mattress in Schertz where there is a FedEx warehouse. I called Wednesday and Nectar said the mattress was delivered. After much back and forth they said call FedEx and supplied the number. FedEx said it was delivered but directly privacy reasons could not provide me an address. They did say the shipper, AKA Nectar, had called and changed the delivery address and I should call them. Through chat and phone, Nectar was unable to tell me where my mattress was. They FINALLY determined it had been delivered to a shipping company because I ordered a white glove service. I should hear from them any minute now.

I finally heard from them around three the next day. They assured me they would call back to give a delivery window. I called around ten the next day and was told I was still number three, but they could not give me a window. They did have the number to call when they were on their way. I called my son to let him know, and the mattress had already been delivered with no call or notice. The white glove service was a rip-off and Nectar was clueless and of no help whatsoever. I truly hope to have no issues with the mattress, which is so far ok. It does not appear their customer service is near what it says it is.

Bottom Line: Yes, I would recommend this to a friend

---

Advertisement

---

Awful customer service

By Doree H.

,

Idaho

,

Aug 11, 2018
Verified Reviewer

I have ordered this bed close to last year. My husband really liked it, so I was trying my best to suck it up and try it for longer. Every morning I woke up super sore and uncomfortable, my neck and my back hurt.

I emailed to return my mattress and they said somebody would get back to me within seven days. No response. After three weeks I decided I was going to try reaching out again. I was in line to chat with somebody on the computer for 30 minutes. When the lady got on she asked for my customer number. I gave it to her and then she said well I'll assign myself to this and I'll figure it out some point today. I said I'm on here with you now, why can't you figure it out now. She said I'm helping other customers. When somebody waits 20-plus minutes to talk to you, they should be the only customer you're speaking to. My problem is not gotten resolved and I still have not chatted with anyone. I'm very dissatisfied.

Bottom Line: No, I would not recommend this to a friend

---

Watch out

By Fred B.

,

New York

,

Jul 17, 2018
Verified Reviewer

I must say at first that I love the mattress after a month of sleeping on it. Sometimes I still get a back pain, but I'm not sure if it's mattress related (I'm about 190, 6'0"). My wife, on the other hand (who is 113 5'7") since we got it has a lower back pain, so I'm going look for another option.

The problem that we got into is the small print that you can't find anywhere. If you finance, you pay $1000 for the mattress. It's my fault I didn't calculate 6x167 is not 667 or whatever it is supposed to be. I was too quick to buy because my back pain was horrible. Oh, and if you return you don't t get the first payment of $167 back. So it's something to consider. Other than that, I'm pretty satisfied.

Bottom Line: Yes, I would recommend this to a friend

---

Just say NO!

By April S.

,

Memphis, TN

,

Jul 2, 2018
Verified Reviewer

First of all, this mattress is like laying on concrete. I have never had so many aches and pains in my life. I've never even thought about mattresses. I just buy them and sleep on them until it's time to replace them. This is the first experience I have had where I have literally dreaded going to bed at night.

I'm a 41-year-old female. I'm 5'7" and 150lbs, so pretty average. This mattress might work well for a heavier person that sinks into the memory foam, but not an average size person. It is HARD.

They claim to have hassle-free returns and a 365-day trial. After several weeks I couldn't take it anymore and emailed for a return. It took weeks and several emails to get it picked up, once even subtly being accused of not answering their survey for pick up, which I did. I was told once it was finally picked up I'd be refunded the day it was taken away. They told me to email them the paperwork given by the company they chose to pick up the mattress. That company told me they didn't give out paperwork or receipts so I took a photo of the mattress on the back of the truck with the company name showing. Nectar thanked me and said they'd have to confirm pick up.

Tell me how I would first of all even know what company they were sending (Got-Junk?, by the way, I thought it would be a charity) and then have gotten a photo of a Nectar Mattress in a Got-Junk? photo if it hadn't been actually picked up? It's now been well over a week, they have not answered multiple emails, and I still don't have my money back. Stay away! Far away!

Bottom Line: No, I would not recommend this to a friend

---

Insurmountable, Peoria, Arizona

By Robin R.

,

Arizona

,

Jun 28, 2018
Verified Reviewer

Sleeping on the sidewalk would be more comfortable. This bed does NOT contour to the body! When laying on my back, I could easily put both of my hands under the arch of me back. Without a pillow, the same under my neck. When laying on either side, I could easily put one hand under right below my rib case. These are my most painful areas that the mattress failed to offer any coverage. On three separate occasions, I tried sleeping on it. The longest amount of time that I was able to sleep on it was 1-1/4 hours. Each time when I woke up, the pain was so incredibly excruciating, uncontrollable tears came pouring out of my eyes making my face soaking wet in less than a minute. I am scared to death of this mattress and cannot wait to see it leave my house when the Salvation Army comes to pick it up. If I could have given the rating zero stars, I certainly would have.

Bottom Line: No, I would not recommend this to a friend

---

Outstanding customer service

By Larry

,

King George, VA

,

Mar 7, 2018
Verified Reviewer

I ordered my queen-size Nectar mattress last Sunday (2/25/18) and was told it would arrive the following Friday, and it did. I couldn't be happier with the tracking system that always kept me apprised of its journey to my house. In five days (3/2/18) it was on my front porch. Perhaps there were some delivery problems in the past, but if I'm any example, Nectar has fine-tuned it's delivery system and eliminated the glitches.

Unpacking the mattress was a breeze, and in ten minutes it was bed-ready.

The Nectar mattress is the best mattress I have ever owned!

Bottom Line: Yes, I would recommend this to a friend

---

Horrid customer service, cannot deliver

By K Hol

,

Washington DC

,

Feb 22, 2018
Verified Reviewer

I ordered a mattress back in the middle of January 2018. I accepted that is would not be delivered until February 2, 2018, due to the large number of orders. The 888 number goes unanswered. The only way to get in touch is via the online help. After four missed ship dates, I requested a refund. They said okay, but it would take two days to process. I let four days pass and get no refund. Again, per online chat, it cannot be processed until the bed actually is ready to ship.

Based on the fact that we are nearly a month and a half without shipment, I will never get a refund. This refund process is either a lie or just simple stupidity. Nectar as a company cannot deliver.

Bottom Line: No, I would not recommend this to a friend

---

Shipping

By Katie R

,

New Jersey

,

Feb 19, 2018
Verified Reviewer

I ordered my mattress on Valentine's Day with estimated shipping of on or before 2/16 (today). I didn't hear about the extreme back order until afterward, and naturally, I was extremely worried. I decided to give until today to see if the ship date got pushed back. If it did, I was going to cancel the order.

However, the mattress shipped yesterday (2/15) as the company promised, with an estimated arrival of Monday. It's currently halfway to me according to FedEx.

So far so good. I'll update my review of the mattress when I get it.

Bottom Line: Yes, I would recommend this to a friend

---