Nelnet Reviews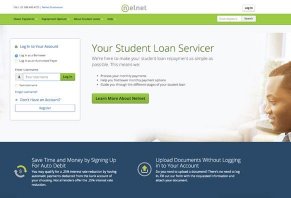 Nelnet is the leading student loan servicer based in Nebraska with more than 6 million borrowers. They help borrowers choose repayment programs and set up monthly payments.
About Nelnet
Nelnet is a student loan servicer based in Lincoln, NE, and is considered one of the "Big Four" servicers along with Navient, Great Lakes and AES.
The company merged with Great Lakes in 2018, making Nelnet the nation's largest student loan service. Even though the two companies merged, they kept their loans and staff. So, while Nelnet bought Great Lakes, they still allow the company to use the "Great Lakes" name and continue with their same staff and customers.
According to a 2017 article from MarketWatch, Nelnet now services more than $430 billion in student loans for nearly 15 million borrowers.
Yet, just because Nelnet is the biggest student loan servicer in the nation doesn't mean it's the best fit for you. Now, to a certain extent, whether or not they're best for you isn't an issue because the federal government chooses your loan servicer.
Despite this, we think it's important for you to know who Nelnet is, what they offer and what their track record is when it comes to consumer complaints.
We'll be basing our review on the data and information available from Nelnet as well as via my own personal experience as a borrower with Nelnet who is on an income-based repayment plan.
The Services That Nelnet Offers
Student loan servicers like Nelnet exist to process all the student loans sent to them by the federal government. What that means is that, once your loans are sent to them, they contact you to let you know they'll be working with you to set up a repayment plan and collect payments each month.
Basically, the government has hired them to make sure loans get paid.
Once you've worked with Nelnet to come up with one of the eight repayment programs the government offers, then your payments kick in. If you don't have the money to make your payments, you could ask Nelnet for an economic hardship deferment, which stops your payments for a certain amount of time so you can get your finances in order.
During this deferment, interest won't accrue on your account.
You also have the option of choosing a forbearance. A forbearance isn't specific to financial troubles and, like a deferment, can only be used up to a certain time limit. More importantly, interest accrues on your loans during a forbearance.
Nelnet's customer service number will be your main resource for understanding how the loan repayment programs work, when you need to recertify an income-driven repayment plan and how your monthly payments affect the balance of your loan.
Anytime I've called Nelnet in the past five years, their phone reps have always been courteous and helpful, providing me with the information I ask for. Sometimes my questions are about repayment plans and sometimes they are about how much interest will accrue on my account based on my current monthly payments.
In every situation except one (more on that later), they've been able to provide the answers I was looking for. And, again, they've always been polite.
Online Account
If you aren't the kind of person who likes talking over the phone to get answers, then your Nelnet online account will be key for your understanding of which loans Nelnet is servicing, how much you owe, what your next payment is and more.
The account page is split up into the following tabs and menus:
Loan Details
This page shows you how much you owe for each group of loans you have. For example, I have Stafford Loans and Direct Loans, so Nelnet puts them in two groups. You can click on each group to see all the various loans that are in that group. You get a new loan every school year, which is why there's more than just one single loan.
Payments
In this section, you can pay your amount due, set up auto debit from your bank account (do it; you'll get a 0.25% discount on your loan rate), check your payment history and change your repayment plan, if need be.
This will be your home base for changing your repayment plan if you need to and for requesting a deferment or forbearance, too.
Documents
In this section, you can access a variety of correspondence and paperwork:
Inbox
Statements
Tax info
Payment schedule
Loan summary/mortgage verification
Upload documents
Forms
This is an important section for a couple of reasons. First, you'll go here during tax time to download or print a copy of your 1098-E, the form you use to get a deduction for the interest you paid on your student loan.
You'll also head here to download your mortgage verification and loan summary, a document that may be necessary as you proceed through your mortgage application.
How Nelnet's Customer Complaints Compare to Others
One of the things that's going to make or break your experience with your student loan servicer is the level of customer service you get.
You don't want your servicer providing you with incorrect information because, in some cases, tens of thousands of dollars of loans could be on the line if you're involved in the Public Service Loan Forgiveness program.
And, in the past two years, student loan servicers have come under fire for leading students astray when it comes to making payments and choosing the best repayment plan.
For this reason, we feel it's important to know how often borrowers complain about student loan servicers.
To get our data, we did a search in the Consumer Financial Protection Bureau's (CFPB) complaint database. We found that the following lenders had the following number of complaints in the two months previous to this review:
MOHELA: 22
Navient: 766
Nelnet: 164
Great Lakes: 59
What's interesting about these numbers is that, according to MarketWatch, Nelnet had slightly fewer customers in 2017 than Navient: 6.52 million as opposed to 6.78 million.
Yet, according to the CFPB database, Navient gets more than four times the number of complaints that Nelnet does.
Great Lakes, on the other hand, has more borrowers than Navient and Nelnet (8.36 million) but less than 10% of the complaints that Navient had and about three times less than Great Lakes.
MOHELA's borrower stats are lumped in with not-for-profit servicers, so it's hard to tell how their complaint rate stacks up but they've got a considerably smaller customer base than Nelnet.
Based on these numbers, we believe that Nelnet's customer service is far better than Navient's but still has a lot of work to do before it can match the low complaint rate that Great Lakes has.
While this data isn't a guarantee that you'll have a positive experience with Nelnet, it does seem to say that the likelihood of your experience being good will be far higher than what you'd get from Navient.
» Related: A Beginner's Guide to Student Loan Servicers
My Experience with Nelnet
As for my own personal experience with Nelnet, it's been mostly positive except for one recent interaction.
I'm on an income-based repayment plan, so every year I have to "re-certify," which means submitted income information via a self-certified letter (I sign it and date it) so Nelnet can determine what my monthly payments should be.
Up until July 2017, the income number I submitted had to be my gross income. After July 2017, they started accepting "Adjusted Gross Income," or AGI, which is usually lower than your gross income.
When I recertified this year, the email reminder I received from Nelnet was outdated – it said I had to submit my gross income to re-certify. The template letter they included also indicated I had to write down my gross income.
I submitted my gross income when I could've submitted my adjusted gross income, which resulted in me paying about $125 more per month than I should have.
When I asked the phone rep about this, he said I could recertify, but, technically, I could only do so if I had a drastic change income. I didn't; it was merely a matter of Nelnet sending me outdated information.
However, he wasn't able to make any changes and said that if I did change it to mirror my AGI, then I should get a CPA to verify the numbers so that, when my IBR is over and I'm eligible for loan forgiveness, there won't be any discrepancies.
In other words, I was going to have to pay for a CPA to verify my monthly AGI in order to make up for a mistake that Nelnet made.
Bottom Line: How to Have Sucess with Netnet
After reviewing our research and looking at the data regarding Nelnet's CFPB complaints, we believe its greatest strength is their phone customer service as well as their complaint rate.
While the CFPB database indicates that Great Lakes is by far the best loan servicer based on complaints, Nelnet does an adequate job compared to Navient.
The downside to the Nelnet is that there are situations in which they are going to make mistakes. Sometimes those situations may be harmless and sometimes, as in my case, they'll cost you money.
However, this isn't something that's specific to Nelnet. It's something that comes with the territory of working with a loan servicer, whether it's Nelnet, AES, Navient, Great Lakes, or MOHELA.
Our advice is to become an expert in the specific type of loans you have as well as the repayment plan you're on. Log into your Nelnet account and analyze your loan or loan groups. Know the interest rates. Know the monthly payments on each specific loan.
Also, do the same type of diligent research on your repayment plan. Know what the ins and outs are and understand what it takes to have your balance forgiven and if you'll be liable for taxes.
Doing so gives you a base of knowledge you can use as a reference as you talk with Nelnet reps and make decisions about your monthly payments, payment plans, and re-certification.
» Related: Should You Refinance Your Federal Student Loans? There's a Good Chance It Won't Work for You