Nerdwax Reviews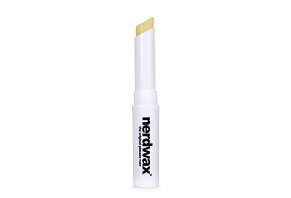 Nerdwax is an adhesive product that claims to be able to keep your glasses from slipping and sliding by using an all-natural formula.
About Nerdwax
Nerdwax is a substance that claims to be able to put a stop to slipping glasses and look super "chill" doing it, at least according to the company's main website.
Nerdwax was created by glasses-lover Don Hejny from Nashville, who claims that the idea came from his time watching touring artists playing live shows in warm weather struggle to keep their glasses on. He also says that the product found inspiration in his own frustrations as someone with naturally oily skin.
The product appeared on the popular TV show Shark Tank in 2016, with Hejny himself pitching for an investment of $80,000 according to a recap of the episode on the Gazette Review. The article states that in the end, Hejny turned down the offers made, and Nerdwax continued on without investment.
If you wear glasses, you know firsthand how much of a pain it can be to constantly feel your glasses slipping, sliding and falling off of your face. No matter how good your favorite pair fits you, it can still happen, and it always seems to happen in the worst moments.
A product that could keep your glasses firmly on your face where they belong without resorting to nose pads or other solutions would potentially be very valuable for thousands, even millions of individuals who wear glasses each and every day.
That said, we need to be sure that Nerdwax truly works as advertised, or else we're running the risk of this being another product with more hype than substance. In this next section, let's take a look at how Nerdwax is supposed to work to keep your glasses securely on your face.
How Does Nerdwax Work?
According to the makers of Nerdwax, using the product is simple; All you have to do is twist out a bit of the product, then apply it to the edges of your glasses where needed. The formula then coats the glasses, and is supposed to stick snugly to your face for up to a full day, depending on several circumstances.
The manufacturers claim that the ingredients in Nerdwax create a layer of friction between your glasses and skin, keeping them securely in place. Let's take a look at these ingredients up close in the next section.
Nerdwax Ingredients
Nerdwax claims to include ingredients that are All-Natural Cosmetic Grade, and that they have attempted to use ingredients that are Certified Organic and Sustainable Sources as well. The ingredients used in the Nerdwax formula include Beeswax, Coconut Oil, Gum Rosin, Peppermint Oil.
It looks as though there's two main components of this formula, the actual adhesive and the scent. The beeswax and Gum Rosin inside the product is likely to be the main factor contributing to the adhesive side of things, while the Coconut Oil and Peppermint Oil are meant to make the product smell good when in use.
Possible Nerdwax Side Effects
Although the manufacturer claims that all of their products are approved for cosmetic use, they concede that, as with any substance that comes in contact with the skin, there is the slight chance of an allergic reaction.
The minds behind Nerdwax claim that the product can be used with sunscreen or lotion, but that the results are a bit of a mixed bag. They also note that there's always the possibility that using multiple skin care products at one time can cause unforeseen allergic or chemical reactions.
Nerdwax Pricing & Return Policy
Nerdwax Slimline (4 ct): $19.99
Nerdwax Slimline (single): $9.99
Magic Drops: $4.99
Magic Drops Refill: $6.99
Nerdwax Cleaning Pouch: $4.99
If you aren't happy with Nerdwax at any time, the manufacturer has a no-questions asked return policy that will allow you to receive a full refund.
What Are Customers Saying About Nerdwax?
There's been enough time for consumers to get a feel for just how well the product works. On Amazon, Nerdwax is currently the #1 best seller in the Safety Eyewear Retainers category, and it has accumulated almost 600 reviews from customers as a result.
Out of 573 customer reviews, 46% of them are 5 stars, and a further 14% rated the product at 4 stars. Only 17% of reviewers gave a 1-star rating, citing a few main issues as reasoning for the low scores.
For one, many users simply noted that the product did not stay on their glasses very long at all. Many were claiming that they were getting less than an hour or two out of the product, but another commenter pointed out that this may be due to residual oil on the glasses not being wiped away before applying Nerdwax.
Other reviewers discussed the chapstick-like design of the product itself, saying that the flat application was difficult to use with glasses that needed the product in areas that were tough to get to.
A few suggested that a better design would have been to make the product have more of a lipstick inspired design, where one end is pointed to allow for precise application.
All in all, there were hundreds of reviews praising the product, claiming that it works as intended and that it delivered on the promises made by the manufacturer.
Obviously, with a popular product such as this, some dissenting opinions are bound to make their voices heard, but on the whole, it truly seems that people are enjoying the product and recommending it to others.
A Few Alternatives To Nerdwax
Several other options do exist out there, but none of them really apply the same idea that Nerdwax does (at least none that we found). There's the tried and true slip-resistant nose pads, which do a well enough job for many it seems, but Nerdwax takes things to the next level without having to resort to anything that is visible to others.
All in all, it genuinely looks as though the company has managed to create a unique product offering with Nerdwax, it certainly looks as though it fits the bill for glasses-wearers. If you really wanted an alternative to this product, the closest thing that we can think of would be to simply apply all-natural beeswax to your glasses. It won't be exactly the same, but it should still provide some extra stability when you need it most.
So, knowing what we know now, just how confident are we in Nerdwax and the claims made about it by the manufacturer?
The Bottom Line
Based on the ingredients used in the product, the company story and history, the comprehensive FAQ section on the website, and the reviews of nearly 600 customers, we feel that there's a good chance that Nerdwax at least delivers on its core promise of keeping glasses right where they belong; securely on your face.
100% love Nerdwax! Can't live without it!

California

,

Dec 5, 2017
Verified Reviewer

Overall Experience:

I tried Nerdwax as a skeptic when they first came out. My whole family wears eyeglasses, so, we all tried it. Well, if the glasses are cleaned correctly and your nose is cleaned of oils, the product REALLY WORKS! What I also like is the free cleaning cloth! I'm on my third purchase for the entire family. We are regular customers!

Bottom Line: Yes, I would recommend this to a friend

---

Advertisement

---