Nespresso Vertuoline Coffee Machines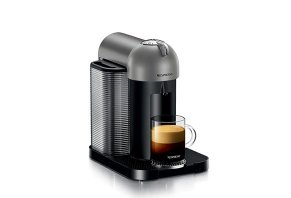 Summary
The Nespresso VertuoLine coffee machines let you brew a single cup of coffee or espresso (and everything in between) within seconds at home. Customer reviews show most users love it but your coffee might seem overpriced, underflavored, and lukewarm.
Pros
A single machine can make multiple types of coffee
The device reads capsule barcodes; no confusing settings to deal with
Overall positive customer reviews
Cons
You are limited to Nespresso brand coffee
Coffee may be lukewarm, mild-flavored
Capsules tend to be more expensive than competing products like K-Cups
Nespresso VertuoLine Review: A Detailed Look
The Nespresso VertuoLine of coffee machines aims to give you café-quality brews right in your kitchen, even if you know next to nothing about crafting the perfect cup.
These single-serving machines will brew you anything from a small espresso to a large coffee at the touch of a button – no fiddling with settings required.
This coffee maker is targeted towards those who want to enjoy the taste of premium coffee at home without investing in bulky equipment or committing to a tedious brewing process.
Each machine claims to deliver a variety of brew styles offered by the brand's capsules, including espresso with a thick layer of crema on top.
Are Nespresso Vertuo machines better than Keurigs, and can they compare to the offerings at your favorite coffeehouse? Our analysis should help you decide whether this machine is the right option for you.
Details and Features
What distinguishes the Nespresso VertuoLine from other single-serving coffee makers is that it relies on an intelligent system.
Each capsule contains a barcode that gives the machine precise brewing instructions related to temperature, capsule rotation, infusion time, and water levels necessary for that type of coffee.
Once you insert a capsule and push the start button, the Vertuo machine will flash a light to indicate it has been recognized. Soon after, the brewing process will begin automatically.
All VertuoLine coffeemakers brew your coffee with centrifugal force. The company claims that high-speed spinning creates more crema per cup.
Crema is an aromatic froth with small air bubbles that sits on top of a well-poured shot. It's a coveted quality in high-end espresso that's related to pour style, coffee bean quality, and other factors.
However, what's being called crema with Vertuo coffee is more the result of the high-speed blending process than an indication of the coffee's quality or flavor properties.
Another consideration is that this technology requires the machines to use a lower temperature than most coffee makers, which means that fewer oils are extracted from the grounds.
This results in a milder brew overall and what some people consider lukewarm coffee. The company suggests that those who prefer their cup hot should preheat it with warm water for several minutes before making their coffee.
Once your coffee is complete, you can remove and dispose of the spent capsule and put in another one once you want a fresh cup. You can purchase different size capsules depending on your coffee preferences:
Espresso (1.35-oz)
Double Espresso (2.7-oz)
Gran Lungo (5-oz)
Coffee (7.8-oz)
Alto XL (14-oz)
Note that there's no way to manually select which type of coffee you are brewing; the machines do so automatically based on the capsule's barcode.
Nespresso VertuoLine Models
Nespresso offers a wide range of Vertuo coffee machines, each with slightly different styles and features.
Model
Price
Description
Features
Vertuo
$199
A combination coffee and espresso machine with a retro-modern design

Includes five fresh-brewed options for everything from 1.35-oz espresso to 14-oz coffee
25-second fast heat up
OFF mode after nine minutes

Vertuo Next
$159
A combination coffee and espresso machine in a slim design, made from recycled plastic

Brews espresso (5oz), double espresso (8-oz), and coffee (14-oz)
Adjusts brewing parameters automatically based on capsule
Made from 54% recycled plastic

VertuoPlus
$179
Combination coffee/espresso machine with automatic opening system

Offers five cup sizes for 1.35-oz espresso to 14-oz coffee
Removable water tank
20-second fast heat up

VertuoPlus Deluxe
$199
Combination coffee/espresso machine with a high-end design and automatic opening system

Offers five cup sizes for 1.35-oz espresso to 14-oz coffee
Removable water tank
Automatic capsule ejection

Evoluo
$199
Combination coffee/espresso machine with square top for a modern retro design

Offers five cup sizes for 1.35-oz espresso to 14-oz coffee
Includes descaling alarm
15–25-second fast heat up

Barista Recipe Maker
$169
Coffee making accessory that makes it possible to create 20+ recipes

Whisk for foaming milk
Uniform induction heating
Bluetooth enabled
Touchscreen interface with a connected app
Dishwasher safe
All Nespresso Vertuo coffee makers are compatible with the company's descaling kits ($8.95 for a two-pack). Each kit contains enough descaling agent to remove the limescale that builds up in machines from mineral deposits in your water over time.
Descaling is recommended every three months or 300 capsules – whichever comes first. Your machine's user manual will explain how to use them.
You can also purchase your machine with an Aeroccino milk frother for preparing hot or cold milk to add to espresso for an authentic cappuccino. Purchased alone, it costs between $99–$119.
Vertuo Capsules
All Vertuo Coffee machines are designed to run on specialty capsules that offer a variety of coffee styles and flavors. You can purchase the capsules on the company website, and many are sold in variety packs.
In most cases, these capsules cost $1–2 each, and they are designed for single-use, similar to a Keurig K-cup. You are meant to pop a sleeve of ten pods into the machine at once for easy access whenever you crave a cup.
It's possible to purchase these capsules based on coffee style, flavor profile, or whether the coffee is single-origin. As you shop, you can compare the flavor intensities and caffeine content for different brews. Expect the caffeine to range from 60–200 mg per cup.
All Vertuo capsules are made from aluminum and can be recycled. You can choose to receive free recycling bags with your purchase, each of which holds up to 100 VertuoLine capsules. Once filled, the bag can be returned to the company through any USPS drop-off at no charge.
Note that only Nespresso capsules can be used with Vertuo machines. This means that you can't use it to brew tea or your own coffee grounds, as is possible with many other single-cup coffee makers.
Buying Options
Nespresso VertuoLine machines can be purchased off the company website, Nespresso boutique locations, or from authorized retail locations around the country. Online purchases qualify for free shipping.
All machines, accessories, and unopened coffee sleeves purchased directly from the company have a 30-day return policy for a full refund.
Analysis of Customer Reviews
On Amazon, there are thousands of reviews for Nespresso Vertuo coffee makers. The machines average at least 4.5 stars out of five. Here are our insights from these reviews.
Common Compliments:
Space saver compared to traditional coffee systems
Less cleanup than drip-style coffee
Simple to use for both coffee and espresso
Common Complaints:
Coffee often doesn't get hot enough
Espresso can be under-extracted and instead tastes like strong coffee
Only compatible with Nespresso pods (more pricy than most K-cups)
Many people needed to preheat their cup with hot water beforehand
Some experienced leaky machines
Difficult to find pods in stores
Alternatives to Nespresso Vertuoline
If you're considering a Nespresso VertuoLine coffee maker, there are likely two other brewing devices that also appeal to you: Keurigs and home espresso machines.
Keurig is the best-known brand of single-serving coffee. Like Vertuo, the machines run on specialized "pods" known as K-cups that come in a vast array of flavor options. Your coffee is brewed similar to a traditional drip coffee maker, except water is forced through the pod at high pressure to brew your cup quickly.
Keurig machines can cost less than $20 or come to hundreds of dollars. You also aren't limited to just making coffee, as they can also be used for chai, apple cider, hot chocolate, and dozens of other beverages. And, since the pods aren't required to run the machine, you can also use them to heat water for tea or oatmeal.
Another factor worth considering is that Keurig doesn't have a monopoly on K-cups. They are sold by dozens of brands, and it's even possible to purchase reusable cups that you fill with your own grounds. This makes it possible to buy Keurig-compatible coffee almost anywhere and prevents you from being limited to one company or coffee type.
While most Keurigs won't work for espresso, some models claim to do so. Most cost about $150–$200 each, which is comparable to Vertuo.
Home espresso makers are different. They require finely ground coffee formed into a "puck" through which pressurized, near-boiling water is shot through. Well-made espresso will form an authentic crema, which results in a rich, almost syrupy beverage.
While most espresso makers produce a single serving at a time, it's rarely possible to purchase pre-measured amounts like you can with a K-cup or Vertuo capsule. This means brewing your own cup is typically more effort than putting in a pod and pressing a button.
Not sure which style is best for you? That depends on your preferences.
Nespresso VertuoLine machines are appealing for anyone who wants an all-in-one coffee and espresso maker and who doesn't mind being committed to just one supplier.
If you want more flexibility in what you drink (and want to save money), then a Keurig is a little more versatile.
Finally, those who just want an excellent cup of espresso are better served by buying a machine that focuses on just that.
The Bottom Line
The Nespresso VertuoLine coffee machines win major points from consumers for its retro styling and streamlined design that ensures you'll want to display it on your counter.
However, Nespresso pods aren't cheap. You'll pay at least $1 per cup for most flavors.
Only Nespresso capsules work in these machines. This limits your flavor options compared to other single-serving coffee makers and means that there are fewer places where you can purchase suitable coffee.
Finally, some customers felt that their brews were lukewarm and that the flavor tended to be mild compared to other Nespresso products.
Lots of people love the Nespresso VertuoLine coffee makers, and you might well be one of them. We just recommend you keep this brand's limitations in mind before you order.
Customer Reviews